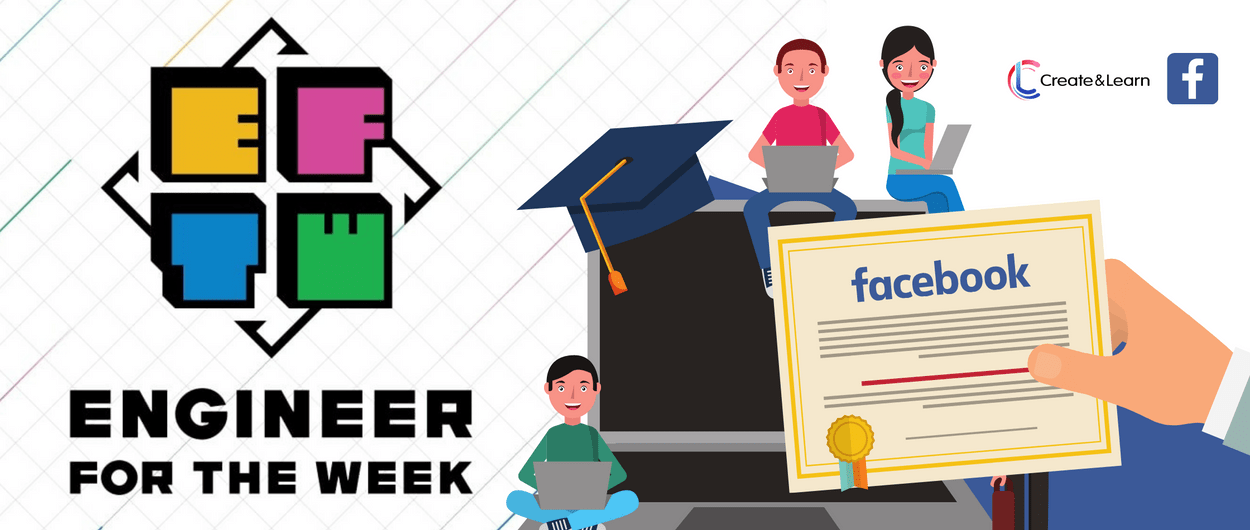 Facebook Engineer for the Week
Design and create your own projects in Scratch for social good, work with a team, and have fun!
Facebook Engineer For The Week (FETW) is one of the rare programs for young students hosted by a major tech company. We are very excited to announce that Create & Learn will participate in EFTW again this fall. We won the Impact Award from Facebook's Engineer For The Week (EFTW) program Spring of 2021. The winning projects is "Plastic Pollution", created by Dhanishka a rising 8th grader who has been learning with us for over 2 years. .  
The EFTW program is for students aged 10+ to build Scratch projects on social issues they care about. If your child wants to participate in the Fall 2021 round and earn a Facebook's coding certificate, it's time to start preparing now!
To support our students in participating in EFTW, a number of our teachers will serve as facilitators for teams. Teachers will guide students in brainstorming, project creation, and testing, while introducing key engineering best practices. Sign up below to join one of the teams.
Every student that participates will receive a certificate from Facebook, and more importantly gain insights in what being an engineer is like and do something meaningful for a social issue they care about.
Scratch Teams for Facebook EFTW 2021
Each team will meet weekly for 5 weeks to learn engineering concepts such as what a sprint is, brainstorm social impact issues to address, and of course, spend a lot of time building and providing feedback on games. We will go through multiple iterations to improve the games - just like how real engineers do it. And finally we will submit each team project to Facebook. The class also includes an additional interactive session with a Facebook engineer to learn about how they work and ask questions. The time of the Facebook Engineer session is determined by Facebook and we will update the parents as we learn more. Up to 7 student per class/team.

5 sessions, 60 minutes per session

$75

2-7 students group class

Students are qualified to sign up for a team if he/she is 11 - 18 year old (required by Facebook) and have finished Scratch Ninja 3 or level 3 of a more advanced course, such as My First Mobile Apps or Python for AI. The projects must be done in Scratch.
Other Recommended Classes For Your Child
Learn the core skills to build apps and webs
If your child is interested in building apps and webs in general, or has not yet started middle school, we recommend these courses for them to start exploring!
FAQ:
Q: Where and how do I Learn more about Facebook Engineer for the Week?
A: The Fall 2021 Sprint is from October 4 - December 3, 2021. You can learn more on their website.
Q: Can my kid participate?
A: There are two projects you can choose to participate in Engineer for the Week. "CHATBOTS FOR CHANGE" is designed for learners aged 13-18 to build their own chatbot using artificial intelligence principles; "PLAY FOR IMPACT" is designed for learners aged 11-18 to create their own game with purpose using block-based coding tool Scratch. Younger kids can participate but should be aware that the program is designed for older kids.
Q: Do I have to sign up for Create & Learn classes to submit projects?
A: You can't submit projects on your own; instead, you need to follow a facilitator to sign up for the program. In our classes, we will have teachers as the facilitators who can guide you through the process and finally submit each team project to Facebook. We only offer classes on Scratch to prepare students to join the "PLAY FOR IMPACT" project.