ScratchJr Class
Scratch Junior
A fun ScratchJr coding class for kindergarteners and 1st graders.
Discover fun ScratchJr lessons for kids
Your child might have started playing with your phone at 3 years old, and have become an expert of YouTube and mobile apps at age 5. So why not get started understanding how computers work with coding? As Apple CEO Tim Cook said, "Coding is the most important second language for everyone to learn".
This series of fun ScratchJr lessons uses the Scratch Junior platform, developed by the same MIT team that created Scratch. While building interactive stories and games, your child will be introduced to the basics of coding concepts, solve problems, and most importantly, they will create and apply their imaginations!
Grades K-2
Our Guarantee
Downloadable Certificate.

Show the world you did it. You really did it!

#1 Coding Curriculum

Designed by Stanford, Google & Apple Experts with kids in mind.

100% Satisfaction Guarantee

We'll help you find the right class, always. Love it or get a full refund.

Expert Teachers

US-based, background checked, highly trained and 3+ years of experience in their fields.
Start your Scratch Junior adventure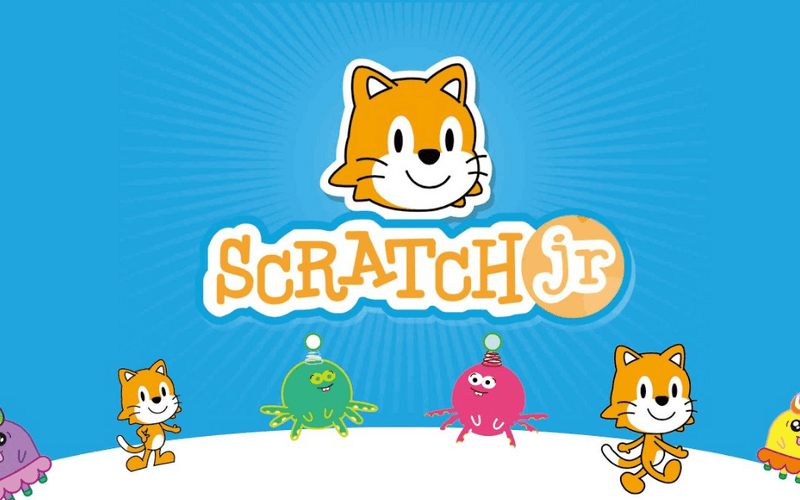 Scratch Junior - Introduction
In this 45min session, we introduce students to the Scratch Junior platform and use it to code a fun animation - Dance Party! Your child will learn how to add characters, how to control characters with coding blocks, and how to code by combining blocks to make animations. Your child will experience the power of coding and have fun creating a fun party with their favorite characters. Sign up for this semi-private class with 2 students max!

Prerequisites - Must have an iPad or Android Tablet to attend the class. You also need a computer. Please join Zoom from your computer and install Scratch Junior App on iPad or Android Tablet before the class. Chromebook does not support Scratch Junior.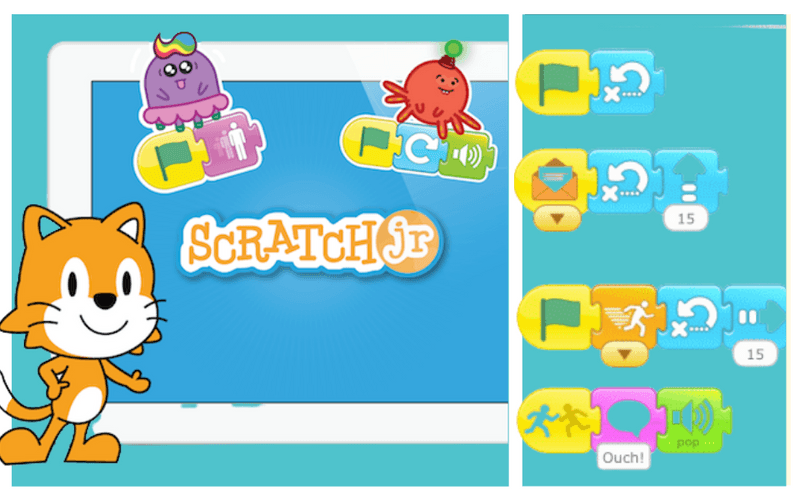 In this fun Scratch Junior class, we will create a series of animations and games while learning about core coding concepts. For example, your child will learn loops, messaging, how to capture events in a game to take action, and a lot more. We will go from simple projects with different characters working independently, to connecting characters with complex actions. Your child will also get to apply their artistic skills to create their own sprites, tell stories, and share their math and science knowledge.

6 Sessions

45 minutes per session

Prerequisites - Ideally, use an iPad or Android Tablet to attend the class. You also need a computer. Please join Zoom from your computer. If you want to use a computer, please make sure your kid is comfortable with typing on keyboard and using mouse on a computer. Chromebook does not support Scratch Junior.
Grades K-2

2 - 6 Students Per Club

Let's create something new every week with Scratch Junior coding! Put the Scratch Junior skills you've already learned to create weekly new projects for 6 weeks, including original challenges and fascinating projects. Join along in our live video club series as an expert guides students through a different project from start to finish in a 45-minute session each time.

$17 Per Session

45 minutes per session

Students should have completed Create & Learn's Scratch Junior prior to joining the Scratch Junior club. Chromebook does not support Scratch Junior.
See Create & Learn Reviews
My girls have loved the Scratch Junior class. The teacher is very patient and the girls are really enjoying it. I can see their curiosity into coding growing.
Cassie H.
Thank you very much to the instructor, for having the patience to teach my kids. My son loves Create & Learn very much! He learned a lot about computers and the classes were really fun, and also can inspire children.
Eva P.
The instructor is so nice and patient. My daughter loves this program so much, I can't believe she could do coding by herself after only 3 sessions! It is a great program for the early beginners!
Jie Y.