Best Free Minecraft Classes
Code Minecraft Games
Make awesome buildings, characters, challenges, and more
Enjoy the best free Minecraft classes for kids online
Free virtual Minecraft coding classes can unleash kids' creativity using the game they already love. Minecraft is a video game full of adventure and limitless possibilities where characters build, mine, battle mobs, and explore the ever-changing Minecraft landscape. Using Minecraft as a tool, these free classes deliver top-quality learning and develop students' computational thinking, while keeping coding fun and engaging.
Our curriculum, designed by experts from Stanford, MIT, and Code.org, and featured by Minecraft Education, uses a combination of structured puzzles and open-ended projects to allow students to focus on learning specific new knowledge points, and to be very creative and have a lot of freedom when doing open-ended projects. In a small group setting led by a live expert online, your child will get introduced to the platform and how to code using it. They'll also complete their first challenge: save a village or build their first mod! Start with the free class that matches your child's age: Modding Quest (Grades 2-5) or Code to Mod (Grades 4-7).
Grades 5-9
Our Guarantee
Downloadable Certificate.

Show the world you did it. You really did it!

#1 Coding Curriculum

Designed by Stanford, Google & Apple Experts with kids in mind.

100% Satisfaction Guarantee

We'll help you find the right class, always. Love it or get a full refund.

Expert Teachers

US-based, background checked, highly trained and 3+ years of experience in their fields.
Join the best free Minecraft class for kids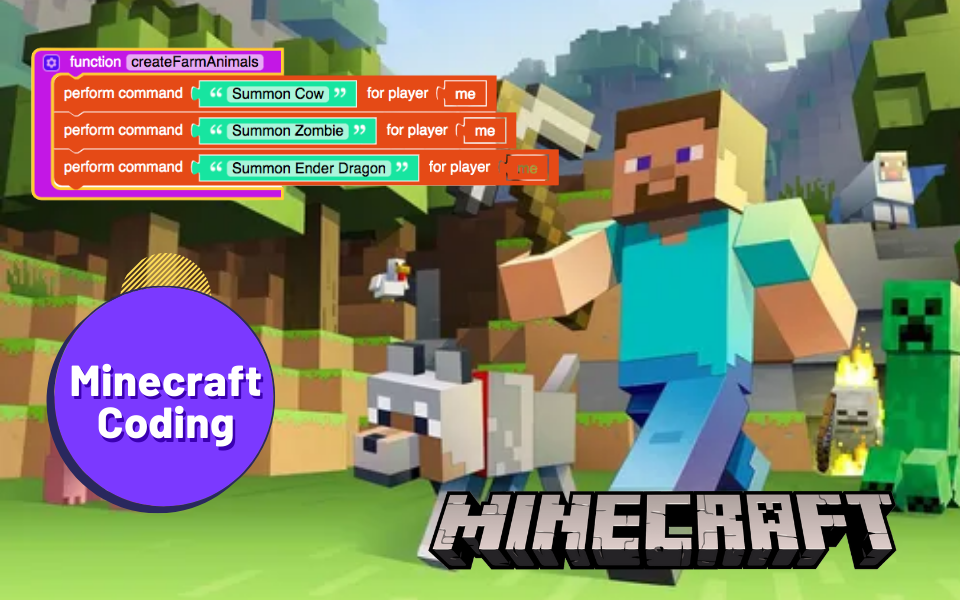 Free Intro to Intermediate Minecraft Modding
Average 5 Students Per Class
Is Minecraft coding free?
Yes, Minecraft coding is free. Minecraft: Education Edition can be downloaded for free. Then you can take Create & Learn's free Minecraft classes to find out how to get set up and complete a cool tutorial to begin learning coding.
Can you learn to code with Minecraft?
Absolutely you can learn to code with Minecraft. Using Minecraft: Education Edition's game-based learning platform, kids can build their creativity, collaboration and problem-solving skills in an immersive digital environment. Taking live virtual classes online can also empower kids to learn quickly. With a structured learning path and personalized expert guidances, their journey is sure to be successful!
Is coding Minecraft hard?
Coding Minecraft is not hard. It is definitely a fun challenge. Within just 12 sessions of our Minecraft classes you'll be able to place and break blocks, build structure, spawn animals, develop mini-games, and a lot more. You can even join our Minecraft club to get practice with a new project every week. We recommend learning some Scratch coding first with our free Scratch class, because knowing fundamental logic will help make Minecraft easier to learn.