Discover the best virtual summer camps for kids in 2022! As we approach the summer season, we encourage you to look into fun online summer camps for your children to get involved with.
In this post, we will discuss the process of picking the perfect virtual camp for your child and give you some ideas of camps that would be fun to get involved with this summer. You will never believe the limitless options that exist for online summer camps, especially free choices. Don't wait too long, as these camps have limited openings.
Discover the best online summer camps for kids
We will cover various STEM camps, free options, camps by age bracket, and securing spots for your child. Depending on your child's interests and age, you will find that certain camps are more suitable than others.
For example, if your child loves coding but does not have prerequisite experience, you would want to pick a camp for their age range where there is no prior knowledge required. Selecting the right camp for your child can be challenging but we are here to help you make the best decision possible! Let's begin examining various camps that exist.
Explore online STEM summer camps
Check out camps from the Top STEM League, a group of six award-winning companies bringing the best of online STEM education to you, all in one place! Explore a few additional options below:
Scratch Ninja is an interdisciplinary, entry-level STEM course which teaches the general concepts of code through animation. Students learn coding through creation in a problem-based learning environment. That makes this camp a great place for beginners to start!
For grades: 2-5
Reviews: "These virtually taught camps are so engaging, my son really enjoys them and is so excited to show us the coding projects he has completed on all 3 levels of Scratch Ninja."
How it works: Students sign up for the camp, which includes 4 sessions at 55 minutes each. The sessions are delivered live via Zoom with a highly-qualified instructor. There's even a free intro lesson so your child can give the camp a try!
Price: $105 (But it's on sale now for $84!)
Harry Potter fans, take a ride onto platform 9 and ¾ as Genius Gems transforms into Hogwarts! Join Genius Gems for a Potions Class, invisible science, LED wand-making, Science Spells class, chocolate frogs, and all things Harry and Hermione.
For ages: 7+
Reviews: "Genius Gems was by far the best STEM summer camp my daughter ever attended! At nine years old, she learned design software and created may interesting gadgets, some of which will be 3D printed and mailed to her."
How it works: 2 hour sessions for 4 days online live with an instructor.
Price: $299

Discover free virtual summer camps
In this section, we will look at free virtual camps that your child can try to explore technology and computer-science.
National Geographic's camps are family-based and allow students to explore their creativity from home for free. The Build a Tent camp has students build a tent from materials they find at home to foster the ideas of design and engineering.
For ages: 6+
Reviews: Large collection of approachable, fun multimedia resources about animals, habitats, countries, and cultures.
How it works: Log into the National Geographic site and begin the steps with your child to design their tent.
Youtube has compiled tons of videos regarding STEM that are free for families to use.
For ages: 6+
Reviews: The #CampYoutube experience caters to children of all ages, even prompting you for content if you have kids above 13 years old.
How it works: Pick a STEM camp that you are interested in and start watching the youtube playlist! Your child can go through the activities with you at their own pace.
In this free Python coding camp, students will take their first dive into coding with Python. They will learn text-based coding in a small group setting. Students will see how to animate and draw with Python, and will build their own story project to create a cool animation!
For ages: 10+
Reviews: "The teacher was very clear in his expression and provided help when the students needed it. The content of this Python class series looks attractive to me. After the class I asked my kid's feeling about the class, who told me it was so much fun. I will consider registering for a camp or online course."
How it works: Camps are offered daily, weekly, and bi-weekly. Just pick the time that works best for your schedule, and then log into the Zoom to enjoy the class.
Online summer camps for elementary students
We are surrounded by electronics: smartphones, computers, TVs, robots, and more! While lots of students have learned to code, few have had the opportunity to build a physical system, which opens up a brand new world. In this virtual camp, students are introduced to circuit and Arduino, one of the most popular single-board devices.
For grades: 4-6
Reviews: "Cutting-edge programs and excellent teachers"
How it works: 4 session course.
Price: $105
Create your own Roblox world and games using Roblox Studio with coding. Through a combination of configuring and scripting, your child will create their own game world using a built-in 3D design tool and coding the interactions with the world. The camp starts with simple coding concepts such as loop and conditional to get students familiar with text-based coding, and gradually goes deeper to more advanced concepts such as variables, arrays, and more.
For grades: 4-8
Reviews: "I am very impressed with Create and Learn. The teacher is wonderful and is so patient with my son. Thank you for a great experience!"
How it works: 4 sessions of 55 minutes live with a live online teacher.
Price: $105 (And the intro camp is free!)
From learning basic computer skills to making animations, there's sure to be an option your child will love. These weekly camps are five days each week for one to three hours. And include instruction on Java and more.
For ages: 5-7
Reviews: "We had a great experience with Coding with Kids. Gave us all the help we needed leading up to the camp so my son was prepared."
How it works: Our Little Coders camp is an opportunity for young children to develop their computational thinking skills, build their first programs, and have fun with new friends!
Price: $99
Online summer camps for middle school students
Explore more advanced programing elements of Python such as dictionaries and files, and learn how to employ Python's powerful modules to build games, stories and real-world data projects.
For ages: 10-18
Reviews: "I'm so glad we signed up. This class was so much fun."
How it works: 4 sessions of 55 minutes live with a live online teacher.
Price: $105 (But it's on sale now! Save big by getting a summer camp class pack.)
Data science reveals the ways the world is influenced by data. Does your child enjoy playing sports, winning video games, and watching Youtube channels? Well, all of them are powered by data! The Data Superpower camp teaches students the basics of collecting, analyzing, and making decisions with data.
For grades: 4-7
Reviews: "My daughter loves the classes and has been exploring making different games on her own after the class. "
How it works: 4 sessions of 55 minutes live with a live online teacher.
Price: $105
Join an enjoyable online experience in LEGO® engineering.
For ages: 5-17
Reviews: "This is by far the best coding program! My kids learned a lot in their coding camps and developed further interest in coding. They ran the camps in a way that the kids were completely independent, not needing my help."
How it works: Enjoy teacher-led Zoom STEM sessions. Three days for an hour each day.
Price: $180 per day.
Online summer camps for high school students
Master the language you need to know for the AP exam. Students will learn the basics of Java syntax, before moving on to mastering important programming concepts such as ArrayLists and Object-Oriented Programming and building fun projects. Plus, learn advanced Java concepts such as 2-D Arrays and Sets, and create games and Android apps for their games.
For grades: 6-12
Reviews: "Great instructor."
How it works: This Java for kids camp is 4 classes focused on getting results, and building the type of skill set that will enable further exploration in Java. Each class session actively engages students in developing real-world programs. Students will not just be learning about concepts, but also applying them to actual solutions. The small class size means that students will receive the kind of individualized attention and support that is so critical to success in computer science.
Price: $105
Advance your modding skills in this next level Minecraft Modding class.
For ages: 12-18
Reviews: "The camp itself was fun and my son learned a lot. We will be returning customers for sure."
How it works: Students create more complex mods using advanced coding concepts, such as classes, event driven programming, and arrays.
Price: $235
How to pick the best virtual summer camp
To get started, here are a few tips to help you select the right virtual summer camp for your child.
Match your child's interests.
See what their friends are going to.
Ensure instructors are good.
Be sure the curriculum uses the inquiry-based learning method.
Make sure it's live!
Check prerequisite requirements.
Look into the tech requirements.
Read reviews of past experiences.
Here are more ideas to help you pick a summer camp.
Save your spot for the best virtual summer camps for kids
In this post, we discussed your options for summer fun including virtual summer camps to engage your child in STEM concepts and computer science. We went over various options that you can select from depending on your child's age and interests.
Scratch Ninja from Create & Learn is an excellent place to begin for elementary students, and Data Superpower is a great camp for middle school students. We hope this post inspires you to check out engaging and powerful camps for your children this summer!
Up next, learn more about robotics and coding.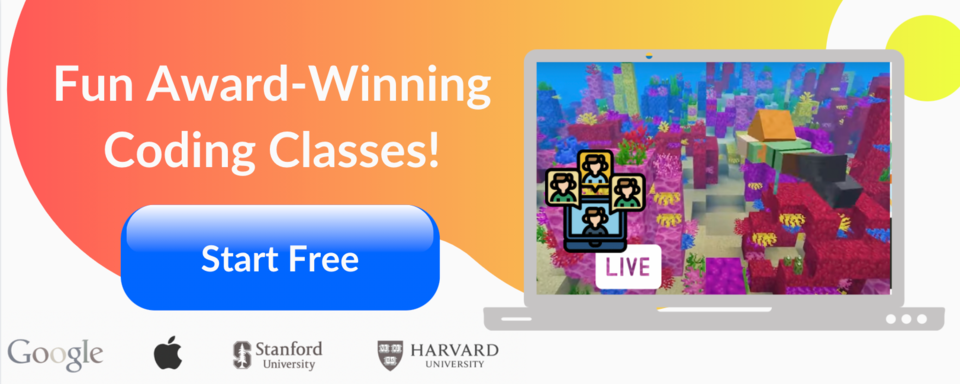 Written by Lauren Mauel, a Create & Learn instructor with 8 years of teaching experience. She also has a BS in Mathematics, an MS in Analytics, and is a PhD candidate. She loves seeing kids' creativity come alive.