Coding for kids is so much fun and a great way to equip students with the skills for future success. Because their developing brains are made for absorbing information and learning, children pick up new languages more easily than adults.
Beyond that, learning to program helps improve a child's attention to detail, creativity, and academic performance, as well as provide a boost in confidence and the opportunity for a lucrative job as they enter the working world. Speaking of jobs, did you know that as of 2020, only 6% of working people in the US have STEM-related occupations but earn twice as much as their counterparts according to the latest STEM stats?
So today we'll help you discover the best way to learn coding for kids, how to begin, and reveal ways to set your student up for success developing a lifelong love of learning!
Pro tip: Most parents start their students out learning beginner-friendly Scratch coding. Enroll your child in our award-winning Scratch coding class led live by an expert and designed by professionals from Google, Stanford, and MIT today:

Coding for Kids: The Ultimate Guide
There are many benefits to coding for kids. Today 87% of parents believe Computer Science is at least as important as math and English according to a Gallup report. Our progressive world is always looking for students who are well-versed in technology to solve real-world problems. And solving problems is a big part of what learning computer science can empower your student to do!
In a study published in the American Psychological Association's Journal of Educational Psychology, researchers tested the claim that learning to program computers improves cognitive skills. Their research showed that a positive transfer to situations which required critical thinking, mathematical skills, metacognition, spatial skills and reasoning existed. Explore more reasons why kids should learn to code here.
Coding for kids is the process of giving a computer instructions. It's the set of instructions we create to communicate with computers. Through coding we're able to make computers perform tasks.
Computer coding empowers kids to not only consume digital media and technology, but also to create it. Instead of simply playing a video game or using an app, they can make their own video game, or even their own website. We can make games with code, program robots, and even train chatbots how to talk.
Just like how we can use different languages to communicate with one another - English, Spanish, Japanese - computers also have many languages they understand. For example, HTML, CSS, Javascript, Python, C++ and more. (All of these are syntax-based languages, where coders manually type the script text.)
For kids who are just getting started, drag-and-drop visual programming is a great way to learn the fundamental concepts of coding. Visual programming, such as Scratch and ScratchJr, allows kids to connect blocks together to make programs. This empowers children to focus on understanding the underlying logic needed to make a program, without worrying about typos from writing code syntax.
It is important to learn coding since it is becoming an integral part of the global economy! Popular tools that use code are Alexa, self-driving cars, and chat bots.
Beginning programming for kids does not need to be hard or intimidating. Kids should learn to code through creation, design, and gamification of the process. The best way for kids to learn to code is by actually doing the coding themselves. It is vital to try, make mistakes, and then learn from those mistakes throughout the design process. Coding can be learned through classes, one-on-one mentoring, or utilizing independent learning.
Online coding courses are one of the best options and the route that many parents chose to go, because children have an expert at their fingertips to coach them through the rigorous process, and answer questions as they go. Coding can be intimidating - and one little typo can prohibit code from running properly - so having personalized feedback from an expert in a fun environment is crucial to maintaining a child's interest while building confidence in the process. Oftentimes, the teacher makes all the difference and without a strong mentor, children will feel discouraged.
Create & Learn has excellent coding options depending on the age, interest, and level of your child. Children can start out in a basic coding class to introduce coding concepts while making cool games, and progress all the way through preparing for the AP Computer Science exams. Up next, we'll help you find the right course for your student to begin.
Select The Right Programming Language To Learn
Helping your child learn to code can be fun, but it can also be overwhelming to know where to begin. Before you begin teaching your child coding, identify the right language for them to start. Here's a handy chart to help you, as well as a video you can watch: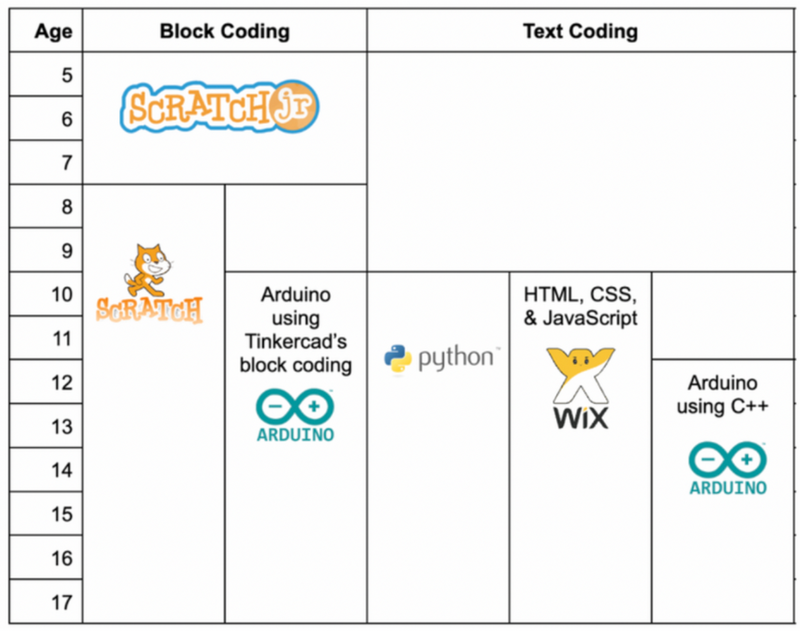 The best coding classes for kids will include real-world applications, use inquiry-based and project-based learning, as well as ensure kids are having fun. Here's a a quick check list of considerations when evaluating which class platform might be best for your student.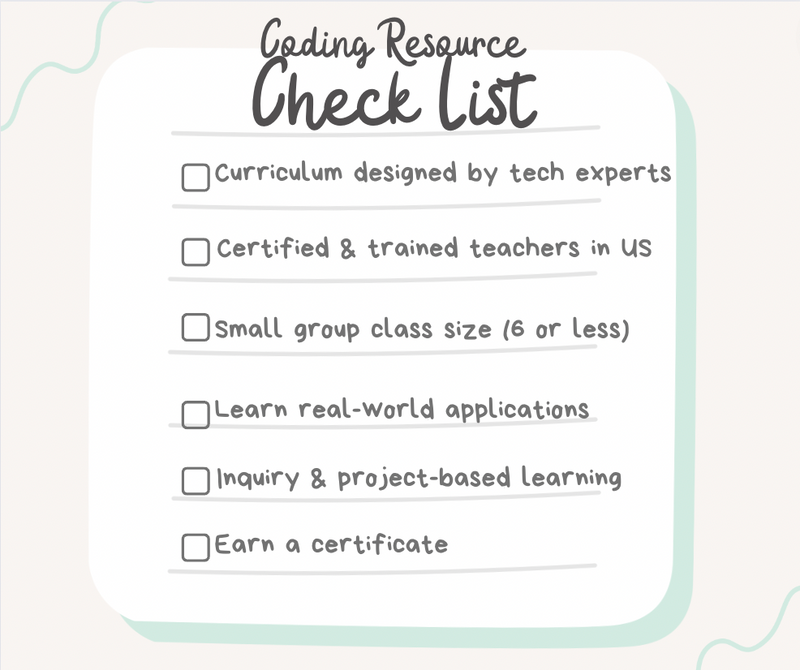 Create & Learn is an award-winning STEM program with the mission of providing top-quality Computer Science education to students in grades K-12. All of our classes are held live online and are taught by experienced teachers. All of our curricula were developed jointly by tech experts and experienced educators from Google, Apple, Stanford, MIT, and Harvard, with a strong focus on developing students' creativity and critical thinking skills using project- and inquiry-based learning. Today our classes have been recognized by Minecraft Education, Facebook, HulaFrog, ActivityHero, and more. We also provide free coding classes and free tech events with speakers from NASA, Pixar, Google, and other top companies. With our classes, your student will find the magic in technology and have fun!
Coding for Kids Curriculum
Explore the Create & Learn curriculum to find the classes that will equip your student with the skills they'll need to go from absolute beginners to experienced programmers in the fields in which they're interested. We recommend starting with foundation classes, choosing intermediate classes based on interests, and completing advanced classes for ambitious learners.
Grades K-2: Learn the basics of coding and Robotic using Scratch Junior, and NASA STEM Club. Discover how computers power our daily life.
Grades 2-4: Learn the basics of coding, AI, and Robotic using Scratch, Vex VR, and Microbit. Discover how computers power our daily life.
Grades 4-6: Code games and animations, build mobile apps, discover how AI works, and compete with virtual robotics. Explore a wide range of fields and far reaching topics.
Middle School Coding Curriculum
Grades 6-9: Master areas your tween enjoys the most. Reach advanced topics such as Cloud Computing, and CS Principles. Solve real-world problems with computer science.
Grades 9-12: Master areas your teen enjoys the most. Reach advanced topics such as Java, Cloud Computing, and even Computational Biology. Solve real-world problems with computer science.
Start With Free Coding For Kids Classes
A great way to discover your child's interests and ensure they're in the right class for their skills levels is to try a free class! Our small group classes, live online experience, and awesome teachers set every child up for success. Most younger students start with popular beginner-friendly Scratch coding and creative Minecraft engineering. While middle and high schoolers enjoy Python and making games with Roblox coding.
Beyond free classes there are also heavily discounted intro computer science classes in a number of subjects worth exploring!

Popular Online Coding for Kids Classes
Here are a few popular subject areas for kids coding courses:
What's New In Coding for Kids
Because computer science is a rapidly changing field, your children's learning today and their future continues to change drastically right in front of our eyes! As just one example, consider the launch of ChatGPT in 2023. The impact and capabilities of AI are growing almost daily, with headlines announcing that AI has passed a Google coding interview, Wharton MBA exam, and Math & Computer Science Olympiad questions; that AI now helps CEOs generate ideas and engineers to write code; that AI is winning art contests against human artists, and much more. As a result, our curriculum and event offerings are constantly expanding in order to meet demand. We invite you to explore some of our most exciting offerings including summer and winter camps for kids, free NASA events, tech expert events and much more.
Summer coding camps: Enjoy fun online summer coding camps. Everything from beginner coding to website design, NASA science, game development (Roblox and Minecraft!), and even advanced coding such as Python. Choose from a wide range of incredible computer science camps to unlock your child's curiosity today!
Winter coding camps: Enjoy mid-winter break camps covering fun topics from beginner game coding (including Pokémon Game Building) to advanced coding such as Python and Java. Designed by Google and Stanford experts, and taught by experienced US-based teachers, Create & Learn's live online camps have been recognized by HulaFrog and parents worldwide as the Most Loved Virtual STEM program and won the Best of ActivityHero Award.
Free tech events: Check out the latest free computer science classes for kids on fun and state-of-art technologies, brought to you by Google, Apple and Stanford experts. Plus learn from NASA & Space top experts about how they explore evidence of past microbial life on Mars, and even how they rescued a NASA spacecraft a million times farther away than the space station. You can also join Coding Fairs, Kahoot! games, and other fun events for kids and parents with free community events.
Questions Parents Ask About Coding for Kids
What's the best coding for beginners?
The best coding for beginners focuses on non-intimidating entry points for children. It should not be too technical but rather organic in the approach. Interdisciplinary learning is an excellent way to engage newcomers with coding without scaring them away. Using a block-based language like Scratch can make coding more accessible for kids. With this drag-and-drop tool kids can quickly build code and watch it come to life as cool games. Scratch Junior is great for students in K-2 grades; Scratch Ninja is a great place to begin for 2nd to 4th graders; while Accelerated Scratch is an excellent starting place for older children.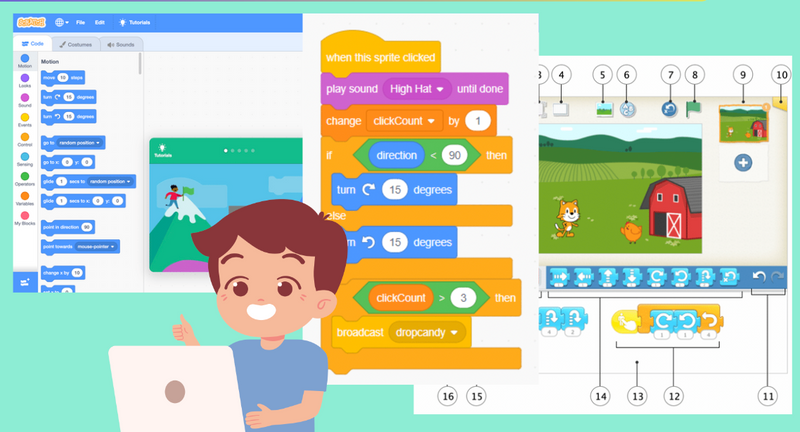 What are coding for kids online resources?
There are many options for kids who want to learn coding. The best coding websites for students pique their interest in this life-changing subject. Much like learning to ride a bike, once they get started, they'll never want to stop! Scratch by MIT is an excellent website to start with. It is gamified and design based which provides a fun element to the steep coding learning curve. Code.org is another excellent resource used by many classroom teachers worldwidde. Here are a few more of the best coding websites for kids and the best resources for teaching kids to code - you might find that a combination of the below resources is best for your student:
Scratch coding resources: There are a number of great Scratch coding resources for parents and kids online, including YouTube videos, live online classes, and self-guided tutorials. Many of these resources are absolutely free, and boast great parent reviews.
Python coding resources: Discover five recommended Python programming resources to help your child or teen begin or advance in their learning journey. These resources were selected because they are interactive, engaging, and most importantly, technically sound, in order to keep your child interested and motivated to learn more.
STEM learning resources: Explore these engaging activities and classes that will help your child develop a lifelong passion for STEM. From fun with magnets to a binary language decoder and even instructions for building a robotic hand, find tons of fun.
What are coding games for kids?
Many sites offer coding games for kids. Scratch, Code Monkey, and Minecraft are some to start with. Here are some coding games for kids to try. Let your child try different games and then dive deeper into their favorite aspects with YouTube videos, online tutorials, and live online classes.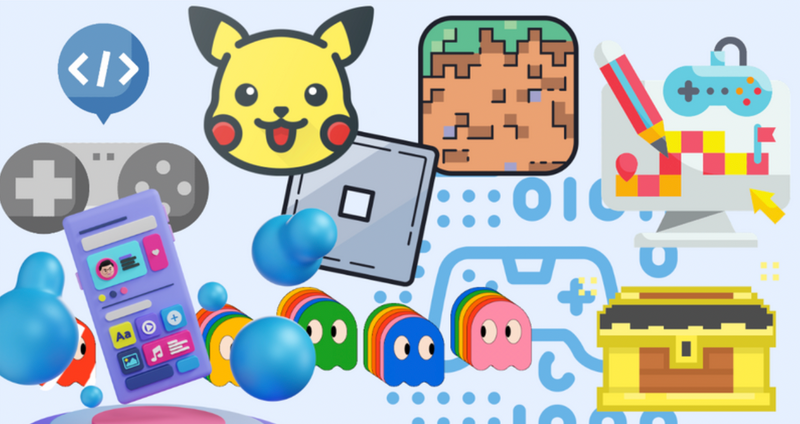 What types of coding can kids learn?
Choose from 35+ incredible computer science subjects on Create & Learn to unlock your child's curiosity today! Here are just a few examples:
Complete The Coding For Kids Program
Begin your student's coding adventure today. Enroll in a free Scratch coding class led live by an expert. Soon enough, your child will grow, learn, discover a new passion, and earn their first coding certificate of completion!