Online Open Classes - Free Events!
Fun and state-of-art technologies, brought to you by Google, Apple and Stanford experts
Create & Learn focuses on next generation computer science education for students K-9. In light of school closure that is happening all around the United States, we are hosting a series of FUN ONLINE Open Classes to provide valuable learning to a lot more students.
Your kids will learn about many different exciting aspects of technologies and how they are applied in the real world, e.g. in the movie industry, health care, consumer products, game creations, etc. What happens behind the scene when we play Minecraft or watch videos? How can we help scientists solve the puzzles and design cures for diseases? Start to explore all of these from home, and have fun!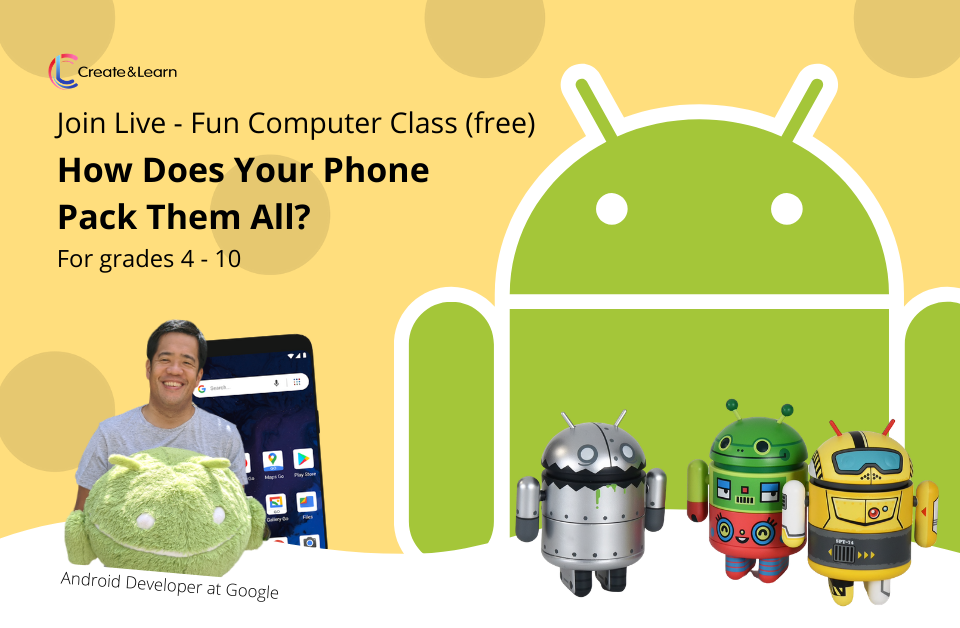 How Does Your Phone Pack Them All?
Do you know that there is more computational power in a mobile phone these days than the Apollo 13th that landed on the moon? That little thing is truly amazing... videos, games, chat, pictures... It does it all. But how? Join us in this Open Class with an Android developer from Google to learn more about Android, the system that powers many billions of mobile devices in the world. See how professionals create mobile apps and try to develop something of your own.

Max Enrollment: 500 Students

James Kung - Android Developer at Google
Recordings of Past Open Classes
Coding Games in Roblox
Peter Wonica - Game Design and Computer Science Curriculum Developer at Roblox
AIVA
Ashkhen Zakharyan - Aiva
From Blockbuster Movies to Artificial Intelligence - Learn the Power of GPU
May Casterline - Ph.D, Senior Data Scientist from NVIDIA
OpenVaccine Game
Karen Tolentino - Researcher, Dr. Howard Chang's Lab at Stanford University
Internet: Magic behind the scenes
Winnie Lam - Director / Global Client Lead, Google.
Pixar in a Box: The Computer Science Behind the Movies
Tony DeRose - Former Senior Scientist, Pixar Animation Studios. Two-time Oscar winner.
How can robots help us: especially now
Chris Atkeson - Professor in the Robotics Institute and Human-Computer Interaction Institute at Carnegie Mellon University
Art & Science in Our Online Life Data
Elijah Meeks - Data Visualization Engineer, Apple. Executive Director, Data Visualization Society