Celebrating #HispanicHeritageMonth at Create & Learn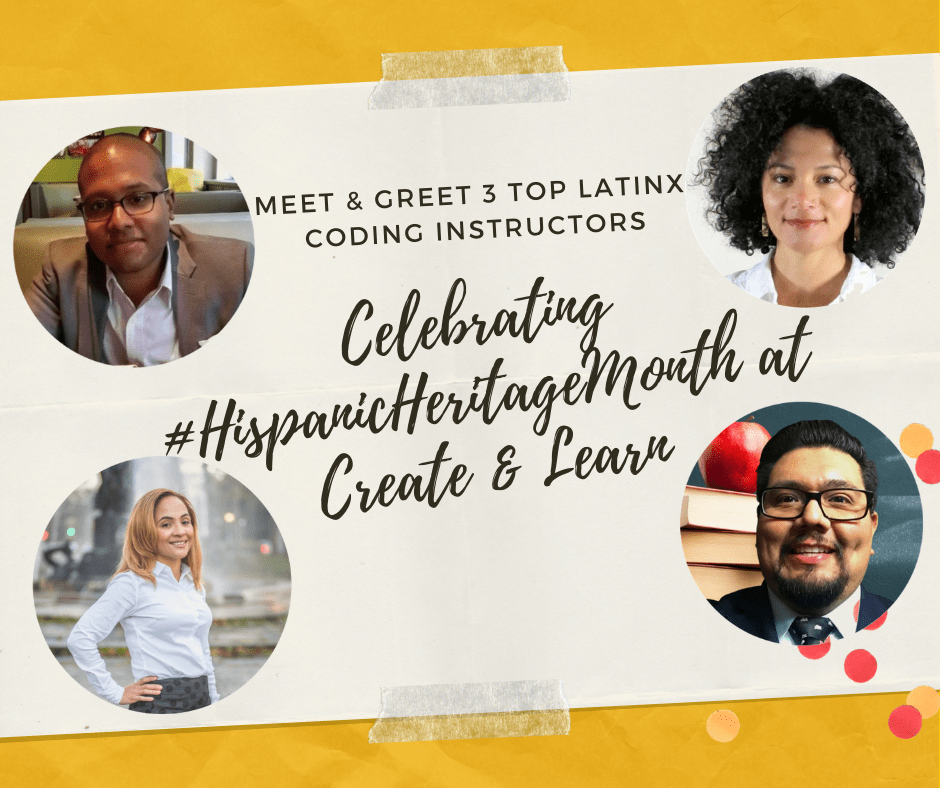 As October comes to an end, let's take a moment to think back on our awesome Hispanic Heritage Month at Create & Learn. Common themes of family, pursuit of knowledge, and determination has shaped their lives, and we appreciated learning more about 4 of our talented Latinx teachers—Joanne, Rosanna, Fausto, and Noe.
While reflecting upon #HispanicHeritageMonth and what it means to her, our Lead Program Manager for Teaching & Learning Innovation, Joanne, recalled how a flying taco inspired her when it comes to computer science education. Click here to learn more about Joanne's story.
Rosanna told us about her experience being a mother with a desire to learn to code, remembering how the "boys were so good at it." She experienced "imposter syndrome" magnified by 100 but was undeterred, and she continued to come back to code. Learn more about Rosanna and her story here.
Fausto is a former finance analyst who was convinced he would never follow in his father's footsteps as school principal. But the value of education imparted to him by his Dominican parents led him to teaching computer science. Learn more about Fausto's story here.
Lastly, Noe talked about his journey to becoming a Renaissance man by taking every opportunity he could to learn new skills from teaching, to professional development, and to web development. Check out his story and learn about what else he can do here.
We finished Hispanic Heritage Month strong by celebrating the skills, achievements, and talents of our amazing teachers! Interested in learning with them? You can find them bringing in their variety of skills and experiences to your children in our Scratch Ninja, Data Superpower, AI Explorers, and Python for AI classes.