Your children's learning today and their future have changed drastically right in front of our eyes with the recent launch of ChatGPT. The impact and capabilities of AI are growing almost daily.
With ChatGPT passing Google interviews and law, medical, and business school exams, and about 90% of students admitting using ChatGPT for their homework, there are both huge opportunities to use ChatGPT for improving education and more urgency in shifting how we educate children.
We have gathered this collection of resources to help educators and parents understand and navigate ChatGPT (and similar AI technologies). We will continue to update the page as new developments occur.
What Is ChatGPT?
To put it in the simplest form, ChatGPT is an Artificial Intelligence technology that you can converse with and ask an incredible wide range of questions from how to cook pasta, travel recommendation, to coding, solving calculus problems, and a lot more. It is so intelligent that it can pass Google Interviews, AP tests, and Bar exams just to name a few examples.
Hear how Sam Altman described ChatGPT. He is CEO of OpenAI - the company that developed ChatGPT. For a more technical description of ChatGPT, check out the ChatGPT launch blog.
ChatGPT was created by OpenAI. Similar AI technologies have been developed by Google and other companies. But ChatGPT is the most well known one. In this guide, for simplicity, we sometimes use ChatGPT to represent this kind of AI technology in general.
More In-depth technical references on what ChatGPT is
How To Use ChatGPT
Many products now incorporate ChatGPT. You can try it out still at its original form for free on the OpenAI ChatGPT website. Here is a two-minute video that walks you though how to get started using ChatGPT.
ChatGPT Prompt Engineering
ChatGPT can do numerous things. How much power you can get out of it depends largely on your ability with prompt engineering.  
If you are curious about what others have talked to ChatGPT about or want some inspiration on what to prompt ChatGPT with,  check out the "Awesome ChatGPT Prompts" repository. It is a collection of hundreds of fun prompt examples to have ChatGPT act as a screenwriter, tea taster, interior designer,  statistician, ... the limit is only our imagination!
Here are some of the more technical references:
ChatGPT's Education Impact
One of the areas that ChatGPT will surely create significant impact is education. As an example, as of March 2023, ChatGPT 4 is able to pass a wide range of AP and higher level tests.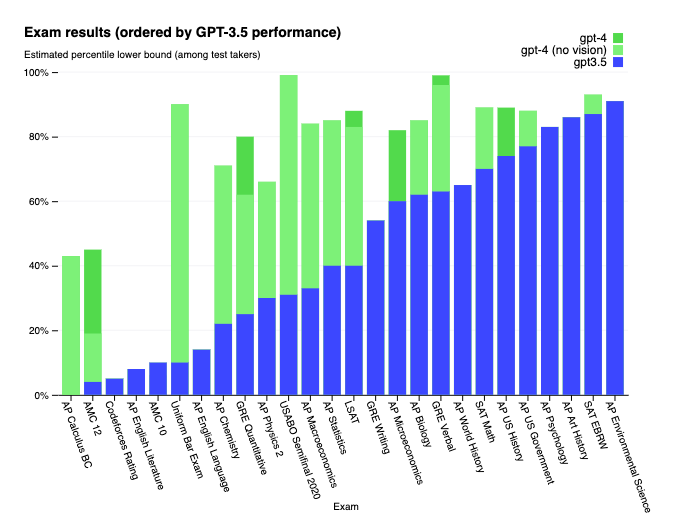 The immediate concern is there is a strong potential that students might misuse ChatGPT, instead of trying to do research, homework, and reports on their own.
Most also see the huge potential of how ChatGPT can be that powerful personalized teacher that adapt its teaching for every single student.  
The challenge in front of most educators in the short term is how to reduce mis-uses of ChatGPT, and ideally leverage it to improve students' learning experiences. Interestingly, in our opinion, the best way to reduce mis-uses is in fact to proactively incorporate it as part of learning.
The long term strategic/policy implication of ChatGPT is profound. We will need to rethink what students should be learning and how education should be structured.
Views & Thoughts on ChatGPT from Industry Leaders
There are many references in this area. We try to highlight diverse samples of opinions. The goal is not to be exhaustive.
Research and Surveys about ChatGPT for Education
Open AI, OpenResearch, University of Pennsylvania
Key findings (learn more)
1 in 5 American workers could do their job much, much faster. 19% of American workers have at least 50% of their tasks exposed to GPTs, meaning that access to a GPT could reduce its completion time by at least 50%. Faster and cheaper, but not necessarily better…it depends on the data
AI & Tomorrow's Job (Junior Achievement) - March 2023
Key findings (learn more, report)
More than nine in 10 teens say they would be interested in learning in high school about how to work with artificial intelligence.
Sixty-six percent of teens said in a newly released survey that they are concerned they may not be able to find a good job as adults because of artificial intelligence. And one in three said they were "very" or "extremely" concerned.
Walton Family Foundation - March 2023
Key findings: (learn more)
A 51% majority of teachers report using ChatGPT, with higher usage among Black (69%) and Latino (69%) teachers.
Three in ten teachers have used it for lesson planning (30%), coming up with creative ideas for classes (30%), and building background knowledge for lessons and classes (27%).
A third of students 12-17 say they've used ChatGPT for school (33%), including 47% of those 12-14.
88% of teachers and 79% of students who've used ChatGPT say it's had a positive impact. Teachers
Study.com (Q1, 2023)
Key findings: (learn more)
82% of college professors are aware of ChatGPT, compared to 55% of grade school educators. Over 9 in 10 students are aware of ChatGPT, far more than grade school educators.
Over a third (34%) of all educators believe that ChatGPT should be banned in schools and universities, while 66% support students having access to it. Surprisingly, 72% of college students believe that ChatGPT should be banned from their college's network.
News & Opinion Pieces on ChatGPT and Education
There are also many references in this area. Again, our goal is to highlight a diverse sample of opinions, rather than being exhaustive.
Panel Discussion on ChatpGPT for Education for Teachers and Parents
How ChatGPT and AI are Changing Children's Learning and Their Future (Event for Parents & Teachers) - Create & Learn March 2023
David Touretzky - Computer Science Professor at  Carnegie Mellon University; Founder and chair of AI4K12.org
Jamila Khawaja - Senior Curriculum Development Manager at Code.org
Jia Li - Chief AI Fellow of Cloud First, Data & AI at Accenture, Founding Head of Google Cloud AI R&D, Stanford
Wes Chao - Computer Science teacher at The Nueva School, a leading preK-12 independent school for gifted learners, and former Facebook engineer
Education Tools that Use ChatGPT or Similar AI Technologies
How ChatGPT Works Technically
Semi-technical explanation by Ari Seff (YouTube video)
Deeper technical presentation- Stanford Webinar - GPT-3 & Beyond (YouTube video)
Safety for ChatGPT - Our approach to AI safety (OpenAI)
Learn More About AI: AI Classes for Students
Interested in having your children or students learn more about AI? Check out our award-winning live online AI classes for grades K-12, led live by an expert instructor.
Discovering AI (Grades 2-5): Artificial intelligence is everywhere around us and it shapes a lot of the decisions we make every day. It is both fun to learn about and also important to understand how it is present in our everyday lives! Take the plunge into the fascinating world of AI with this course, which will help your child explore various topics in the field of AI. Best of all, they will get to discover AI with hands-on activities and by training their very own AI models!
AI Explorers (Grades 4-7): In this fascinating series of AI classes for kids, we introduce students to the latest AI technologies and their applications in many areas. Here are some highlights of the series: Hands-on experience with cutting-edge artificial intelligence and machine learning products; Learn how AI works and real world AI applications; Understand what AI can and can not do, and why; and build your own AI system. Students will also get plenty of opportunities to apply their creativity and critical thinking skills. Save your spot now to have fun with AI!
AI Creators (Grades 6-12): From dancing robots and protein folding to Siri, artificial intelligence is intelligence given to machines, similar to the natural intelligence demonstrated in humans. But can machines possibly be given intelligence? AI Creators provides students with the opportunity to create simple and practical AI apps using a variety of tools - from the Python coding language and open source packages to commercial AI. By the end of class, students will achieve a firm foundation in key technical concepts used in coding AI, and creating models representative of a variety of data, including medical imaging datasets (pneumonia, Covid-19, and the like), and so much more. Students will also receive an excellent overview of the frontier of AI technologies and develop strong problem-solving and critical-thinking skills.