There are more free online classes for kids now than ever before, which can make it confusing to choose the right class. Is the curriculum well-designed? Will your kid be engaged? What skills will they build, and how will they apply them? Is the price worth it?
Getting your child the best education should be simple, so we rounded up a list of some of the best free online classes for kids in all sorts of subjects—from science and technology to music, arts, life skills, and more. Discover one-time activities and semester-long classes, as well as clubs for kids to meet friends and develop lifelong skills.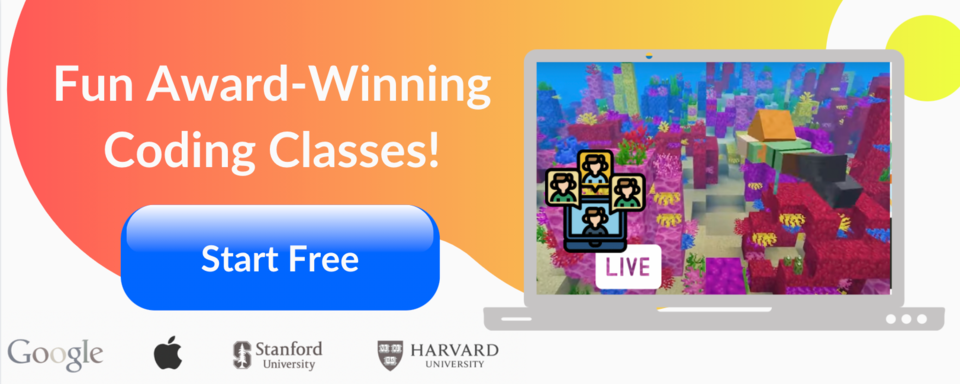 Discover the best free online classes for kids
Explore self-directed and interactive classes in computer science, math, baking, arts, and so much more. All classes are kid-friendly and free!
Help students boost their skills in computer science, coding, and more through small-group virtual classes taught by live instructors. With a max of five students per class and a comprehensive curriculum designed by experts, Create & Learn sets up learners for success. The free online classes are self-directed, so students can focus on building essential skills whether they're at a beginner, intermediate, or advanced level.
Ages: K-12
Subjects: Computer science, coding, math, science, engineering, art
Popular class: Free Intro to Scratch Coding
A non-profit organization on a mission to prove free, world-class education to learners around the world, Khan Academy helps students grow their skills and meet grade-level standards. The classes are designed by a team of experts, including software engineers, program managers, and content creators, and offer a variety of subjects across grade levels. The platform also provides free resources to teachers so they can ensure students are on track and have the content they need to accelerate learning.
Ages: K-14
Subjects: Math, science, arts, humanities, reading, computing, economics, life skills, test prep
Popular class: Learning programming
It's easy to find free online classes and workshops on ActivityHero, a platform that hosts e-courses from teachers from around the nation. You can browse by activity, like arts & crafts, cooking, coding, social skills, and more, to find the class that's right for your student. Filter by time of day, date, length, and age groups, and read through descriptions before signing up for a class.
Ages: K-12
Subjects: Art, math, science, baking, coding, music, yoga, writing, languages
Popular class: Mighty Coders
Skillshare helps students explore their creative sides with classes on drawing, painting, animation, coding, paper crafts, and more. The platform has a variety of classes for kids that feature short lessons and fun projects, yet all are taught by experts and experienced artists. It's free to sign up for a membership, and you can browse classes by skills learned, class length, and a paid or free option.
Ages: K-12+
Subjects: Arts, graphic design, writing, UI/UX design, photography, leadership, coding
Popular class: Watercolor for Kids
Discover free games, videos, experiments, and articles that teach kids about science, animals, history, and more. National Geographic Kids is a great resource for short, engaging lessons that kids can read through and try on their own or with the help of a parent or teacher. While the platform isn't designed like a typical classroom experience, it offers hands-on learning opportunities for kids of all grade levels. For teenagers, National Geographic Education offers more advanced lessons and learning opportunities.
Ages: K-8
Subjects: Science, history, geography
Popular class: Kids vs. Plastic
Sawyer makes it simple to browse and book hundreds of free online classes for kids. Students of all ages can explore their interest in topics, like coding, performing arts, or music, with free beginner classes. Once they know what subjects they want to learn, schedule time for focused learning with classes, clubs, and workshops. The class schedule is organized by date, so you can see what classes are available today, this coming week, or several months out.
Ages: Pre-K-12
Subjects: Arts, music, computer science, reading, languages, technology, science
Popular class: Online LEGO Studio Winter Village
Future programmers rejoice! iRobot Education is the place for learning about robotics, computer science, coding, and more. The online classes are designed for the platform's robots and use storytelling to teach students how to program. From creating flower shapes to space adventures, the classes revolve around short 5-15 minute video explanations and offer resources for helping students solve the problems at hand. For little learners, the platform offers activities and stories to build a foundation in robotics.
Ages: K-9
Subjects: Robotics, coding, programming, science, art, English language arts
Popular class: Simulator Code Break
Explore hundreds of free online classes for kids in science, art, math, English, languages, and more. While Varsity Tutors offers small and medium-size paid classes, the large classes are free for anyone to join. Students learn from experts who design engaging curriculums, like how to perform science-based magic tricks, discover what it's like to be an astronaut, and show how science can help you survive on a desert island.
Ages: K-12
Subjects: Art, math, languages, science, social studies, coding, technology, test prep
Popular class: It's Not Magic. It's Science!
GoNoodle's mindfulness and meditation videos are used in schools across the US, but the platform also offers free online videos, activities, and blog posts in STEM, cooking, music, nature, and adventure. Students watch short 1-5 minute videos to learn about topics like composting, creating healthy routines, and coordination. Then, they can do an activity to test their knowledge of what they learned.
Ages: Pre-K-6
Subjects: Health, music, science, social studies, English language arts, reading, Spanish
Popular class: Melting
If your student has shown interest in mathematics or simply needs to work on fundamental skills, the National Museum of Mathematics offers a number of free online classes for kids of all ages. You can see the class schedule for the current and upcoming week and read through descriptions of each session to see if it's right for your student. Classes marked as "free" are free to all, while the other classes charge a fee to attend—but free spots have been set aside in every paid class for families in need.
Ages: Pre-K-12
Subjects: Geometry, arithmetic, discrete mathematics
Popular class: Magic Squares

You can find even more free educational programs for kids here.
Explore Free Zoom classes for kids
There are so many free online classes to choose from, so we rounded up a few recommendations that are sure to engage kids and help them build lifelong skills.
11. Create & Learn events
Get an inside look at the life of computer scientists and tech experts with free hour-long classes that are designed with kids in mind. Students find out what coding has to do with their favorite sports, discover how NASA scientists study the ocean from space, learn about the power of GPU and its impact on movies like Star Wars, and much more.
Ages: Grades 2-10
12. Stop Motion Animation
Kids can explore their creativity in this free 90-minute online class from xQ Creativity that teaches the art of storytelling through stop motion animation. Students will get an intro to the basics of stop motion, tips to make an animated video, and the chance to join the xQ Stop Motion Animation Championship.
Ages: Grades 4-8
13. Javascript Game Development
Discover how to create a Javascript game with a text editor and browser in this free online class from Penguin Coding School. Kids will learn the basics of Javascript and use variables, functions, loops, and conditionals to develop their own web-based games.
Ages: Grades 3-7
14. How to Draw Dynamic Poses
Students can let their inner cartoonist loose in this free online video class about drawing dynamic poses. An intro to the Winged Canvas Cartooning & Anime class, this video explains how to create natural-looking poses by creating a classic manga character. For in-depth steps, you can register for the paid cartooning for kids class.
Ages: Grades 4-12+
15. Fun with Fractions
Learn how fractions are used in everyday life in this engaging online class from Varsity Tutors. With a free membership, elementary students can get a refresh of what they learned about fractions in school so they better understand the basic concepts.
Ages: Grades 2-3
Online classes are great for learning new skills and creating structure, but activity classes are a great way for kids to apply what they learned in school.
Discover online activity classes for kids
The following activity classes were hand-picked by our team and allow kids to express their creativity, practice life skills, make friends, and so much more.
16. MoMath Color Grids
This National Museum of Mathematics workshop teaches kids how to create interesting color patterns using simple math rules. Simple materials, like pencils or markers, graph paper, and a provided printout are all kids need for 45 minutes of fun.
Ages: Grades 3-6
17. From Mindless to Mindful
Teach kids to calm down from the chaos of school and life with this GoNoodle guided meditation activity. The short video helps kids practice mindfulness so they learn to focus their attention in the present moment.
Ages: Grades 1-5
If your gamer loves Roblox, this is the perfect online activity class to meet other gaming coders, and learn new techniques and strategies for coding awesome versions of the game. Create & Learn hosts this free 55-minute meetup every week, with a small group of students who learn new Roblox coding skills and create fun projects.
Ages: Grades 4-8
19. How to Draw and Watercolor Paint a Cool Space Robot
Learning how to code a robot is fun, but this online activity class is all about art and creativity. Kids will learn how to organize shapes and lines into a robot drawing, and then bring their creation to life with basic watercolor techniques that encourage self-expression.
Ages: 6+ years old
20. Khan Academy Kids
This program from the Khan Academy is designed to set little learners up for a lifetime of discovery, with charming characters to guide kids through activities and stories. Kids will learn early literacy, reading, writing, math, and social-emotional skills as they interact with the app's animated lessons.
Ages: 2-8 years old
Have a future programmer on your hands? You can discover free STEM-based online activity classes for kids here.
Try live online homeschool classes
Online homeschool classes can teach your kids the subject-based skills they need to succeed while also letting them learn alongside other students. For a guided learning path, there are even homeschool STEM curriculum. Here we chose a handful of classes that engage students and help them develop skills that aren't typically taught in the classroom.
Introduce students to new STEM concepts with seven free coding classes for kids from Create & Learn. Our online classes cover a range of computer science topics, from beginner coding with Scratch coding to more advanced programming with Python. Each expert-designed curriculum uses lessons, games, and hands-on projects to teach students real-life skills, like artificial intelligence, cloud computing, and much more.
Ages: K-12
Students of all ages can express their inner artist with a variety of online homeschool art classes in subjects such as drawing, watercolor, mixed media, performing arts, dance, and more. Each class outlines the learning goals, teacher expertise, homework, supply lists, time commitment, parental guidance, and resources needed, so you know exactly what's required. Prices vary by class, but you can read reviews from previous students and see samples of class projects before registering.
Ages: Pre-K-12
Let students learn at their own pace with Khan Academy online homeschool math classes. With hundreds of free courses designed by experts, you can find classes that fit your student's skills—from advanced precalculus and statistics to simple addition and subtraction. Classes are broken down into core concepts that build on previous knowledge, with a challenge at the end of each course to test students' understanding and skills.
Ages: K-12+
Kids will develop Mandarin Chinese language skills and a global mindset with interactive, online classes from LingoBus. Thousands of experienced teachers walk kids through research-based curriculums for learning listening, speaking, reading, and writing skills. One-on-one sessions, post-class exercises, and an extensive e-Library provide all the resources students need to pick up a second language.
Ages: 4-15 years old
25. Homeschool music
The interactive, one-on-one online classes from the Blue Balloon School are perfect for creative-minded kids who want to learn an instrument. Students learn how to play by writing their own songs, with lessons on lyric writing, rhythm, and song structure. If you're located in New York, Nashville, or the Hamptons, you can sign kids up for in-person classes. For everyone else, long-distance lessons are available for the guitar, ukulele, piano, drums, voice, bass, violin, cello, and more.
Ages: K-12
If your whiz kid is looking for a challenge, you can find more online classes for kids here. Or explore the best online classes for kids
Join the best free online classes for kids
Bookmark the classes, fun activities, homeschool classes, and Zoom meet-ups that are just right for your students, and share the curriculums to get them excited to learn something new.
Up next, jump right into learning fun online with a fun tutorial for making a jumping game in beginner-friendly Scratch.