As a parent interested in fostering your child's love for STEM, you might find yourself wondering: is it better to enroll in group or individual kids coding classes? So today we'll share a little bit about what makes each format unique, with the goal of helping you make the right choice for your unique student.
Should I Enroll My Child in Group or Individual Kids Coding Classes?
For most parents, our recommendation, is to enroll your child in a private coding class. That way you can easily match your child's preferred schedule and ensure your child's learning is customized to their ideal pace and areas of interest within subjects. However, if budget is your main concern, group classes may be a better fit as they tend to be more affordable and provide a collaborative and inspiring environment for kids, who can often be as energized by their peers as by an expert. Let's deep dive into the benefits each setting provides, so you can make the best decision for your student.
Online Private Kids Coding Classes
Students can enjoy private coding classes in all of the 35+ computer science classes we teach. There are several reasons why private coding lessons might be a better match for your student than a group class:
Pacing of material: Class content can progress at your student's learning pace
Customized learning: Based on your child's interests, our experts can spend more time on areas of each subject they enjoy the most
Instant feedback: In a one-on-one environment, students can get their questions answered right away, and don't have to wait for other students' issues to be addressed
Schedule match: Find the learning time that works best for your student whether it's a certain day of the week or time
Teacher requests: Surely you remember how great teachers influenced your love of certain subjects. If you find your student learns best with a specific teacher from our program or teachers with a certain set of skills, we can do our best to accomodate your request for that teacher
Other languages: We can do our best to accomodate any Spanish or Chinese teaching requests if that's your preferred langauge for your student to learn coding in
You can request private lessons for any of our classes by selecting the Private tab within the schedules section on any class page: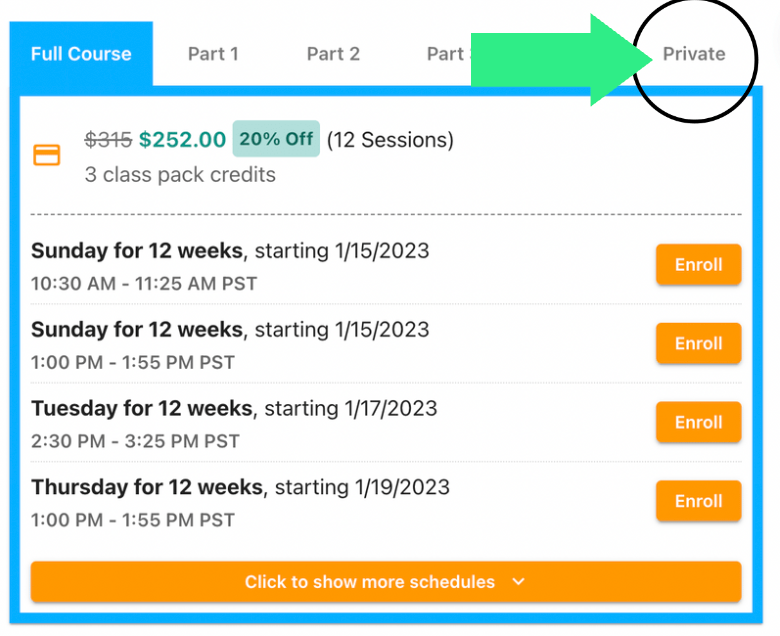 Online Group Coding Classes for Kids
At Create & Learn, many of our classes also run as small groups of up to 5 students. We've found this small group size to be particularly effective for providing students with individualized feedback, checking on their progress during class as they're coding, and helping answer questions as they come up.
Larger groups tend not to allow enough time for everyone's questions and concerns to be thoroughly addressed, and kids might feel as though they are getting left behind. Our teachers love to get to know each student's personality and be thorough about their progress, and they find handling classrooms larger groups of students is not effective.
If you're trying to decide whether a group class might be right for your student, here are a few benefits of group kids coding classes:
Supportive environment: With peers in their class, students are able to learn from and be inspired by each other.
Increased inspiration: Children may be more motivated to participate in activities when they are with a group of their peers, as opposed to being in a one-on-one setting.
Cost-effective: Group classes can be more affordable than individual classes, as the cost can be shared among students.
You can explore all of our small group classes here and check out the best online coding classes for kids. Or follow our curriculum, designed by experts from Google, Stanford, and MIT, by grade to find the best starting place for your student: K-2 | 2-4 | 4-6 | 6-9 | 9-12.
Another unique learning opportunity is to form your own small group of students for an even further discounted class rate. Pick your classmates, up to a total of 6 students including your student, and save! With 6 students, each student pays $15 per session (sessions tend to be about an hour long). This is a chance to organize a private group for your child with siblings, friends, school classmates, and more. We will assign a private instructor just for your group, and you can pick your own class time! Get started here.
Making The Decision: Is It Better to Enroll in Group or Individual Kids Coding Classes?
The best class size will depend on your child's needs, your schedule, and your budget. Regardless if which class size you select, all of Create & Learn's coding instructors are US-based, background checked and are highly trained with more than three years of experience, and look forward to helping your student unlock their love for learning and coding! We hope to see you in class soon.
Most parents choose to start with our award-winning beginner-friendly Scratch coding classes, led live online by an expert:
Up next, discover ways to motivate and encourage your student to learn to code.