Reflections During Black History Month
by Jennifer Uboh-Jean, Instructor at Create & Learn
Jennifer is a teacher, software trainer, business owner, host of a virtual talk show, and aspiring author. She holds an MEd in Curriculum & Instruction with a concentration in technology. In addition to teaching children Scratch Ninja and Junior Robotics with Create and Learn, she has provided countless free training and workshops for adults, enabling and tooling up generations to access technology.
All my life, I have had a fascination and interest in computing and technology. For as long as I can remember, I have been using computers at school and at home. I have always enjoyed keeping up-to-date with the latest advances in technology and have remained amazed at the speed of computerized developments and innovation.
I grew up in a small town - Starkville, Mississippi. I graduated from MSU - Mississippi State University in 1986. I started off majoring in Education and switched to Business Information Systems and Quantitative Analysis BISQA, earning my bachelor degree.
I switched my major from education to computer science because I realized that computer science was a career field that blacks and other minority groups were underrepresented. I must admit that I spent many days and nights in the computer lab working to complete my assignments. Now, I can look back and say  it was worth it all.
After graduating from college, I landed my first job as a COBOL programmer in Harrisburg, PA. Then, I completed the contract assignment and moved to Atlanta, Georgia for my second job with an insurance company. I was programming with a language called COBOL and I learned quickly that I really did not like the language. But, I did realize that I had a gift to teach and train other people to write code. I found my passion, combining my initial interest studying education and decided to teach computer programming.
I like to keep memories of the steps and successes along the way. The picture and article below features me in the local Marietta Daily Journal in November of 2004; proof that if you follow and pursue your dream it will happen.
As a Computer Science and an Engineering teacher, I lead my students through creative design and problem-solving processes, guiding them to use programming in activities like building their own apps, websites, and video games. My students have traveled and competed in many competitions throughout the state and W-O-N! With one group of students, we competed in the 2012 Future Business Leaders of America  CODING and PROGRAMMING EVENT earning 3rd place and 1st place in the 2015 CTI - Career and Technical Instruction - Robots competition.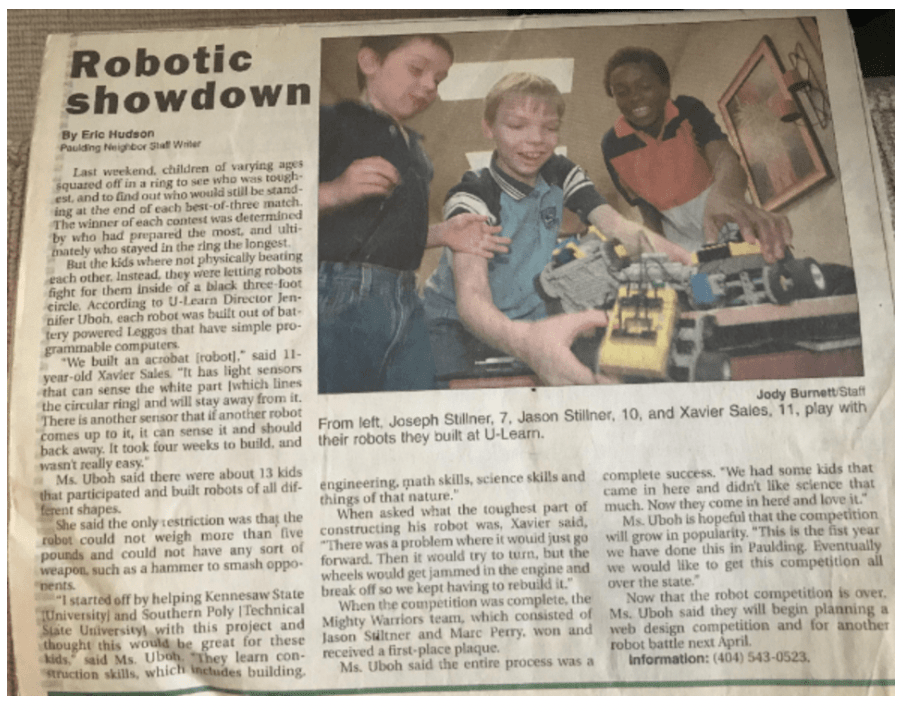 I also contributed to a National Science Foundation grant application in partnership with Southern Polytechnic State University (SPSU) and our team was awarded $400k+ to select "a cohort of both non-minority and minority students - females and males - at the 11th and 12th grade levels and SPSU undergraduates to be involved in various hands-on research projects, participating in the program for 7 weeks during the summer and once a week when school is in session for 3 years."
Now, I have at least 20 years of experience, teaching all ages how to write computer programs and more. My desire is to continue to inspire more people to learn how to code, especially people of color.
Up next, continue reading our Black History Month blog series, with Black History All Around Me by instructor Jennifer Thornton.
---
Create & Learn is on a mission to power up your child's future with courses in AI, Robotics, Data Science, and more. Designed for children grades 2-9, classes are delivered virtually with live, expert instructors. Lessons are interactive, foster creativity, and make real life connections across industries so your child can explore the latest technologies and have fun!