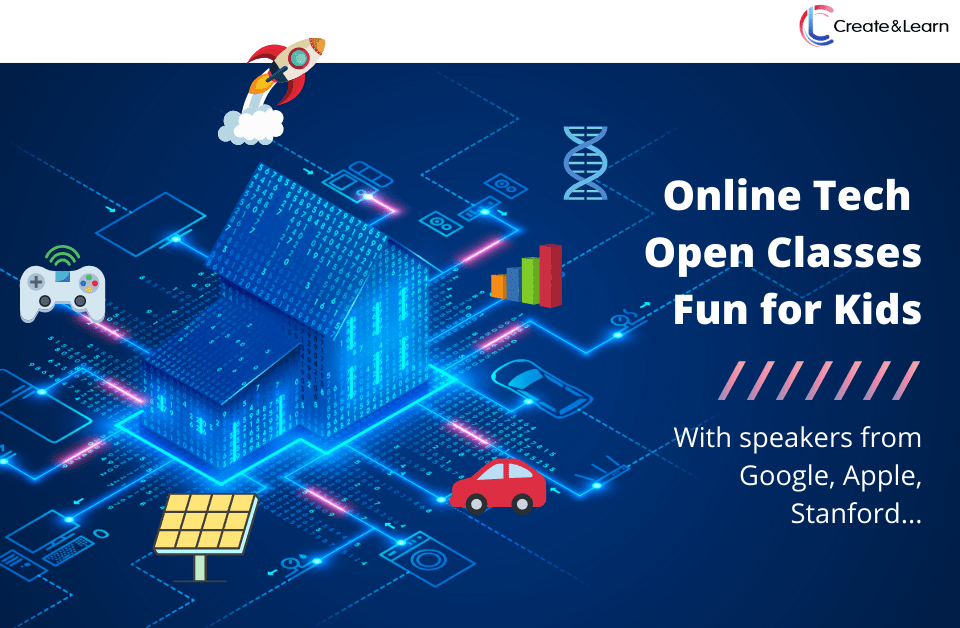 Are you looking for exciting activities and free tech classes for your kids that are stuck at home?
Join our Open Classes to learn about fascinating technologies with experts from Google, Apple, Stanford, and more. The open classes will give your child a glimpse of many different exciting aspects of the technology industry and how they make big things happen in the real world. And the classes are all free.
Discover the magic behind your favorite services like YouTube, Netflix, and Instagram. Learn how computer science is supporting the best sports teams to train, the making of your favorite action movies, the inventions of new vaccines, and many more. Plus, learn about genetics and visualizing data.
Explore 10 free tech classes for kids
Here are a couple of speakers in our series of free Open Classes. Sign up for Open Classes here or become a member to get notified about Create & Learn's future Open Classes.
By Winnie Lam - Director / Global Client Lead, Google
What happens behind the scenes when you play an online game like Minecraft or watch an online video, or text your friends on Snapchat? Is there a magical factory somewhere that does all the work? Where is this factory, and what happens inside it? Join this interactive class and find out!
By Elijah Meeks - Data Visualization Engineer, Apple. Executive Director, Data Visualization Society
You probably already know how to read a map and a bar chart but do you know how to read a network? Do you know that you are part of many networks? What's even a network? Join us to learn why networks are critically important for us to understand and its connection to most of our online life (like Amazon, YouTube, Roblox, and more). If you want to see a network, though, you need to use data visualization. In this Open Class, you will learn different kinds of networks and get a chance to create your own!
By Karen Tolentino from Stanford - Researcher, Dr. Howard Chang's Lab at Stanford University
Do your kids love playing computer games? Do you know your kids can help scientists design vaccines by playing games? Genetics, together with computer science, are two of the most promising fields for the future. Join this talk to learn the basics of genetics and explore the fun game designed by Stanford experts!
By Tony DeRose - Winner of the 2019 Scientific and Engineering Awards from the Motion Picture Academy, Former Senior Scientist, Pixar Animation Studios
What's your favorite movie: Cars, Frozen, or maybe The Avengers? Did you know that coding is behind the making of all of your favorite movies? Join Tony DeRose, winner of the 2019 Scientific and Engineering Awards from the Motion Picture Academy and formerly Senior Scientist at Pixar Studios to learn the fascinating role that computer science has played in filmmaking.
By Chris Atkeson - Professor in the Robotics Institute and Human-Computer Interaction Institute at Carnegie Mellon University
World-renowned Professor Atkeson from the Robotics Institute at Carnegie Mellon University joins us to teach students about robots and how they can help us. His work in soft robots helped shape Baymax, the main character of Disney movie Big Hero 6 and one of the most beloved robot characters.
By Ashkhen Zakharyan - From AIVA, a top AI music composer
Check out the fascinating Open Class on the first official AI composer: Aiva. Ashkhen from AIVA, will share how AI creates music. And how you can work with AI to create your own masterpieces.
By Peter Wonika - Game Design and Computer Science Curriculum Developer at Roblox
In this class, our game expert from Roblox will show you their cool tools to code, build, and design games in Roblox. Your child will learn how their favorite scenes and characters in the games are made with computers, and start creating their own games in Roblox. Sign up now and unleash your child's imagination in the virtual world!
By James Kung - An Android Developer at Google
In this class, James, the Android Developer at Google, will help your child learn more about Android, the system that powers many billions of mobile devices in the world. See how experts code the mobile apps and try to develop something of your own.
By May Casterline - The Senior Scientist at Nvidia
Learn about the powerful computer technologies that are used in Star Wars, Minecraft, and AI, such as self-driving cars.
By Dan Miller - Senior VR/AR Evangelist at Unity
If you are like most of us, you probably spend a lot of time playing games. But how are these games made? It turns out most of them are made with game engines so that it is a lot easier to build powerful games. And Unity, without a doubt, is the most popular of them all. Come Join our expert speaker from Unity to learn how some of the powerful games are made in Unity and get a taste of how to build games with Unity yourself.
Sign up for free tech classes for kids
More Open Classes in AI, Robotics, and more to be announced soon. Watch to learn about the fascinating world of computer science and be inspired to explore more! Up next, check out five more free online coding resources for kids.