Microbit Coding for Kids
Lights & Beats with Micro:Bit
Code lights, sensors, and even radio with this powerful little device.
Join magical Microbit coding for kids classes
Micro:Bit coding is the perfect fit if your child is interest in electronics. Or if they may want to build robots or rockets one day. This little device packs very powerful capabilities: LED lights, speakers, a temperature sensor, a microphone, and even an accelerometer. Coding is done in a simulator that works just like the physical Micro:Bit. You don't need the physical device to take the class. But if you do decide to purchase one, all of your class code will work perfectly on the device without any changes.
Featured Teacher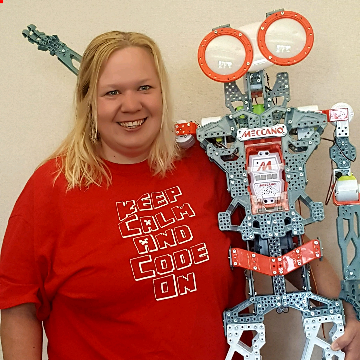 Adrienne Unertl
Adrienne Unertl has always enjoyed creating an imaginary world around him through LEGOs and storytelling. While attending a technology conference, he learned about Code.org and Scratch. he realized he could create digital worlds to control and explore. He immediately returned to Clark Elementary School in Evanston, Wyoming, and created an afterschool club designing and coding digital worlds. Coding is so personal and it's so exciting for him to see what his students will create next. In 2017, he was awarded Wyoming's Elementary STEM Educator of the Year because of all the different ways his students explore technology. He currently teaches coding, robotics, 3D printing, and Arduinos to elementary students. He wants to engage as many students as he can in STEM so that they will become the innovators of their world.
Grades 2-3
Our Guarantee
Downloadable Certificate.

Show the world you did it. You really did it!

#1 Coding Curriculum

Designed by Stanford, Google & Apple Experts with kids in mind.

100% Satisfaction Guarantee

We'll help you find the right class, always. Love it or get a full refund.
This was our first experience with create and learn and it surpassed our expectations. My son was thrilled with the class and really admired the teacher. Thank you for a great experience.
Marne M slife
Start your Lights & Beats with Micro:Bit adventure
Lights & Beats with Micro:Bit
Units 1 - 2
2 Units / 8 Sessions

55 minutes per session

Lights & Beats with Micro:Bit - Unit 1

Learn how to control electronic components like LED lights, speakers, and sensors, while building fun games and interactive experiments. Review foundational coding concepts such as loops and conditional statements, and learn more about variables.

Lights & Beats with Micro:Bit - Unit 2

Build more fun games, while exploring advanced Micro:Bit features such as radio and buttons. Find out how to have two Micro:Bits message each other. Plus learn how to code functions, and even master some cool math and security concepts.
Lights & Beats with Micro:Bit 1
Grades 2-4

Max enrollment: 5 students per class

Learn how to control electronic components like LED lights, speakers, and sensors, while building fun games and interactive experiments. Review foundational coding concepts such as loops and conditional statements, and learn more about variables.

4 sessions, 55 minutes per session
Lights & Beats with Micro:Bit 2
Grades 2-4

Max enrollment: 5 students per class

Build more fun games, while exploring advanced Micro:Bit features such as radio and buttons. Find out how to have two Micro:Bits message each other. Plus learn how to code functions, and even master some cool math and security concepts.

4 sessions, 55 minutes per session
Here's what customers say about our classes