You just started your Minecraft world and are stuck inside a dark, disgusting, and minimal dirt hut with skeletons, zombies, and creepers surrounding you. You think, "Wow! I wish I had a house right about now". Guess what? You can build Minecraft houses with just a bit of elbow grease and some starter items!
Minecraft houses are the cornerstones of the game. They give crafters a place to store items, enchant, hang out with friends, and settle down after four long days of exploring mine shafts.
The creative possibilities have no bounds. We encourage you to use your imagination and building skills to construct a house anywhere in the Minecraft world. To bring everything to life you can imagine in Minecraft, learn Minecraft coding in our award-winning fun online classes led live by experts, and designed by professionals from Google, Stanford, and MIT. There's no risk in trying with our free Minecraft classes.
How to build a starter Minecraft house
We are going to let you in on our best-kept secret: The steps to building the best starter house that is perfect for expansion! Today's guide is inspired by Dio Rods on YouTube.
STEP 1: Gather your materials!
This starter house uses materials found on your first day of playing. The best thing about this house is that each block is interchangeable. We encourage you to choose the blocks that you like best. (We added some decoration blocks to give you some ideas on how you will design the inside of your house)
Here's what we used:

STEP 2: Map out your house's foundation!
For this starter house, we are using a 7 x 4 rectangle. So, 7 blocks wide on top, and 4 blocks tall on the sides. You can change the shape and size by adding length to both sides.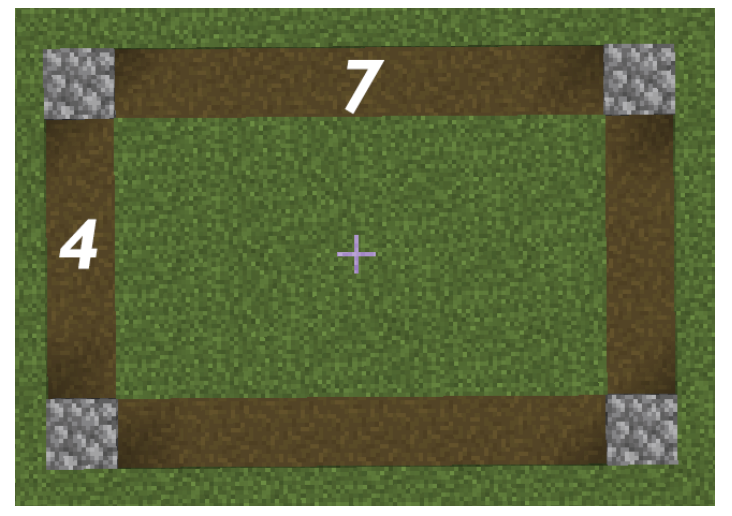 STEP 3: Build the foundation
For this house, build 2 blocks up(using spruce logs) in each corner. Then, fill the first layer with stone brick and the second layer with sideways logs. Also, don't forget the stairs!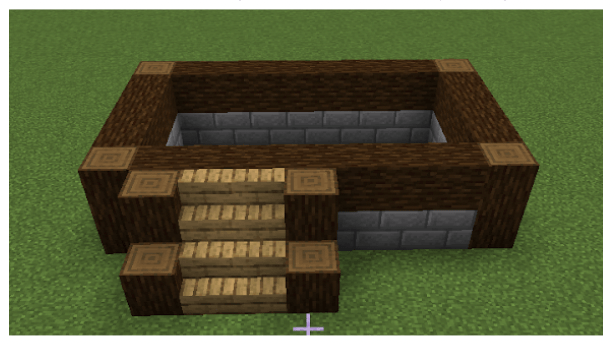 STEP 4: Time to build the walls
The walls are the key to building the most magnificent Minecraft house! Before starting, do not forget to add flooring. Use any block you would like to spice up this house.
Front wall:  We used stripped oak(right-click with an ax in hand on the oak log), stairs, fences, and two doors to create the front side of the house. The back of the house is up to you. Use the front of the house to inspire you to make a beautiful wall.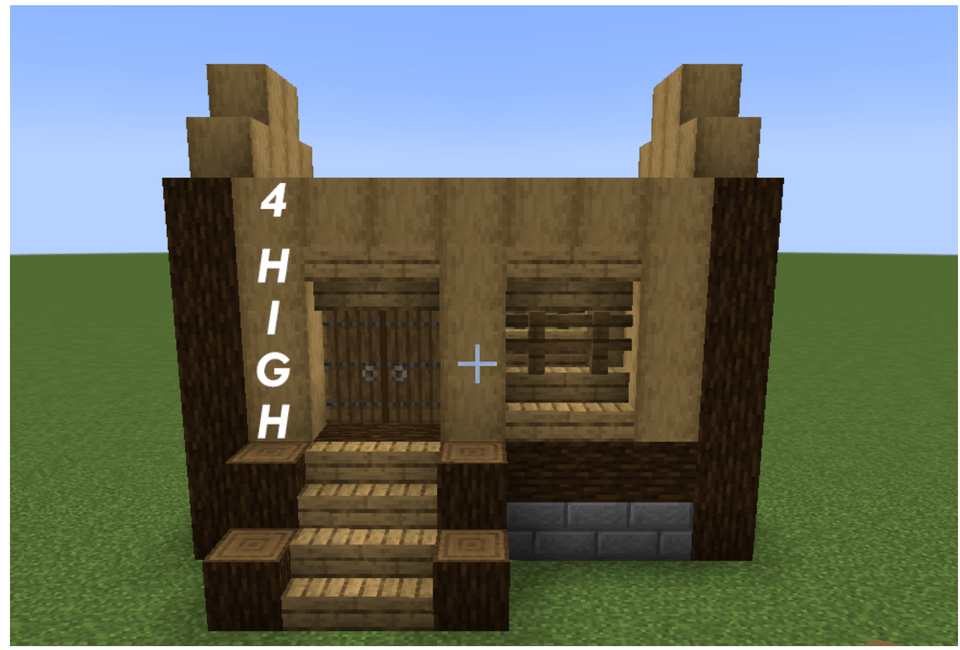 Sidewall: The side wall uses the same materials as the front. We even added a spot for a window.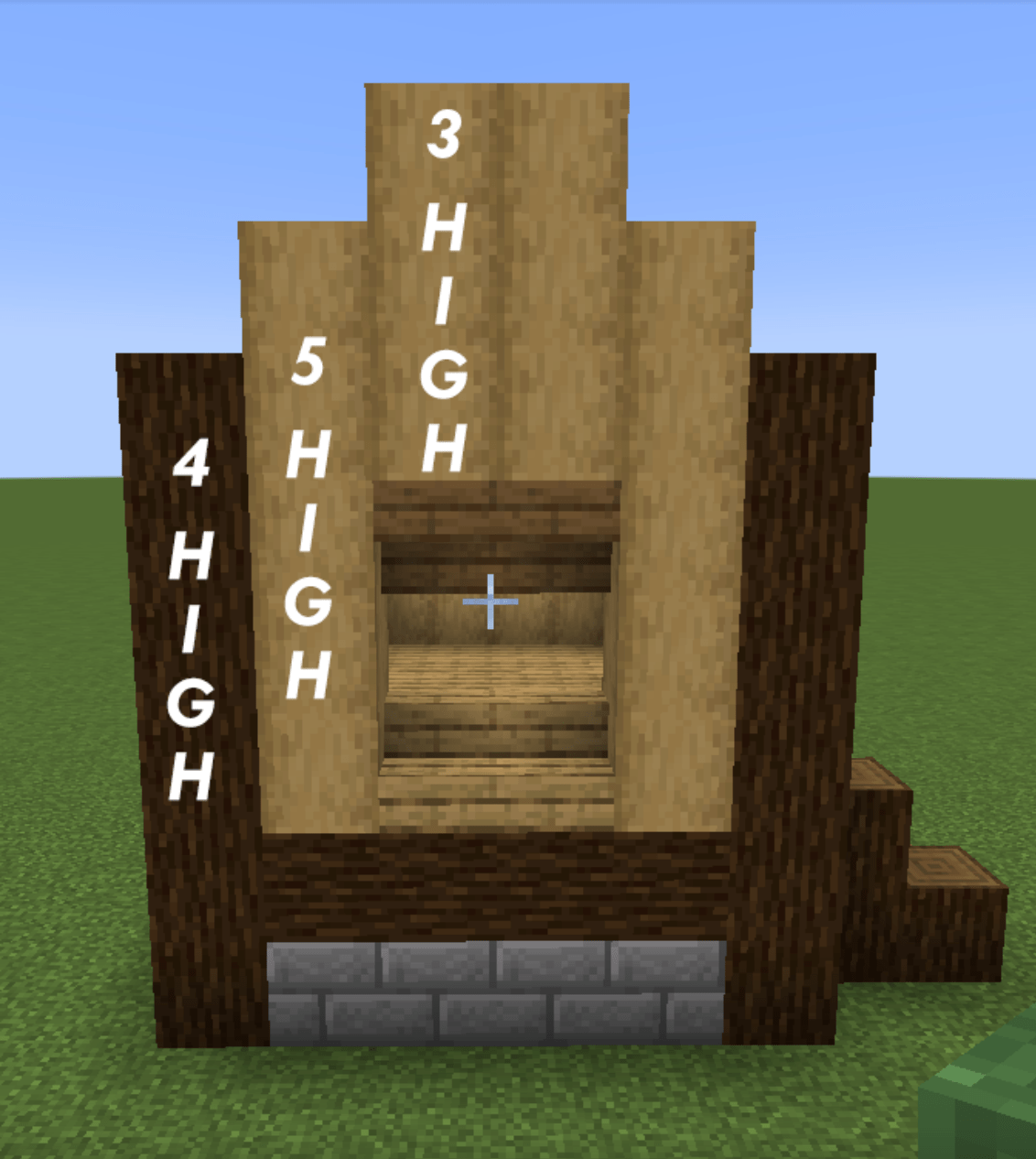 STEP 5: Build the roof
The roof truly completes a house. The outside portion of the roof is stone stairs, while the inside is spruce! We like the way the spruce compliments the stone. The roof can be tricky sometimes, but if you stagger the stairs on the outside, the inside is super easy. Finish off the top with spruce slabs, and the house exterior is complete! (We added a chimney using bricks, trap doors, and a campfire).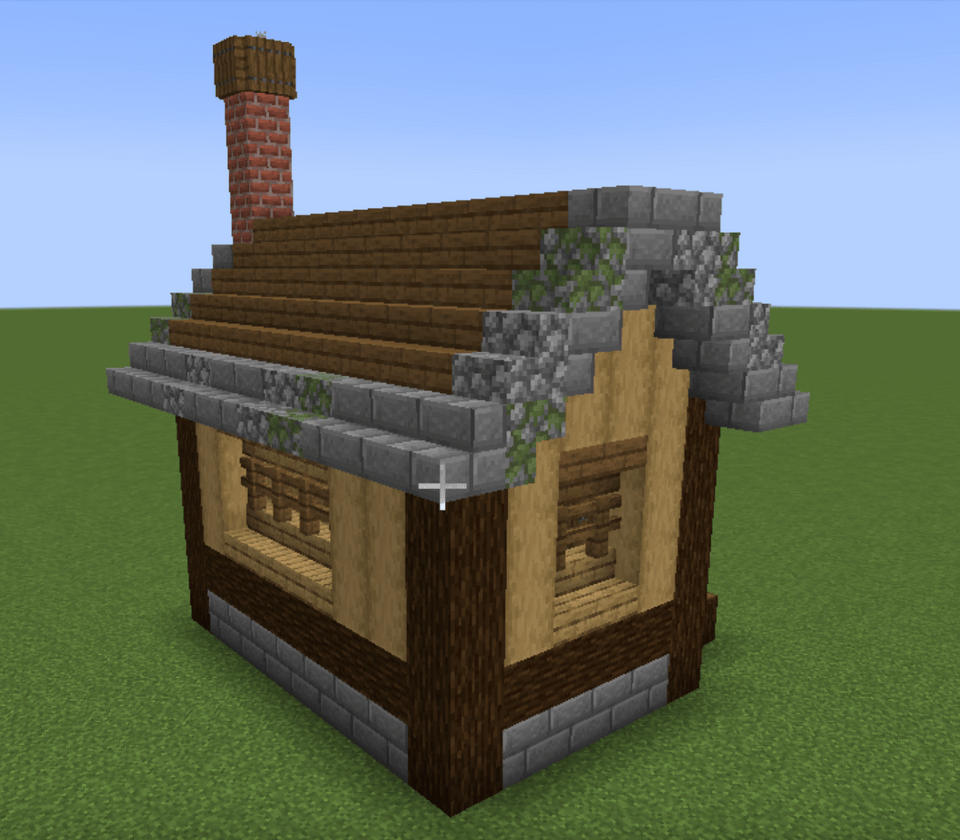 STEP 6: Add decorations and detailing
The inside of the house is pretty barren(and the outside is too). You have the opportunity to fill in the blank spaces with a bunch of different decorations! Don't forget to add your bed so you can reset your spawn point at night.
Below is the finished exterior of the project. It is up to you to add those decorations. Bushes, flowers, and even a farm can liven up a simple house like this.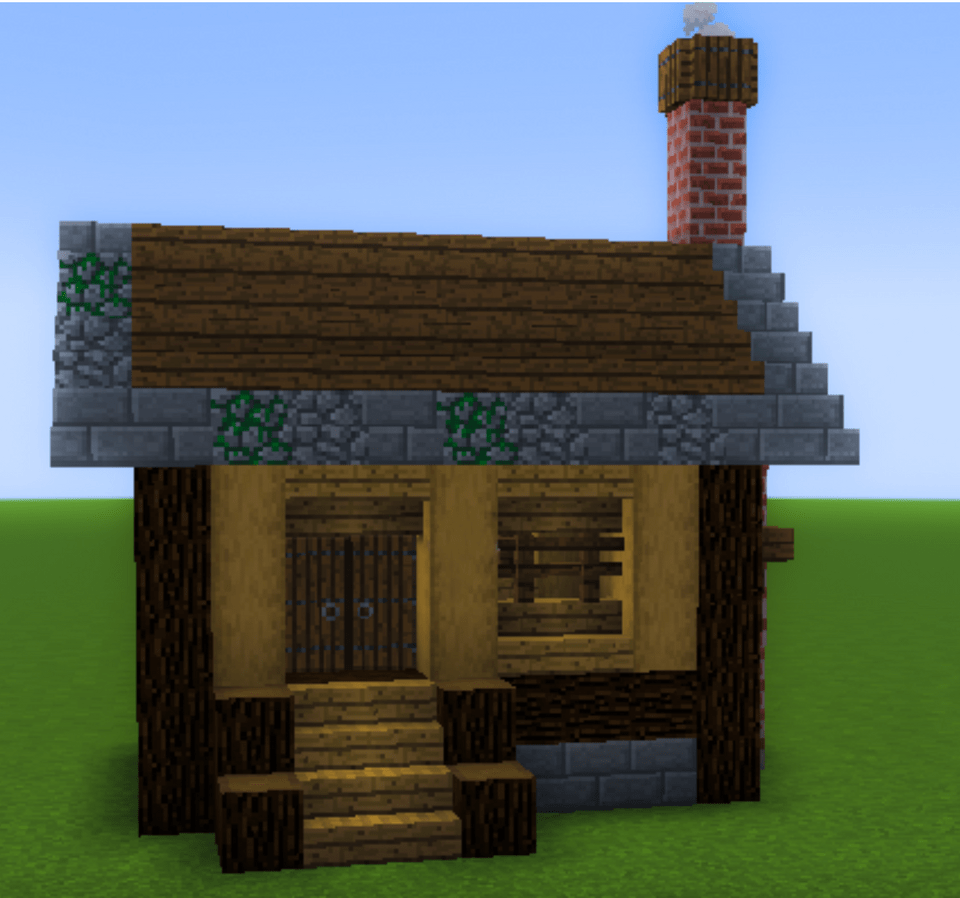 You can also code a house in Minecraft Education Edition. Here's how:
Now that you know how to make a house in Minecraft, here's some inspiration for making incredible creations!
Explore 10 Minecraft house ideas
From a mountain home to an underwater house, check out some of the coolest Minecraft houses.
1. Minecraft Mountain House
Do you think you can step up to the challenge? Try making a Minecraft house that is inside a mountain.
You can build a fabulous house anywhere, but nothing beats one packed in between stones. This type of house usually has beautifully placed windows, and an overlook for sightseeing.
Tip: Try using dark wood to contrast the stone and cobblestone. Our favorite type of wood to use in builds like this is spruce because the dark brown pairs nicely with the soft gray of the stone.
Check out this creative mountain home by Zaypixel:
2. Cozy Minecraft House with Greenhouse
Nature-minded kids will adore this house idea! A cozy home is perfect for any crafter. But an added greenhouse would make the perfect addition. This idea embodies the "cottagecore" aesthetic and is an excellent choice for players who cannot stop themselves from picking up every flower they see!
Tip: Using white stained glass gives the greenhouse a spark of realism!
Check out this beautifully elegant house made by Dio Rods.
3. Minecraft Underwater House
Living underwater sounds tricky, but in Minecraft, it is easy as pie(or Minecraft cake). Put on your water breathing helmet and start building. This house will keep you safe from every mob in existence.
This type of house is perfect for expansion and it's cozy yet modern look will keep you wanting more.
Tip: If you are in a pinch torches can give you a pocket of air to breathe underwater.
Check out this aesthetically pleasing underwater house by Zaypixel:
4. Huge Modern Minecraft Villa
A lot of people shy away from the rustic style and embrace a more modern approach to building. As opposed to wood, cobblestone, and other easier to find materials the modern builds use tons of concrete and glass.
A villa is not for the faint of heart, but if you are up for a challenge we believe 100% that you can handle it. Implementing modern design ideas does not necessarily mean it will be complicated, but it will take tons of hard work.
Tip: Try adding water features to modernize already existing builds!
Check out this wild modern villa made by Akila Gaming:
5. Minecraft Sky Base
Like to think outside of the box? Try a Minecraft sky base for a change.
A sky base gives you the freedom of the entire sky and safety from mobs all in one package. Don't forget to be careful as you might slip off and fall below.
With a sky base, you have endless possibilities! You can float above on a cloud or even make a floating island with farms and mob grinders.
Tip: Use scaffolding for easy access when building your sky base.
Check out this cute sky base by Overman:
6. Minecraft Snowy Cabin
Let it snow! If you find yourself spawned in a snowy taiga biome this is the build for you! Snowy cabins look like they belong in a holiday movie. Winters can be tough without a warm place to stay so bundle up and get building.
Cabins are compact, storage-friendly, and easily achievable builds! A combination of oak, dark oak, spruce, birch, and cobble can make the prettiest cabin you have ever seen.
Tip: Adding decorations and clutter makes the cabin feel homier.
Check out this cabin made by Don4lex:
7. Minecraft Mansion House
Have you always dreamed of having a mansion? Well this is the Minecraft house idea for you. The mansion linked below uses a suburban style which might be familiar for you. It includes a two car garage and a wrap around porch made entirely of quartz.
Tip: Adding trees and flowers makes a build seem more realistic and lifelike.
Check out this suburban mansion by Rizzial:
8. Minecraft Pink House
Pink lovers gather around! This house is perfect for anyone who loves fun and likes to take Minecraft less seriously. The details throughout the entire build are unmatched. It reminds me of pop-style interior design that includes saturated, bright colors, with a fun youthful environment.
Tip: Do not be afraid to add a pop of color to your Minecraft house.
Check out the pop-style-inspired pink house by BlueBits:
9. Minecraft Castle with Farm Roof
Ever wanted to live in a castle and on a farm at the same time? Well, now you can! You can combine them both with this awesome castle that has a cool rooftop farm! This build also has four towers that are perfect for looking out for your enemies.
Tip: Using simple blocks for "old-timey" builds helps to bring realism to your final product.
Check out this castle by One Team:
10. Minecraft Lake House
A lake house is perfect for crafters who love fishing, relaxing, and swimming!
This house has off-center windows that compliment the overall nature of the build. We love the realism of this house and how underwater supports were added to hold up the building. The blend of, oak planks, stripped oak, stripped spruce and spruce planks make for an exciting contrast that you cannot find elsewhere.
Tip: Using multiple kinds of wood gives your home more dimension.
Check out this lake house by Zaypixel:
Up next, check out cute Minecraft castles for more inspiration.
Build the best Minecraft houses
We just learned how to make the greatest Minecraft houses of all time! If you want to dive into more Minecraft creating and join our live online class for kids, Minecraft Redstone Engineering (Grades 2-5), Minecraft Modding Quest (Grades 2-5), Minecraft Code to Mod (Grades 4-8), and our Minecraft Camps - all led by an expert and designed by professionals from Google, MIT, and Stanford! There's no risk in trying with our free Minecraft class intro session.
Written by Create & Learn instructor Gabrielle Cindric. Gabrielle is a Computer Science student by day and a STEM instructor by night. In her free time, she enjoys playing video games and hanging out with her poodle Bailey and cat Asphalt.