Do you love playing Minecraft? Today you'll learn how to customize your own character to make the game even more fun. Join along as we reveal in simple steps how to make a Minecraft skin.
If you're interested in learning more about customizing the game by creating your own buildings, animals, and more, check out our Minecraft modding classes and Minecraft camps. There are even free Minecraft coding classes led live by experts, and designed by professionals from Google, Stanford, and MIT.
What is a Minecraft skin?
A Minecraft skin is a graphic download that changes the appearance of a video game character. A skin does not change the outcome of the game.
What parts make up a Minecraft skin?
The parts of a Minecraft skin include:
The head - 6 visible sides
The body's torso - 4 visible sides
Arms - 6 sides visible
Legs - 5 sides visible
It's important to consider which surfaces of the skin are visible. For example, the top of the rectangular prism that is the legs is never visible. But the bottom of the head is visible from certain angles because it sticks out from the neck.

How to make a Minecraft skin
In just seven quick steps you can make your own custom character experience! Let's get started.
1. Open the Skin editor
Start by heading to the Skin editor website. (Here are some of the best Minecraft skin makers to pick from. For this tutorial, we'd recommend using MinecraftSkins. To start with, the Steve character (male-identifying) shows up as the default skin.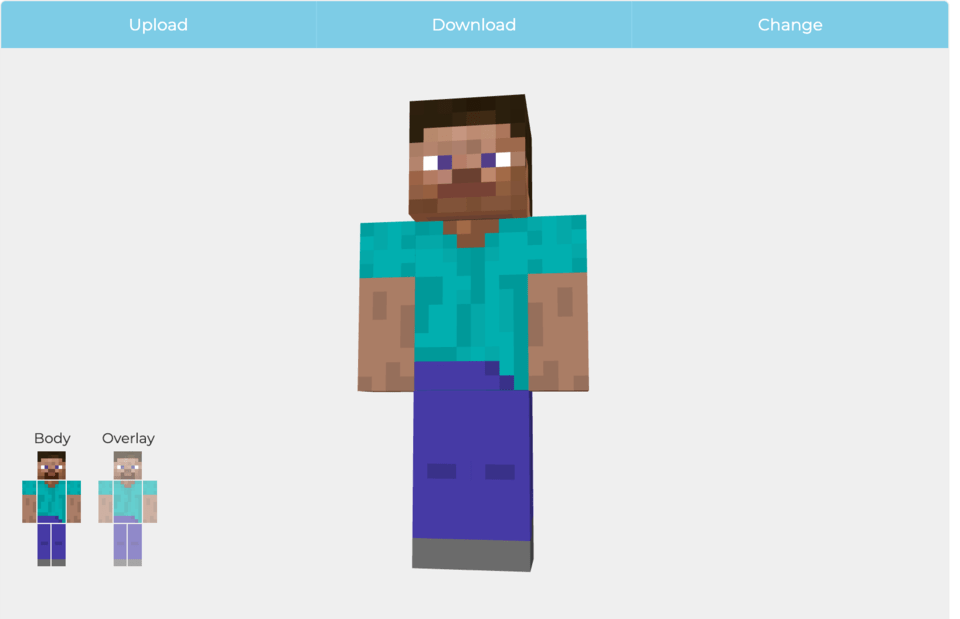 2. Get familiar with the tools
Click and move your mouse to rotate the skin. With your mouse wheel you can zoom in and out on your skin. The color palettes is set using the colors below, and there are tools to draw, fill, and erase.
3. Pick a character
Now you can pick a character to start building from. You can also chose Alex (female-identifying) from the Model drop down under your skin. And you can pick any skin listed under New Skins or Top Skins to edit.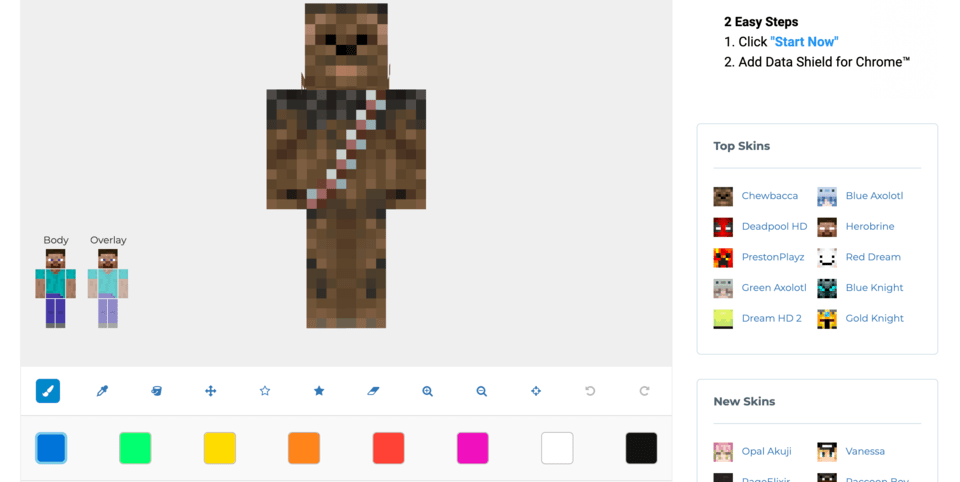 4. Pick a color palette
If you look closely, Steve's shirt has at least 3 shades of teal. Most Minecraft skins use multiple shades of the same color to give texture and depth to the characters. So click each square on your character's shirt to change the color.  Try adding 3-5 colors you like using the paint brush! To fill in big sections quickly you can use the paint can. If you need ideas for color palettes, check out this helpful tool.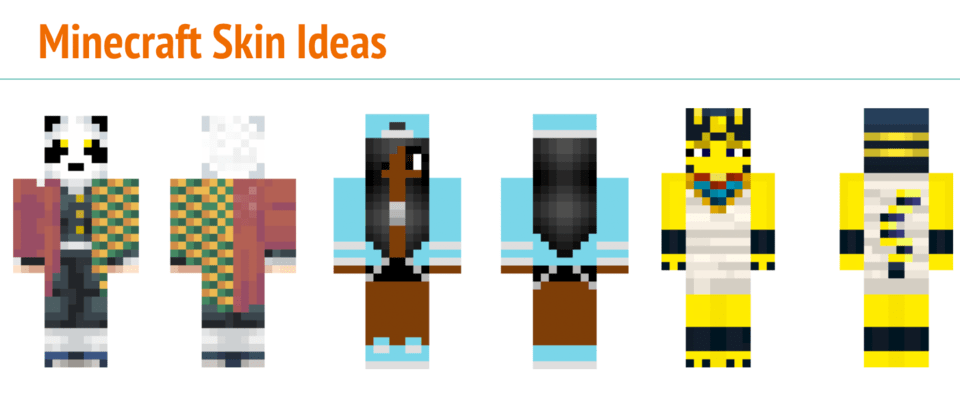 5. Make the head
Zoom in so you only see the head. Choose 3-5 colors for your color palette for the head. Remember to fill in the sides, top, bottom, and back of the head.
6. Create the clothing
Start coloring the torso. After the torso is complete, work on the arms and legs of your character. Remember to click and move your mouse to rotate your character and see all sides. If you make any mistakes you can use the undo button to remove them.
7. Save it
Click the download button to save your skin. Make sure you save the skin to your photo library to make it later accessible in Minecraft. To do so, tap the image and hold until a menu appears and select Save Image. Open Minecraft and press the Store button. Then press the Custom Skin model. Press the Choose New Skin button. You now have the option of applying your skin to a Steve (Male) or Alex (Female) model. Now press the Confirm button to confirm this is the skin and model that will be used for your player from now on.
Here's a video that can walk you through the process step by step:
Make your own Minecraft skins
Now you're ready to make any Minecraft skins you can imagine or change your character's skin! Up next, learn how to make your own Minecraft pixel art and how to code Minecraft mods.
To dive deep into customizing your Minecraft gaming experience, join our fun live online Minecraft Coding Quest class or Minecraft Code to Mod for older students, designed by Google and Stanford experts!