What's the best way to introduce your child to the vast universe of computer science? The answer lies not just in a top-rated curriculum, but also in the educational approach. Imagine, if you will, a classroom that transcends the traditional borders, where kids don't just learn, but actively create. Picture a setting where the tools for building the future are unlocked with languages like Python and JavaScript, and the mysteries of code are unraveled through exciting games. Let's dive into the world of coding courses for kids, exploring the various avenues available, both online and offline, free and paid. Along the way, we'll reveal some expert insights that will help you choose the best path for your coder. We hope this is the start of a life-long adventure!
For live expert guidance, join free award-winning coding classes for kids, designed by professionals from Google, Stanford, and MIT.
Discover the Best Coding Courses for Kids
Coding courses for kids provide a way for child's playful curiosity to meet the practical skills of the future. Did you know, according to Code.org, 9 out of 10 parents want their child to study computer science, yet only 1 in 4 schools teach coding? Today we will share top kids coding courses loved by experts, parents, and kids alike.
Award-winning, Ages 5-18, Live online, Expert led, Small group
When it comes to finding the ideal coding course for your child, Create & Learn stands out from the crowd. As an award-winning online platform, it brings computer science to life for kids aged 5 to 18. With 35+ online courses that have been specially designed by tech experts from top-tier companies like Google, and that are led live by experts, it ensures a quality learning experience tailored to each student. Create & Learn's holistic approach ensures teachers don't merely teach coding; instead they imbue a deep understanding of computer science and digital technology in the real world in students. From exploring beginner-friendly Scratch to popular programming language Python and diving deep into the world of Artificial Intelligence and even AP computer science, Create & Learn makes learning interactive and fun every step of the way. There is also an option for coding tutoring help.
Best for: Students of all ages interested in beginning to code
Paid, Ages 3-18, Online, Group classes
Outschool is a unique platform providing live, online group classes for children ages 3-18. Its uniqueness lies in the fact that independent teachers can create and list their own classes. As a result, Outschool offers a variety of coding classes, from learning the basics through Scratch to advanced topics like Python and JavaScript at all sorts of prices. These classes can be a fun and engaging afterschool activity to experiment with specific coding subjects your student would like to further explore.
Best for: One-off deep dive in a fun subject
Paid, Ages 5-18, Online, Private 1:1 lessons
Juni Learning stands out as an online academy that primarily offers private, 1:1 coding lessons for kids. What sets Juni Learning apart is its emphasis on personalized, project-based learning. Students learn to code by creating their own projects, which encourages them to think critically and solve problems, as they learn Python, Java, JavaScript, HTML/CSS, and Scratch.
Best for: Students that need help with a particular subject
Free basic plan, Pro plan available, For middle school students and above, Online, Video lessons
Codecademy is a robust online platform that provides a variety of on-demand video coding classes for students from middle school age and above to pursue at their own page. The platform has a project-based approach, allowing students to build projects and applications from scratch. This 'learn by doing' style can help students grasp complex concepts more quickly and solidify their understanding.
Best for: Older and advanced self-motivated and persistent students
Online, Ages 8-14, Free trial available, No coding experience required
As a beginner-friendly platform, Code Monkey provides a fun and interactive way for kids to learn coding. The game-based learning environment offers modules on various coding languages such as Python and JavaScript, and helps to hold the interest of the young coders. Now, isn't that a smart way to pick up a new skill?
Best for: Experimenting and tinkering with coding on their own
Online, Ages 5-15, Free and paid courses, Gamified learning
With Tynker, kids can learn coding through playing and creating games. But kids must follow online lesson plans on their own, without the consistent help of a live instructor. The curriculum offers block coding for younger learners and advances into JavaScript and Python for older kids. Let your child's coding journey be filled with excitement and discovery!
Best for: Supplementing other computer science education
Free Coding Courses for Kids Unlock Potential and Passion
If budget is a concern, worry not! There are plenty of free coding courses for kids available online. Create & Learn offers free introductory coding courses to help your student discover their passion for different areas of computer science. There are also fun free live online computer science events for kids!
Meanwhile, Code.org, Scratch, and W3Schools also offer coding education without charging a dime. Explore their plethora of tutorials, varying in difficulty from beginner to advanced levels, to cater to all learning needs.
Find Offline Coding Classes for Kids Near You
While online learning is booming, offline classes still have their charm. To find offline coding classes near your location, check out websites like Activity Hero, Meetup, and Eventbrite. They often list local events and classes, including those related to coding. Additionally, community centers and libraries often host coding workshops for kids, so it's worth checking their schedules too.
Pick the Right Coding Language For Your Child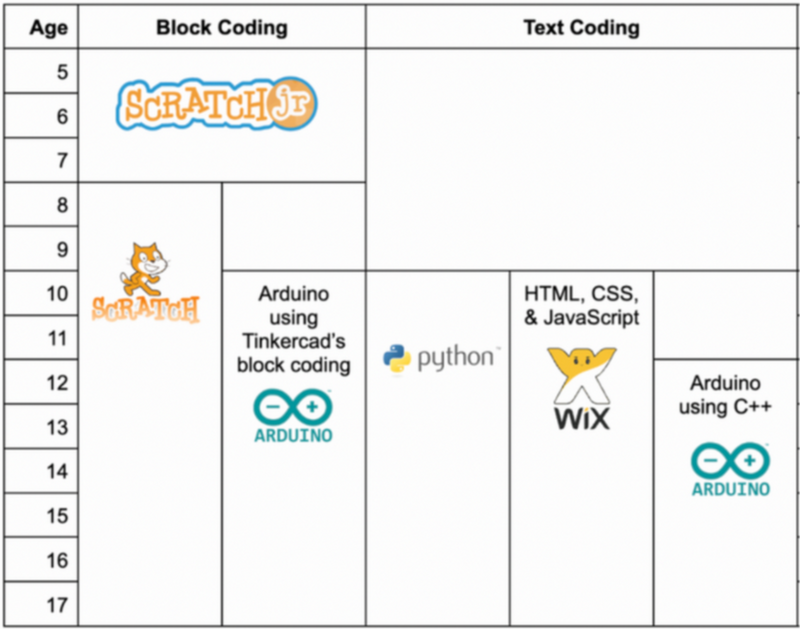 The best programming language for most children starting out is Scratch. Scratch coding offers kids (ages 8-16) the opportunity to design interactive stories, animations, and games very quickly. Which helps keeps kids engaged and excited right from the start.
It is a blocked-based coding language designed by the MIT media lab - imagine an experience sort of like building with digital LEGOs - that makes it easy for students to learn code by helping them focus on the concepts of coding (such as loops) without having to type syntax and risking mistyping a letter, preventing all their code from running.
To begin learning programming a small group format, from a live expert, get started with the most popular beginner coding class, designed by professionals from Google, Stanford, and MIT: Create & Learn's Scratch Ninja class (for Grades 2-5) or Accelerated Scratch (for Grades 5-9):
Alternatively, for your youngest students, Scratch Jr. is a somewhat similar platform (a free app) designed by the same MIT team, for children ages 5-7. To bring things to life in the app, kids connect together simple graphical programming blocks to help characters move, jump, dance, and sing. Again, this helps kids master coding logic, without getting frustrated by needing to write coding syntax. ScratchJr works on iPads and Android tablets. So to get started, you can download ScratchJr on the App Store and on Google Play for free.
We also offer a fun live online class for kids in kindergarten to first grade, Scratch Junior, that teaches coding with Scratch Jr with live expert guidance.
For teenagers just starting coding, who don't mind putting in a little extra work outside of class, Python can be a good language to learn rather than Scratch. Python is a high-level coding language used by companies such as Netflix and Google, and it is also used for web development, game development, building apps, machine learning, and so much more. Join our award-winning online Python coding class, led live by an expert.
If you're having trouble deciding between Scratch or Python for your child read more here.
Why Coding Courses For Kids Are Critical
There are many online resources and platforms where your children can get information and knowledge about how to code for free. But what happens if they get stuck on a line of code, learn outdated information, or find all it too overwhelming or confusing? They probably won't stick with coding, and they might never want to return to it. The opportunity to foster their passion for computer science might flash by in the blink of an eye.
As the chart below reveals, there are many options for learning kids coding. Live classes offer some of the most compelling benefits when comparing some key factors such as supportive help, interactivity, and thoughtful accurate learning paths that set students up for success.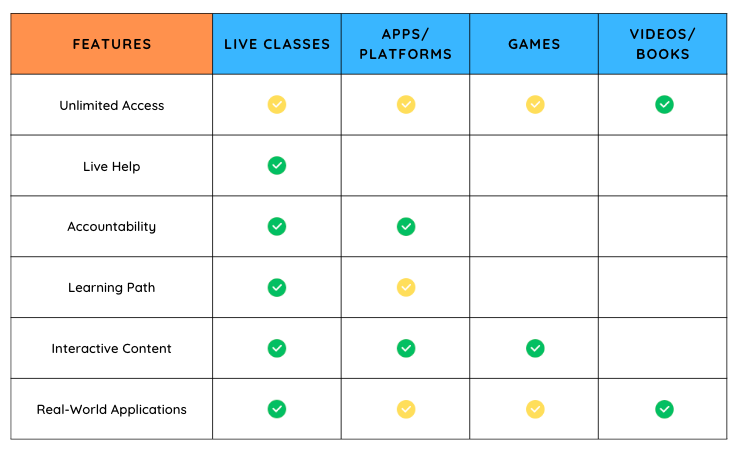 Live online classes are a great solution for helping your student explore computer science and discover how it aligns with their interests. They are likely the best shot your student has at gaining real coding skills soon, because passionate teachers will guide students and support them. In addition, live online courses adapt the material to kids' learning styles, they help students when they run into tough problems with their code, and they taking the 'thinking' off your plate with a carefully designed curriculum - so you don't have to plan your student's next step or worry that the content will be out of their reach and overly frustrating.
Learning quickly and accurately in live online classes and camps will best equip your student to gain valuable computer science skills. They are an investment, but they don't have to be forever. For example, here at Create & Learn, you can pick and chose the classes your child enrolls in based on their schedule and interests: which can easily match your child's preferred time engagement and growing passions. Explore our curricula here: grades K-2 | grades 2-4 | grades 4-6 | grades 6-9 | grades 9-12.
Of course, there's not just one solution for learning something new. Pairing live online classes with additional materials, such as free online websites and apps that encourage self-discovery, is a great way to round out your child's coding education.
Explore the Future with Coding Courses for Kids
Coding isn't just about learning a new language, it's about shaping young minds for the future. According to the Bureau of Labor Statistics, employment of computer and information technology occupations is projected to grow 15 percent from 2021 to 2031, much faster than the average.
As a next step, why not dive in and try award-winning free coding courses for kids led live by experts and designed by Google, Stanford, and MIT professionals? They're an excellent starting point and widely recommended.