STEM is an acronym for science, technology, engineering, and math. The best online STEM classes for kids and teens ensure students have fun while learning valuable skills in these four disciplines.
Learning STEM skills is a great option for kids and teens looking to improve their creativity and problem solving. In general, STEM jobs are expected to grow 10.5% between 2020 and 2030 compared to 7.5% growth for non-STEM jobs. This equates to 1 million more job openings over 10 years!
According to a 2016 Google report, 84% of parents, 71% of teachers, and 66% of principals believe that computer science is as important as any other subject. But despite its importance, STEM is not emphasized in early education. Only 17% of K-3 classrooms study science "all or most days of the week." This number increases to 35% for grades 4-6, but this number is still low. Only 26% of elementary schools and 38% of middle schools offer computer science classes.
So today, we've pulled together some of the best virtual STEM courses to begin your learning adventure on your own schedule. These computer science classes for kids are great after-school activities, or can be taken on weekend mornings or during school breaks.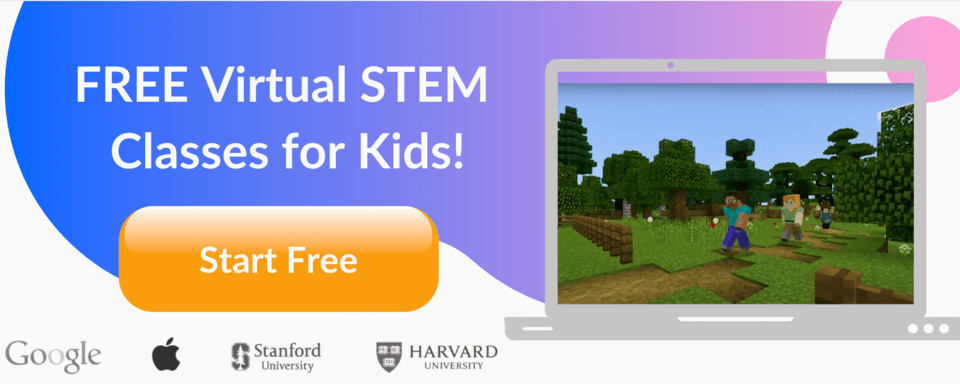 Explore STEM education classes and programs K-12
Discover some of the best STEM education programs for children in kindergarten through high school. From classes offered by PBS Kids and National Geographic to the American Museum of Natural History, you're sure to find something your child will enjoy.
Online STEM programs for elementary students
Create & Learn is an award-winning STEM education company that offers live online computer science classes for children K-12 worldwide. The structured computer science curriculum guides students through learning, and is designed by Google and Stanford experts. Students learn using the same real-world applications that professionals use every day, ensuring knowledge and skills transfer to their future careers. These expert-led classes have been recognized by Microsoft's Minecraft, HulaFrog, ActivityHero, and Facebook. Choose from 30 different subjects including beginner-friendly Scratch coding (the most popular for students just getting started), Minecraft coding, and more complex Python coding, as well as Roblox coding. There's also the option to learn all about Quantum Physics and Digital Illustration.
For over 10 years, Bricks 4 Kidz has been designing programs to encourage creativity, promote learning through play, and spark interest in science, technology, math and engineering. With the best educators in the U.S., they have developed programs using the fun and familiarity of LEGO® Bricks to inspire the inventors and innovators of the next generation. Explore hundred of motorized model builds and learn in small groups via Zoom with their online classes perfect for ages 5-13. Works on any device.
Digital Media Academy was founded in 1999 on the campus of Stanford University to provide technology education to K12 teachers and develop technology immersion courses for students. In 2002, the Academy for New Media became Digital Media Academy and greatly expanded its technology education programs and operated in the most prestigious universities. Digital Media Academy offers online courses in computer science, music production, creative design, game development, and digital storytelling.
Science Bob" Pflugfelder is a science teacher, author, maker, and presenter that knows how to share the world of science in a fun way. He is a regular guest on Jimmy Kimmel Live!, Live With Kelly and Ryan, The Dr. Oz Show, and Nickelodeon's Nicky, Ricky, Dicky and Dawn. His website has free on-demand science experiment videos covering a giant volcano experiment, a Pringles can rocket, a liquid nitrogen cloud, and more.
The Museum offers online programs to suit a range of interests for children and families from an early adventures program to the Lang Science Program. For example, The Scientist Is In is a family-friendly online program featuring scientists from various fields, from astrophysics to zoology. Join the livestream twice per month to hear about what they study and the tools they use, and bring your questions for each scientist to answer live. Learn about dinosaur ancestors, conservation, and more in previous session recordings. Or join Museum astrophysicists online for guided tours of the universe: visually rich explorations of our place in the cosmos in Astronomy Online.
The Smithsonian offers lots of fun STEM programming for kids and teens. Meet the residents at the zoo, discover fun facts, and learn about conservation status. There are coloring collections, digital puzzles, virtual museum scavenger hunts, light painting tutorials, and more.
Go deep into math! Teach your child vital math skills and build the foundation for their future math studies with online tutoring. Children can also master computation and problem-solving, and get equipped beyond standard test prep. Students can learn basic arithmetic, fractions, and factorization. In these sessions, instructors use the Mathnasium Method to tailor online math tutoring sessions to your child's exact educational needs, for grades 2-12.
The National Aeronautics and Space Administration is America's civil space program and the global leader in space exploration. At its 20 centers and facilities across the country – and the only National Laboratory in space – NASA studies Earth, including its climate, our Sun, and our solar system and beyond. NASA's live events include a Spaceflight for Everybody virtual symposium, coverage of the ISS U.S. Spacewalk #78, and more.
Create & Learn also offers free online kids events about outer space and the ocean floors. For example, there's an upcoming event led by Pete Worden, who Director of NASA's Ames Research Center in California until his retirement in March 2015. Check them out today!
Explorer Classroom is a live interactive session that connects young people, ages 4-14, with National Geographic Explorers — to hear behind-the-scenes stories and interact with cutting-edge scientists, researchers, and powerful storytellers from around the globe. All events are free. Learn about bees, seals, polar conservation, and more.
Watch full episodes of PBS's popular science show online. Alok Patel takes you behind the scenes with the people—scientists, engineers, technologists, mathematicians and more—working to understand our world. Explore the rise of mammals, the stunning engineering of the Great Pyramid of Giza, black holes, and more.
STEM clubs for elementary students
STEM clubs for children in elementary school can expose kids to key science, math, technology, and engineering concepts at a critical age, while having fun! Here are a few to check out.
This fun live video club series for students in grades 2-6 features an expert guiding students through a different Scratch coding project from start to finish in a 50-minute session each week. It's a great way to apply basic coding skills while creating a virtual pet, a soccer game, and more. Join for as many sessions as you'd like!
For kindergarteners through students in first grade, put the Scratch Junior skills you've already learned to use to create weekly new projects for 6 weeks. Join along in a live video club series as an expert guides students through a different project from start to finish in a 45-minute session each time.
Explore all sides of science with the Kids Science Club! Sign up for any or all of the topics such as rocks and minerals, rainbow science, lemon light, and more to reserve a kit full of all the materials you'll need to participate in the activities. Then, join on Zoom to explore and experiment!
This elementary STEM Club lesson series was written for anyone who wants to lead students through 10-12 meetings exploring ocean science and technology in an afterschool STEM Club setting. This club provides exposure to the ocean and marine life for all students (regardless of personal access to the shoreline or access to at-home resources) through a compilation of videos, hands-on challenges, photographs, and children's literature.
Online STEM programs for teens and middle school students
When it comes to STEM and coding for teens, here are a few programs to explore.
This introductory program provides a three-week online guided learning community for teams of high school students who want to design biotechnologies to make the world a better place. It includes five hours of asynchronous lectures by Dr. Natalie Kuldell, biodesign assignments, reference materials, feedback on assignments and projects from BioBuilder teaching assistants, weekly live Office Hours, and a Project Showcase.
Learn how to solve real-world problems with computer science in award-winning online classes with live instruction from MIT and Stanford experts. Reach advanced topics such as Java, Cloud Computing, and even Computational Biology using a curriculum crafted by professionals from Google, Airbnb, and Apple.

Free online STEM programs
Looking for even more affordable STEM programs? Check out some free STEM classes and resources that kids will enjoy.
Learn from tech experts from top companies that teach how they use computer science in daily life for students in Grades 2-10. Our open events provide children a unique opportunity to learn directly from some of the biggest experts in their fields, from NASA, Pixar, Apple, Intel, and more. In these live (and later on-demand) classes, students discover real-life applications of computer science. They find out what coding has to do with their favorite sports, see how medical research is influenced by computer science, and learn all about the power of GPU and its impact on movies like Star Wars. There's even a free NASA event series.
Free coding classes for kids are a great way to introduce computer programming to students, without being costly. From fun beginner languages, to awesome Roblox game development, to more advanced programming that drives real-world innovation - explore free introduction classes to enjoy.
One thing we like in particular about Code.org is in addition to coding, it also covers general computer science topics such as data and Internet. Code.org offers free coding resources and games. Courses and activities are free and super engaging! Any child 5 and up can learn from this site. The activities are designed for grade bands so you know which games fit your child best.
W3Schools is an excellent site for advanced learners. Because of that, you don't see it much as a resource for kids' coding. The site started with web focused technologies such as HTML and JS in the early years and has expanded significantly to include almost all popular languages such as Python and Java. The step by step content and quizzes cover the core concepts in great details.
5. PBS Kids games
In the Cyberchase simulation, you'll help Jackie, Matt and Inez use math to protect the digital universe from evil. Learn engineering principles, and design anything you can imagine with Design Squad Nation's challenges, videos and tutorials. The Cat in the Hat Knows a Lot About That! features pre-K STEM games, activities and videos including an exotic math safari adventure.
Can I learn STEM online?
Absolutely you can learn STEM online. No matter your learning style, there are STEM programs, classes, and resources that can ensure you gain the skills for a promising STEM career. You can piece together a curriculum a la carte, or try a program like Create & Learn where your curriculum and learning path is already crafted by experts with the option to add or remove subjects based on your interests.
What is STEM K-12?
STEM K-12 is an integrated education approach that teaches students in kindergarten through high school how to engage all four disciplines, rather than focusing on a single specialty. STEM students learn to think creatively, develop technical knowledge, and master each discipline in order to come up with an answer. STEM courses can take place in school or homeschool, through after-school online programs, or at a STEM summer camp or a virtual winter break camp.
These courses prepare students for future careers in STEM. While two people may have both graduated with a computer science degree, one could be designing characters for video games while the other could be building self-driving cars. Computer science jobs are everywhere - you may not even realize fields like medicine, government, or film need computer science majors.
What is the best course under STEM?
The best course under STEM uses real-world applications and makes learning fun! Furthermore, an effective STEM course makes a connection between the knowledge taught inside the classroom and its practical application in real life. The best course will depend upon your child's age, preferred learning style, and interests. Beginning with a free live class can is a great place to get started.
Explore the best coding classes for kids, best computer science classes for kids, best online math classes for kids, and best online science classes for kids.
Try the best online STEM classes for kids and teens
Find out how to code, explore artificial intelligence, design video games, perform science experiments, and more, all from your own home. Begin your STEM learning adventure today. Up next, explore creative spring STEM activities for kids or try a free intro Scratch coding class.