Finding the best coding classes for kids can be an overwhelming task. With so many options available, it can be hard to figure out where to start and what works best for you and your child. It doesn't have to be though, if you know what to look for: a list of the pros and cons of the many options can be a helpful tool when deciding on a coding platform.
Today, we have pulled together a list of the best coding for kids classes, including free classes, apps, and websites! We've also included some tips on how to compare top kids coding classes. So if you are considering joining the world of coding, this is a great place to start.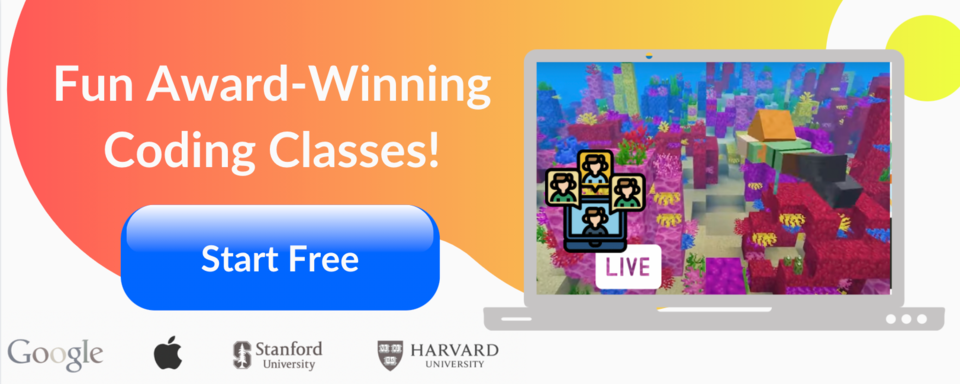 Explore the best coding classes for kids
Computer science is a great way to broaden your child's view of the real world, and develop their creativity, critical thinking, and problem solving skills. "Everybody should learn how to program a computer because it teaches you how to think." Steve Jobs once said.
In order for your child to successfully learn coding, you want them to be equipped with everything they need. Here we'll review the best programming languages for students to learn, how to teach your child coding, and much more!
What is the best programming language for a child to learn?
The best programming language for children starting out is Scratch. Scratch coding offers kids the opportunity to design interactive stories and games.
It is a blocked-based coding language that makes it easy for students to learn code by building characters and games. It provides a fun, visual learning experience, because kids can drag and drop code. Create & Learn offers a Scratch Ninja class program with live instruction online in a small group setting.
Scratch is a great place for kids ages 8-16 to begin. While Scratch Jr. is designed for children ages 5-7. We also offer a fun live online class for kids in kindergarten to first grade, Scratch Junior, that teaches coding with Scratch Jr.
How can I teach my child coding?
Teach your child coding by signing them up for online classes. Live online classes make it possible to learn coding from a highly trained expert no matter where you live. Enrolling in live online classes is the number one option when it comes to teaching a child to code, because they provide a structured learning path and clear learning objectives. And because the instructor can ensure your child gets the answers they need to keep moving along, rather than getting frustrated and stuck.
Explore the best coding classes for kids
We have narrowed down a list of the best online kids coding classes that are effective and fun, to get your child started on a successful path of learning to coding.
Scratch is one of the best ways to start coding because it's a user-friendly language designed by MIT. It helps kids focus on learning the logic without worrying about messy typing because it's block-based. It empowers kids to create interactive stories, games, and animations within their first session. This particular Scratch class is super fun because students make a cool game.
Pros: Scratch is easy to use and is offered for ages 8-16. The language has a large online community and high ratings.
Cons: Your student will not need to learn the syntax to write lines of code. There is no mobile access for Scratch.
Ages: Grades 2+
Why it's the best: 5 out of 5 rating from parents on Facebook. Scratch is a perfect starting point for introducing kids to programming. They'll learn computer science and coding concepts such as loops, conditional, motion, and sensing. Students also build a new project in each session, ranging from animation, games, and storytelling. Plus, the class employs a variety of interesting topics to teach logical thinking and inspire creativity, so kids are not only learning Scratch coding but also creating starting from day one!
Price: Free to get started and $21 per 55-minute session after that.
If your child is interested in exploring more advanced code writing and computer science programming languages, Python is a great way to get started. Python for kids is an easy transition option from block coding. Students are able to create their own projects and animations using easy text-based coding. It makes mastering programming language fun.
Pros: Python is a simple yet popular coding language and a great introductory to text-based coding.
Cons: Python is used for a higher level of student and not good for coding beginners.
Ages: Grades 5+
Why it's the best: 5 out of 5 rating from parents on Outschool and Facebook. Online Python classes introduce students to a simple programming language that sets them up for a strong future with coding. Children can even learn elements of Python that are relevant to Artificial Intelligence, including data structures and libraries.
Price: Free to get started and $21 per 55-minute session after that.
Code Combat teaches coding while children play an adventure style game. Players have to write code in order to advance through the game. So students type real Python and JavaScript. The company offers self-paced, small group, or private sessions.
Pros: Code Combat provides a fun learning experience to make learning less intimidating. And you don't have to know any programming skills to start. They also offer multiple coding languages.
Cons: If children are not interested in the type of game offered in order to learn the coding skills, then they will not want to continue with it.
Ages: Grades 6+
Why it's the best: It will keep your child interested and motivated by offering the coding to be taught through playing a game. There are different levels of instruction and can be self taught or teacher led.
Price: $219 per month for four sessions.
Osmo integrates hands-on activities and coding. Kids code by connecting colorful blocks of code in the physical world, which then controls an iPad app. As just one example of a fun game offered on the platform, kids are able to string together commands to guide a character, Awbie, on an epic strawbie-munching adventure.
Pros: The fundamental Osmo approach is very creative, and is helpful to reducing kids' screen time. Plus it has 35+ levels including green forests, spooky caves, jungles, sunny beaches, a snowy mountain, and even a volcano, so there's a lot to keep kids busy with over time.
Cons: The pricing for Osmo is quite high. Beyond that, there are 31 coding blocks, which is pretty limiting if your child wants to build anything serious. As a result, it is great for early beginners.
Ages: 5-10
Why it's the best: Through Osmo, children are able to connect the real world with the digital world. Sometimes seeing something come to life helps make it stick a little better.
Price: $74.25
CodeWizardsHQ delivers live, online coding classes in subjects like Scratch and web development with teachers from around the world. Their tools provide students with a pro-level coding platform where teachers can view and give feedback on their code in real time.
Pros: Their structured curriculum was developed and is continuously refined to be taught online with exciting visuals and engaging projects that keeps kids motivated from afar.
Cons: A 6 to 12-week commitment is a long period of time.
Ages: 8-18
Why it's the best: 4.8 out of 5 rating from parents. "My daughter (11yrs) just finished her first coding class with CodeWizardsHQ, and she absolutely loved it." reported one parent.
Price: Starting at $447
Discover best free coding classes for kids
Also be sure to check out some free coding classes for kids that pack a lot of fun. They can be a great way to test the waters!
Overview: Does your child love playing Minecraft? This awesome one-hour free intro class will introduce your child to Minecraft: Education Edition, and how to code using it. Students will learn how to setup Minecraft Education first, and then get started on a self-guided tutorial that teaches basics of block coding and some key concepts. You will code a series of steps to prevent the spread of fire, save a village, and bring life back into a cool forest with the help of Artificial Intelligence!
Pros: Get step by step guidance to get set up with a fun platform. Enjoy instruction from a live expert, and a small class size that fosters collaboration.
Cons: There might not be dates that line up well for you.
Ages: Grades 2-4
Why it's the best: Build on existing passion! Students get to learn coding based on a game they already love playing. They'll build their creativity and critical thinking, and create something they're proud of.
Price: Free

This class is for students who have not had any experience with Roblox Studio before. Students go through the process of installing and activating the Roblox Studio. Students also complete a self-paced tutorial to create a simple interactive experience. The teacher will walk through the process, do demos, and answer questions as needed. Build your first Roblox game, and have fun!
Pros: Roblox is one of the most popular children's games today! Turn your child's passion for playing the game into passion for coding the game.
Cons: Used for a higher level of student, and not good for coding beginners.
Ages: Grades 4-8
Why it's the best: One of the most powerful aspects of Roblox coding is the ability to create multiplayer game experiences quickly. After this intro class, you'll be set up to continue learning how to create cool things.
Price: Free
Designed for ages 10-16, Hopscotch helps students create games and turn their drawings into animations. You have a canvas to create games, turn your drawings into animations, and build anything else you can imagine. When you're done coding, you can publish your game for your friends and family to play.
Pros: There are a variety of ways to explore creativity and art in this app. Kids can see apps and games that others have created, and learn from each other in the community. So it's great for those with a big imagination.
Cons: There are no goals or objectives to guide your child. It's just a creative platform.
Ages: 10-16
Why it's the best: Hopscotch allows freedom of expression and creativity. Kids are allowed to create and code without having to follow a specific set of instructions.
Price: Free
The Swift Playgrounds app is a way to learning coding by solving puzzles using the programming language Swift. It makes it easy to drag braces around code, wrap existing code in a loop, or choose from dozens of drag-and-drop snippets on your iPad or Mac. Swift is a powerful programming language created by Apple, and is used by the pros to build today's most popular apps.
Pros: Swift is compatible with Sphero and Dot/Dash Robots. Also there are lots of creative choices and diverse challenges in the app. It has lessons or free play, and kids have the option to make their own blocks or use pre-made ones. Plus discover dozens of channels with fun new challenges created by leading developers and publishers.
Cons: It can't be used with a desktop, and need an iPad. Device requirement makes it hard for the classroom.
Ages: 10+
Why it's the best: The learning is interactive and hands on which make it fun to experiment with code. You are able to connect to multiple devices such as Sphero and drones by Parrot.
Price: Free
CodingBat offers live coding problems to build coding skills in Java and Python. Going through many practice problem is a great way to solidify your understanding of how the code should work. New problems for students to work on are added regularly.
Pros: It's a great way to practice different coding concepts for Java and Python. And it also keeps track of your progress.
Cons: There is not really help for solving the problem, just a prompt. So it's a little higher level than where a beginner may want to start.
Ages: Grades 6+
Why it's the best: You are able to learn Java and Python through practice problems that are pretty straightforward.
Price: Free
Now that you've explored some great coding classes to get started with, check out a few coding websites for kids that also feature fun challenges.
Check out coding websites for kids
Coding websites are a popular choice for teaching kids to learn coding too. This list of websites include coding platforms that offer engaging projects for kids to explore.
MIT's Scratch is a block-based coding website designed for kids. Users can create projects on the website using a block-like interface that's very beginner friendly.
Pros: This site is easy to use, and has a large online community and high ratings.
Cons: It does not teach a specific programming language but offers pre-made blocks. It also does not offer mobile access.
Ages: 8-16
Why it's the best: Scratch allows students to share projects within the community and learn from others, therefore offering resources and support.
Price: Free
Kahoot! is an online game-based learning platform in quiz form. Kahoot offers students a way to test their knowledge of skills, reinforce content, and to boost knowledge retention.
Pros: Kahoot provides a fun and exciting way to learn while playing a game. Multiple people can play at a time and students can create your their quizzes.
Cons: It can be complex to track individual data if children need to do so.
Ages: 9+
Why it's the best: Student motivation, engagement, and participation is high. When playing Kahoot it is often perceived as a game instead of learning. And the site gives kids many topics and choices to choose from. Get started with a fun tutorial on how to make a Kahoot! game.
Price: Free
Code.org encourages kids to learn computer science, with lessons offered for beginners as early as 4 years old. Kids can learn how to create games, apps, or drawings.
Pros: Code.org offers many choices and it also has lessons that kids move through level by level once they master a skill. Beyond that, they offer Hour of Code tutorials for all sorts of age groups.
Cons: While this site is free and offers unplugged activities, you need to make sure kids are starting where they need to and not at a level that's too advanced. There is a  scaffolded curriculum that can be followed.
Ages: 4+
Why it's the best: Code.org is a great option for kids because they are able to advance based on their skills at their own pace. This is also nice because it can easily be used at school or home.
Price: Free
CS First is a site that offers a computer science curriculum of hands on lessons and videos for students 10-14 years old to create their own projects with Scratch. The materials make it easy to teach coding in a variety of ways and offer lesson supplements.
Pros: Offers a variety of resources to educators and students to get them interested in coding.
Cons: There is more video instruction rather than teacher led unless you are in a classroom.
Ages: 10-14
Why it's the best: Computer science concepts are available to students at no cost and through many different topics so that all have the tools to access coding.
Price: Free
Blockly is a self-paced site used to teach programming to those with little to no experience. Players use games to learn text based languages. It is a drag and drop system.
Pros: Kids are able to quickly learn the basics of coding, making it easier to code for inexperienced users.
Cons: Blockly does not teach a coding language, but instead uses pre-made blocks.
Ages: 10-14 years old
Why it's the best: Blockly offers a visual presentation by putting pre-made blocks together like a puzzle. It is a great option for beginners, who can learn through a series of games including mazes, music, and movies.
Price: Free
How to compare top kids coding courses and programs

When comparing coding courses there are a lot of factors to take into consideration. Here are a few key indicators you will want to consider.
1. The student to teacher ratio
Having a small student to teacher ratio makes individualized learning possible. With a smaller class size, teachers are able to give more one-on-one instruction to students and focus on their needs. Quality classes are going to have smaller amounts of students in them.
2. Strong community reviews
See what others are saying about the courses. Look for positive reviews and high levels of online community involvement. Students should be able to communicate with others in a safe learning environment.
3. Instructors
Qualified, experienced, and caring instructors are definitely a must have. Instructors should be engaging and willing to go the extra mile for their students, while displaying positive interaction. Follow up summaries and feedback should be offered from instructors as well.
4. Scheduling
Classes should be offered at a variety of times and days for each level or program. Having an option for make-ups is a plus too. You also want to look for trial classes to explore before you spend money on a class you are unsure your child will enjoy.
Try the best coding classes for kids

Remember coding not only prepares children for future job opportunities, but also gives them an advantage in technology and academics. When choosing an option to teach your child to code, make sure they are successful by considering your options. The websites and classes listed here are sure to be fun and effective platforms.
To get your child started today, check out our award-winning free online coding classes. Our curriculum is designed by experts from Google, Stanford, MIT, and Code.org, and ensures a comprehensive computer science educations across 25+ amazing subjects. Our teachers are all based in the US with years of experience in their fields, and have been trained in our proven inquiry-based and project-based style of instruction that builds children's creativity and problem solving skills, in addition to their coding skill set!
Up next learn more about how children can code mobile apps.

Written by Amanda Hendrix, a Create & Learn instructor with 10 years of teaching experience. She also holds a Masters in Educational Leadership, and a BS in Elementary Education.