It's time to get ready for winter break, and that means discovering new ways to keep the kids happy and engaged while indoors. So today, we'll share the best winter break camps for kids to keep your child entertained and on track for future success in school and in life. Add in a little hot chocolate and your student is sure to be a happy camper!

In this article, we'll discuss some fun winter camps, including virtual, free, and in-person options, as well as what age group each camp is best suited for. We'll also give you pointers on how to choose the camps that will best fit your child's learning style and interests — and your budget. Read on, and select Thanksgiving break camps and the best online winter camps today.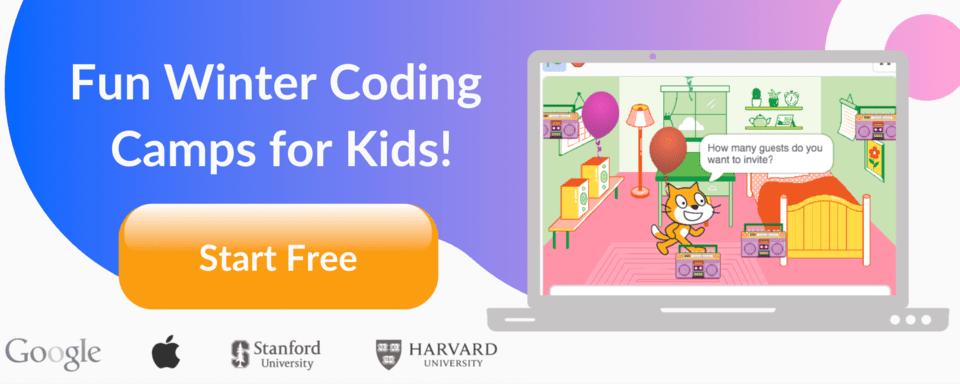 How to pick the virtual best winter break camps
As a parent, you want a good learning experience for your child. Here are some ways to feel more confident in making the best winter break camp selection possible.
Build on existing interests. If your child are super active, go for camps that feature lots of movement. If they are already sci-fi fans, explore the world of AI.
Check for equipment requirements. If you don't have a computer, your local library may lend them out.
Read reviews. Most if not all programs include reviews from other parents. Take a little bit of time to see if you "see" concerns you'd have for your child in reviews that are less than stellar.
Buddy up. If you know your child would prefer to have a friend along, see if you can make that happen.
Keep it fun! Remember, you're planning for the holiday break from the regular school routine. In other words, it's all for fun while learning. It's not for a grade.
Discover the best Thanksgiving break camps for kids
Now you're ready to explore some awesome winter camps. We'll share all sorts of options, from virtual winter break camps to free winter camps and even in-person winter camps. There are ideas for staying active, STEM ideas, and even cooking ideas! So, no matter your child's preferences, you're sure to find something they'll love.
Virtual winter break camps for kids
Virtual camps are convenient because you can access them from the comfort of your home, or even if you're visiting somewhere for the holidays. Here are a few online options this year.
Does your child enjoy playing Minecraft? In this fun winter break camp kids learn all about how to build their own mini-games within Minecraft. Built on top of the regular Minecraft game, the platform your child will use in this camp, Minecraft: Education Edition, is a really cool program that includes additional features to teach kids coding and other STEM skills.
Best for: Grades 2-5
Price: $84/unit with four 55-minute sessions included (special 20% discount)
This camp is great for middle schoolers! Python is one of the most popular real-world coding languages when learning to code. This live online winter break camp covers not only the basics of Python coding for kids and teens, but also puts a strong focus on the elements of Python that are most relevant to Artificial Intelligence, including data structures and libraries.
Best for: Grades 5-9
Price: $84/unit with four 55-minute sessions included (special 20% discount)
Wouldn't it be cool if your child created an app and all their friends downloaded it? This virtual camp teaches kids to build mobile apps, including exploring how to employ text, device sensors, and even the camera to build projects and games that involve image recognition, word games, and riddles. Towards the end of camp students even tackle making a multiplayer game, as well as a cool app that stores their favorite items.
Best for: Grades 5-7
Price: Price: $84/unit with four 55-minute sessions included (special 20% discount)
Unity is the most popular game engine in the world, and is behind many games your child plays such as Angry Birds. In this virtual game development camp, kids build a 2D platform game where players can control the movement of the character and direct its interactions with the environment such as colliding with obstacles and hazards. After that, children progress to making their first 3D game in Unity, while continuing to improve their C# programming skills.
Best for: Grades 6-12
Price: $5 introductory class
This fun winter camps covers the lifecycle of stars including supernova and black holes, our amazing galaxy, fascinating space volcanoes, and even a virtual visit to the international space station. In every session, there is a fun hands-on activity, making it even easier for little learners to better understand our universe. Children can be signed up for a one-day event or all five days.
Best for: Ages 5-9
Price: $20/session or $85 for all five sessions
Some of us were born to address a crowd. Others? Not so much. In this 4-day camp, kids have fun while developing confidence as a public speaker. Students learn to manage anxiety, organize presentations, and speak effectively. Fun activities include connecting with your audience, how to present with clarity, and more.
Best for: Grades 6-8
Price: $169 for all four days (Dec 20-23)
In a world with millions of colors, how do you know which ones to pick for your latest website design, Minecraft scene design, or mobile app logo? In this virtual camp, kids get an engaging and creative introduction to the art and science of digital design. Explore everything from how colors hold strong power, to the best ways to create 3D models that come alive.
Best for: Grades 4-8
Price: $5 introductory class
Free virtual winter break camps for kids
Sometimes budget is the biggest concern when looking for things to keep the kids occupied. Here are a few free camps to explore.
Is your child curious about coding but overwhelmed with where to start learning? Then this is the camp for you. Jump right into creating original games and animations with this fun Scratch coding camp. Scratch is a beginner language developed by MIT, that makes it easy for kids to fall in love with coding, by removing some of the typing complexity. In this free introduction camp, your child will work together, along with a maximum of four other students, to build a fun game of their own.
Best for: Grades 2-5
Price: Free
Does your child love playing Roblox? If so this camp is a cool chance for them to learn how to code their own Roblox world and games. In this free introduction session, kids go through the process of installing and activating the Roblox Studio where they can build and script, and enjoy a self-paced tutorial to create a simple interactive experience.
Best for: Grades 4-6
Price: Free
This camp helps kids learn how to program robots so they can navigate virtual-world challenges and mazes. This is such a great way to get into the amazing arena of robotics. Children find out how to code their robot to move, draw, turn, and more. Best of all, no physical robot is required.
Best for: Grades 2-4
Price: Free
With the latest developments in technology, AI (artificial intelligence) and machine learning can now compose music, and even read medical images better than average doctors. This winter camp offers small group sessions and hands-on experience with cutting-edge artificial intelligence applications.  Your child will have fun learning all about things that impact the real-world in big ways, through a lot of group discussion and a hands-on project.
Best for: Grades 4-7
Price: Free
If you're ready to get your children up and moving, check out these activities from the YMCA. There's yoga, cardio, pre-school dance, soccer skills, and more. All videos are on-demand and you can participate, too, because don't we all need a bit more movement in our lives?
Best for: Classes are geared towards different abilities and age groups
Price: Free
National Geographic has fantastic at-home ideas for children and their families that you can do anytime of year. Learn how to create a fake lake, make ice cream in a bag, and even design a logo. Get access to three ideas a month for free when you provide your email address.
Best for: All ages, even adults!
Price: Free for three articles/month
In-person winter break camps and Thanksgiving camps
If you're hoping for an in-person experience for your child this year, explore options from cities across the US below. If you're in other locations, consider searching fro math, science, art, and language camps held by your local library, zoo, or museums.
510 Families has a great list of winter camps for kids in Berkley and Oakland, from animal camp to gymnastics camp, music and more.
MomsLA has a terrific list of camps from coding to doing improv comedy, making fun crafts, learning to act, learning to sail, and more.
Mommy Poppins has camps for New Yorkers, and whether your kids are into art, theater, animals, academic enrichment or sports, there are plenty of options for children of all ages.
Houston on the Cheap has a list of winter camps with everything from the zoo, to space camp, to gymnastics for kids in Houston.
Seattle's Child features awesome winter camps including science labs, theatre, writing and communication, and more, for those in the Seattle area.
And for those located in Northern California, here are a few additional in-person options.
Located in Mountain View, California, the Community School of Music and Arts offers two 1-week holiday camps for children ages 5-17. Topics include drawing and painting, printmaking, and digital illustration. There's even a camp inspired by the work of Alexander Calder where kids will create kinetic art out of wood, wire, and other materials. The camps are limited to 12 participants, and the classes are taught by CSMA faculty or arts educators from the surrounding area. Scholarships are available.
Location:
Community School of Music and Arts
230 San Antonio Circle
Mountain View, CA 94040
Best for: Ages 8-11
Price: $360
These hands-on cooking camps unleash every child's inner chef through daily menus that the kids will cook themselves. Using the fresh ingredients, fun and interactive cooking techniques, kids will prepare meals from scratch each day as they learn kitchen and food safety, professional kitchen etiquette, measuring ratios, prep skills, and table manners. During this fun 5-day camp December 20-24th, kids will create and delve into Christmas food from Chanukah, Christmas, and Kwanzaa.
Location:
St. Hilary School
765 St. Hilary Drive
Tiburon, CA 94920
Best for: Ages 6-14
Price: $300
Enjoy the best virtual winter break camps for kids!
Providing children with a structured activity during their time off from school can keep them excited about learning, while ensuring you get a little free time. There are so many options to make your winter break a blast this year. So pick your favorite Thanksgiving camps and winter break camps and get signed up before schedules fill up.
Up next, explore some of the best STEM holiday gifts for kids!