Hoping to find the best Outschool classes for kids? We've got you covered. No matter whether you're looking for an after school activity or a summer camp, you'll be able to find a way to keep your kids happy. Outschool offers tons of classes taught by independent instructors for children in grades K-12. There are a lots of options from learning a new language, to drawing dragons, solving escape rooms, exercising, and much more.
Keep in mind each Outschool teacher tends to specialize in one particular area, so there's no structured learning path for students looking to build their future careers. Many Outschool parents have come to us and asked how to provide more systematic and fun computer science learning for their children, and about how some of the Outschool coding classes they have done compare to ours.
For a comprehensive computer science education, Create & Learn's live small-group classes (5 students max) offer a customized learning path from fundamentals through advanced concepts, across more than 30 computer science subjects for Grades K-12. Our award-winning curriculum was crafted by experts from Google, Stanford, and MIT, and with our full satisfaction guarantee there's no risk in trying a class. Get started with a free coding class today!
Most students start by learning how to code games with beginner-friendly Scratch coding, which teaches essential engineering concepts. (Grades 2-5):
Or building on their love of playing Minecraft by learning how to incorporate more advanced blocks such as Redstone, pistons, and observer blocks to build holiday lights, automatic doors, and even flying machines inside Minecraft. (Grades 2-5):
Youngers students can also explore outer space, NASA, and science led live by an expert. (Grades 1-4):
Meanwhile, kindergarteners can enjoy beginner coding in a supportive environment in this live online Scratch Junior class. (Grades K-2):
Discover the best Outschool courses for kids
Explore a list of popular Outschool courses as indicated by parent reviews, as well as what classes Outschool shares are popular with learners each week.
In this weekly club, you will draw our favorite warrior cats while you learn new art techniques every week. Using step by step understanding of simple shapes into complex shapes, we will learn to draw the cat's faces in 3/4's view, how to draw feline anatomy using the 'bean' method, and teaching students how to develop their OWN artistic drawing style. As we draw, students are encouraged to discuss their favorite books and characters from the series. This class is student-led; which means the drawing topics are dictated by what the learners would like to draw next.
Ages: 10-15 years
Length: 60 minutes
Group size: 6-18 learners
Class type: Ongoing course
Students will create anime style self portraits quickly and easily in this one-time class. They will learn the secrets to drawing cartoon character faces in simple steps. This class is perfect for cartoon, manga, game, character, storytelling, anime, drawing, painting and art lovers.
Ages: 7-12 years
Length: 55 minutes
Group size: 3-12 learners
Class type: One-time class
Just paint-a-long, and by the end of the class, you will have created a masterpiece! Students will follow along step by step, as the instructor paints every detail right in front of them. Kids will see how the paint colors work together and layer these to create beautiful paintings with depth. They will also learn painting terminology and pick up some easy to remember  techniques that they can use in their own artwork.
Ages: 8-13 years
Length: 65 minutes
Group size: 3-18 learners
Class type: One-time class
In this workshop, students see how to draw basic shapes and turn them into incredible Wings of Fire dragons! Dragons can seem like complicated things to draw, but it's easier than you think! Students begin with basic, easily understood shapes. Then walk through which elements to add, piece-by-piece, to make the shapes more recognizable as our dragons. Kids learn how to add details and smooth edges around their more basic shapes to make their final dragon drawing. This class series focuses on a different dragon week by week beginning Monday through to Sunday.
Ages: 7-12
Length: 60 minutes
Group size: 3-15 learners
Class type: One-time class
Check out even more of the best online art classes for kids, including Create & Learn's Discovering Design, Basics of Photoshop, Introduction to Procreate, and more.
Through a series of intro and intermediate projects, explore using shutter speed, aperture, and ISO to make creative choices and take more compelling photographs. Work in a small group to go in-depth into the science and art of manual photography!
Ages: 13-18
Length: 70 minutes
Group size: 3-6 learners
Class type: Multi-day course
Or for younger students check out Create & Learn's intro to digital photography class.
Join along to practice selected poses and breathing exercises to create a body and mind break. This yoga class for kids will also release stress, tiredness, and replace those with feeling refreshed, calm and ready to enjoy the rest of their day/evening in an uplifted way.
Ages: 8-12
Length: 40 minutes
Group size: 1-3 learners
Class type: Ongoing course
In this intermediate class, students will practicing their figure drawing technique, while having fun drawing popular characters from movies, tv, comics and anime. Students will draw from photos alongside their instructor in various timed poses. With each pose, students will get to see how their instructor approaches each pose while creating their own drawing. Students will draw people cosplaying as characters from anime, video games and movies. Each class will feature a different art tutorial with added time for students to practice each class's art technique.
Ages: 10-15 years
Length: 40 minutes
Group size: 3-14 learners
Class type: Ongoing
Have fun by building a Pokemon, sharing stories, and making a Pokédex! Join this 2-day course, where you will meet to build a Pokemon themed project. This class is designed to allow students to express their creativity in design and storytelling, while creating a work of art to share and display proudly!
Ages: 6-10 years
Length: 50 minutes
Group size: 3-10 learners
Class type: Multi-day
Also if your child likes Pokemon, they'll probably also enjoy learning how to make a Pokemon game!
Enjoy personalized ongoing private lessons for beginning and intermediate level Ukulele students. Students will learn how to play the ukulele and feel confident playing various chords and songs. Students will learn chords, strumming patterns, music theory, and more. Students will then take the knowledge they learn to practice their favorite songs.
Ages: 5-18 years
Length: 25 minutes
Group size: 1
Class type: Ongoing course
In this weekly ongoing class, your learner's writing talents will soar under the guidance of an encouraging writer. Choose creative writing, essays or homework help. Get feedback and personalized curriculum based on your goals. Learn how to write a novel or short stories, get help with MLA formatting, see how to write poetry, and much more.
Ages: 4-18 years
Length: 55 minutes
Group size: 1
Class type: Ongoing course
That covers it for some of the coolest Outschool classes! If you'd like your child to learn computer science, check out Create & Learn's free coding classes for kids.
Types of Outschool classes
There are a handful of types of different Outschool online classes which can be a little confusing. So here's a handy guide!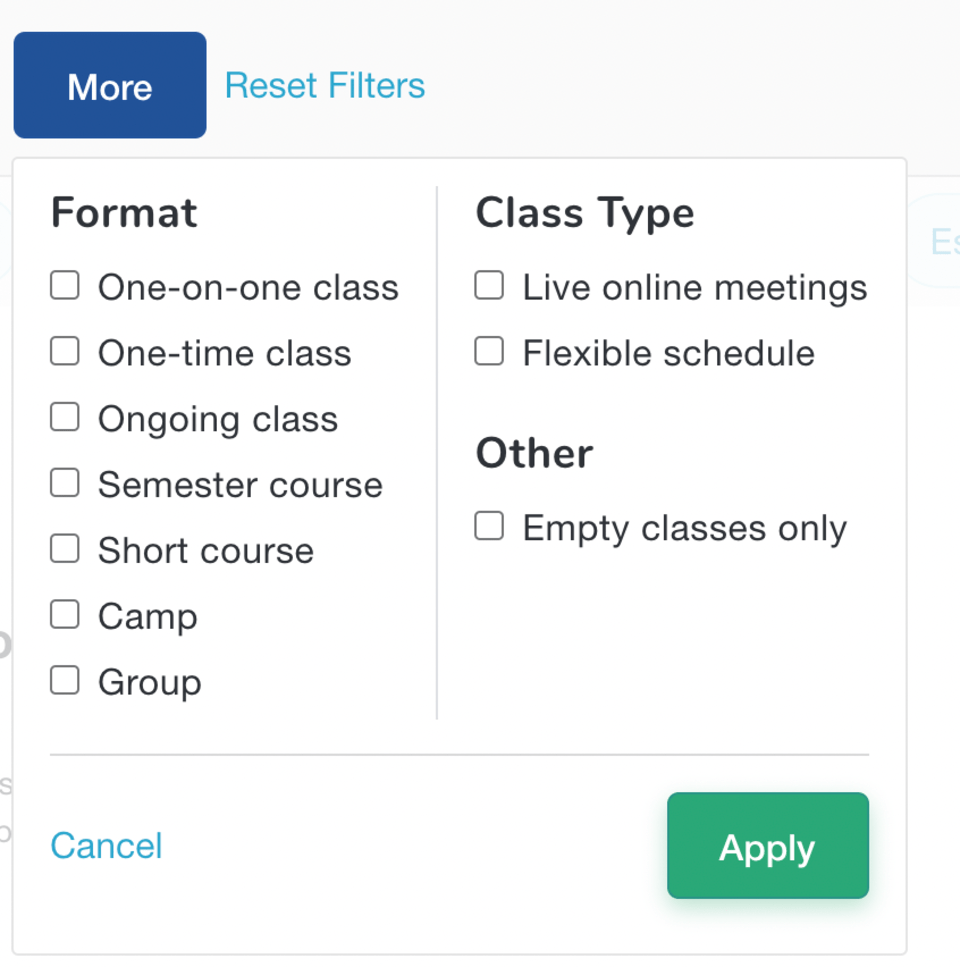 One-on-one class: This is a live Zoom class that has just one student and teacher. Basically a private course.
One-time classes: This is a live Zoom class that meets one time. It's a great way to give students and parents an idea of what you offer, before they commit to a longer program.
Ongoing classes: Basically this is a multi-day class that goes forever. It's purchased like a subscription, so parents are charged each week for the following week's classes.
Semester courses: Semester courses are best for going in depth on a topic and run for as long as a school semester. They meet 1 or more times each week for at least 8 weeks.
Short courses: These are multi-day classes that meet with a small group of students live over Zoom multiple times. It meets 1 or more times each week for up to 7 weeks.
Camp classes: These are a specific type of multi-day group class. Camps need to meet a minimum of 2 days each week for up to 4 weeks.
Group classes: These multi-day classes meet with a small group of students live over Zoom multiple times - at least 1 time each week for 2-7 weeks.
Flexible schedule classes: These classes aren't live. Instead they're recorded and students can watch them anytime during the course duration. There are assignments with due dates posted in the Outschool classroom portal to keep students accountable.
Create & Learn's classes are small groups (5 students max) and meet for one session each week. There are also camps where there are multiple meetings within a week. In addition, to meet every learner's preferred style, every class can also be taken as a private class, with one-on-one instruction.
Popular Outschool classes and Outschool Groups in demand
Outschool classes are very popular in the 2-6pm PST time range, as that's when most students are out of school for the day. They're also highly attended from 8am-12pm PST, which is presumably many homeschool students taking advantage of the program.
Some of the best class topics include music, world languages, arts, and English. Outschool Groups that are popular include subjects such as photography, stock market and investing, coding, writing, and gaming.
Read Outschool reviews
Curious to learn more based on Outschool reviews? Here are a few handy links:
1. Reviewed provides a comprehensive review of Outschool that's worth a read. They cover teacher quality, class size, privacy concerns, and much more.
2. The Simple Homeschooler shares answers to common questions about Outschool and her own experience with the classes.
3. Common Sense Media also lists plenty of parent reviews for Outschool and overall reports the platform at 4/5 stars.
4. SmarterLearningGuide published a review of Outschool as well, covering pros and cons.
5. One Perfectly Imperfect Mom shared her experience using Outschool as a supplement to her child's learning in her review.
Now you know the best Outschool classes for kids
Ready to get started with your coding adventure? Join a Create & Learn coding class led by a US-based, highly trained, experienced instructor with a curriculum designed by Google, MIT, and Stanford experts. Claim your free coding class! Most of our students begin with Scratch coding: