2021-2022 School Year Class Pack
Best Price Up to 37%, $466.2 Off
74% of parents in one of our recent surveys said that they believe Computer Science is a subject that children should learn all year round. They are absolutely right! Just like math, English, and science, computer science covers many different topics such as coding, robotics, AI, design, and more. The best way to gain knowledge is to follow systematics learning paths to continue to expand and practice. Check out some of our recommended learning paths below. Here is the great news - we just made it easier for you by offering class packs at a huge discount! You can redeem the pack credit for the entire school year. Get the pack today to secure your savings and you can decide what classes to take later. Our curriculum was designed by tech experts from Google, Stanford, etc. together with education experts. Choose from any of 25+ courses. More will be added every semester! Pack credits can be redeemed any time before Apr 30, 2022.
Recommended Learning Combo
Based on your child's interests and experiences
Grades 2-4

Scratch Ninja, Minecraft Modding Quest

Hello Tech!, Junior Robotics, Lights & Beats with Micro:Bit
Grades 4-6

Scratch Ninja, Circuit Wizards: Arduino for Kids, Mobile Coding for Apps and Games, Python for AI

Scratch Ninja, Mobile Coding for Apps and Games, Minecraft Code to Mod

Robot Adventures, Circuit Wizards: Arduino for Kids

AI Explorers, Data Superpower, Discovering Design

Coding with Roblox Studio, Python for AI
Grades 6-12

Python for AI, Build Your Web, Java Primer with Android

Python for AI, AI Creators - Computer Vision

Coding with Roblox Studio, Unity Game Development

Build Your Web, Java Primer with Android

AI Creators - Computer Vision, Intro to Computational Biology
Design Your Own Learning Path
Based on Create & Learn structured curriculum
At Create & Learn, we believe computer science (CS) is not only about coding, but it includes many more aspects such as AI, Robotics, and Game Development. Unlike many other organizations, Create & Learn builds its curriculum that enables students to explore CS holistically. Meanwhile, the unit by unit learning approach allows students to build a deep understanding in each area before moving to the next topic. During your whole learning journey with Create & Learn, you can always reach out to your teachers and the learning specialists to consult the best learning path for your child.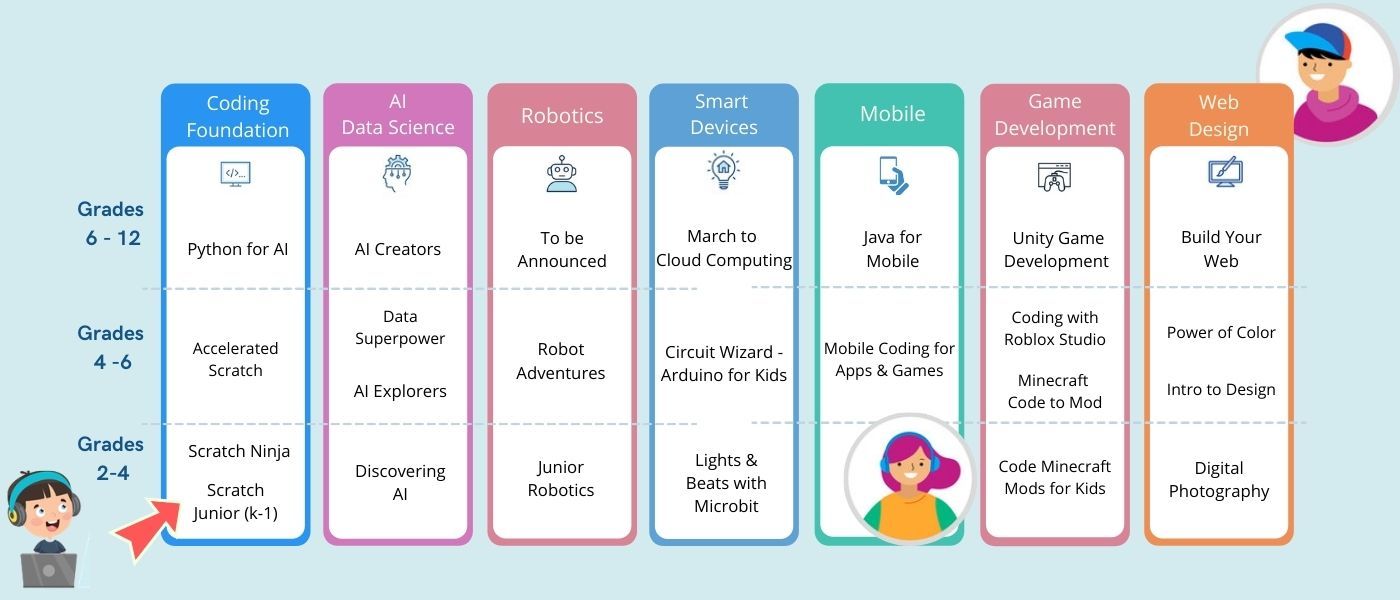 Frequently Asked Questions
How does the class pack work?
To help students learn computer science systematically, we have created these packs to help students take classes during the school year at a better price. The pack you get can be redeemed for different numbers of classes. For instance, a 4 unit pack can be redeemed for 4 units of 55min courses. As an example, Scratch Ninja has 4 units total, if you get a 4 units pack, the pack covers the entire Scratch Ninja exactly. Minecraft Coding Quest and AI Explorers each have 3 units, and a 6 units pack covers both courses. Some of our most advanced classes are 70min long. See below on how to redeem those classes.
What if I want to buy 70min classes such as AI Creators?
We have 4 courses that are 70min for each session. Each unit of 70min classes will use 1.25 credits since each session is 25% longer.For instance, the entire Java Primer with Android classes takes 5 units, and the AI Creators course needs 3.75 units. If you have less than 1 credit left in your pack, we can refund you the partial credit proportionally.
Can I split the pack between siblings or friends?
Yes, you can split between siblings, but not friends. However, if you do have friends that want to take classes together, please contact us at support@createandlearn.us, we offer a great group discount. You can also send your friends your referral link (available at https://www.create-learn.us/refer-a-friend) so both of you can receive referral credit
These virtually taught classes are so engaging, my son really enjoys them and is so excited to show us the coding projects he has completed on all 3 levels of Scratch Ninja. We will definitely be signing him up for more classes and thoroughly recommend Create & Learn to other parents.
Amanda E.
Create & Learn Parent
Amazing instructor. Can really keep my daughter engaged in a fun way. Thanks to Create & Learn my daughter's tech scores have skyrocketed at school.
Bhavi P.
Create & Learn Parent
Amazing virtual classes that taught my son about coding. He has taken 3 classes and he loves them all. They have some really good programs. I would definitely recommend this website and I plan to sign him up for more classes.
LM P.
Create & Learn Parent