Discover the best coding websites for kids. Today, we share some of the most recommended free and paid websites your child can engage with to learn coding languages. Some of them even feature free coding classes for kids!
For each kids coding website, we break down what to expect to find on it, and why it's great for kids. We also share some pros and cons, and the price - where applicable. We hope we save you some time as you find the best education options for your child!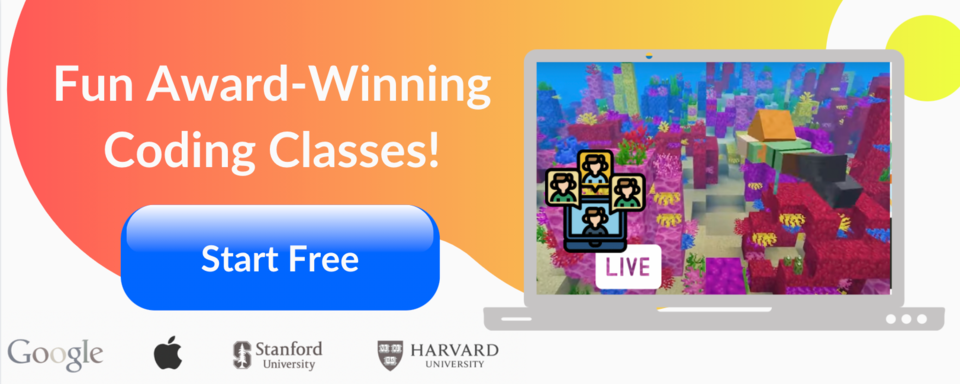 Discover the best free coding websites for kids and teens

Explore the best spaces and places for your child to learn a coding language with seven fun options. Learning coding should be fun, engaging, and non-intimidating. Here you will find the best free coding websites for kids and teens.
Scratch coding is a fun way to engage students with coding through play. Children create animations using block code.
Why it's great for kids: Ages 5 and up can navigate Scratch. Ideally, Scratch is designed for elementary to lower middle school.
Pros: Highly interactive, easy to use, and fun
Cons: As students get older, there is less for them on Scratch
Create & Learn offers free introductory live video coding courses for kids K-12 in Scratch, robotics, mobile apps, game development, and more. The curriculum was designed by experts from Google, MIT, and Stanford with kids in mind. Children have the opportunity to earn a coding certificate for every milestone they hit.
Why it's great for kids:
Pros: Collaborative, fun way to learn from experts live in small groups, and personalized learning paths from a best-in-class curriculum
Cons: Can't watch on-demand, need to pick a scheduled class time ahead of time
Code.org offers free coding resources and games. Courses and activities are free and super engaging!
Why it's great for kids: Any child 5 and up can learn from this site. The activities are designed for grade bands so you know which games fit your child best!
Pros: Easy to access and lots of choices
Cons: Sometimes with so many choices, it is hard to know where to start
Coursera offers many free courses from many reputable universities where students can learn to code.
Why it's great for kids: It's designed for middle and high school children
Pros: Wide variety of topics and offerings from awesome sources
Cons: Might be challenging for a newer coding student
This site offers free coding tutorials in many languages! It has robust information and it is totally free.
Why it's great for kids: This site is great for kids that are 5th grade and up. They offer interactive queries where students can click and engage with the tutorial.
Pros: Lots of variety within the site for coding languages
Cons: Very reading heavy for younger students
Bit Degree offers top-notch courses to prepare individuals for futures in progressive careers.
Why it's great for kids: This program is designed for students ages middle school and up. It has a wide variety of options from beginner to advanced. If your child wants real-world preparation, this site is excellent.
Pros: Many relevant career connections and teacher expertise
Cons: High level might not be attractive to some students
This site offers top university courses all in one place. It offers top-notch choices on design, data science, computer science and engineering, plus relevant experiences.
Why it's great for kids: This site is good for kids ages middle school and up. It connects students to real-life applications of coding
Pros: Explore lots of applications of computer science relevant to industry
Cons: Lots of choices and levels might be intimidating
Khan Academy offers basic tutorials in computer science that students can complete at their own pace. And they offer activities and videos to engage students.
Why it's great for kids: Khan Academy is designed for kids ages middle school and up. This site is great because it is not intimidating, self-paced, and easy to read.
Pros: Basic coding skills with an easily laid out format
Cons: Not gamified much for younger students
Best paid coding websites for kids and teens
Now in this section, we will go over the paid options you have for your children. The paid options typically offer more content, live teaching, more access to technology, and more curriculum.
Tynker offers a fun interface to teach coding through. Building confidence is their #1 goal!
Why it's great for kids: Ages 5-18 can use this website! Students can learn block code and text code depending on their level.
Pros: Global reach and endorsed by many viable companies
Cons: Immersive puzzles can get frustrating if a student is not ready for a specific level
Price: $126/year
This app allows children to learn coding through games.
Why it's great for kids: Great for younger kids (middle school and under). This is a fun, non-serious way to immerse your child in code. It is low investment and engaging.
Pros: Building blocks to early literacy
Cons: No live instruction; completely game-based
Price: $119.88/year
Coding with Kids is a coding academy with many options for topics, class types, and frequency of courses.
Why it's great for kids: Kids ages 5 and up will enjoy this site. You can tier the course selections based on your child's age and interest.
Pros: Very organized and leveled to ensure your child is properly placed.
Cons: Lots of choices and rigid times
Price: One per week for 8 weeks is $195
Juni learning offers one-on-one coding courses for children. Students purchase a membership for access.
Why it's great for kids: This is suitable for ages 8-18. Children get personalized attention and get to be met where they are in their coding journey.
Pros: 1:1 teacher
Cons: No collaboration with peers
Price: Options for membership are $250, $450, and $650 depending on the tier.
This site is designed for children to learn the basics of web development. The learning program is adaptable and easy to use.
Why it's great for kids: This site is best suited for 1st-8th graders. The site creates a play space where children are challenged and stimulated to learn.
Pros: Adaptable, engaging, and fun.
Cons: Limited interest for more advanced coding students
Price: $55/year
Kodable teaches coding through the basics. Games and creative activities are designed to prompt problem solving skills.
Why it's great for kids: It's accessible to children 5 and up. The optimization feature allows the system to be tiered for your child's ability and interest.
Pros: Learning tools and progress updates are exciting for parents and teachers.
Cons: Requires dedication from student and self-discipline
Price: $59.99/year
Codecademy is meant for more advanced coders looking to explore career options. This site offers interactive courses with feedback for students to analyze their learning.
Why it's great for kids: Codecademy is a good fit for students aged middle school and up. This offers kid-friendly classes that will teach cutting-edge code for future jobs.
Pros: Self-paced with many options and feedback
Cons: Feedback may be challenging to respond to if you get stuck
Price: $239.52 for the year for the pro package
Explore the best coding classes for kids
The best coding classes for kids create a fun, creative, and non-threatening environment. They do not tell children what to think. Rather they prompt students with HOW to think. To get started with a fun coding class that's perfect for your student, check out the best online coding classes for kids.
Coding websites free
More advanced learners can check out some of the best websites to learn coding for free:
Enjoy the best websites to learn coding for free
We hope you enjoyed finding out more about the best free and paid coding websites for kids. As you consider your options, try to keep in mind your child's interests, goals, and how they learn best. There are many viable websites to teach your student computer science in a way that resonates with them.
Up next, get started with free coding classes for kids, or begin your coding adventure by learning how to make a tic tac toe game in Scratch.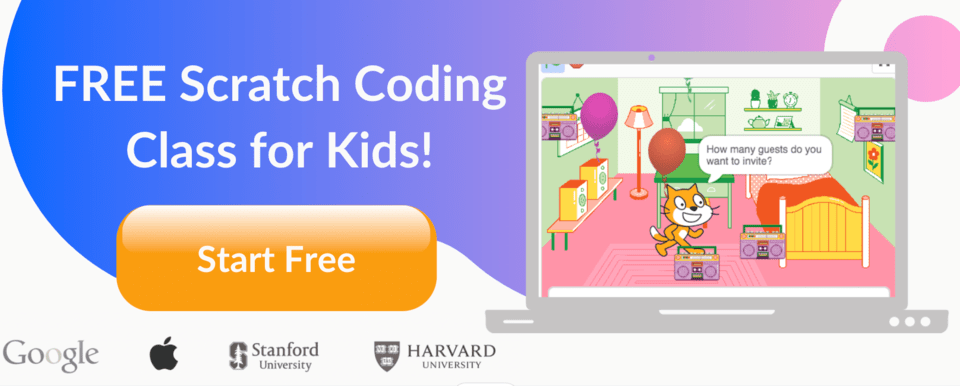 Written by Lauren Mauel, a Create & Learn instructor with 8 years of teaching experience. She also has a BS in Mathematics, an MS in Analytics, and is a PhD candidate. She loves seeing kids' creativity come alive.