There has never been a better time to learn to code! With technology always becoming more of a regular part of our daily lives, knowing how to code can give us the skills to make the most of our devices. Read on to find out more about learning to code for kids.
What is coding?
Coding, or computer programming, is a way we can tell a computer what to do and how to do it. We can write code to give the computer a very specific set of instructions, which the computer then follows exactly as we write them. Coding can be used to create apps, websites, games, and lots of other cool things. Computers need code to function; without coding, we wouldn't have computers at all!
Why should kids learn coding?
There are a number of great reasons for kids to learn to code. Coding helps build creativity and positively benefits young learners' logical thinking. It also creates more job opportunities for the future, and even boosts your marketability in non-tech related fields. Coding can be used for everything from automating repetitive tasks to making fun video games! Most importantly, learning to code helps to prepare kids for the future, as technology continues to develop and become more integrated in our lives.
Benefits of coding
Coding opens up a whole new world of possibilities for interacting with technology. It gives us the means to fully control our devices to help us do whatever we need them to do. Here are a few of the biggest benefits of being a coder:
Coding allows us to have our devices do specific tasks for us
Coding can be used to solve complex problems
Coding can be used to make anything from tools to games
Coding helps naturally develop logical and mathematical skills
Coding opens up endless possibilities for future careers
Coding is fun, like putting a puzzle together!
How to pick the right programming language for kids to start coding
Choosing which programming language to learn first can be overwhelming. There are seemingly endless options out there, and they all have their specific purposes. Fortunately, there are a few standout options for the beginner coder, which you can learn more about in this video:
Or use this handy chart to identify the best starting language for your student: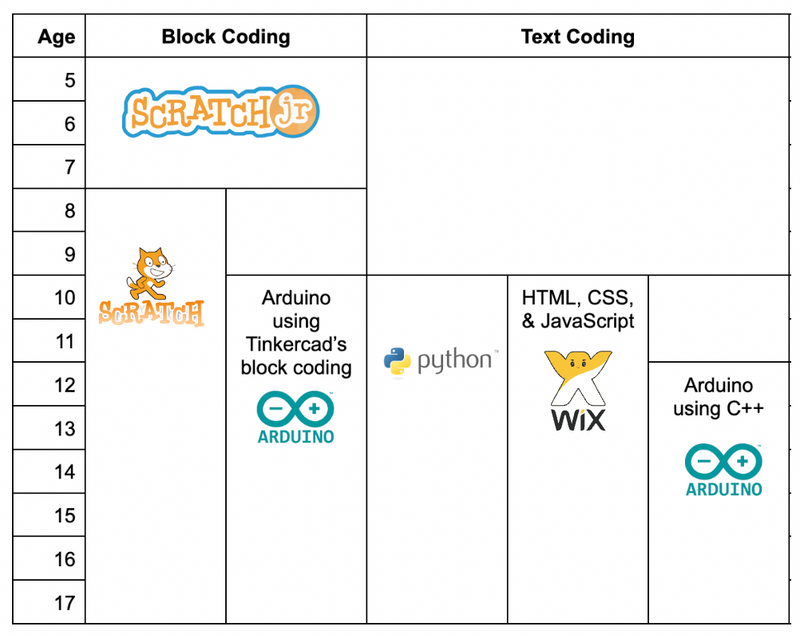 Learn to code for kids with free coding programs
Taking the plunge into learning to code can feel like a big commitment. That's why these free online programs are a great way to try coding out and find a class that aligns with your child's interests, so they get excited and invested in learning to code!
Create & Learn's award-winning Scratch Ninja course, designed by experts from Google, Stanford, and MIT, is a great place to start for the young, aspiring programmer. Since Scratch uses a block coding system, kids can focus on being creative, rather than navigating the complexities of text-based coding. It's a great way to learn core coding concepts in a fun and user-friendly environment. Scratch also has a great system for sharing projects, so kids can get feedback from family and friends on their creations! The only downside is Scratch programs must be run in a web browser, although this can also be a benefit in terms of not needing any special equipment to run what you make.
Best for: Elementary school beginner
Minecraft is a very popular game with kids, so why not use that as a vehicle for learning to code? Create & Learn's Minecraft Code to Mod course turns your child's love of playing Minecraft into real-world coding skills with exciting in-game challenges and projects. It's another block-based coding system as well, so it's a great stepping stone toward text-based programming languages! While their creations only exist inside of Minecraft, the core skills learned here translate to all other fields of programming.
Best for: Middle school beginner
Python is one of the most popular programming languages in the world, and for good reason! It's used for everything from data analysis to making video games. Create & Learn's Python for AI teaches the fundamentals of Python, putting a strong focus on the elements of Python which are most relevant to artificial intelligence, a very popular field of study. Python is a text-based coding language, which is a little more advanced than block-based programming systems like Scratch. However, that aspect means that Python is a lot less limited in what it can be used to make. Python has been used to make software for desktop computers, web browsers, and even mobile applications.
Best for: High school beginner with some previous coding experience, those with no prior coding experience will do best starting with free Accelerated Scratch
The Hour of Code activities on Code.org are one-hour tutorials designed for all ages. They cover more than 45 programming languages, including popular languages like Python and JavaScript. There are countless topics covered in these tutorials, so you're sure to find something that interests you! Most of the tutorials are self-guided, which means you can work at your own pace. However, unlike the previous classes on this list, you may not have access to a teacher to ask questions, so these activities are best suited to self-starters.
Google is a massive player in the world of technology, so it makes sense that they would offer computer science education online. CS First is a free system for teachers to use in their computer science classrooms. Students learn through video tutorials using Scratch. Everything from beginner to advanced content is covered. This can be a great option for homeschooled students, or kids who want a technology-based after-school activity. As with the previous entry on this list, these are self-guided tutorials, so they're best suited to the self-starter type of students.
Explore some of the best ways for kids to learn to code
There are a number of ways for kids to explore and learn coding. The following highlights just a few options available to aspiring coders to help you get started! The best choice for your student will depend upon their interests, availability, and age.
Web-based courses for coding
Web-based courses provide the convenience of at-home learning with the advantage of having an expert teacher to ask questions and work directly with. You can have a look at this article featuring some of the best coding courses for kids for ideas.
One great way to get started is by following a structured curriculum for students to progress through learning new valuable computer science skills. Explore recommended programs for students in Grades 2-4, Grades 4-6, and Grades 6+ for an overview of what your child can learn, and where to begin.
A few highlights are listed here:
Junior Robotics: In Junior Robotics, kids learn about the basics of robotics through fun, hands-on projects. They'll learn how to navigate robots through a virtual environment and how robots can be used to solve real world problems.
Smart Devices: Arduino for Kids: Arduino is a very popular platform for building and coding devices. In this course, kids are introduced to circuit building and programming for Arduino to create several electronics projects.
Website Development: The Internet is a large part of our lives, and will continue to be so for the foreseeable future. In this live online class, kids learn how to build their own websites from scratch using HTML, CSS, and JavaScript
Apps and games to learn to code
Staying engaged and motivated to learn is greatly helped by having fun, so why not learn to code with fun apps and by playing games? These apps teach coding concepts via apps, ensuring that the player will want to continue on and learn more! There are also some free coding games to try.
The Everything Machine: The Everything Machine is a great introduction to programming and electronics, with a drag-and-drop interface allowing the user to control their device's camera, sensor, lights, sound, and more. The sandbox environment encourages lots of creativity, encouraging the user to create whatever they can imagine!
Hopscotch: Hopscotch is an award-winning coding app which allows kids to create games, stories, art, and whatever else they can imagine. It features a large number of tools to control limitless characters and designs within the app.
Human Resource Machine: Human Resource Machine is a logic game in which players use simple logical commands to solve puzzles. These commands are rooted in basic computer science principles, meaning that players are learning how computers "think" as they play! After solving a puzzle once, players are given an additional challenge to make their code more efficient, giving this game a ton of replay value to keep players entertained for hours.
Books for learning coding
For those who learn best by reading, there are endless books available to learn how to code! Coding books have the advantage of in-depth explanations which you can follow at your own pace, and you can always bookmark and come back to key concepts later! Here are a few of the best coding books for kids including some great coding books for teens:
25 Scratch 3 Games for Kids by Max Wainewright: This book uses colorful graphics and straightforward explanations to teach kids how to create games using Scratch. Readers will create a new game with each chapter, such as mazes, road-crossing games, and two player games that keep score.
Getting Started with Coding by Camille McCue: This book introduces programming concepts via five fun projects in Scratch and MakeCode for micro:bit. It walks readers through engaging, story-based problems.
Get Coding! by Duncan Beedie: This book focuses on the web-based languages of HTML, CSS, and JavaScript. It presents six "missions" to develop new coding skills by working through simple step-by-step instructions.
STEM subscription boxes and kits
Coding subscription boxes are services which send regular packages (usually once per month) containing activity and games to help teach kids computer science skills. These boxes are curated by experts, with each box generally being themed to create a fun and engaging experience.
Bitsbox: Bitsbox is one of the most popular coding subscription boxes. Each box comes with a mix of coding projects, ranging from simple to more advanced. Kids start out coding following the materials, then make changes to make it their own.
Creation Crate: Creation Crate is a STEM subscription box, featuring the choice between subjects such as beginner electronics, engineering, and more. It combines hands-on projects, education packed online lessons, and cutting edge STEM subjects.
Crunchlabs Build Box: The Build Box was created by popular science YouTuber Mark Rober, and features monthly build-it-yourself activities and toys designed to teach engineering concepts to kids. Each box comes with the components needed to build the project, as well as a video recorded by Mark Rober himself walking kids through the project.
In-person computer science learning
Few options beat in-person learning, and that's where coding camps come in! These in-person classes teach kids how to code with the help of instructors. While online classes tend to fit better with busy schedules, and provide access to the best teachers in the world, no matter where you live, in-person classes can provide a great supplemental learning experience.
PlanetBravo: PlanetBravo provides in-person summer coding camps across the state of California, featuring an 8-to-1 student-teacher ratio, great counselors to guide young learners, and built-in inside and outside time to give kids a healthy balance of time both indoors and outdoors.
Activity Hero: Activity Hero features all sorts of in-person coding camps all around the United States. Subjects covered include Minecraft, Scratch, and more.
Digital Dragon: Digital Dragon holds in-person kids' tech classes, seasonal camps, and parties with a focus on computer programming, filmmaking, Minecraft, and coding.
Best coding projects for kids to get started
The hardest part of learning a new skill like coding is simply getting started. Here are a few fun projects to get started with right now, including some easy games to code! Just follow along with these free step-by-step tutorials to try your hand at something new.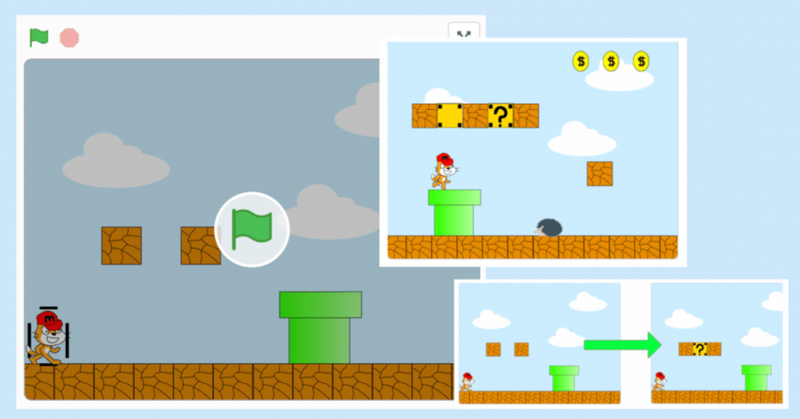 Platformer games like Mario are some of the most popular entries in the history of video games. This Scratch project teaches the basic concepts needed to create a Mario-style game. It's a great starting point for beginners, because working in Scratch makes coding the game easy, and you end up with a fun game to play!
Best for grades: 2-5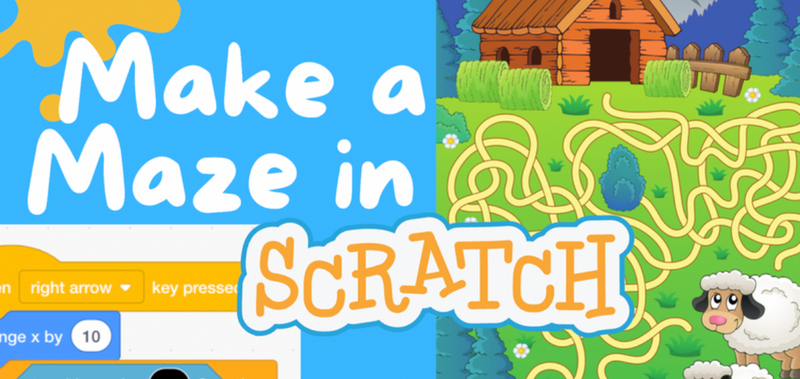 Mazes have been around for a very long time, and now kids can make mazes on their computer! This maze game allows kids to explore their creativity as they create their own maze for the player to work their way through. The code involved is very straightforward as well! There's also a video to watch if you prefer.
Best for grades: 2-5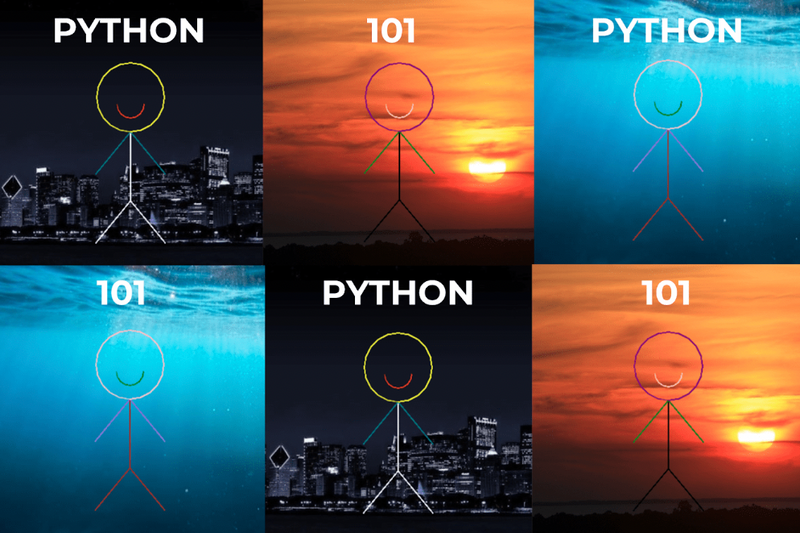 Python is found everywhere in the world of computer science. A great way to get started with learning Python is diving into a simple project like this one, in which kids can animate a stick figure drawing using code. This project makes use of some pre-written libraries which take care of the heavy lifting, allowing kids to focus on the basic principles of coding with Python. Explore even more fun Python projects for kids here.
Best for grades: 5-12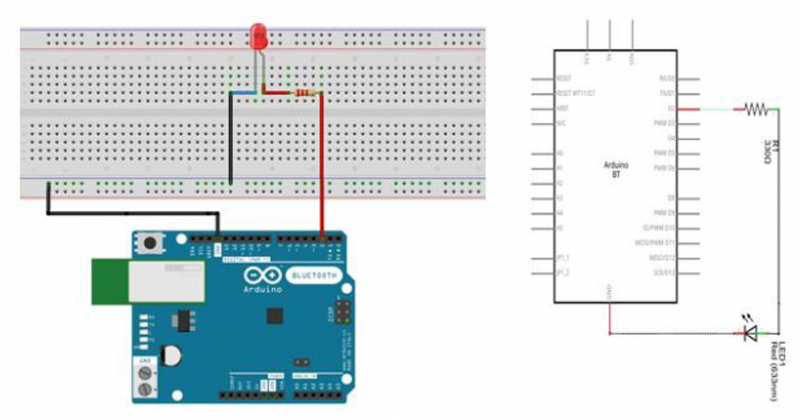 Arduino is a very popular platform for programming real-world devices thanks to the simplicity with which these devices can be connected and programmed. The blinking LED demo is similar to "Hello world" for other programming languages—it introduces the basics of the platform. In this case, that means getting some simple components connected to the Arduino and activating them, demonstrating how easy it is to control hardware components! Here are a few more fun Arduino projects to try as well.
Best for grades: 4-12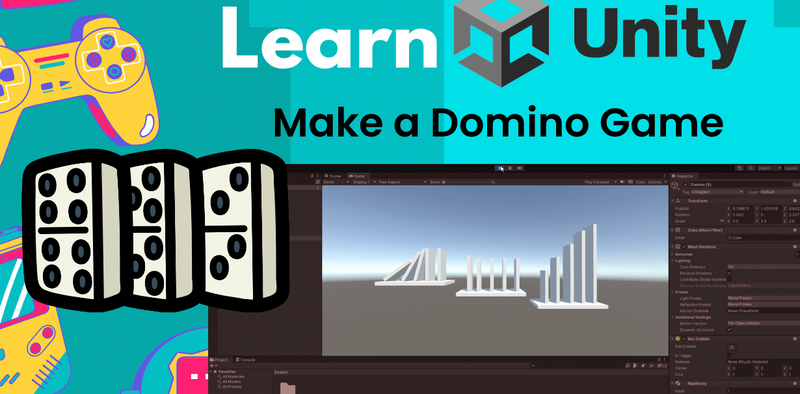 Unity is one of the most popular video game development packages out there. It allows users to create complex 2D or 3D worlds with a high-level interface, as well as use C# code to control the logic of their game. This tutorial focuses on the things that the interface is good at, like creating basic 3D objects and implementing physics. You can also follow along with a video if you prefer!
Best for grades: 6-12
For more fun projects, check out these articles featuring:
Tips to get your child interested in coding
The prospect of learning to code can feel overwhelming, so here are some tips to help get your child excited about coding!
Focus on what's fun: It's important to have fun while learning! Having fun ensures your child will want to come back and learn more, so be sure to pick something they'll enjoy!
Learn to code with age-appropriate material: Different coding languages are designed for different levels of development, so it's important to choose a language which is appropriate for your child's age. For example, for younger children Scratch Jr. or Scratch may be better options than Python or Unity.
Share: Sharing their creations with friends and family can keep a child motivated and give them a sense of accomplishment. So be sure they share what they've made!
Get inspiration from others: Most programming communities will share the projects they're working on, too! Seeing all of the great programs that other coders have written can be very motivating and exciting!
Learn to code with live online classes
Still looking for where to start? These live online, small-group Create & Learn classes are great options for kids to get the ball rolling! We've also included some great starting point online coding classes for teens.
Scratch is a great way to introduce kids to coding because it uses simple drag-and-drop code blocks rather than complex text-based syntax. This way, kids can focus on learning core coding concepts, rather than dealing with the frustrations of typing code manually. This class is designed for the absolute beginner between grades 2 to 5.
Minecraft is a very popular building and adventure game which encourages creativity and ingenuity. Minecraft Engineering takes it a step further by introducing computer science principles to the game to empower kids to create more complex builds! Students learn how to incorporate a set of redstone related blocks to build light shows, automatic doors, and even flying machines inside Minecraft. This class is ideal for beginners in grades 2 through 5.
There are many uses for Python in the computer science world, and one of the most exciting uses is the field of artificial intelligence! Python for AI teaches the fundamentals of Python programming with a focus toward the tools most relevant to AI. This class is intended for students grades 5 through 12 with previous experience coding on a platform like Scratch.
This class covers a wide range of topics in Web Design, starting from the basics of how to use WIX and how to structure your website, to designing layout, choosing color schemes, and even to creating a web store to sell products. Whether your student is thinking about doing a website to showcase your own art or hobbies, feature school/community events, publicize your sports teams or clubs, or to help local businesses and non-profit organizations, this class will teach you how to make it. This class is ideal for middle schoolers and teens.
Every year, many billions of apps are downloaded to mobile phones. However, building high-quality mobile apps has been beyond reach to younger coders. But not any more! Throughout this course, students will learn how to create fun apps and games for mobile devices. The class uses Thunkable, a block based programming platform for professionals. It is easy to use, yet very powerful, and is used by many to develop commercial applications. Students need to have experience with Scratch coding first, and this class is ideal for middle schoolers and teens.
Learn coding for kids today
There are endless possibilities for getting kids interested in coding. Because many kids love playing games, learning how to make games with video game classes and camps can be a great place to begin. And don't forget, Create & Learn offers a number of fun free coding classes kids can take right now to discover areas of interest and try out coding in an inviting, collaborative environment with the support of a live professional!
Written by Create & Learn instructor Josh Abbott Salazar. Josh is a teacher, coder, audio engineer, and musician. After graduating with a Master's in Music from Belmont University in Nashville, TN, Josh turned his attention to the technology side of things, and has been working in various aspects of coding and engineering ever since. He runs a small music studio in Nashville called Tango Sound Studios, and develops video games in his spare time.