Your child can unlock their endless potential by learning computer science. Through computer programming for kids, your student may discover many new ways to be creative, innovative, and engaged with the world around them. So today we'll share everything you need to know about coding for kids.
Get started right away with award-winning free coding classes for kids led live by experts, and designed by professionals from Google, Stanford, and MIT.
What Is Computer Programming For Kids?
Computer programming is the art and science of using computers to complete tasks. Programmers communicate with the computer using a coding language, and write programs, or sets of instructions for the computer. There are many languages, each with its own syntax and peculiarities, but all rely on similar, fundamental programming concepts. Understanding core coding principles and how to use different languages are the jobs of a computer scientist.
Kids can absolutely learn computer programming, even at a young age. There are many great visual and block-coding languages that younger kids love, while older kids may prefer written languages. Given the popularity and necessity of coding today, there are many live and virtual classes, coding apps, and projects that can help kids learn.
Why Should Kids Learn Computer Programming?
Practically, computer programming is one of the most sought after skills today. LinkedIn estimates that there are currently almost a quarter million open computer science jobs in the US, and that number is projected to grow. Even in non-computer or information science jobs, having coding skills is incredibly useful. Learning the basics now sets your student up for success in the future, no matter the field they ultimately choose.
Beyond employment, another reason to learn coding is that computer science is one of the greatest tools we have for teaching students problem solving skills. Coding is known to help kids:
Work out tough problems on their own
Develop grit and perseverance through working through challenging situations
Encourage independent learning
Help understand the concept of developing multiple solutions for the same problem
Allow students to pursue their interests in new ways, by creating coded games, animations, stories, and models
Teach students use internet resources
Even basic programming helps kids develop these critical skills.
To jump right into learning coding, join the most popular beginner-friendly class Scratch Ninja, led live by an expert. Start with a free intro session:
How Can My Child Learn Computer Programming?
There are multiple paths for helping your student learn computer programming. Some may be more appropriate than others; you should consider your student's previous experience and ability to self-direct when selecting a pathway.
One tempting choice for intro coders is to use free online videos through platforms such as YouTube or Khan Academy. You may also find free, self-guided education on coding websites. While the material can be high quality, we often find that these videos are better as supplemental sources of information. Unless your child is exceptionally motivated, it can be hard to learn through videos alone, and trying to chart their own curriculum can be daunting.
Lots of students seem to learn well through project-based education. Programs such as Code.org's Hour of Code offer a range of interesting coding activities for students of all ages. These projects are a great way for your student to dip their toes in the coding pool. The disadvantage, again, is that students do not get any feedback on their work. We also find some students get frustrated with the lack of help.
A great option for helping students learn coding is live online classes. This format combines the convenience of at home learning with the benefit of a real teacher. Coding students, especially newer ones, gain a lot from live feedback, help, and encouragement. At Create & Learn, we have instructors with lots of experience teaching coding who will keep your students on track and motivated. We teach both block coding and text-based languages, appealing to kids of all ages.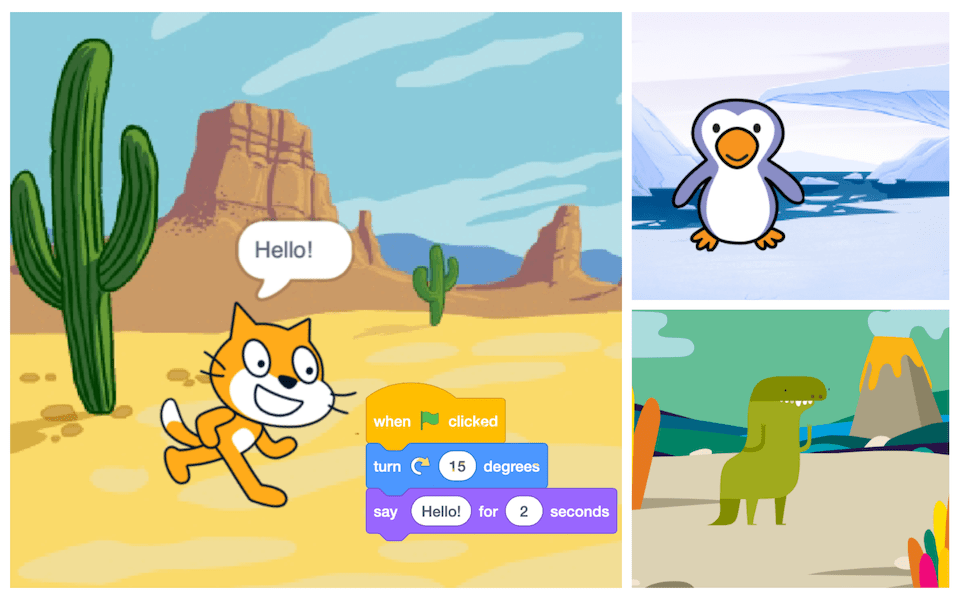 How To Teach Kids Computer Programming
As coding has become more ubiquitous, it has become more accessible. There's never been a better time to teach your kids programming.
Kids love coding, but when they understand that code built all of the games and programs that they love, they become positively thrilled at the idea of designing their own. If you can define coding and explain how different coding languages work, you can relate those languages to things your kids already enjoy.
Are they into gaming? They might like to learn Java, the language used to make Minecraft, or Unity and Unreal, which are used to make most major PC and console games. Do they like VR or AI or Robotics? Then Python might be perfect for them. Even if they only like LEGO or sports, you can find ways to relate these interests to coding in a way that will get them excited about coding.
It's important to remember that there are different learning styles, and every child prefers and learns best in certain contexts. Understanding your child's learning style coupled with in depth communication about what motivates them will highlight their best path to success.
Learn how to teach your student coding in five steps here.
Kid-Friendly Programming Languages
There are so many kid-friendly programming langauges to choose from and they each offer different benefits. But one of the best things about computer science is that even though programming languages can have major differences in their implementation, there are many similarities in fundamental concepts. So when your child starts learning one language, they are already gaining skills to apply to other languages!
Find out how to pick the best first programming language for your student here, where discuss three of the most common languages new coders learn: Scratch, Python, and Javascript. We outline several considerations for choosing a language, and help you pick the best first coding language for your kid, based on their interests and previous experiences. You'll also discover other great languages they can progress to.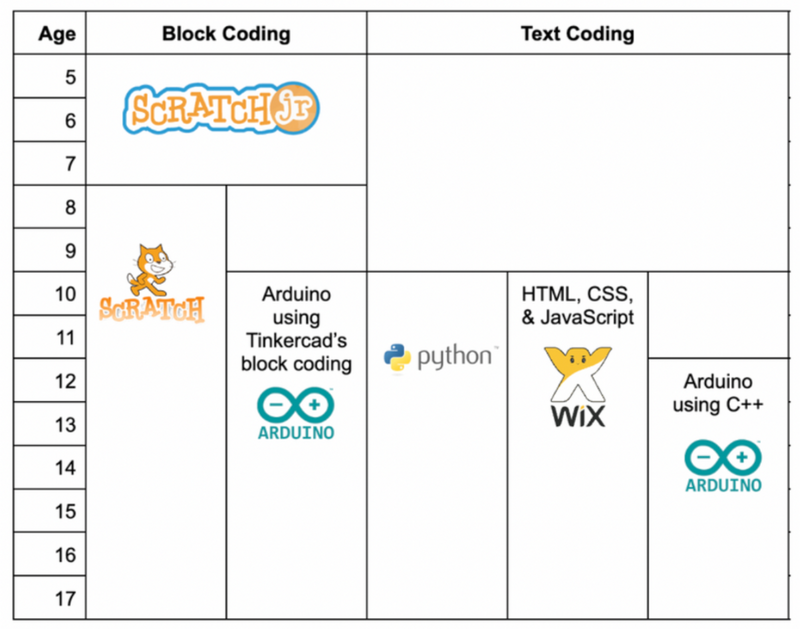 Explore Award-Winning Computer Programming Classes And Camps For Kids
Create & Learn offers a variety of computer programming and information sciences classes and camps for students, designed by experts from Google, Stanford, Apple, and MIT. We get students excited about coding from as early as age five. Our students learn core concepts from visual languages such as Scratch, and move into text-based languages such as Python later on.
We also believe that computer science is more than just coding, and offer classes on hot topics including artificial intelligence, design, and data science. Our instructors teach kids how to code using a proven step-by-step method that really make students think about how their programs work. We believe that the best way to teach programming is to encourage kids to create and explore.
Our method pays off: currently, Create & Learn has a five-star rating on Facebook, and a high track record of success worldwide when it comes to teaching kids fundamental programming skills.



Join Online Programming Classes For Kids
At Create & Learn, we offer over thirty-five classes in a wide variety of different computer science areas. All coding classes are taught live by experienced instructors, and classes are kept to no more than five students to ensure your child gets a lot of individualized attention.
Create & Learn also offers several classes that, while they don't explicitly involve coding, are essential to becoming a well-rounded computer science thinker. For example:
We are consistently launching new classes, and adding new schedules for existing classes. We're excited to welcome your student into the wonderful world of computer science. Get started with a free coding class today!
Written by Sarah Rappaport, who graduated from Northwestern University with undergraduate and graduate degrees in engineering and music. She's now working on a masters in data with Georgia Institute of Technology. She taught math and computer science with Teach for America for two years, and now works as a Systems Engineer.