In the modern world, learning to code is more important than ever. STEM disciplines continue to grow, and developing such skills early can benefit children later in life. STEM stats show that the fastest growing and highest paying careers are STEM fields. Beyond that, learning to code can help children develop crucial critical thinking skills, give them a boost in school, and set them up for a bright future! So there's no better time to check out awesome coding apps for kids.
Discover the 15 best coding apps for kids
There are coding apps out there for kids of any age, all offering fun and novel approaches to learning this crucial skill. Both free and paid kids coding apps are available, ranging from logic games to full-fledged coding software, so there's sure to be something that fits every child's needs!
Coding apps for kids in elementary school (ages 5-10)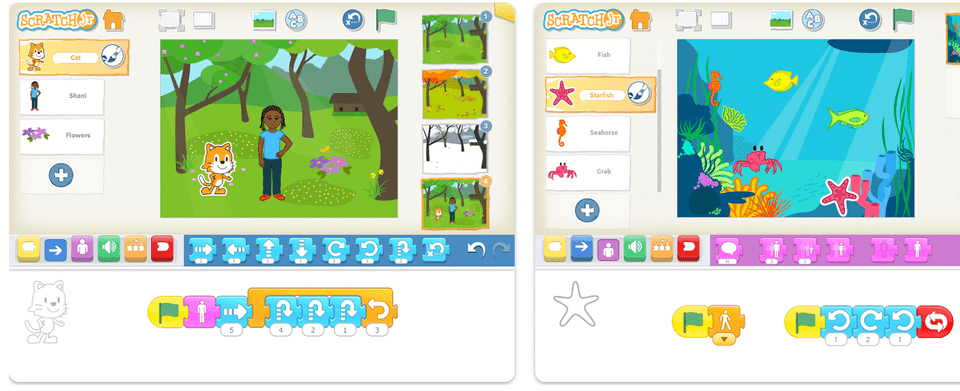 Scratch Jr is an introductory programming app that lets kids create their own interactive stories and games. It features a drag-and-drop interface with programming blocks that snap together to program characters in a scene. Inspired by the popular Scratch programming language, Scratch Jr aims to teach kids how to solve problems, design projects, and express themselves creatively. There's even a live online class that covers Scratch Jr, during which kids learn how to build cool games with coding and guidance from an expert.
Ages: 5-8
Pros:
Very easy to use
Fun interface
Builds to working with full Scratch after mastering the basics
Cons:
More limited than regular Scratch
Price: Free
Devices needed: iPad or Android Tablet

Create & Learn's Scratch Ninja is a 3-part course (12 55-minute sessions) covering MIT's beginner-friendly Scratch programming language for motivated kids looking for something with a little more power than Scratch Jr. The Scratch Ninja live online class features a small class size (5 students max) and fun projects. Students will learn core coding concepts such as sequences, loops, and conditional statements in just the first class part alone!
Ages: 7-10
Pros:
Small class size
Live guided instruction
Fun projects
Cons:
Need to find a time that works for your schedule
Price: $21 per 55-minute session and there's a free intro session
Devices needed: PC, Mac, or Tablet

Made for young fans of racing, Code Karts presents a series of logical puzzles with the goal of helping the car reach the finish line. With each puzzle, kids will have to solve gradually harder logic puzzles with simple coding concepts to finish the race. The app comes with 10 free levels, with additional levels available for a (very small) fee to total 95 levels, plus 9 bonus races.
Ages: 5+
Pros:
Fun race car theme
Easy to learn
A lot of content in the full version
Cons:
Additional levels past the first 10 must be purchased
Price: Free with in-app purchases
Devices needed: iPad or Android Tablet

This fun coding logic app features Daisy, a dinosaur which kids must guide through levels using drag-and-drop commands. It teaches basic coding concepts, such as conditional statements, in the form of short challenges. It also features a free play mode for endless fun!
Ages: 5-8
Pros:
Easy and fun interface
Engaging theme
Free play mode for continued fun
Cons:
Instructions are written rather than spoken, so parents may need to help
Price: Free
Devices needed: iPad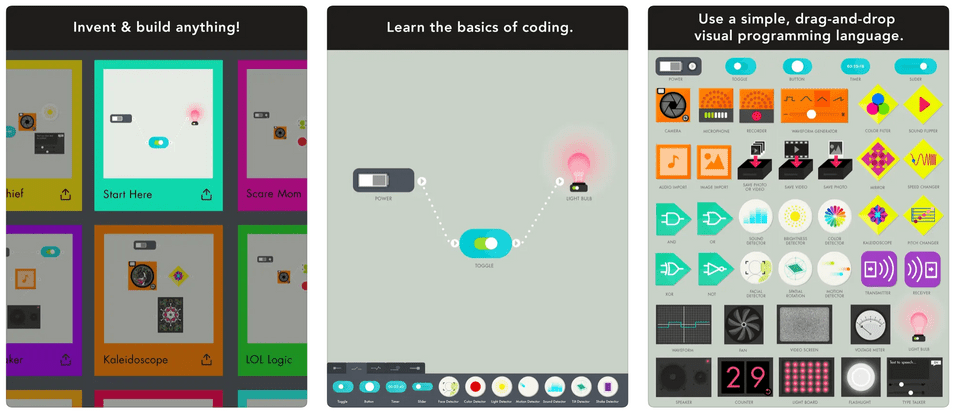 Everything Machine is a great introduction to programming and electronics. Made for the aspiring inventor, its drag-and-drop interface lets you connect to and control your device's camera, sensors, lights, sound, and more. This app is more of a sandbox than a game, encouraging kids to explore their creativity and create whatever they can imagine!
Ages: 5+
Pros:
Very open-ended
Covers not only coding, but basic interactions between electronics
Cons:
The manual is a separate document to be downloaded (for free)
Not as gamified as some other apps on the list
Price: $2.99
Devices needed: iPad or iPhone
Coding apps for kids in middle school (ages 11-13)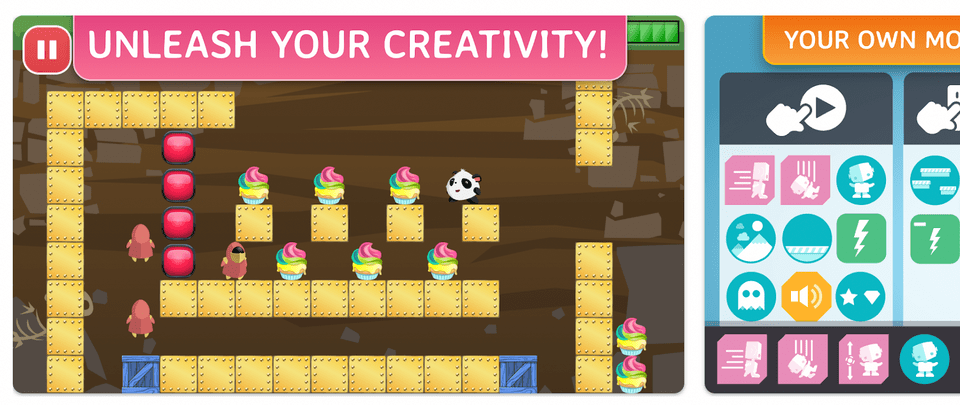 Coda Game is a platform specifically designed to help kids create games using a drag-and-drop coding interface. Kids will learn various game mechanics such as gravity, adding enemies, speed, point systems, and more. Finished games can also be easily shared with friends and family!
Ages: 9+
Pros:
Features fun graphics and sounds
Open-ended game creation
Cons:
More limited than something like Scratch
Price: $2.99
Devices needed: iOS or Android phone or tablet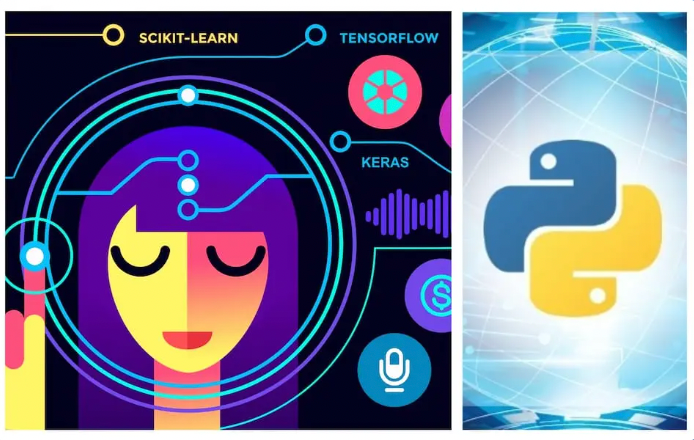 For kids looking to dive into a real-world programming language, Create & Learn offers a live online Python for AI class led by an expert. Students learn the core concepts of Python, working their way toward applying those skills with real, functional programs. Python is a very powerful and popular programming language, and learning Python with Create & Learn is one of the most fun ways to do it!
Ages: 10-14
Pros:
Learn real-world applicable programming
Small classes offer individual attention
Cons:
Need to find a schedule that works for you
Price: $21 per 55-minute session and there's a free intro session
Devices needed: PC or Mac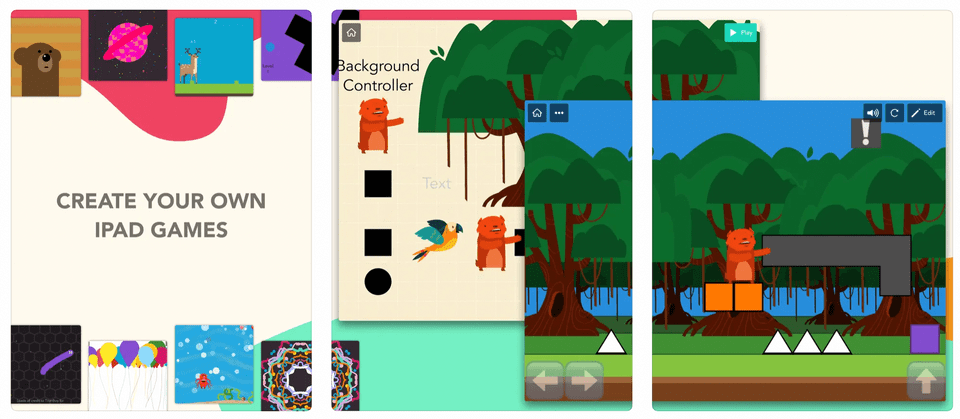 Hopscotch is an award-winning coding app for kids to create games, stories, art, and whatever else their imagination leads them to make. A plethora of tools are available to control seemingly limitless characters and designs within the app. The base free version provides plenty of content to keep kids entertained, engaged, and learning, and the app also offers additional content for small prices.
Ages: 10+
Pros:
Users can create anything from games to animations and more
Creations can be shared with friends and family
Very open-ended for limitless possibilities
Cons:
Not suitable for kids who need more structure, given the open feel of it
Price: Free with in-app purchases
Devices needed: iPad or iPhone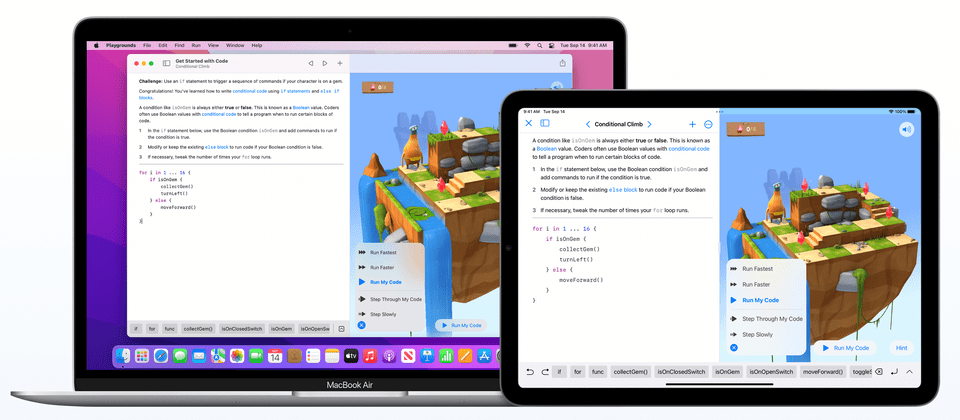 Swift Playgrounds was created by Apple to teach kids the programming language called Swift via a collection of coding games. Players make their way through various 3D puzzles using Swift to control their character. Eventually, users are able to create their own programs, games, and more!
Ages: 10+
Pros:
Teaches a real-world programming language
Engaging 3D worlds
Cons:
Focuses on Apple's proprietary Swift language, which cannot be used on other platforms
Price: Free
Devices needed: iPad or Mac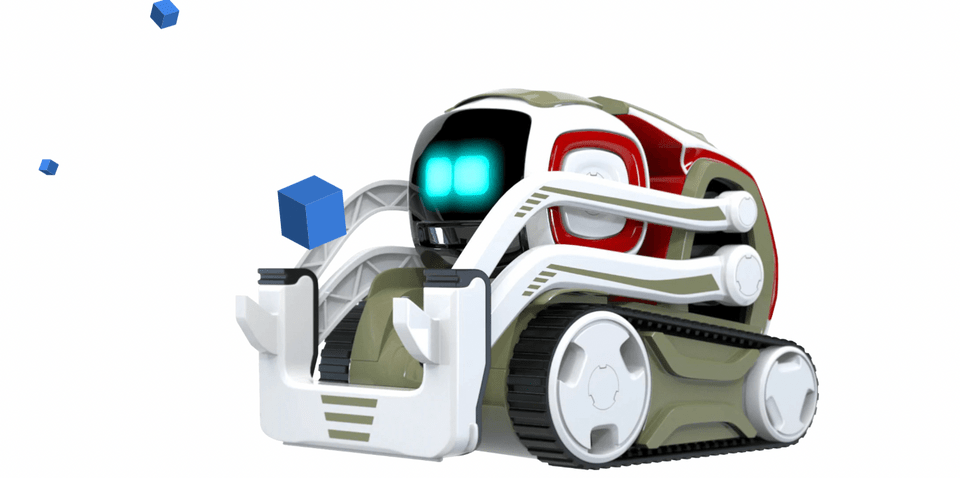 Cozmo is a bit of a special case on this list. Made for kids of all ages, Cozmo is a real-life tiny robot capable of picking up blocks, moving around, detecting its surroundings, and more. It's controlled with accompanying software called Code Labs, where kids can use the drag-and-drop interface to give Cozmo its instructions, then watch their little robot go!
Ages: 6-17
Pros:
Code drives a real-life robot, not just a virtual one
Cozmo has its own charming personality to keep kids engaged
Cons:
The robot itself is a bit expensive
Price: Free for the app, $149.99 for Cozmo the Robot
Devices needed: iOS or Android tablet or phone, plus Cozmo the Robot
Coding apps for teens in high school (ages 14-18)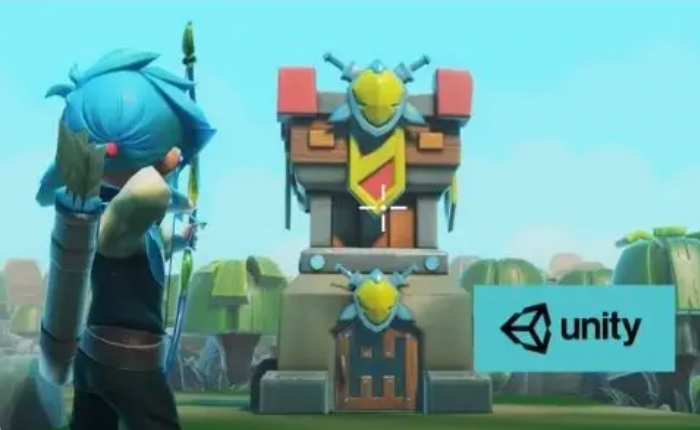 For kids looking to expand their coding and game development skills beyond the basics, there's Create & Learn's Unity Game Development class. Taught in two parts, the first part focuses on 2D game creation, covering using Unity's editor and C#. The second part switches to 3D games, building on the knowledge from the first unit and teaching students how to manage a 3D space. For anyone interested in making games, this is the class for you!
Ages: 12+
Pros:
Cover Unity, a free piece of software used for professional game development
Uses C#, a very popular programming language
As always, small class sizes and great instructors!
Cons:
Need to find a time that matches your schedule
Price: $39 per 70 minute session
Devices needed: PC or Mac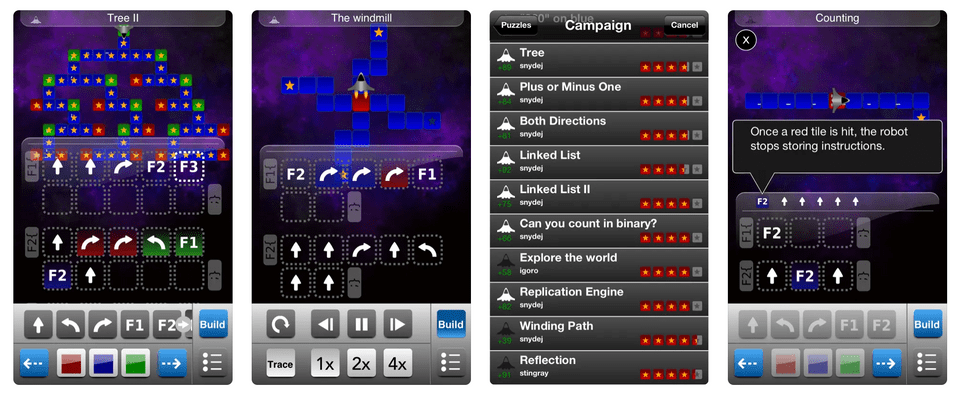 Robozzle is a puzzle game in which the player uses simple commands to teach their robot how to accomplish certain tasks. The free version on iOS comes with 15 puzzles to solve (not including the tutorial puzzles), and more can be added through in-app purchases, while the browser-based computer version features all puzzles for free. All told, Robozzle boasts over 1,000 puzzles to work through, including puzzles created by other users!
Ages: 14+
Pros:
With over 1,000 puzzles available, Robozzle provides endless fun
Great puzzle game with a simple concept
The ability to create your own puzzles adds a social element to the game
Cons:
The iOS version requires additional purchases for more puzzles, while additional puzzles are free on the browser-based version
Price: Free with in-app purchases
Devices needed: iPhone, or a computer with a modern Internet browser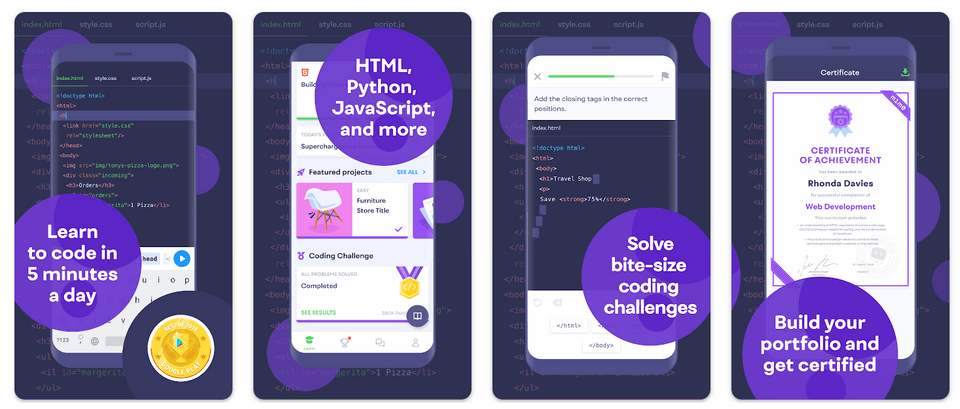 Like other language learning apps before it, Mimo seeks to teach users how to speak a new language through daily exercises. The difference here: Mimo teaches programming languages! It covers Python, JavaScript, HTML, CSS, and SQL, with small challenges to build your programming skills gradually each day.
Ages: 14+
Pros:
Small, 5-minute challenges
Covers several programming languages
Cons:
Exercises do not cover larger problems, so learning should be supplemented by working on real-world applications as well
Price: Free with in-app purchases
Devices needed: iOS or Android phone or tablet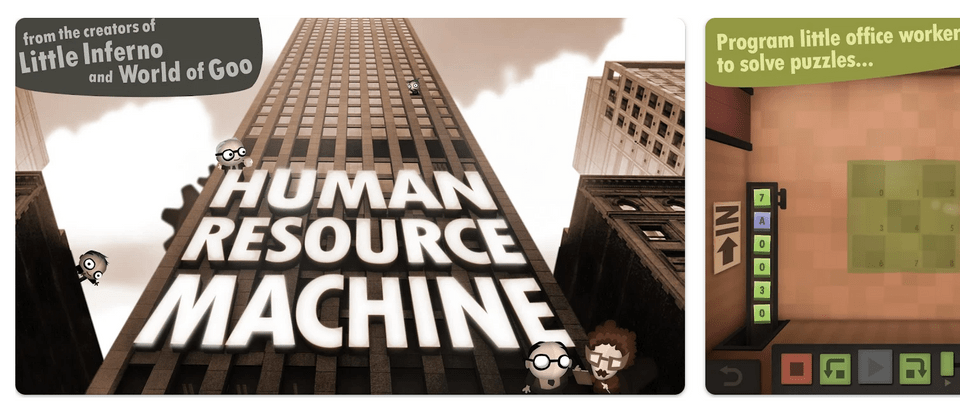 Human Resource Machine is a logic game built on the idea of using assembly-language-style commands to solve puzzles. Players control an office worker, completing each oddly specific task on their way up the ladder by creating a program using an ever-increasing palette of commands. After solving a puzzle once, players are given an additional challenge to make their code more efficient. All of this is wrapped in a universe of dry humor, sure to keep players entertained!
Ages: 14+
Pros:
Humor keeps the game interesting
Extra challenges on each level
Lots of platforms on which to play!
Cons:
Assembly-style programming can be challenging
Computer version is priced higher
Price: $4.99 on mobile/tablet, $14.99 on computer or Nintendo Switch
Devices needed: iOS, Android, Nintendo Switch, or Computer (PC, Mac, or Linux)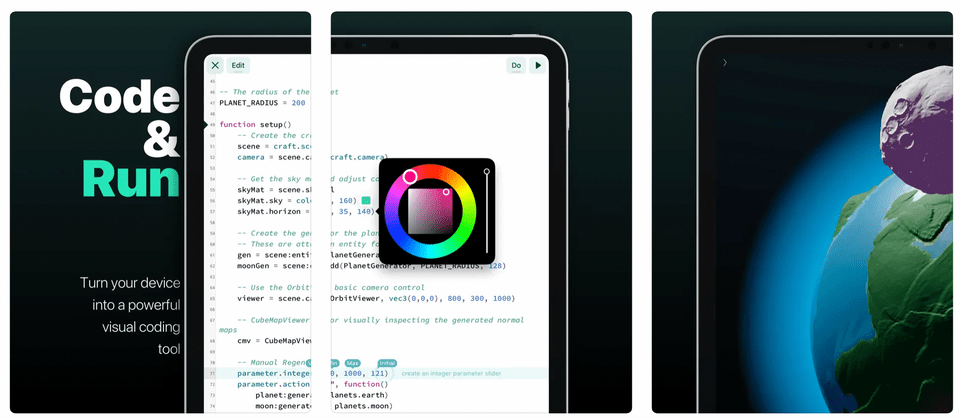 Codea is for the more advanced coder, and has been called the "Garage Band of coding" by Wired Magazine. It includes a lot of great example programs from which to learn, or users can start coding from scratch. Using the popular scripting language Lua, Codea turns your iPad into a fully-functional programming machine!
Ages: 14+
Pros:
Uses Lua, a very popular scripting language
Full-fledged code editor on iPad
Includes lots of shortcuts and features to make coding on tablet easier
Cons:
Not a game, meant more for people who can already code
Price: $14.99
Devices needed: iPad
Try coding apps for kids
These amazing apps are a great way to give a child of any age a leg up in the important field of coding. For even more coding resources, check out some of the best coding websites.
And don't forget, you can also learn to code with any of Create & Learn's many courses. Be sure to check out the courses in this list, as well as some of our other courses, such as Minecraft Modding Quest, Robot Adventures, and Build Your Web.

Written by Create & Learn instructor Josh Abbott Salazar. Josh is a teacher, coder, audio engineer, and musician. After graduating with a Master's in Music from Belmont University in Nashville, TN, Josh turned his attention to the technology side of things, and has been working in various aspects of coding and engineering ever since. He runs a small music studio in Nashville called Tango Sound Studios, and develops video games in his spare time.