Are you looking for leading education for your child or your students? Beginning programming for kids can be overwhelming, but we've got you covered. Today we'll share a computer science curriculum for elementary, middle, and high school students, that will provide students a leading education from beginner through mastery. Our programming for kids curriculum is designed by experts from Google, MIT, Stanford, and more, to delight your child's imagination, no matter their interests. With subjects as diverse as beginner-friendly Scratch coding and fun Minecraft game development, through to advanced cloud computing and Java, you're sure to find the right fit. Furthermore, it's easy to get started - and free!
Start with our most popular beginner-friendly coding course led live by an expert:
Discover the best K-12 coding curriculum
There are some fundamental building blocks of any great coding curriculum for kids and teens. Here are the key elements behind our computer science curriculum, and the way it sets all students up to develop a passion for STEM as well as succeed in life and their future careers.
1. Open children's eyes to the broader world
Our life goals are often limited by what we know about the world. Many kids start learning to code because they want to create games. We show students how studying computer science can lead to making movies, training top athletes, investing in stocks, building smart homes, creating robots, saving wild animals, and much more.
2. Systematic comprehensive learning paths
Starting with MIT Media Lab's Scratch, our curriculum covers wide-ranging topics including computer science fundamentals, core programming languages such as Python, Javascript, and Java, as well as state of art technologies such as Firebase, Keras (Artificial Intelligence), and Android - the same tools top engineers use. All of our classes build on top of previous subjects to reinforce learning, while also expanding to new areas of learning.
3. Better learning with an inquiry-based method
Our classes engage kids' curiosity with successful pattern building. Our unique learning method ensures students develop critical thinking and problem solving skills they'll use even beyond the classroom. Your child's quest will lead to more creativity and fun!
Discover the Programming Curriculum for Elementary Students
Begin by discovering how computers power our daily lives. Young students in grades 2 and under can learn the basics of coding and Robotics through fun Scratch Junior, and the NASA STEM Club. While students in grades 3 and higher will enjoy learning the basics of coding, AI, and Robotics using Scratch, Vex VR, and Microbit.
Then move on to explore a wide range of fields and far reaching topics. Find out how to code games and animations, build mobile apps, discover how AI works, and compete with virtual robotics. We recommend starting with foundation classes, choosing intermediate classes based on interests, and completing advanced classes for ambitious learners.
See the K-2 Curriculum | Grades 2-4 Curriculum | Grades 4-6 Curriculum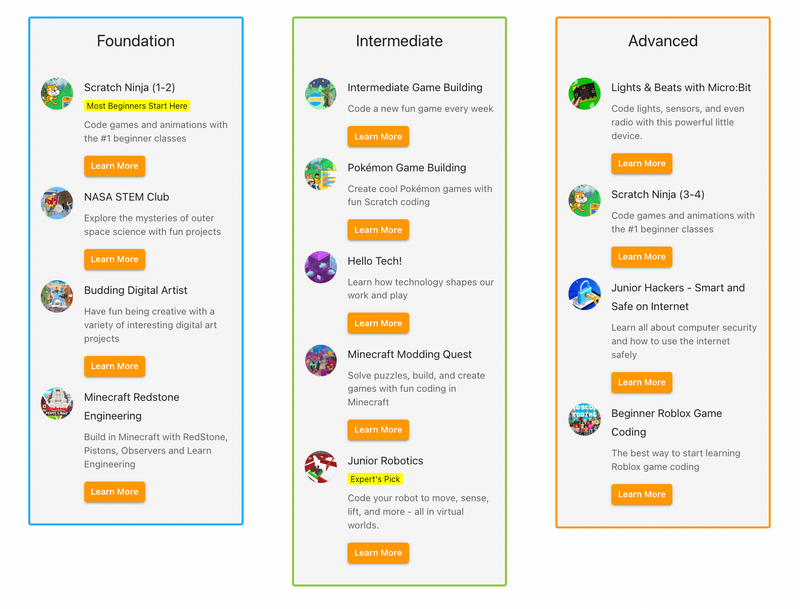 Explore the Programming Curriculum for Middle School Students
Looking for an award-winning coding program for middle school students? Our curriculum empowers students to solve real-world problems with computer science! Beginner middle schoolers will have fun starting with coding games and animations. From there they can progress to build mobile apps, discover how AI works, design their own websites, learn data science, and compete with virtual robotics. They can move on to master the computer science areas they enjoy the most, reaching advanced topics such as Cloud Computing, and CS Principles - which meets the requirement for the AP class established by the College Board.
See the Grades 6-9 Curriculum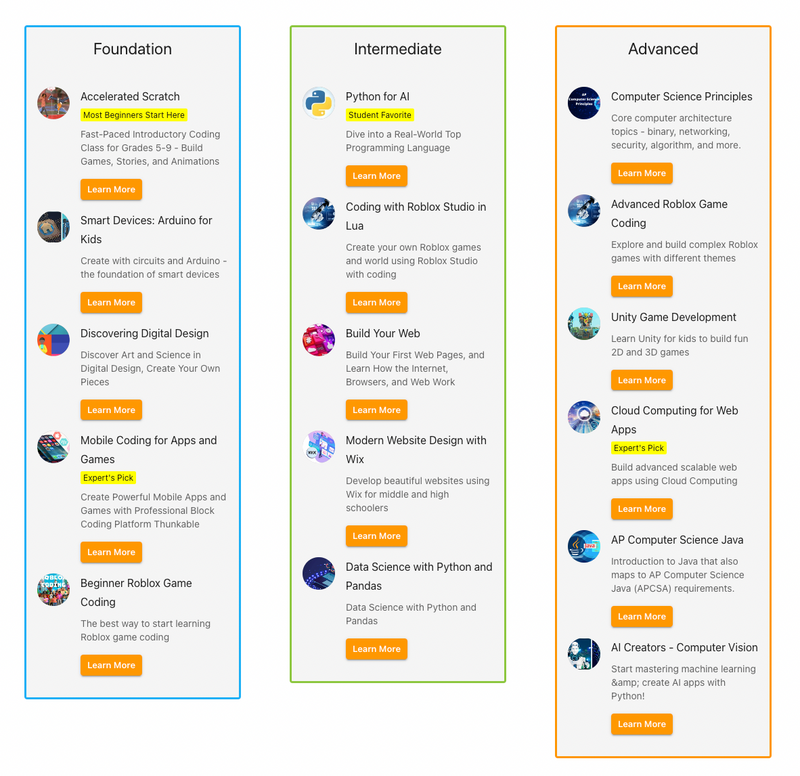 Follow the Programming Curriculum for High School Students
Our high school coding curriculum guides students from real-world programming language Python, to fun Roblox Studio coding, through to multiple AP Computer Science classes. High school students will be able to reach advanced topics such as Java, Cloud Computing, and even Computational Biology, and will be able to apply their skills to solving real-world problems.
See the Grades 9-12 Curriculum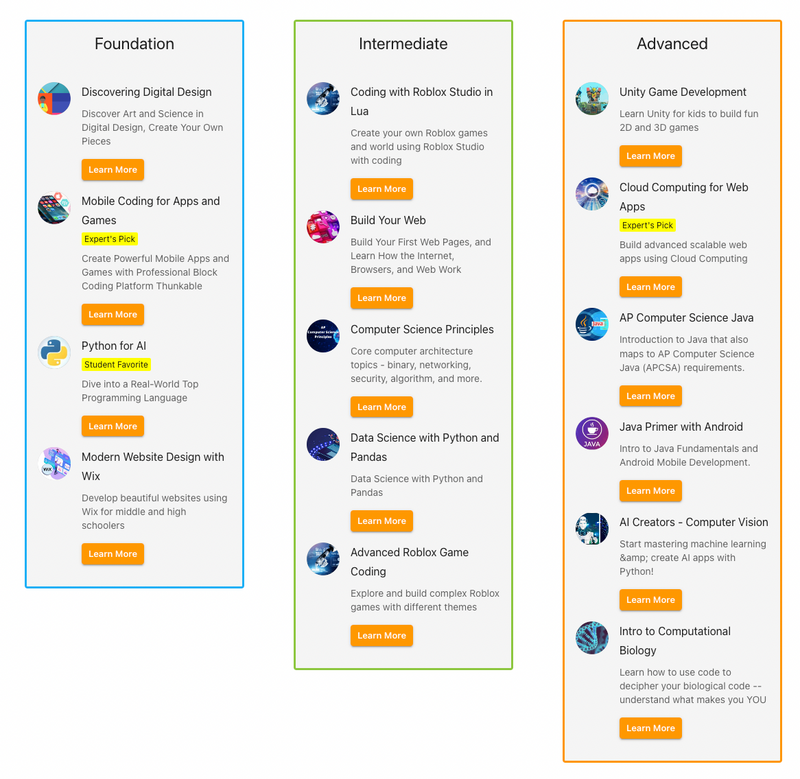 How to Get Started with the Programming for Kids Curriculum
Free coding classes for kids and introduction classes are a great way to learn programming for kids online, without being costly. From fun beginner languages, to creative Minecraft building and awesome Roblox game development, to more advanced programming that drives real-world innovation - we have a great free computer coding class for your child to enjoy learning to code. There's no risk in trying, and your student will be able to find a new passion!
Code games and animations with Scratch coding:
Build in Minecraft with RedStone, Pistons, and Observers and learn engineering:
Start learning Roblox game coding:
Discover how self-driving cars, face recognition, and other advanced technologies work:
Learn to code games, stories, and cool buildings to life in Minecraft:
Build games, stories, and animations with accelerated Scratch coding:
Dive into a real-world top programming language:
Create your own Roblox games and world using Roblox Studio with coding:
Teachers, you can book free virtual coding classes for your students! We serve all schools and community organizations. Just try our Hour of Code activity classes  - any time of the year - for groups of 10+ students, by picking the subject you're interested in and contacting us. We'll get in touch to get you all set up for your live Zoom sessions.
Try Our Award-Winning Programming for Kids Curriculum
Now you know all about computer programming for kids. We hope to see you in class soon! Up next, learn about how to build confidence in kids.