Coding is an invaluable skill to have in your pocket because it increases your confidence and invokes you to practice skills like problem-solving, learning, and creativity. The magnificent part about coding is anyone can learn to code! There are even free live coding classes your child can take to build their interest in coding. If you're interested in how you can get your child started with creating unique computer programs, continue reading to discover helpful resources on coding for nine year olds. Unlock your child's potential to create something awesome for tomorrow's world!
Start coding for 9 year olds
Helping your child learn to code can be fun, but it can also be overwhelming to know where to begin. Before you begin teaching your child coding, identify the right language for them to start. Here's a handy chart to help you, as well as a video you can watch: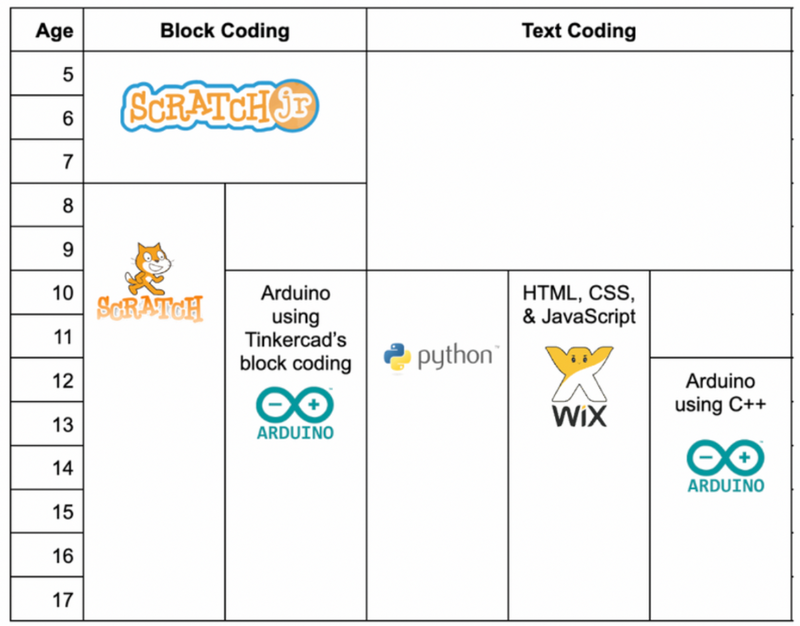 Top free coding programs and websites for 9 year olds
Learning how to code has never been easier than it is now, with so many free coding programs available at the click of a button. Here are some coding classes that could be instrumental in growing your child's interest in computer science and more!
Here at Create & Learn, we make the learning process fun by ensuring that your student finds the best level and class suited to their interests. We have award-winning courses on Scratch, Minecraft, website design, robotics, AI, and more that teach coding skills as well as problem solving and creativity! Your child is guaranteed to receive the best instruction from experienced teachers who maintain a curriculum designed by experts from Stanford, MIT, and Google. Power up your student's future by checking out a free intro class.
Pros:
Students make real-world connections on how they can apply their code.
Students are to think critically and use their creativity in the classroom.
Create & Learn offers numerous courses, making it easier to explore more after you finish one course.
Create & Learn offers seasonal camps that occur during most school breaks.
Cons:
Some classes may occur during after-school activities your student may have during the week.
Khan Academy is another free online resource that offers various subjects to learn, from pre-k math to college computer science principles to life skills on internet safety. This website has a section for computing where students can learn about computers, JavaScript, HTML/CSS, and behind the scenes of Pixar animations!
Pros:
Learning is asynchronous, meaning students can go at their own pace.
There are challenges available to students so they can apply their understanding of the material learned.
Khan Academy's computing courses are great for students interested in animation, website design, or computer science concepts.
Cons:
Classes are not live, so it may be difficult for students who struggle to self-learn.
Students do not have immediate access to help like in a live online classroom.

Code.org is an organization that aims to provide every student in every school an opportunity to learn computer science. This non-profit is responsible for providing most of the k-12 computer science curricula to the largest school districts in the United States. Tens of millions of students have already completed their Hour of Code campaign, helping achieve their goal of inspiring students to try out coding. This website offers different CS fundamental courses based on grade level.
Pros:
Students have access to colorful and engaging videos.
Students don't need to learn high-level coding languages to understand computer programming fundamentals.
Students can help code fun games like Angry Birds.
Cons:
This website can be a little challenging to implement into your child's learning, but no worries, click here to see how to use Code.org.
Explore the best coding classes for 9 year olds
There are a multitude of options when choosing a computer program course for your child. Although these online courses are exciting to discover, it can feel a little daunting implementing them into your child's learning, but fear not, because we have a super helpful coding curriculum for 9 year olds! Keep scrolling to see which classes your child can try first, and then proceed through.
This class is the most popular entry point into coding for 9 year olds. In this live online Scratch Ninja course, students will use the beloved and beginner-friendly Scratch programming to build games and create animations, all while learning core coding concepts like loops, conditionals, events, and more! This class is great for any child, especially students with no prior coding experience. This course has four parts that build onto one another so your child can get the most thorough Scratch education out there!
Enter the world of Steve and Alex and enjoy a live online Minecraft Modding course! Students will learn to manipulate their Minecraft universe by adding blocks, destroying blocks, building structures, and spawning animals. The fun part about this class is that students can learn how to make their Minecraft mini-games while learning programming fundamentals!
If your child is an aspiring game developer or is interested in games, check out this class! In MakeCode Arcade, students will learn how to make unique arcade games with novice coder-friendly block-style programming. Not only does this course cover coding concepts but also game design as well.
Is your child interested in building robots or making their home smarter? If so, then Smart Devices is the right choice for your student! In this course, students will learn how to design electric systems for alarms, motor controls, etc., and code to control their systems. At the end of this course, students will have the chance to begin their journey into text-based programming like Python.
Websites are a fun and rewarding way when learning how to code because you can display your work for others to see. Wix is the leading website builder for creating, designing, and managing websites. Join this live online class which uses Wix to teach students more than putting fonts on a webpage and changing colors. Learn all about web design and adding store features for young entrepreneurs. If your child is interested in creating a website to showcase their art, sell merchandise, or publicize their sports team or clubs, then Website Design with Wix is perfect for your student!
How to teach your 9 year old coding
Coding can be challenging for young students, which may cause them to lose interest, so here are some ways to help your child stay excited about computer programming.
Keep them engaged by helping them learn how to make things they want to make, such as easy games to code.
Show them what others have created so it can inspire them to create something similar.
Try asking about core coding concepts in their every day without them noticing. For example, ask, "If it is raining out, I will use an umbrella." Then, ask, "It is raining out. Do you know what I will do?"
Use hands-on learning that teaches kids about computer science principles like algorithms. Be the robot, and have your child be the programmer who gives commands.
Have them share and talk about their computer programs with family members, neighbors, classmates, teachers, etc.
Start with basics again. Maybe they're struggling with a concept because they need a better understanding of a previous topic.
Collaborate with your child! They might need some direction on where they want their project to go. Ask questions to spark their creativity and critical thinking skills.
Get started with coding for 9 year olds
Although 9 years old may seem young, that does not mean your student can't code and learn coding concepts. There are many resources students can use to make learning CS engaging, fun, challenging, and rewarding. From coding in Scratch to modding in Minecraft to designing in Wix, the options are plentiful for your student to find something that fits their interests while also gaining a beneficial skill your student can market in the future. Have your student enhance their coding journey, and try this fun tutorial for making a piano with beginner-friendly Scratch coding.
Written by Hunter Wilkinson, a fervent reader and learner. She got into education to share her passion for storytelling and STEAM instruction. In her free time, Hunter loves to write songs/poems, run, play video games, and hang out with her two fluffy cats.