Empowering your child with coding skills has never been easier, no matter their age or experience level. Whether you have a kindergartener eager to explore the world of coding or a high schooler looking to delve deeper into the digital realm, San Francisco and the Bay Area offer a rich landscape of coding programs tailored to your child's needs. In this guide, we've curated a selection of top-tier options, ranging from the vibrant Mission to the scenic Sunset District, San Jose, Oakland, and beyond. Discover accessible online courses and engaging in-person classes, including award-winning immersive coding experiences designed for kids aged 5 to 18.
Check out upcoming free computer science events for kids led by tech experts: past events have featured guests from Pixar, NASA, Intel, and more!
Teachers and educators - Book free virtual classes for your students (groups of 10+) - any time of the year! We serve all schools and community organizations, and have even partnered with SMASH and Meta's Engineer for the Week to teach students across the US. Just pick the activity you're interested in for your class (from these 10 fun options) and contact us. We'll get in touch to get you all set up for your live Zoom sessions.
Online Coding School for Kids in San Francisco
Looking for the perfect starting point for your beginner? Begin with entry-level courses in subjects as diverse as block coding and NASA science to web design, that don't require any previous computer science experience. Your child will have fun while learning how to build apps, games, websites, and anything they can imagine!
Create & Learn's coding classes stand as the top choice for parents seeking a comprehensive and engaging coding education for their kids in San Francisco. What sets Create & Learn apart is its unwavering commitment to a holistic approach to computer science education. It's not just about teaching code; it's about ensuring your child comprehends the fundamental principles underlying it. Through both inquiry-based and project-based learning, students are empowered to apply their coding knowledge to real-world projects. This practical educational approach not only imparts coding skills but also nurtures essential problem-solving abilities and encourages creativity, fostering a well-rounded understanding of coding that transcends mere syntax.
The curriculum at Create & Learn is a testament to excellence, collaboratively crafted by tech experts and educators hailing from renowned institutions like Apple, Intel, Google, Harvard, MIT, and Code.org. Furthermore, your child benefits from learning under the guidance of a dedicated team of experienced US-based instructors who provide personalized support in small class sizes (maximum of 5 students), ensuring every child gets the attention they need to excel. Recognized by industry giants like Minecraft Education, Roblox, Meta, and applauded by platforms like HulaFrog, ActivityHero, and SMASH, Create & Learn's coding classes come with a 100% satisfaction guarantee, so parents can be confident in the transformative educational experience their child will receive.
Empower your child with the skills and knowledge needed for the future, and get started with students' favorite fun classes including:
Learn core coding concepts, and use a wide range of fun Scratch features such as motion, sensing, and clone. Have fun as we build animations or games in every session. Younger students will enjoy ScratchJr (k-2), while older students can join Accelerated Scratch (5-9).
Fascinated by Mars and aliens? Explore the mysteries of outer space with fun projects. Learn about many fun areas including rockets, the International Space Station, the Solar System, and a lot more.
Have fun being creative with a variety of interesting digital art projects from patterns to architecture and stop-motion! In this class students will learn to appreciate great design in their daily lives, while exploring many different types of art mediums.
Embark on a creative journey to build incredible machines, light shows, automatic doors, and even flying contraptions with powerful Redstone. Explore the intricacies of circuits, switches, and sensors, while learning real-world engineering principles.
Create beautiful graphic designs and videos with beginner-friendly Canva. Learn how to add elements, fonts, effects, and more in Canva, before finding out how to drag and drop design elements and even animate them.
Learn how to design beautiful websites! Starting from the basics of how to use WIX and how to structure your website, to designing the layout, choosing color schemes, and even creating a web store with products.
A starting point for high schoolers looking to learn coding, Python stands as a high-level coding language favored by industry giants such as Netflix and Google, and is often used in web development, game design, app creation, machine learning, and much more. This class not only covers the fundamentals of Python coding, but also places a strong emphasis on the elements of Python most relevant to Artificial Intelligence, including data structures and libraries.
Start with Free Coding Classes in San Francisco
These small group free coding classes include a live online experience, and awesome teachers that set every child up for success. Discover the magic in technology and have fun when your child gets started today! Choose from beginner-friendly Scratch and Python, or build your student's existing coding skills by learning Minecraft engineering or about artificial intelligence.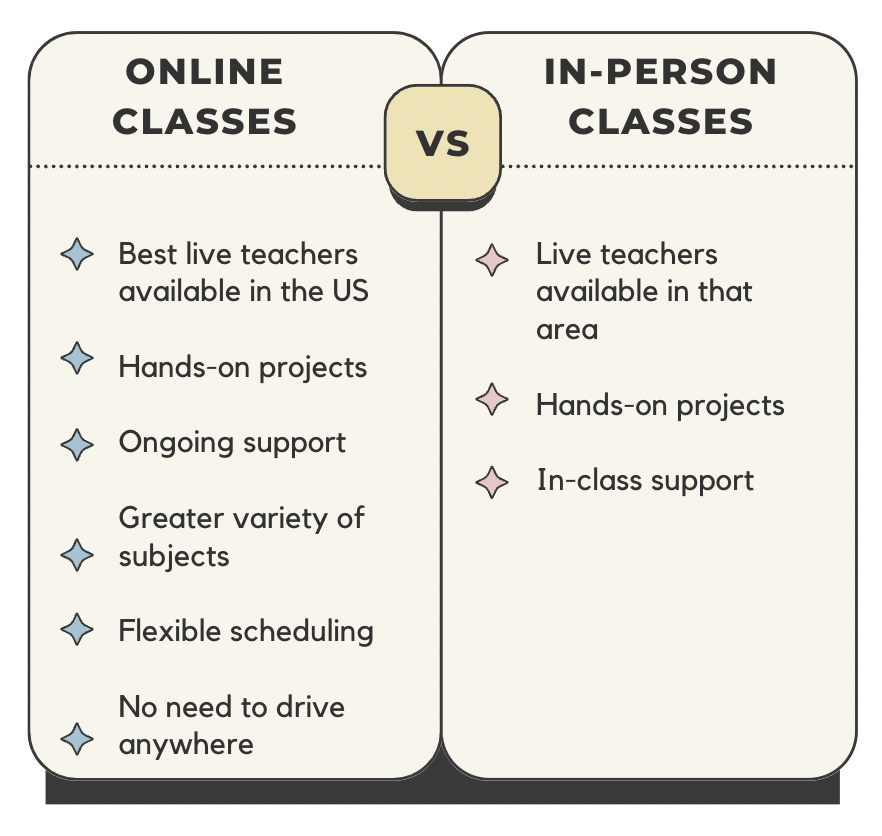 Explore San Francisco In-Person Coding Classes
If you're looking for an in-person coding experience, here are a few coding schools around the SF area that might help based on parent reviews.
1736 Franklin St. 10th Floor, Oakland CA
This nonprofit builds pathways for young women of color to embrace the current tech marketplace as builders and creators by introducing them to skills in computer programming and technology. They offer summer camps, online programs, and in-person events. Learn how to create a maze game, learn how different technologies can help solve humanitarian problems, including artificial intelligence with IBM, and much more.
10626 S. De Anza Blvd, Cupertino
CalColor Academy is a fine art school for youth age 4-18 years old that combines imaginative thinking and professional techniques through systematic and innovative curriculum design and dedicated teaching. Their classes are offered in person and online, and kids can chose to learn digital typography, illustration, visual development, infographic design, graphic design, and so much more. Check out their schools in Cupertino, San Jose, Fremont, Belmont, Newark, and Mountain View.
231 W Portal Ave, San Francisco, CA 94127
This innovative coding school prioritizes personalized learning for kids aged 7 to 18 across a range of skill levels. This program doesn't rely on impersonal software but pairs each child with a dedicated mentor, known as a CoderSchool Coach. This individualized approach ensures that your child receives tailored guidance and support on their coding journey, fostering a rich and effective learning experience. They also have multiple Bay Area locations, including San Francisco, Berkeley, and Palo Alto.
Join Coding Classes for Kids in San Francisco
With the digital world becoming increasingly integral to our lives, these San Francisco coding schools provide a golden opportunity for children to develop essential problem-solving skills, foster their creativity, and gain a competitive edge. By enrolling your child today, you're not only equipping them with valuable skills for the future but also opening doors to a world of innovation and endless possibilities. You're investing in a future where your kids are equipped to excel in various fields, from technology to arts and sciences. Six different studies show that children who study computer science perform better in other subjects! You might also be interested in summer camps in San Francisco.