Now that you have made the decision to give Scratch programming for beginners a try, it's time to help your child learn about the program. This free interactive platform provides students with a great way to create interactive stories, animations, games, and music.
Scratch coding for kids is a fun and free way for your child to learn a block-based visual programming language. You can create online projects using a block-like interface, and share your creations with the online community. So today, we'll help your child learn about the program and get started.
Join our award-winning fun free Scratch classes to learn Scratch coding with live expert instruction while following a learning path designed by professionals from Google and Stanford.
How to start Scratch coding for beginners
It's fun for kids to get started with Scratch, but it can be overwhelming to try something new. Support your child for success with Scratch by following the four steps described below. You can also build your own knowledge by reading about how easy Scratch is to learn.
Step 1: Sign up for Scratch
The first step for getting started with Scratch is to sign up for a free account. Follow these steps to get setup with Scratch:
1.   Go to Scratch on MIT to sign up for a free Scratch account. Click "Join Scratch" at the top right.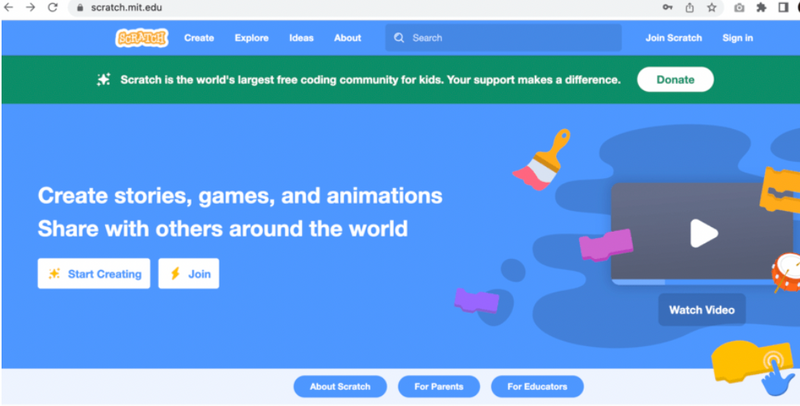 2.   Create a username and password. Consider choosing a username and password that will be easy for your child to remember.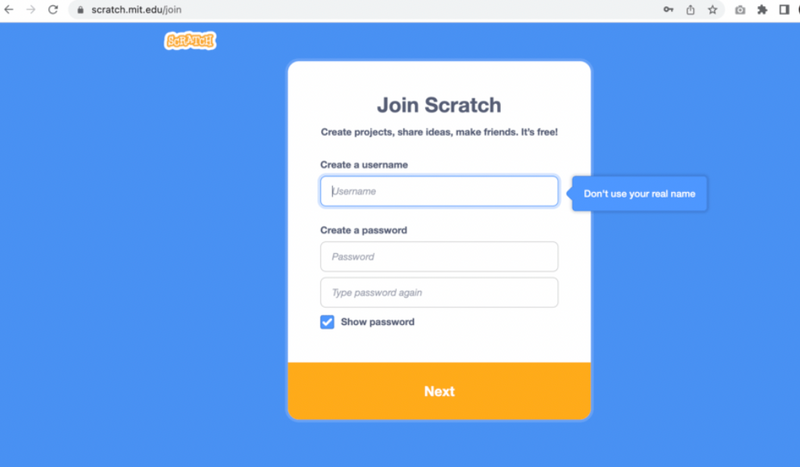 3.   Select the country you live in.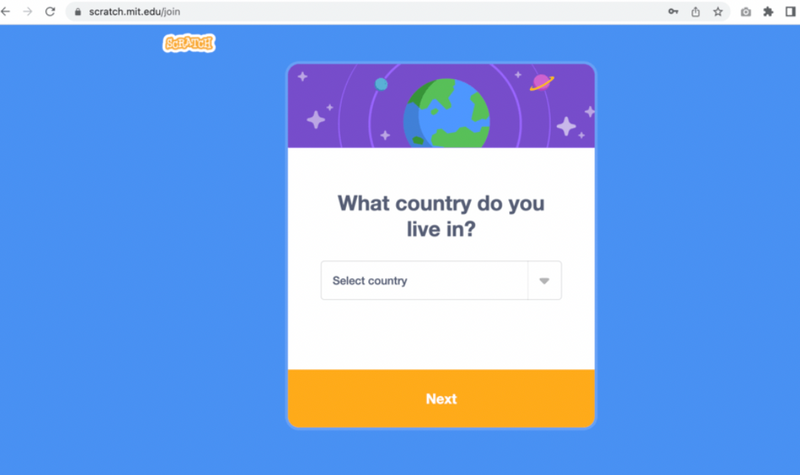 4.   Enter the month and year you were born.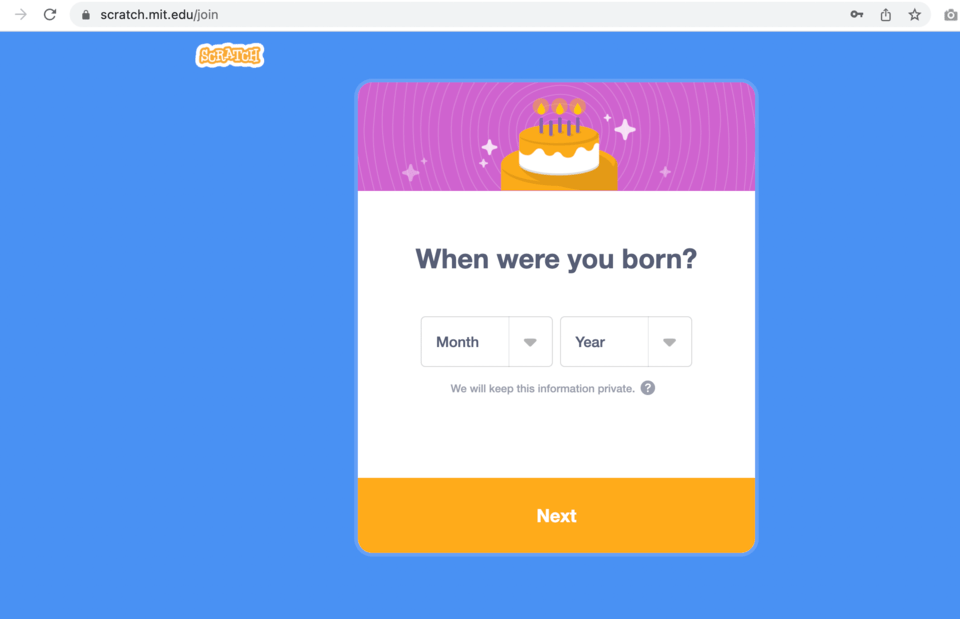 5.   Select your gender.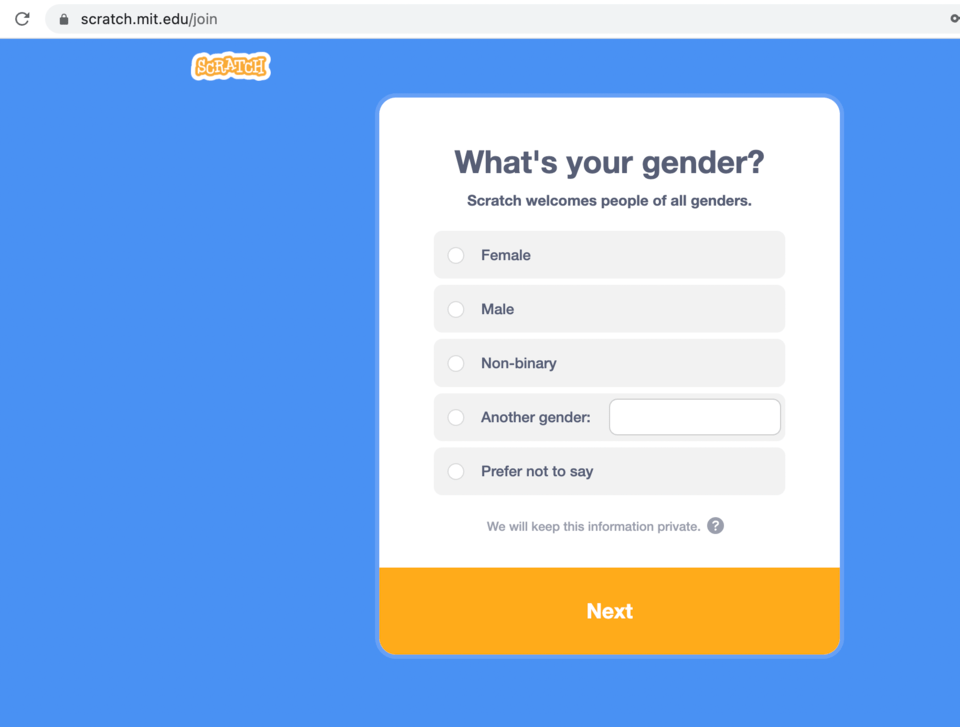 6.   Enter your email address.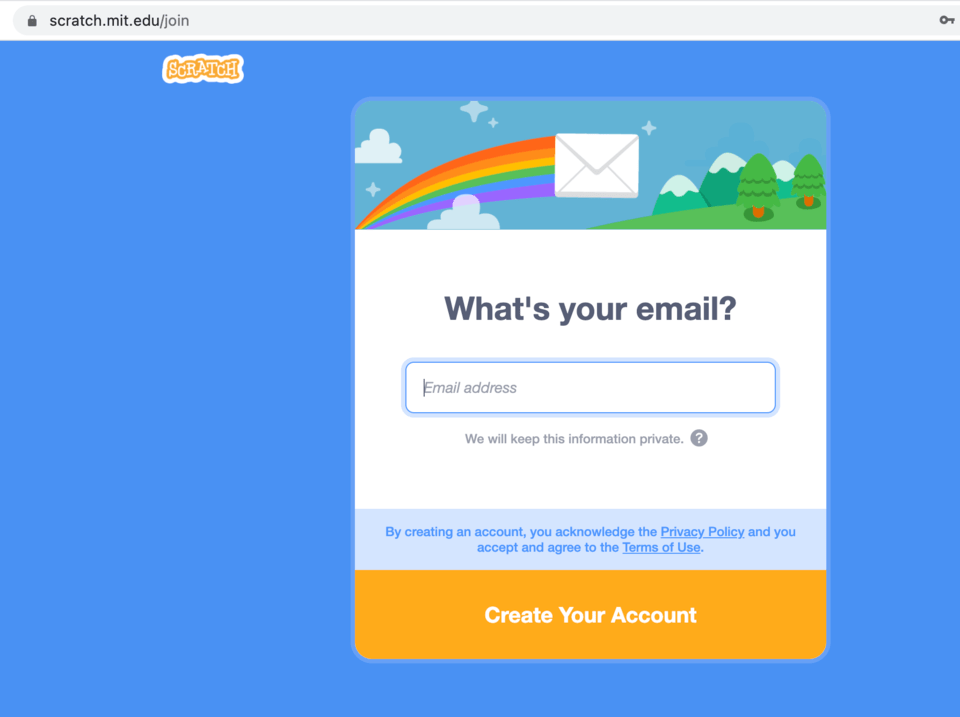 7.   Get started creating and exploring with your child!
Step 2: Learn about coding through the Scratch website
To get acquainted with Scratch, spend time exploring the homepage. Invite your child to look at the homepage with you and share what they notice and what they wonder. Make sure to check out the gallery of projects created by kids in the Scratch community.
Encourage your child to freely explore to get a sense of what Scratch is about. If your child has questions that you can't answer, make a list so you can investigate all that your child wants to learn about Scratch. There's no need to feel like you need to know the answers to all of your child's questions— a great way to learn is by figuring things out together!
While the projects on the homepage are inspiring and show the code details, they can be hard to navigate and confusing for beginners. The tutorials offer videos explaining how to code different projects, which can be an interesting way to learn more about coding with Scratch.
After exploring the projects, watching tutorials can be a great way to get your child more familiar with the program. As you watch the tutorials, again add to the list of questions your child would like to have answered. If you have questions, add them too! The more there is to investigate, the greater the learning opportunities.
Here are a few tutorials:
Although the tutorials provide an introduction to Scratch, they have a somewhat limited selection and do not give a lot of detail or the chance to ask questions to a live person. Exploring the site can be a good way to get a sense of what Scratch coding is about. But for more assistance and support to explore more options (and get your Scratch questions answered!), a live teacher may be a better option.
Scratch is an incredible program from MIT that can help kids learn how to code. However, the program can be a bit confusing at first, so it is helpful for kids to get a brief overview of how to use and tool and have some simple projects to complete as they learn the ins and outs of the platform. Learn all about how to use Scratch here.
Then try our special set of fun Scratch exercises that involve flying, changing colors, noises, and more! Before progressing onto beginner Scratch challenges that include more sophisticated concepts such as loops, variables, and Scratch extensions.
Step 4: Join Scratch coding classes
After your child has gained familiarity with Scratch, consider signing up for a Scratch coding class through Create & Learn's award-winning online platform, where teachers introduce students to computer programming through live online coding sessions.
This is a great way to support your child as they learn how to use Scratch to develop their own interactive stories, games, and animations. The class sizes are small (max 5 students), offering students the opportunity to receive answers to all their questions and personalized guidance. Just select the right class based on your child's age to get started:
Succeed with Scratch coding for beginners!
This is just the beginning of your child's coding journey. Wherever your child is on this coding journey, try to take an active and curious role in learning about  experiences and new knowledge. Above all, have fun! Up next, keep learning to code with a few Scratch examples and explore a fun Scratch tutorial.
Written by Amanda Hendrix, a Create & Learn instructor with 10 years of teaching experience. She also holds a Masters in Educational Leadership, and a BS in Elementary Education.