Ready to learn everything you need to know about coding for second graders? First discover the programming language experts recommend students of this age begin with. Then we'll reveal some popular coding classes for 2nd graders, and free coding resources and platforms created by experts from MIT and Google. Plus, get some tips on how to keep your student excited about computer science, and a series of free exercises for fun practice.
Take the first step by joining an award-winning online small group Scratch Junior class led live by an expert, and designed by professionals from Google, Stanford, and MIT! And explore fun free live online tech events for kids.
Picking a Language for Coding for 2nd Graders
Helping your child learn to code can be fun, but it can also be overwhelming to know where to begin. Before you begin teaching your child coding, identify the right programming language for them to start. Here's a handy chart to help you: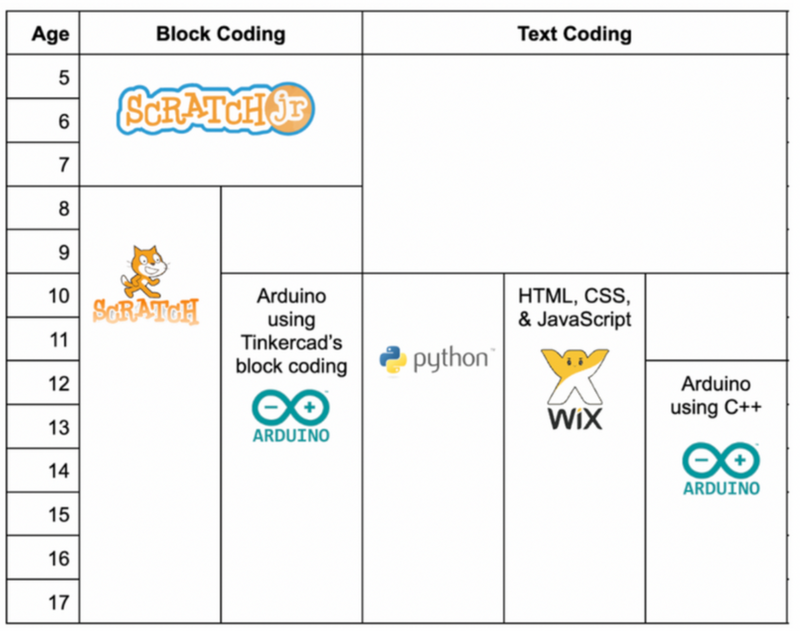 ScratchJr is a great coding language for your second grader if they've never coded before. ScratchJr is a free downloadable app on iOS, Android, and Chromebook devices, designed for children ages 5-7. To create code with ScratchJr, you must simply drag blocks and snap them together in the coding area. The blocks are colorful and have simple icons with no text, which is convenient for students who struggle with reading. Blocks need to be in arrangement from left to right, like sentences in a book. Kids can make fun interactive stories and animations with this coding platform!
For more advanced second graders, the free Scratch coding platform designed by the MIT media lab is a great starting point. Similar to ScratchJr, it's incredibly friendly for visual and kinesthetic learners. And has blocks that are color-coded and designed to move easily on the screen. Second graders love the platform because they can quickly create games.
The Best Way for Second Graders to Learn Coding
Downloading an app, sorting through YouTube videos, and buying some books for your second grader are all great ways for kids to learn coding. However you've probably encouraged your child to do this before, and maybe they're consistent for a few days, and then eventually drop it.
There are undoubtedly so many online resources and platforms where your child can get information and knowledge about how to code for free. But what happens if they get stuck on a line of code, learn outdated information, or find all it too overwhelming or confusing? They probably won't stick with coding, and they might never want to return to it. The opportunity to foster their passion for computer science might flash by in the blink of an eye!
As the chart below reveals, there are many options for learning kids coding. Live classes offer some of the most compelling benefits when comparing some key factors such as supportive help, interactivity, and thoughtful accurate learning paths that set students up for success.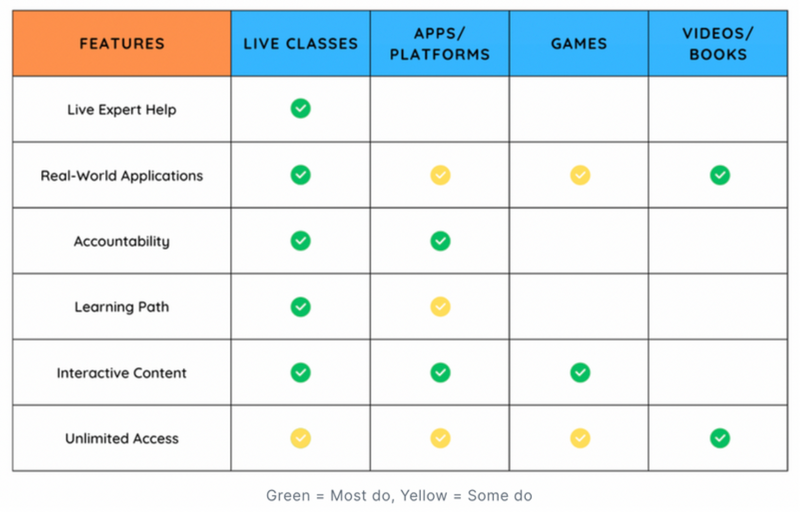 Live online classes are a great solution for helping your second grader explore computer science and discover how it aligns with their interests. They are likely the best shot your student has at gaining real coding skills soon, because passionate teachers will hold students accountable and support them. In addition, live online courses adapt the material to kids' learning styles, they help students when they run into tough problems with their code, and they taking the 'thinking' off your plate with a carefully designed curriculum - so you don't have to plan your student's next step or worry that the content will be out of their reach and overly frustrating.
Learning quickly and accurately in live online classes and camps will best equip your student to gain valuable computer science skills. They are an investment, but they don't have to be forever. For example, here at Create & Learn, you can pick and chose the classes your child enrolls in based on their schedule and interests: which can easily match your child's preferred time engagement and growing passions. Explore the K-2 curriculum here and move on to the grades 2-4 curriculum here.
Of course, there's not just one solution for learning something new. Pairing live online classes with additional materials, such as free online websites and apps that encourage self-discovery, is a great way to round out your student's coding education.
Best Coding Classes For 2nd Graders
Create & Learn is an award-winning kids coding classes platform for children and teens in grades K-12 who want to learn to code and are looking for a comprehensive and well-regarded program. We offer 35+ online computer science classes and camps led live by US-based expert instructors with an average of 10 years of experience. With a systemic learning path for every age and interest, your student will discover their love for computer science in a safe, collaborative environment.
All of the classes' curricula are designed by professionals from Google, Stanford, and MIT, so kids build cutting-edge, real-world skills using the best technology. Cool hands-on projects, relatable real-life examples, and lively teachers keep computer science exciting. Furthermore, children get personalized instruction and support as they learn to code, because of the small group class format (typically 3-5 students). Your student will also earn a certificate upon class completion. Unlike other coding class programs, rather than being told a set of code text to copy and paste, in these classes, kids learn the underlying logic behind coding, and they're encouraged to express and build their creativity along the way with many options for applying their own unique spin to projects.
Create & Learn classes have been recognized and awarded by Minecraft Education, Meta, HulaFrog, ActivityHero, and SMASH. Parents have found the classes to be very effective for their children, and have rated the platform as 5-stars on Facebook. Beyond that, students have enjoyed over 1 million learning hours with the company. The company also provides a full satisfaction guarantee for their classes. Here are some of our most popular classes for second graders:
In this ScratchJr course, students will learn coding basics using the well-loved programming platform ScratchJr. In the end, your child will be an expert at using blocks to create loops, messages, events, and more! Your student will have an easygoing experience in this class while also challenging their brains. It'll feel like your student is playing a game the whole time, but they're actually learning how to code!
Scratch is a free programming tool developed by MIT that allows young students to channel their creativity into making their own games and animations. Scratch is built on an intuitive block coding system, which makes it great for introducing beginners to coding. By enrolling in Create & Learn's Scratch Ninja course, students will enjoy a structured, entertaining experience while learning basic coding concepts such as loops, variables, and more. There's even a free Scratch intro session, so there's no risk in trying!
Minecraft has a built-in "engineering" system of sorts in its game mechanics, called redstone. Redstone can be used to do things as simple as turn on a light or as advanced automatic doors, sensors, and more. Develop your child's problem solving skills while learning to harness the power of redstone in this 6-part, instructor-led course.
Minecraft, one of the most popular video games ever created, also has an Education Edition that helps students to build their coding abilities. Through Create & Learn's curriculum, students will learn about events, loops, functions, variables, and use that knowledge to develop mini-games and interact with their Minecraft world. Minecraft: Education Edition uses block coding, which helps to abstract away the complexities of text-based programming. Any student taking the course through Create & Learn will also receive a free license for Minecraft: Education Edition.
Vex VR takes the widely-popular Vex robotics system and puts it into a digital world, where students use block code to help a robot move around and interact with its environment. This is a great opportunity for students to combine their interests in robotics and coding! Plus, the Vex VR tool is free to use.
In this fun live virtual class, students are guided by an expert teacher to complete four cool Pokémon games with fun Scratch coding. Find out how to create, catch, care for, and play games with the Pokémon of your choice. Along the way, students will review and master key coding concepts that are foundational to future game building, such as lists, variables, messages, and cloning. They'll even learn how to use their computer's video camera to interact with their characters so they can control them with hand gestures - a powerful feature that opens up brand new capabilities for building games in Scratch.
Top Free Coding Programs For Second Graders
Free coding classes for kids are a great way to introduce computer programming to students and help them find new interests. From fun beginner languages, to awesome Roblox game development, to more advanced programming that drives real-world innovation - find a great free introduction computer coding class for your child to enjoy!
Code.org offers a wide range of curriculum and activities, including the popular "Hour of Code," - a global movement aimed at encouraging people of all ages to engage with computer programming through a one-hour coding experience that's accessible to beginners. They often use characters and themes from popular movies and games to make the activities more relatable for young children.
Blockly Games is a self-paced series of educational games that teach programming created by Code with Google. The free platform is designed for children who have not had prior experience with computer programming, and after completing all the challenges students will be equipped with the skills use conventional text-based languages. Complete the maze, bird, movie, and music games, and more!
Explore some of the best coding games for kids too.
How to Teach Your Second Grader Coding
Your second grader may be a little afraid to start coding or have trouble instilling what they've learned from their coding practices. Here are some ways to remove any fear or disinterest and make them excited about coding:
Start with Visual Programming Tools: Use platforms like ScratchJr, Scratch or Blockly that provide a visual and interactive way to understand coding concepts. Drag-and-drop interfaces make it easy for young learners to grasp the logic without getting bogged down in syntax.
Incorporate Their Interests: Find projects and activities related to your child's hobbies (do they like games?) or favorite characters. Making coding relevant to their interests can increase engagement and motivation.
Break It Down: Complex ideas can be overwhelming. Break down coding concepts into smaller, more digestible pieces. Gradually building up skills can make the learning process smoother and more enjoyable.
Encourage Creativity and Experimentation: Begin with fun exercises as a way to get started. And build on them: allow space for your child to experiment and create their own projects. Encourage them to think outside the box and apply what they've learned in new and innovative ways. Celebrate their creativity, even if the result isn't perfect.
Provide Support and Encouragement: Be there to guide and assist, but also allow for independent problem-solving. Praise their efforts and successes, and encourage them to persist through challenges. Creating a supportive environment can foster a positive relationship with coding and technology.
Get Started Learning Coding For 2nd Graders
Coding is an invaluable skill for second graders to learn, not only because it introduces them to the fundamentals of computer science but also because it fosters critical thinking, problem-solving, and creativity. In our increasingly digital world, understanding how technology works is becoming as fundamental as reading and writing. By learning to code, second graders are introduced to logical thinking and sequential reasoning, skills that are transferable to many other subjects and real-world situations.
Engaging in coding at an early age helps to demystify technology and empowers children to become not just consumers of technology but creators and innovators, equipping them with essential skills for the future. Take the first step today by enrolling in an award-winning online small group Scratch Junior class led live by an expert! And explore fun free live online tech events for kids.