In this article, we'll cover the best coding games for kids! There are so many options, and many of them are free. These kids coding games teach different concepts of coding while empowering kids to feel proud of their creations!
Discover the best coding games for kids and beginners
Let's jump into the easiest games to get started with coding, and 10 games you can use to continue exploring. First, we'll answer a few common coding games questions.
What is the easiest game to code?
Scratch is the easiest game to code yourself. It uses a drag-and-drop block language so you can learn important programming concepts like loops, messaging and variables without having to worry about syntax. The platform provides lots of support for creativity through the many characters and backgrounds they provide, as well as the ability to make your own. Our Scratch coding classes are a great place to begin.

What games use coding?
Nearly all online games are built using some code! A whole branch of computer science, game development, is devoted to building games that are visually appealing and engage the user. If you want to learn to code while playing a game, keep reading because we'll cover coding for kids games like Minecraft and Roblox.
Minecraft allows kids to explore their creativity and problem solve as they use blocks to build objects and interact with other characters. In Minecraft: Education Edition, you can write code to control different aspects of the game and complete tasks. Education Edition even lets you explore other subjects like chemistry using the Minecraft world.
Pricing: $6.95 for the app, $26.95 for the desktop version.

Roblox is a platform offering kids the chance to play Roblox games and create their own. In Roblox Studio, you can create a world using pre-loaded options or customize your own with code. Through game creation, students learn to use code to tell the story they want. After making a game, you can even upload it to share with the public!
Pricing: Memberships start at $4.99 per month, but you can create in Roblox Studio for free.
Unity is a popular game development platform, and is best suited for more advanced programmers. With Unity Hub, you can make 2D, 3D or virtual reality games. They provide complete documentation and a knowledge base. You can also explore games that others have built in Unity and publish your own. Or learn more about coding with Unity in our award-winning live online classes.
Pricing: Free.
With the Lego Mindstorms app on your tablet or computer, you can gain an introduction to robotics as you learn to control your robot. They provide video tutorials to show you how to program your robot to move or respond to touch. You can even complete challenges with your robot!
Pricing: The robot can cost hundreds of dollars, but the app is free.
Code Combat is a free browser game to help students learn to code with games. You can program your adventure into a game. Kids can also work their way through games that each introduce different concepts. The first one covers parameters, strings, and loops while future games focus on topics like functions or web development.
Pricing: Free.
Lightbot is a great app for beginners of all ages to get started with coding. They have many puzzles in many levels and the goal is to solve the puzzle while learning programming concepts. Through the app, you will learn about loops, conditionals and more.
Pricing: $2.99 for an Android/iOS app.
Kids set up their tablet on the Osmo base and then they can use the game kit pieces to build what they like. The pieces allow for drawing, coding and more. Then the app scans the game pieces to bring the creation to life! The game kit allows for lots of hands-on creativity.
Pricing: $99.99 for the game system and a free iOS app.
Mimo is a free iOS or Android app that makes it easy to learn to code anywhere. They offer quick exercises, a coding playground, and different features to keep students motivated like streaks and goals. Kids can create a profile and then share their projects.
Pricing: Free.
Code Monkey is an online community to help kids with no prior experience learn to code. They use games and text-based languages so kids are immersed in written programming languages that they will likely continue to use in the future. Code Monkey's game-based education system rewards students for good work and keeps them motivated.
Pricing: Plans start at $6/month.
Qbotik is an iOS/Android app that helps kids learn many core features of robotics like rotation, torque and motorized joints. The goal is to control a robotic arm to catch different cubes. As you move through the levels, you're faced with more challenging tasks.
Pricing: Free.
What are some free coding games?
Coding games don't have to cost you anything! Here are some of the best free coding games to help you get started.
Scratch is a super popular online platform for beginners to learn coding. Beginners learn the fundamentals of coding with the Scratch blocks. You can add characters to your program and control the characters as you tell your story. Kids can put together drag and drop blocks to give actions to their characters like motion, talking and even allowing them to interact with each other. Learn more in our live Scratch Ninja class designed by Google and Stanford experts.
Similar to Scratch, Scratch Jr is a block based programming language, but designed for younger kids. In both platforms, kids drag and drop blocks in different orders to customize their characters and stories. While Scratch is an online program, Scratch Jr is primarily available as a tablet app. The Scratch Jr features also emphasize social development of young kids. Learn more in our live online Scratch Junior class.
CodinGame is a free browser platform best suited for kids with some coding experience. You can work through challenges by yourself or on multiplayer teams. Each challenge is a well-developed game setting, so you'll have lots of fun as you learn! You can play their games in languages ranging from Python to PHP.
Swift Playgrounds is a free app offered on Mac and iPad to help kids learn the Swift programming language used to build Apple apps. The app starts with a "Fundamentals of Swift" lesson where kids learn to write code to control a character. Then they can move on to different levels and challenges, and even control connected devices like a robot.
Hopscotch is a free iOS app designed for kids aged 10-16. You can code up games, animations and apps to experience how software is created. The platform even handles syntax errors so you won't get stopped by a mistake. When you're done with your creation, you can share your project and explore what others have made.
Get started on the best coding games for kids
Check out any of the above games to start coding and having lots of fun! And explore our classes on Minecraft coding, Roblox coding, Unity game development and Scratch coding for kids to see everything these platforms have to offer.
Up next, you might also enjoy learning how to create a pong game in Scratch or how to make a Kahoot! game.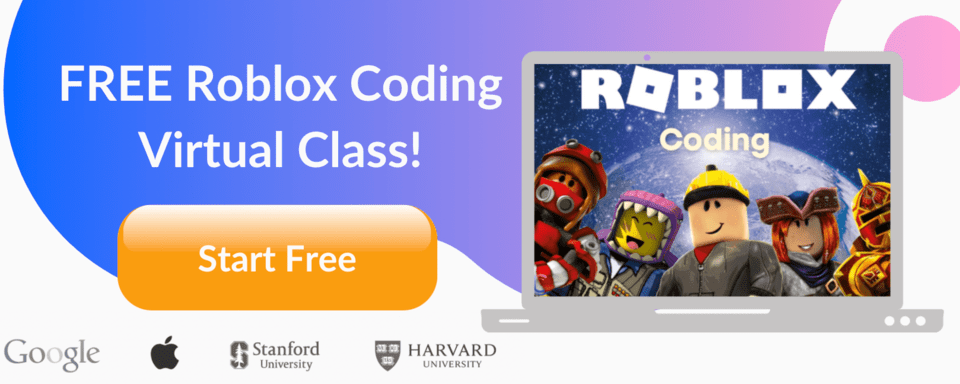 Written by Sophie Andrews, a Create & Learn instructor. Sophie Andrews is a student at Stanford University studying Math andComputational Sciences. She loves teaching and is a teaching assistant for Stanford's introductory computer science classes. Her work focuses on data science. Last year she built the online National Vote Trackers for The Cook Political Report, and she currently leads the Data Team at The Stanford Daily. She's also interned with the FCC and the National Renewable Energy Lab.