Looking to help you kindergartener, elementary school student, middle schooler or high schooler learn coding? Today we've compiled a list of top programs to make getting started easy. Find out how your child can learn to code in the Los Angeles area including Santa Monica, Hollywood, Beverly Hills, Pasadena, Silver Lake, and surrounding areas. Explore easily accessible online options as well as in-person courses, and join award-winning immersive coding classes for kids ages 5-18!
Check out upcoming free computer science events for kids led by tech experts: past events have featured guests from Pixar, NASA, Intel, and more!
Teachers and educators - Book free virtual classes for your students (groups of 10+) - any time of the year! We serve all schools and community organizations, and have even partnered with SMASH and Meta's Engineer for the Week to teach students across the US. Just pick the activity you're interested in for your class (from these 10 fun options) and contact us. We'll get in touch to get you all set up for your live Zoom sessions.
Online Coding School for Kids in Los Angeles
Looking for the perfect starting point for your beginner? Begin with entry-level courses in subjects as diverse as block coding and NASA science to web design, that don't require any previous computer science experience. Your child will have fun while learning how to build apps, games, websites, and anything they can imagine!
The following award-winning coding classes provide an engaging and effective learning experience designed to equip kids in Los Angeles and beyond with valuable skills for the future. Create & Learn places a strong emphasis on a holistic approach to computer science education, ensuring that your child not only learns how to code but also comprehends the fundamental principles underlying it. Additionally, your student will benefit from both inquiry-based and project-based learning, empowering kids to apply their coding knowledge to real-world projects. This practical educational approach fosters problem-solving skills and creativity, giving your child a well-rounded understanding of coding that goes beyond mere coding syntax.
Moreover, Create & Learn's curriculum is carefully developed jointly by tech experts and experienced educators from Apple, Intel, Google, Harvard, MIT, and Code.org. Your student will also benefit from learning from a team of dedicated and experienced US-based instructors who provide personalized guidance and support throughout your child's coding journey. The small class sizes (5 students max) ensure that your student receives the attention they need to excel and thrive in their computer science endeavors. That's why our classes have been recognized by Minecraft Education, Roblox, Meta, HulaFrog, ActivityHero, and SMASH! There's also a 100% satisfaction guarantee.
So help your child develop a passion for learning and technology, and get started with students' favorite fun classes including:
Learn core coding concepts, and use a wide range of fun Scratch features such as motion, sensing, and clone. Have fun as we build animations or games in every session. Younger students will enjoy ScratchJr (k-2), while older students can join Accelerated Scratch (5-9).
Fascinated by Mars and aliens? Explore the mysteries of outer space with fun projects. Learn about many fun areas including rockets, the International Space Station, the Solar System, and a lot more.
Have fun being creative with a variety of interesting digital art projects from patterns to architecture and stop-motion! In this class students will learn to appreciate great design in their daily lives, while exploring many different types of art mediums.
Embark on a creative journey to build incredible machines, light shows, automatic doors, and even flying contraptions with powerful Redstone. Explore the intricacies of circuits, switches, and sensors, while learning real-world engineering principles.
Create beautiful graphic designs and videos with beginner-friendly Canva. Learn how to add elements, fonts, effects, and more in Canva, before finding out how to drag and drop design elements and even animate them.
Learn how to design beautiful websites! Starting from the basics of how to use WIX and how to structure your website, to designing the layout, choosing color schemes, and even creating a web store with products.
A starting point for high schoolers looking to learn coding, Python stands as a high-level coding language favored by industry giants such as Netflix and Google, and is often used in web development, game design, app creation, machine learning, and much more. This class not only covers the fundamentals of Python coding, but also places a strong emphasis on the elements of Python most relevant to Artificial Intelligence, including data structures and libraries.
Start with Free Coding Classes in Los Angeles
These small group free coding classes include a live online experience, and awesome teachers that set every child up for success. Discover the magic in technology and have fun when your child gets started today! Choose from beginner-friendly Scratch and Python, or build your student's existing coding skills by learning Minecraft engineering or about artificial intelligence.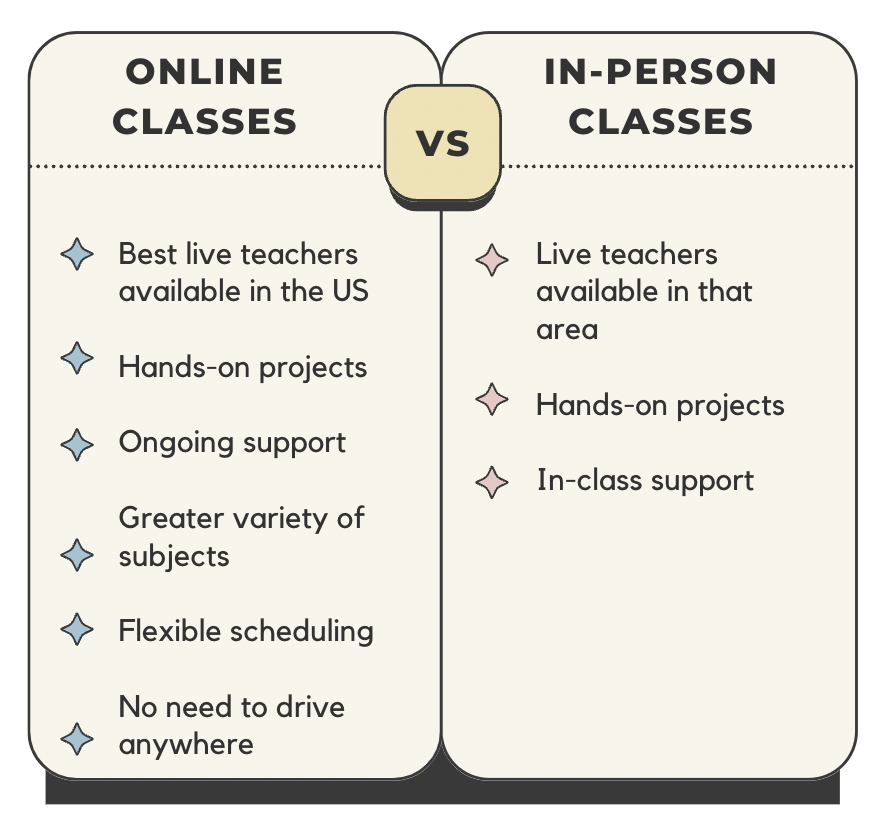 Explore Los Angeles In-Person Coding Classes
If you're looking for an in-person coding experience, here are a few coding schools around the LA area that might help based on parent reviews.
2712 Griffith Park Blvd, Los Angeles, CA
Code Ninjas is the world's largest kids' coding franchise, with hundreds of locations in the United States, Canada, and the United Kingdom. At their in-person Dojos, kids learn to code while building their own video games, led by friendly, supportive instructors. There are also camps for robotics, stop-motion animation, and more.
One parent shared, "This place is the best!  My son has been going for several weeks and is so engaged and excited about the projects they make at every session.  In addition to coding, he is already making simple circuitry projects and games.  The format of the ninja color coded belt system is highly motivating to him."
2411 Wilshire Blvd Santa Monica, CA 90403
Located near Brentwood Science Magnet and John Adams Middle School, theCoderSchool Santa Monica is ready to help aspiring elementary and middle school coders! Their after-school coding classes for kids revolve around this relationship, providing a long-term mentor in a Code Coach to teach kids to code, from someone who's an expert coder themselves. The flagship after-school program, Code Coaching, combines a super-small 2:1 teaching ratio with individualized curriculum so kids are able to move at their own pace, doing things that interest them most.
1455 Monterey Pass Rd Ste 203 Monterey Park, CA 91754
Let's Code is an in-person children's coding school that strives to teach kids the fundamentals of programming, through fun activities and projects that will allow them to channel their creativity and skills. They focus on one project during each session to fully grasp a concept. Some projects include recreating Flappy Bird, Ping Pong, Frogger, and interactive stories. The small class size and the low student to teacher ratio ensures kids receive adequate care and learn the concepts fully. Despite being a more costly option, the company also offers a sibling discount.
Join Coding Classes for Kids in Los Angeles
Coding schools for kids in Los Angeles offer a transformative educational opportunity that parents should consider for their children. The skills acquired through coding not only empower young learners with the tools to navigate an increasingly digital world but also foster critical thinking, problem solving, and creativity. By enrolling your children in coding schools, you're investing in a future where your kids are equipped to excel in various fields, from technology to arts and sciences. Six different studies show that children who study computer science perform better in other subjects. Moreover, coding schools create an environment where students can explore their passions, collaborate with peers, and develop a growth mindset that extends far beyond the realm of coding. In an age defined by innovation and digital literacy, providing children with early exposure to coding is an investment that promises to unlock a world of opportunities, preparing them to be the leaders, creators, and problem-solvers of tomorrow!