After-school enrichment activities are becoming more and more important in today's world. So today, we'll share awesome options for your family to enrich your child's education including fun podcasts, new challenges, free classes, and more.
Keeping children engaged and focused is vital for their physical and mental health. Regardless of what your child is interested in, there are an unlimited number of options for enrichment. Find a great fit today!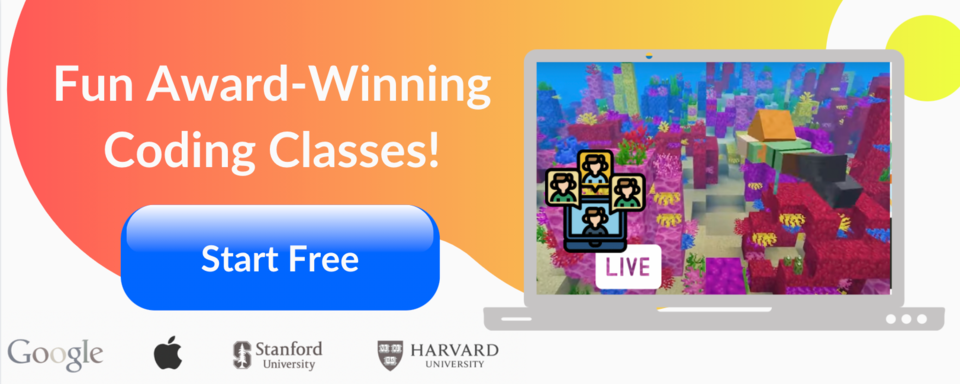 What are examples of enrichment activities?
Enrichment activities break the barriers of curricular structures and government mandates. These activities allow students to design, create, and learn without limits. Examples of enrichment activities are AI clubs, Coding groups, Music lessons, and sports. Throughout this blog, we will focus on the technology enrichment activities that are available on the market currently.
Virtual after-school enrichment activities
Virtual after-school enrichment provides students and families with unlimited options regardless of geography. With an internet connection, your child can connect with some of the most progressive virtual enrichment activities that exist.
Scratch Ninja teaches children the necessary creativity and critical thinking skills to learn to code. Using inquiry-based learning, teachers guide students to immerse themselves in creation and design in this beginner friendly class. Children learn how to make awesome games while mastering life-long logic in this fun course designed by Google and Stanford experts.
Younger students might enjoy Scratch Junior, while older students will be a good fit for Accelerated Scratch.
In this creative after-school activity, students can use their Scratch coding skills to design amazing projects. In a 55-minute session, students apply their skills to new creations such as making a maze, designing a Pacman game, and much more. There's also an expert who can answer any questions live over video, so your student won't get stuck. Check out fun beginner-friendly options including creating a Pokemon game in Scratch, and making a fun easter egg hunt game!
Explore the mysteries of outer space science with fun projects every week. From Mars and aliens, to galaxies and rockets, space fascinates many kids and adults alike, and is the source of powerful imaginations. In this series of classes, your kids will learn a wide range of topics related to space science, NASA, and practice other STEM skills. In each session, we will learn cool new things about space and science, then build small projects and play games sometimes to make it fun and strengthen the learning.
Does your child want to create beautiful digital cards, posters, slides or videos for their school projects? Now they can make all of these fascinating projects with Canva - a powerful and trendy graphic design platform with a simple interface (and creating an account is free)! This fun online live course explores examples of great graphic design and video storytelling. Your child will learn to use the intuitive drag-and-drop tool in Canva to create their own designs.
Girls are able to access Girl Scout activities from anywhere. The organization set up a series of 28 badges for girls to earn as they explore math, entrepreneurship, and digital leadership. Troops can register or girls can register on their own.
Boys are provided with at-home challenges through the Boy Scouts. The organization presents 30-day challenges to boys based on their grade level. And parents and families are encouraged to do the projects with the boys so learning can occur together at home.
This is a 20 minute podcast geared towards children that love to read. There are a variety of activities and interesting people within the podcast. There are over 100 free episodes currently for children and families to enjoy!
This interesting company provides various classes for kids in cooking, engineering, and tutoring. Learning is gamified to enhance the experience of children. The company partners with leaders in various fields to bring the most progressive experiences to children possible.
Free after-school enrichment activities
On a budget? No problem. Here are a few free after-school enrichment activities your child might enjoy this year.
This introductory, free course provides children with the basics of coding through a fun project. Children get to see example projects from other students, and can enjoy the help of an expert in real-time in case they have any questions. Teachers use inquiry-based instruction to ensure concepts are full grasped and applied.
These free events are glimpses into the lives of technology experts from all over the world! The topics have no limit and some sessions have covered movies, Minecraft, and AI. See what free events are upcoming, and register anytime. If your child can't make them live, you'll still get the event recording via email.
This free course teaches children fun cutting-edge AI applications in a small classroom setting. Students learn about self-driving cars and the purpose of AI in the real world. Throughout the course, students are involved in hands-on activities and immersive discussions.
Children design music creations through the integration of math, art, and science. Students learn to create music videos that touch on STEAM concepts. The activities are posed as challenges to bring out students' creativity.
This free resource provides children with the ability to watch lecture videos and answer questions about any topic that they are interested in. The age range is quite large and provides families with many options for kids regardless of grade level. EdPuzzle provides quiz opportunities for children to test their learning.
This platform facilitates global collaboration for children, regardless of location. The site connects over 150 countries together as children learn to be global citizens. Students read, write, and create across countries.
After-school enrichment activities for elementary school
Have a child in kindergarten through fifth grade? In this section we share specific activities geared towards elementary school students.
Introduce your student to the wonderful world of robotics! In this live online class, your student will code a robot to move, draw, turn, and more, all in the virtual world. Don't worry, no physical robot is required.
Does your child love playing Minecraft? They can actually code their own Minecraft games! In this fun online class, students learn the basics of coding through solving puzzles. Then, children start designing their own games once they have mastered the coding concepts. Creativity and problem solving are at the heart of this class!
This company offers 850 lessons across 10 levels for elementary students to engage with. The system has tickets and rewards as children progress through the program. This makes learning fun across subject areas!
ABC Language offers 30 languages to choose from. Children work with instructors to develop a tailored program specific for their needs. They offer customized curriculum, flexible scheduling, and professional staff.
Has your child ever wondered what it would be like to look down upon the earth from space? Do they know how small the space satellites can be today? In this exciting online event, students will meet the space expert Dr. Eaton to explore the fascinating world of CubeSat - a small satellite used for space research that is made up of multiple cubic modules of 10 cm × 10 cm × 10 cm size. Students can also learn about the opportunities to design and build a real space satellite and get it launched by NASA. Save a spot for your child for free today.
After-school enrichment activities for middle school
This section will detail the best options for enrichment programs at the middle school level.
Python is a high-level coding language with many applications. Netflix and Google use this coding language extensively in their work. Throughout the course, students learn the basics of Python and how it can be applied to AI. You can even get started with a free live online Python course.
Roblox is a very popular activity with kids nowadays! Join this first-in-kind class that empowers kids to build games in Roblox using a fun block-based system, rather than complex Lua syntax. Learn important coding concepts such as if/then, loop, and variable in the context of Roblox coding, as well as how to have game elements respond to interactions from players such as clicks, movements, and more! Plus make a dodgeball game, multiplayer games, and so much more. There's a free Roblox class session to get started:
This site offers standards aligned games for children all the way up to 18 years of age! They offer games in every subject, too! The games promote critical thinking and connection.
This company, located in San Francisco, offers digital videos and DIY projects where kids can immerse themselves in science. "The Tinkering Studio" encourages experimentation outside of museum walls. There are many activities to choose from depending on your child's interests.
Try these fun after-school enrichment activities
This blog summed up everything you need to know in terms of enrichment activities for your children! There are various avenues to choose from depending on your child's interests and goals. We hope you enjoy finding an enrichment program that specifically meets your child's needs.
Up next, learn all about creating custom Scratch sprites or see some of the best coding classes for kids.
Written by Lauren Mauel, a Create & Learn instructor with 8 years of teaching experience. She also has a BS in Mathematics, an MS in Analytics, and is a PhD candidate. She loves seeing kids' creativity come alive.