Homeschool art classes are a great way to introduce your child to art concepts for both graphic and UX digital design. Plus, they'll learn get to experiment with a range of art materials - all while growing their creativity.
Building creativity for kids is so important, because it enables alternative ways of thinking, instills curiosity, and stimulates and motivates their imaginations. Creativity is the skill of the future and so important for successful careers. For example, creativity enables employees to devise ways to address their customers' biggest challenges—while cutting costs and automating repetitive tasks.
Many programs now offer live online art instruction for kids, which can be particularly helpful for learning new art subjects. With immediate feedback and a collaborative environment, students can get questions answered quickly as they make beautiful works of art!
So today, we've pulled together some great homeschool art classes your child can take to explore the arts, as well as a few recommended homeschool art curriculums from elementary up to high school. Let's jump right in to find a great starting point for your learner no matter their age.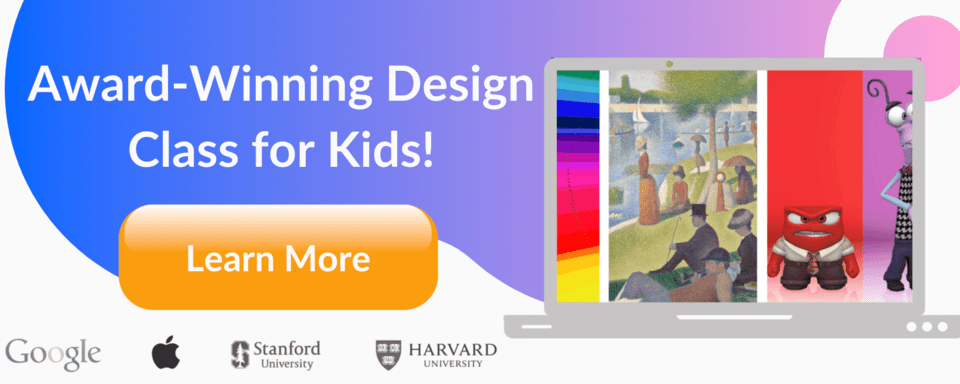 Discover homeschool art classes
Looking to unleash your child's inner Picasso with the best homeschool art classes? Here are a few fun live online art classes - and some are even free! From fascinating color theory, to digital UX design, photography, and painting, find something your student will love with these live online classes for kids.
In this fun online digital art class, your child will learn how to define and organize color. They'll see how to combine colors to create moods, effects, understanding, and meaning. And with exciting hands-on exercises in each session, they'll explore how to apply colors in different contexts in the real world, from brand logos to paintings, and apps, games, websites, movies, product design, and more. This class is provided by Create & Learn, with a curriculum designed by Google, Stanford, and MIT experts.
Ages: Grades 4-7
Class size: 4 students max
Class type: Live instruction
In this fun live online class from the award-winning education platform Create & learn, students will gain core design skills to design effectively in two-dimensional design for screens and print. Students will develop a greater awareness and appreciation of the designed world. They will also have many opportunities to practice using their design sense and visual thinking skills by designing their own projects and receiving feedback each session.
Ages: Grades 4-8
Class size: 5 students max
Class type: Live instruction
In this digital photography class led by an expert US-based instructor, students learn some of the basics to make their photos more meaningful and valuable. They explore how a camera works, and find out what goes into composing and capturing a stunning image. With the live online class format, your child can ask any questions anytime to get answers right away. This class is provided by Create & Learn.
Ages: Grades 1-4
Class size: 5 students max
Class type: Live instruction
Based on Outschool art class reviews, this is a fun ongoing art class for homeschool learners with three new projects each month. It's perfect for families who can't seem to squeeze art into their days. Some projects are a watercolor lighthouse, acrylic landscape, and acrylic animals. This class primarily uses watercolor, acrylic, markers, and colored pencils for its projects. It's provided by Outschool and led by an independent instructor.
Ages: Grades 3-6
Class size: 12 students max
Class type: Live instruction
In this fun live online class, traditional art class comes alive through painting, drawing, coloring, cutting and more! This class covers painting with acrylics (and a pencil eraser!), as well as drawing and shading trees with colored pencils. Students will also learn to make abstract art with patterns and pens, and finally they'll work with watercolors. This art class is provided by Outschool and led by an independent instructor.
Ages: Grades 3-7
Class size: 7 students max
Class type: Live instruction
This is supposed to be one of the best Outschool classes for younger artists. Let little ones come and draw, paint, cut, and glue in this exploration Outschool art class that gets kids excited to create and be imaginative. In this weekly art class for preschool and early elementary students, kids get the chance to create a new art piece each week while exercising their imaginations and engaging their creative thinking. The focus of this very beginning art class is on engaging with different art materials and exploring art concepts and techniques. They'll learn all about art elements (line, shape, form, etc.), art principles (rhythm, balance, contrast, etc.), and much more.
Ages: Grades Pre-K-2
Class size: 14 students max
Class type: Live instruction
Get the low-down on some of the most useful tools in Photoshop in this online Create & Learn partner digital art class for kids! In the first class, students will learn how to navigate Photoshop and use layers, masks, crops, direct selection, and brushes to combine multiple images into a digital collage. Further sessions will delve deeper into color, adjustments, blending modes, editing tools, text, shapes, and filters.
Ages: Grades 2-12
Class size: 6 students max
Class type: Live instruction
Learn the basics of Adobe Illustrator and design principles. You can use Illustrator to create anything from illustrations and graphics to logos. Capture your creative vision with shapes, color, effects, and typography in this live online Create & Learn partner class for kids.
Ages: Grades 4-12
Class size: 8 students max
Class type: Live instruction
Learn how to use the drawing app Procreate! You'll go over different functions of the app and basics of lettering while we work towards our final project of lettering a short quote or phrase. You'll gain skills that you can use for future lettering projects or any kind of drawing.
Ages: Grades 4-12
Class size: 8 students max
Class type: Live instruction
Does your child want to create their own digital holiday cards? Now they can do that with Canva - a powerful and trendy graphic design platform with a simple interface - and it is free! Join this fun event, and Create & Learn's digital design expert will show students examples of great digital design and how to use the intuitive drag-and-drop tool in Canva to create their own card design. Sign up for free today, and have fun!
Ages: Grades 2-10
Event size: 200 students max
Event type: Live instruction for a large group
Homeschool art curriculum
Beyond trying the art classes above, your child might also benefit from a structured learning curriculum in art. Here are some key learning objectives to help you follow the best path.
Here's a homeschool Fine Art curriculum path:
Beginner art curriculum- Discovery: For students as young as 4-6 years old, look for classes that help build their fine motor-skills and lead to discovery. Explore a variety of different mediums, start building their vocabulary, and cultivating an open mind.
Elementary school art curriculum - Foundation: For 7-9 years old students focus on building fundamental skills in visual art, be exposed to variety of artistic styles, and learn how to use professional art vocabulary to communicate ideas.
Middle school art curriculum - Advancement: Middle school, 5+ grade students should refine their drawing and painting skills across a variety of forms and media including live models, landscapes, and more, and understand advanced color theory and art historical influences.
Here's a homeschool Digital Art curriculum path:
Beginning on the digital art side a little later is better for students, as there can be some complexity with the software. Digital art also builds nicely on the core students have learned in fine art.
Elementary art curriculum - Discovery: Younger students should know the basics of color theory, begin to get experience with different types of softwares such as Photoshop and Procreate, and learn how to use the digital medium to create simple art and design.
Middle school art curriculum - Foundation: Students 10 years old and up should learn to master the nuances of artistic computer software in order to do digital painting for animation, concept art, and illustration. From there they can also specialize in a type of digital art such as anime.
Try homeschool art classes
Now that you've seen tons of options for building your budding artist's portfolio, get started building your child's confidence and creativity with fascinating art classes today! Up next, explore fun graphic design activities for kids. Or explore homeschool computer science classes that can build creativity without messy hands, such as Create & Learn's free beginner-friendly Scratch coding class: