Coding can be unnerving to learn at a young age, but with the right resources, your child will learn this desirable skill swiftly and effortlessly! We've compiled a list of websites, online courses, and tips you can use to help make coding for 7 year-olds achievable. There are also free live classes your child can take to build their interest in computer programming!
Start coding for 7 year olds
Helping your child learn to code can be fun, but it can also be overwhelming to know where to begin. Before you begin teaching your child coding, identify the right language for them to start. Here's a handy chart to help you: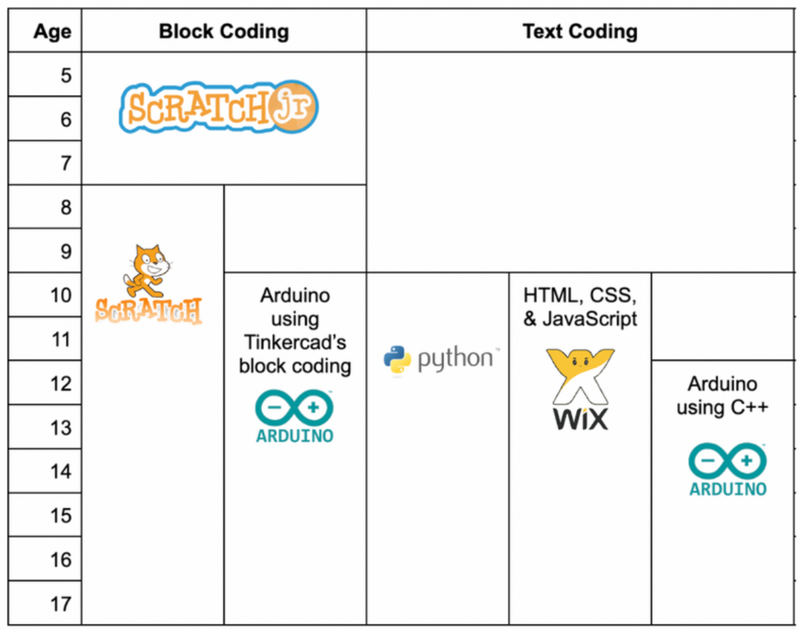 ScratchJr is a great coding language for your seven-year-old to start. ScratchJr is a visual programming language designed to teach coding literacy to children ages 5 to 7. ScratchJr is a free downloadable app on iOS, Android, and Chromebook devices.
To create code with ScratchJr, you must simply drag blocks and snap them together in the coding area. The blocks are colorful and have simple icons with no text, which is convenient for students who struggle with reading. Blocks need to be in arrangement from left to right, like sentences in a book. Kids can make fun interactive stories and animations with this coding platform!
How to download and get started with ScratchJr
Here we'll walk you through a few simple steps to get set up with this free tool.
To download on Android tablets, go to the Google Play Store, search for ScratchJr, then click install. For iPad users, go to the AppStore, search for ScratchJr, then click install. ScratchJr is also available to download from the Amazon Appstore.
When you open the ScratchJr app for the first time, a pop-up will appear asking permission to access your camera and microphone. (ScratchJr allows room for creativity by letting users use outside sources, like pictures and sounds, to add to their projects. You can enable and disable access anytime.)
ScratchJr will ask where the app is in use. You can choose from school, home, or other.
Click the home button to enter the My Projects screen. If you need a quick tutorial on how to use the app, touch the question mark. Click the settings icon to change the language to your preference. Tap the book for more information about ScratchJr.
Click the home button. Then touch the (+) icon to create a new project. You will then see two cats on the screen. The first cat is where you put the coding blocks, and the second cat will perform the code.
If you click the yellow upper right corner on the screen, the tab will open a screen to change the project name.
If you tap the button that reads "for parents," you can share your child's project by email or airdrop (iOS devices).
Top introduction coding programs and websites for 7 year olds - some are free!
ScratchJr is one of the many resources available that help students with tech literacy, but why stop there? Check out some of these incredible programs and websites for your second grader!
Create & Learn provides more than a handful of coding classes for K12 learners. We have a team of experts from MIT, Stanford, and more who help design our curriculum. In this award-winning ScratchJr Introduction class, students will learn how to navigate the app's features and use the language to code a fun animation of dancing characters!
Pros:
Excellent student-to-teacher ratio.
Classes are online and synchronous.
Teachers and staff have highly credible backgrounds that are in the best interest of your student's learning.
Cons:
Need to find a time that works with your schedule as the class is live.
Steve & Kate offer summer and holiday camps for kids ages 4-12. Campers can choose from varying activities like stop motion animation, music, sports, bread making, and more. If you're looking to get your child into coding, enroll them in camps that offer Media Lab activities. Here they can play with coding and digital gaming apps while making new friends!
Pros:
In-person camps help students with teamwork.
Students are in charge of their learning.
Cons:
Camp locations are available in select locations.
Code.org is a non-profit dedicated to expanding Computer Science education to all K-12 students. They offer a catalog of courses divided by age groups. For K-5, students can choose from courses A to F based on age or experience. For your seven year old, have them begin with course B. Here they will gain introductory knowledge in computer science that will help them move on to courses C and D.
Pros:
Students go at their own pace.
The website uses block coding and videos to teach.
Free to use.
Cons:
Best coding and computer science classes for 7 year olds
Coding is more engaging when you have a teacher conveying new information and helping you solve challenging coding problems. Explore some of these live classes Create & Learn offers for your second grader. If you need help determining which courses for your child to enroll in, then check out our helpful pathways at coding curriculum for 7-year-olds.
In this ScratchJr course, students will learn coding basics using the well-loved programming platform ScratchJr. In the end, your child will be an expert at using blocks to create loops, messages, events, and more! Your student will have an easygoing experience in this class while also challenging their brains. It'll feel like your student is playing a game the whole time, but they're actually learning how to code!
In our ScratchJr Club, kids put their ScratchJr knowledge to the test every week by creating original, challenging, and fascinating projects. A ScratchJr expert leads these 45-minute sessions and is always on hand to assist students. Your child will always end the session feeling encouraged to build and create more exciting programs to share with you!
Do you have a kid who enjoys art class but may feel intimidated learning how to code? Have them try out this lively series of sessions! In our Budding Digital Artist Class, your child will create a new art project every session while learning about various techniques and art mediums. For example, in our Color Theory session, students will learn about colors to re-color their favorite characters in Scratch. New art topics are constantly added, so be on the lookout for what topics may spark your child's interest!
In this NASA STEM Club, your kid will feel like they're putting on a spacesuit and entering space! In each session, students will create projects to encourage their curiosity and develop problem-solving skills while having fun with games. From asteroids to rovers to the moon and beyond, your child will come back to you with more space and science knowledge!
How to teach your 7 year old coding
Your 7-year-old may be a little afraid to start coding or have trouble instilling what they've learned from their coding practices. Here are some ways to remove any fear or disinterest and make them excited about coding:
Keep them engaged by helping them learn how to make things they want to make, such as easy games to code and Code.org games
Students learn best when they know why they're learning a topic. Show your child how code is a part of our everyday lives by having them watch videos of code inside kitchen appliances or cars. If they're interested in games, have them look at the code behind gaming projects on Scratch.
Have your child teach you a coding concept. Students retain information when they convert what they learned into their own words.
Maybe your child needs help with the creative process programming requires. Brainstorm game and animation ideas with your student so they can make them independently.
Get started with coding for 7 year olds
Coding for 7-year-olds is a feasible journey. Your child will be glad to have started their trek this young. Coding offers endless career opportunities, soft skills, and benefits your child can use in the future. If your student is looking to dive in and jump into the world of computer science, have them code more and explore fun Scratch Jr project ideas to make.
Written by Hunter Wilkinson, a fervent reader and learner. She got into education to share her passion for storytelling and STEAM instruction. In her free time, Hunter loves to write songs/poems, run, play video games, and hang out with her two fluffy cats.