The holiday season is upon us! Whether you are celebrating Christmas, Hanukkah, Kwanzaa, or the New Year, you can find many options (many of them free) for elementary and middle schoolers to partake in over the winter break. Many of these holiday STEM activities can even be done with the whole family.
The following list is organized by age level. However do not feel that just because the activity is listed under Elementary (grades 1 - 5) that a middle schooler (or an adult for that matter) can not enjoy the activity as well and vice versa. Many of the activities can either be scaled up or down accordingly. Happy holidays! You can also jump right into fun virtual winter break camps for kids.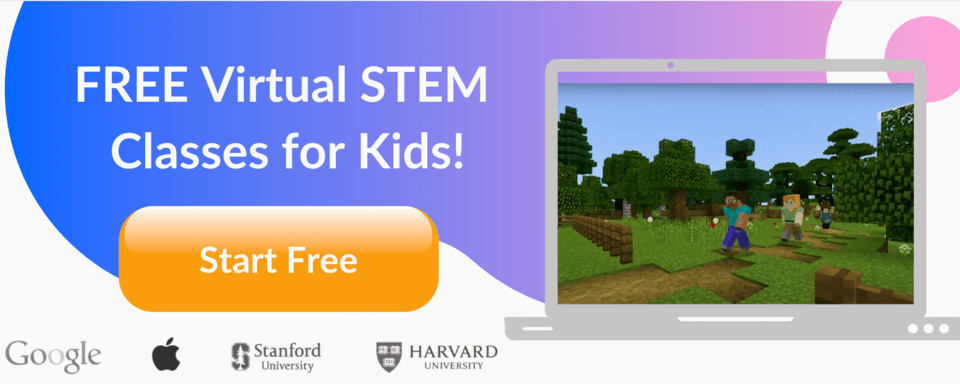 Discover free winter holiday STEM activities
There are many holiday STEM activities that you can incorporate into your family holiday fun! The following are some of the activities that can be enjoyed with the whole family in mind. What a great way to create a new family tradition of December STEM activities.
1. Create your own digital card
How about getting the kids involved in sending out the Holiday cards this year. Sign them up to participate in this free event at Create & Learn where they will use Canva to learn the basics of design all while having fun creating their own digital Holiday card. Wow!  What a special treat it will be for someone to receive their own custom Holiday card.
2. Fabricate a holiday light up card
Maybe you would rather send that special someone a homemade physical card instead. That is where Paper Circuits come to rescue. With minimal expense for items most likely not found around the house, the whole family can enjoy creating their own holiday themed paper circuit.  Here are a few ideas for inspiration:  Holiday Paper Circuits,  Holiday Cards or a paper circuit Menorah.
3. Decorate the house with inexpensive Christmas trees
Sometimes it is nice to change up the holiday decor from years' past. How about combining math with a splash of Christmas fun to create Sierpinski Fractal Christmas Trees. Sierpinski is a famous Polish mathematician who is known for his contribution to number theory, topology and much more. A fractal is a never ending pattern. Put them together and Voila! A decoration the whole family can enjoy making. Read through this tutorial for a guide on how to make them!
4. Toy take apart
Have a few old toys laying around the home? Are they just a bit too worn to donate? Why not take them apart and explore what is inside? A great way to learn how things work is to take them apart and possibly create new toys with the pieces you have. Adult supervision is highly recommended for this activity as well as basic safety measures. This activity really gets that engineering mind in full gear!
5. Create an advent calendar challenge
Count the days leading up to Christmas by having the family partake in a simple Christmas STEM activity each day.  Or create a theme for each day leading up to your own special holiday (Take - apart Tuesdays or Tech Tuesdays, Fabricate Fridays, Sing-A-long Saturdays, etc). The most important thing is that everyone is learning by doing!
Try winter holiday STEM activities for elementary school
Check out some fun December STEM activities to keep elementary school students happy and engaged with learning.
6. Code a interactive story or holiday game
Scratch is a fun programming language that allows your child to create their own games, stories, and animations. There are endless ideas of what can be created using Scratch. Here are just a few ideas:  Snowball fight: create a Holiday Themed story, or possibly make your own animated Holiday Card.
7. "Where's Santa now?", you ask
Google Labs has created a Santa Tracker website, filled with fun and interactive games and activities for the younger members of the family. You can choose from trying an Elf Dance Off where you match an elf's dance moves by coding the correct sequence of moves or possibly using the Santa Tracker to see Santa's current location and explore the world.  Whichever you choose, there are plenty of activities for everyone throughout the holiday season.
8. Hoping for a white Christmas?
Brrr….it is getting a bit chilly out there. How about tracking the weather to help predict what the weather will be on that special day?  Start by making your own thermometer and then record the weather. Make a table or use a spreadsheet to record the data gathered. As the holiday approaches, see who's prediction comes closest to the actual temperature.
9. Or possibly a green Christmas
Why not focus your activities this holiday season stressing the importance of sustainability by upcycling objects around the house. The value of upcycling is to see objects for more than what their main purpose is by expanding their functionality; repurposing materials will help kids to look at objects and situations from more than one lens. Here are just a few project ideas.
10. No, there is no such thing as too much slime!
It would not be a proper guide on at home STEM activities if it did not include making your own slime. This time we are making Snow Slime. Here is a quick guide, in case you need it, on how to make your own DIY Snow Slime.
Explore winter STEM activities for middle school
Discover fun holiday STEM activities for middle school with snowmen, reindeer, and more, and make these part of your homeschool STEM curriculum.
11. Let It Snow, Let It Snow, Let It Snow!
The turtle module in Python is a great tool to learn about various concepts of programming while creating fun and engaging designs. For a holiday STEM activity, try coding this Snowflake Challenge.  Or maybe make Fireworks to bring in the New Year!
12. Animate your very own 3D Snowman
Using Blender, your child can create their own 3D world. Blender is free, downloadable software that will help teach the basics of 3D animation from modeling to simulation to motion tracking.  A fun activity using Blender includes creating an animation of a snowman.  Once your child gets the hang of it, imagine what they can create!
13. Make a reindeer fly
This challenge involves engineering a simple Rube - Goldberg machine that makes a reindeer fly (or maybe Santa). A Rube-Goldberg machine is a chain - reaction type machine that typically has one task. The design and build processes will help develop critical thinking skills in your child. Here is one kid's take on creating a Rube-Golderg machine to help get those juices flowing. So gather all those random items from around the house and let the design and building begin.
14. Code your own holiday song
Have a child who is musically inclined and interested in learning how to code? Have them create their own holiday song or possibly code their favorite holiday song (Twelve days of Christmas, anyone?) and share it with family and friends!
Here are a couple of options to choose from that let you explore programming fundamentals through art of composing music:
Sonic-Pi is free to download and has a simple interface that will have you making music from the first line of code. Either follow their tutorial provided to create your own music or use the following guide to code the Twelve days of Christmas.
Or how about learning how to use Python or Javascript to code your favorite holiday song. EarSketch is an educational programming platform from Georgia Tech University that teaches you to code through creating music or remixing music using either Javascript or Python. Earsketch also has a "Blocks mode' interface for those who are not quite comfortable with text-based programming.
15. 25 days of code!
Have an experienced programmer in the family? How about putting their skills to the test.
The Advent of Code consists of small daily programming challenges. Using a programming language of their choice, they work to solve the given problem each day.
Don't have an experienced programmer? Create your own 25 days of code. Spend a set amount of time each day coding in the language of their choice or challenge them to learn a new one. You can find some good math challenges that can be solved using computer programming at Project Euler. Peruse through not only the Recent problems but the Archives as well to find challenges that are an appropriate level but also and most importantly fun!
The beauty of either of these challenges is that they will help expand their problem solving and computational skills all while developing resiliency.
Enjoy these easy and fun winter holiday STEM activities
No matter what activity or activities the family partakes in, let the creativity and wonder flourish.Now is the time to help develop the kids' curiosity and passion for Science, Technology, Engineering, and Math. And above all else, have fun! Up next, check out the best online STEM classes for kids including our award-winning free, beginner-friendly Scratch introduction class for grades 2-6.
Written by Laurel Bleich, a Create & Learn instructor. Laurel attended Indiana University where she received a BS in Mathematics and a BA in Computer Science. She worked for almost a decade in the IT industry at which time she transitioned to the field of education. After receiving her MEd (and later her EdS)  in Mathematics Education from the University of Georgia, she worked at The Westminster Schools as a mathematics teacher and the STEAM curriculum coordinator responsible for facilitating the Innovation Lab. She relentlessly champions for all kids to learn how to code and learn by doing.