Today we'll reveal the best Minecraft skin editors to create your own cool characters! In Minecraft, a player skin is just an image file (specifically a .png) that gets applied to the player's 3D model in such a way so that the arm parts are on the arms, leg parts are on the legs, and so on. Although you could use a simple image editor to create your own character skin, you'd have to know which part of the image goes to which part of the model. For example, this is what the standard Steve skin looks like as a flat image.
To simplify the process of designing your own skin, the best Minecraft skin editors use a Minecraft player model as the canvas so that you can immediately see what your skin will look like as it's applied to the model. So explore some of the custom skin creators and then enjoy this tutorial for how to make your own Minecraft skin.
By the way do you know how different power sources such as Redstone blocks, torches, and switches can be used to power blocks around them in different ways in Minecraft? Join an award-winning virtual Minecraft engineering class for kids and find out how to customize your Minecraft worlds all sorts of cool ways, led live by an expert:
Discover the best Minecraft skin editors
So today, we're going to answer some common questions about Minecraft skin editors and share some fun editors you might enjoy. If you're interested in learning more about customizing the game by creating your own buildings, animals, and more, check out our Minecraft modding class designed by professionals from Google, Stanford, and MIT.
Is there an official Minecraft Skin Editor?
Though there is no official Minecraft skin editor, there are many different options available from the vast reaches of the Minecraft community. Because Minecraft skins are just images, any worthwhile Minecraft skin editor, such as the ones covered in this post, will have basic image editor features like a pencil/brush, an eraser, a fill tool, a color palette/picker, and an undo button.
Also, rotating the model and showing/hiding its different components are essential features of any Minecraft skin editor. Skin creation sites also typically have their own communities where users can share their creations.
Is Minecraft Skin Editor free?
Many Minecraft skin editors are free. And there are free and purchasable skin packs.
Explore fun free Minecraft skin makers
In this post, we'll take a look at four free web-based Minecraft skin editors and explore their features to see what makes them different and try to determine which is the best Minecraft skin editor.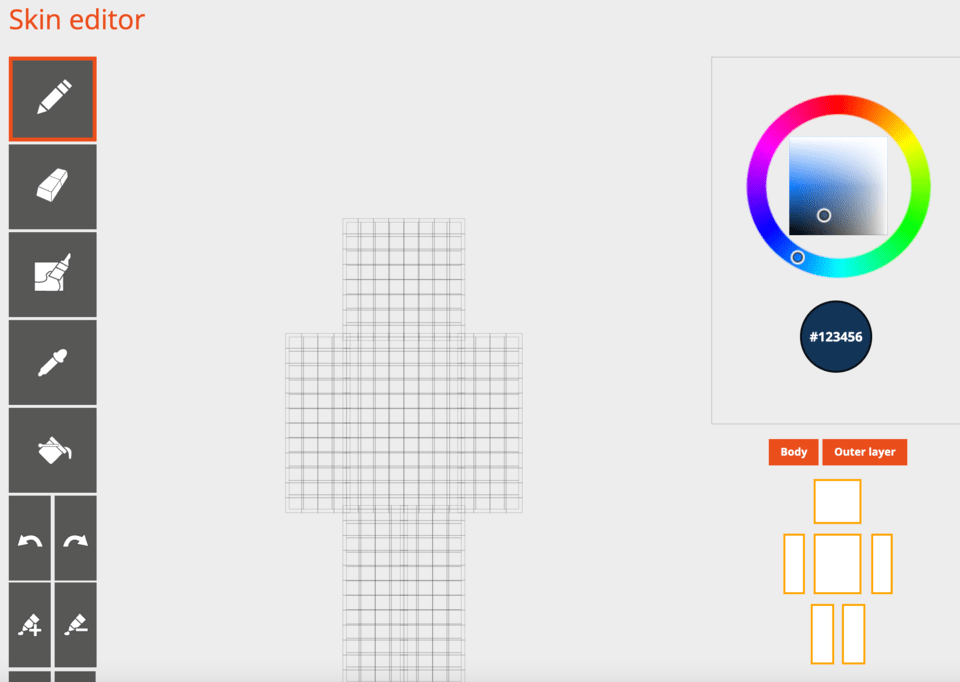 This skin editor has a more intermediate level feel to it. The color palette supports hex codes for precision color selection, and the mirror tool can duplicate designs for symmetric editing. There's also an auto-tone tool. The second layer of the Minecraft player model is also very easy to distinguish, since it appears just as it would in the Minecraft game, with a little bit of space between the first layer and the second layer. Any complaints with this editor are only the most minor of quibbles.
Pros: Pixel grid, zoom in/out, import/export, mirror tool, hex color support, easy switching between slim/classic models, darken/lighten color tool, auto-tone tool
Cons: Can't see grid after painting on it, random file name when saving .png to computer, banner ads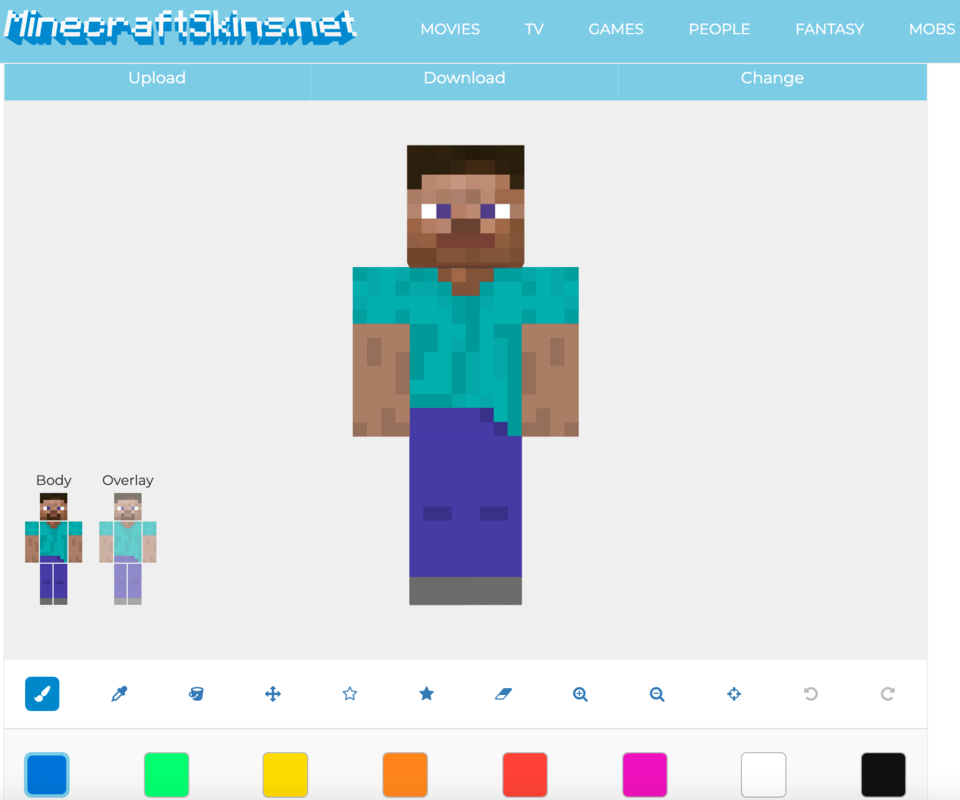 This editor feels like a simpler version of The Skindex, thanks to hex color selection, zoom controls, color adjustment controls, the ability to import/export skins, switching between slim/classic models, and the clear distinction of the model's second layer with a clean design. Although it doesn't have features like The Skindex's mirror or auto-tone, the ability to pan and select different poses for the model are useful for seeing what your skin will look like outside of the default pose. The grid toggle is also quite useful for exercising precision control when applying colors.  
Pros: Grid toggle, pan control, hex color support, stance menu, straightforward design
Cons: No mirror tool, no auto-tone/texture brush tool, banner ads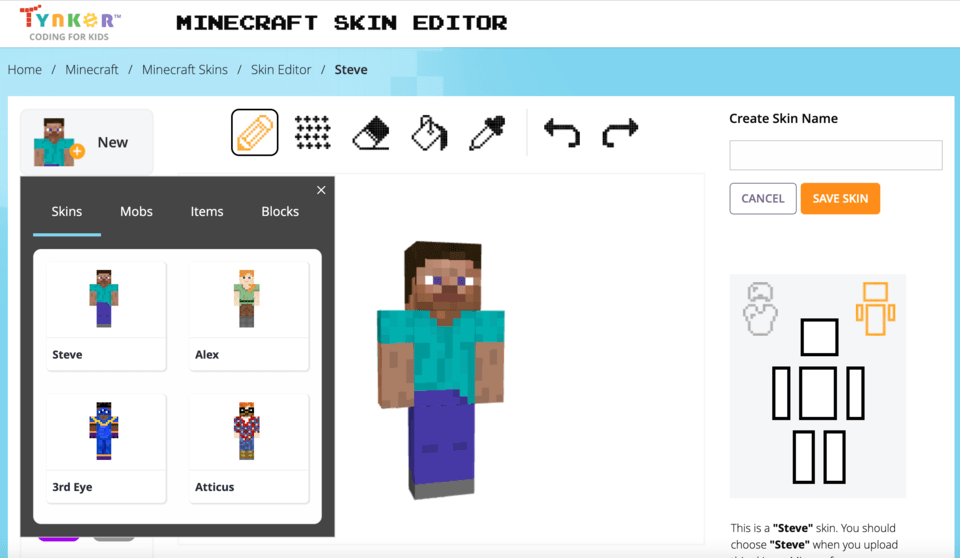 This editor has a simple interface and is very easy to use. The nicest feature might be the texture brush which allows you to add color with minor variation so that surfaces on the model don't look flat. Because of its simplicity, this skin editor is missing some useful features such as no hex color support. You also need to have a Tynker account to save your creations to your computer.
Pros: Simple interface, texture brush, no ads
Cons: Account required to save files locally, no hex color support, no zoom in/out, no mirror tool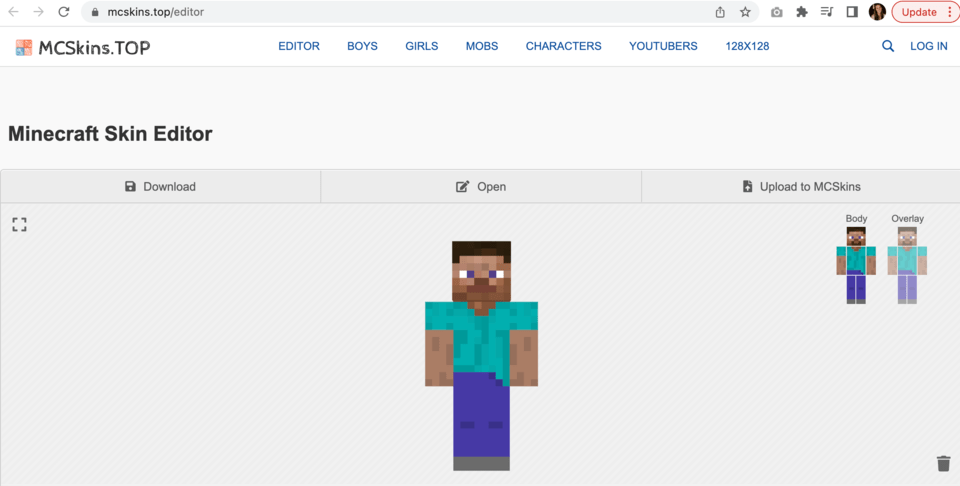 Use this editor to create your own Minecraft skin or edit someone else's skin and share it with your friends or other users. You can even make it 3D.
Pros: Easy way to get transparent layers, many characters to chose from, zoom in/out
Cons: No customer support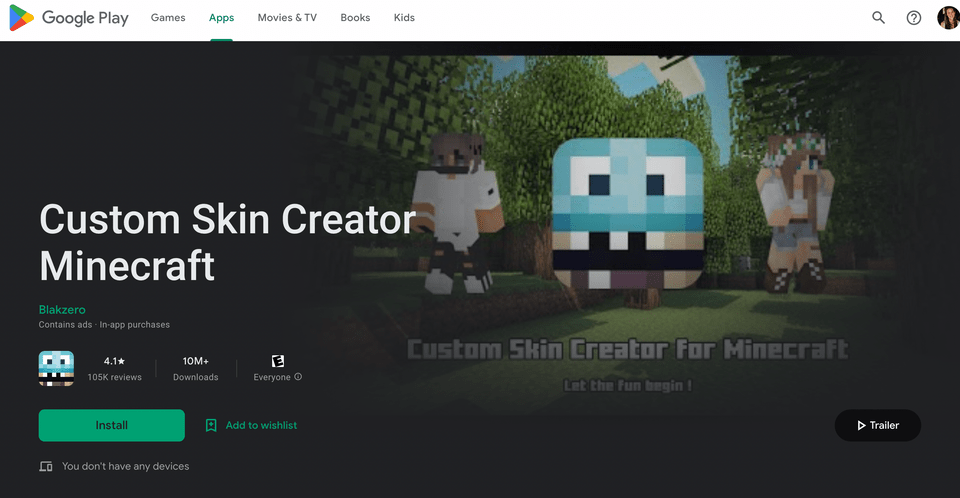 Create one of a kind custom skins never seen anywhere before. Choose your clothes and easily create your custom skins for Minecraft pe and pc. This app is rated a 4.1/5.
Pros: You can pick anything you want, tons of options for jackets pants, face items, and more
Cons: There are ads in-app, it can be a little challengin to get your skin onto Minecraft
Bonus: Skinpack Creator for Minecraft Education Edition: Create a custom skin using one of the tools above. Then fill out the name for your skin, name for the skin pack, and a version number then upload your custom skin image file as a ".png". Then download it and you can open it in Minecraft.
Try the best Minecraft skin editors today
Determining what is the best Minecraft skin editor is often a matter of preference. Some users want different things out of their skin editors. Each of the skin editors reviewed here have their own strengths and weaknesses.
If you want a simple ad-free experience, Tynker may be the best choice for you. If you want a bit more power while still working with a simple interface, consider using MinecraftSkins. If you want even more control, The Skindex is for you. For a power-user experience, go with Nova Skin.
You can always give each of them a try to find out which one you prefer if you're not sure what you're looking for in a skin editor. All of them are worth investigating, if not just to see what cool skins their community members have shared. The Mandalorian appears to be quite a popular source of inspiration for many creators.
Up next, learn how to code Minecraft mods. Then find out more about Minecraft coding with the best Minecraft coding for kids classes.
Written by Chris Youngs, who worked on Minecraft for over four years. He spent most of that time testing Minecraft: Education Edition, with a heavy emphasis on the CodeBuilder feature. He joined the Create & Learn team to help teach young students the basics of programming with Minecraft: Education Edition.