Online classes became a necessity during the last few years, which has many parents wondering if it's possible to homeschool kids online. The answer is yes. With today's technology, students can supplement in-person classes with interactive, high-quality online lessons or take an entire curriculum of homeschool classes online. In fact, research has found that K-12 students performed better in mathematics when learning online during school shutdowns.
To help you find courses that will engage and educate your students, we've rounded up the top online homeschool classes in computer science, maths, arts, and more. Explore cost-effective and free classes for high schoolers, elementary-aged kids, and even your littlest pre-K learners, as well as online homeschool programs.
Let the learning begin!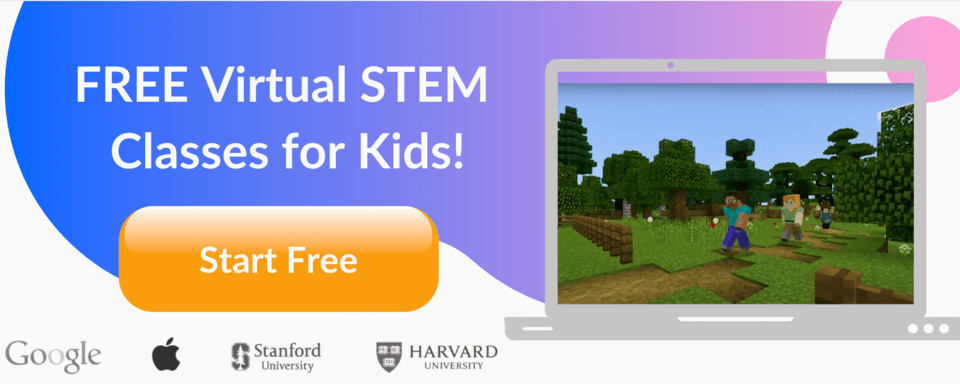 Discover live homeschool classes online
Live homeschooling courses allow kids to interact with teachers and other students in real-time, so they receive similar feedback and interaction as in-person classes. In this section, we'll show you online homeschool classes in STEM and arts that can help students build fundamental skills from the comfort of home. Plus, these classes explore kids' interest in and engagement with online classes before they commit to a full homeschool curriculum.
Homeschool classes online free
Homeschooling doesn't have to be difficult, especially with the amount of high-quality free online courses available today. You can sign up students for a one-time class, or design an entire online homeschool program with semester-long courses. Here are just a few of the best free online classes to develop lifelong skills.
1. Free Intro to Python Coding
Python is one of the most popular programming languages in the world, which makes it the perfect first text-based language for kids to learn. The free intro coding class by Create & Learn helps students transition from block coding in Scratch into Python with a live, interactive lesson. They discover how to animate and draw with Python, and build their own story project to create a cool animation. As a small group class for Grades 5-8, the online class is led by an experienced teacher. And if your kid loves it, they can continue to expand their knowledge with the Python for AI series.
Expert review: "Highly recommend - one of the best coding classes so far! My kid loves it. The Create & Learn team is very helpful in working out options & schedules....& go out of their way to work things out. I give it 5 stars any day!" - Shruthi T.
For younger students (Grades 2-5), the best free class to begin coding is Scratch Ninja.
2. Social and Emotional Learning
Many homeschoolers take part in activities, playdates, and sports outside of the home to develop social skills. But this course by Khan Academy Kids helps young children learn the fundamental social skills needed to build successful relationships and interact with others. The mobile app provides lessons in math, logic, emotional development, and language that are appropriate for students based on how they're performing in the app. While using the app, students build social-emotional skills to develop strong relationships, gain emotional control, empathize with others, and build friendships. It's best for kids between the ages of 2-8 who need fun activities for learning social skills and daily routines.
Expert review: "My 4-year old is working on @khanacademy's app @khanacademykids this morning and loving it. The combo of school facts along with social/emotional content is outstanding." - M. Nemerow
3. Javascript Game Development
In this free class, kids learn how to use Javascript—a top coding language—to create their own web-based games. Students discover the basics of coding with Javascript, such as variables, functions, loops, and conditionals. They then apply that knowledge to create games using a text editor and browser. The class is live, but there are a variety of times and dates available so you can easily fit it into your student's schedule.
Expert review: "He loved that he was able to make his character do things and introduced to coding." - Katikie A.
4. Data Superpower Introduction
Introduce kids to the fascinating world of data science, without the fear of math or boring activities. This free online intro class shares interesting insights about data through topics that kids can relate to, such as sports, games, and families. As a semi-private class with a max of two students, the participants will get a lot of instructor interaction. It's perfect for kids in Grades 4-6 who want to learn about the power of data and how data science applies to the real world. It might even spark a love of data!
Expert review: "Two thumbs up - MOST VALUABLE classes that my kids have ever taken! I was thrilled when I first heard about Create & Learn through a friend as I wasn't aware of any STEM program that would tackle big data and AI from the perspective of elementary-school-aged children. I was eager to sign my 8-year old boy and 10-year old girl up for classes, and wow, those classes were exceptional - unparalleled to anything they have taken in the past." - Jamin Y.
5. Varsity Tutors Science Classes
Students can discover how Egyptians built the pyramids, why animals use camouflage, or watch a virtual heart dissection to learn about the circulatory system. In addition to paid classes, Varsity Tutors offers a variety of free large group science classes every week that feature constantly changing topics. Check what classes are coming up, and enroll students in whatever course sparks their interest. These are all large group classes taught by expert instructors, so they're ideal for seeing if your student is interested in a topic before buying a related, more specialized small group class.
Expert review: "This site has such amazing classes! My kids love them and the teachers are very engaging!" - Nicole
Homeschool classes online math
Math doesn't have to be complicated or dry, especially when they are plenty of engaging homeschool math classes online. The following courses cover fundamental math topics, such as algebra, addition, and fractions, as well as more advanced topics, like trig, coding, and data. Find the ones that can help your homeschooled students excel!
1. Pre-algebra
Students can perfect their pre-algebra skills with this free in-depth course from Khan Academy. It covers all the essentials, from factors and multiples to patterns, percentages, exponents, word problems, and more. Students gain points as they work through each lesson's quizzes, practice problems, and videos, which makes completing each lesson fun and gives a sense of accomplishment.
2. Mathematical Fundamentals of Machine Learning
This fun online class for kids in grades 6-12, students will gain exposure to the core mathematics behind basic ML-powered solutions in data analysis and become empowered in the critical field of AI. The curriculum includes an introduction to Bayesian decision theory, parametric estimation (e.g. maximum likelihood estimation) and dimensionality reduction, coupling theoretical lessons with hands-on exercises to enforce learning. The technology company IBM, founded in the early 20th century, cites more than 150 zettabytes of data will require analysis by 2025. With the abundance of data, artificial intelligence (AI) like machine learning (ML) is essential to solving some of the most challenging problems.
Engaging teachers from Yale, Columbia, Stanford, and more top US universities teach math curriculums personalized for kids from pre-K to middle school. The instructors use a problem-solving approach to help students engage and participate in the online classes, and offer office hours for students who need more learning assistance. With over 17 years of experience teaching math to more than 4.6 million students worldwide, you can be sure students will get the attention and interaction they need to succeed.
Tackle challenging Math Olympiad problems in a fun online atmosphere that focuses on collaboration and creativity. Students solve problems every week in practice, which vary by theme and difficulty, and have need honed over 12 years of teaching. They'll also participate in informal and formal team competitions, including five online Olympiads that take place during the school year. This course is best for students in Grades 4-6 who enjoy math puzzles, patterns, and problem-solving.
5. Faster than Calculator, Speed Math Techniques & Mental Math
Move from counting on fingers to mental math in a snap with this beginner-friendly class. It's great for ages 6+ who have a math phobia and need help speeding up calculations and improving math fundamentals. Students learn mental math, Vedic math, and quick math shortcuts while covering the basics of addition, subtraction, multiplication, division, and squares and cubes between 2 digits to 5 digits. An expert instructor with more than 35 years of experience walks students through every step and squashes math fears while helping participants build skills.
See more online homeschool math classes, and you can even supplement these with other Outschool classes so kids can dive deeper into their interests.
Homeschool art classes online
Creativity is an essential skill for students of all ages, because it leads to better problem solving, develops critical thinking skills, stimulates imagination, and expands curiosity. Luckily, there are plenty of homeschool art classes online that engage kids' creativity in fun and interactive ways. The classes below teach students how to create whatever their imagination comes up with, from beautiful works of art to digital worlds full of interesting characters.
1. Minecraft Studio: Building Fantasy Worlds
Hosted by the Museum of Design Atlanta, this free online art class teaches students how to build a digital town and community. To bring their fantasy world to life, kids will learn about the design process, practice creating and coding in Minecraft, and collaborate with other students. The course encourages students to pull inspiration from popular fantasy worlds such as Star Wars, Wakanda, Lord of the Rings, and Harry Potter. It's best for students between the ages of 9-16 and has a maximum limit of 25 students per class.
2. Canva for Kids: Design & Video Editing
Let your child learn how to create creative digital cards, slides, videos, and posters for their personal or school projects using the free design tool Canva. Students discover what great graphic design and video storytelling look like before creating works of art. The curriculum is designed for students Grades 3-6 by experts from Stanford, Apple, and Google. It walks through how to upload or search pictures and elements in Canva and personalize projects using fonts, sizes, effects, and animations. By the end of the course, students will have their own portfolio to inspire future designs or share with friends.
3. Watercolors for Kids: Galaxies
Stretch your kid's imagination with this wonderful watercolor class! Students learn fundamental painting techniques like color theory, prepping a scene, and layering to create colorful watercolor galaxies. The expert instructor focuses on giving students the building blocks they need to try complicated techniques and encourages making mistakes along the way. The course is one hour long and designed for kids ages 5-10 who want to express their artistic side and develop lifelong creativity skills.
Introduce students from Grades 3-5 to Procreate and make game fan art and design your favorite characters. Does your kid like playing games? This live online Game Art and Design Class presented in partnership with Create & Learn and CalColor Academy, the premier professional art school, offers an opportunity for kids to create artwork inspired by the games they love to play. From PokémonGo to Minecraft, Cookie Run and Genshin Impact, we will study design principles, color theory, and much more through fun, hands-on projects to help kids become more creative!
Kids from Grades 4-8 can explore the power and beauty of digital design in this series of live online classes. Students will learn the fundamentals of color theory, the art and science behind design, how to make meaningful designs, and the best ways to create 3D models that are full of life. Once students have the basics down, they can jump into combining colors to create moods, effects, and meaning. By the end, they'll be able to use colors for digital creations like apps, games, websites, movies, and more!
Explore more online digital art classes for kids.
Explore the best online homeschool programs
Homeschooling has increased in popularity as high-quality online classes in STEM, arts, languages, social skills, and more have become more accessible and affordable. Even better, there are hundreds of interactive online homeschool programs that feature expert-designed curriculums and experienced instructors.
The only issue is choosing which homeschool course is best for your students, whether they're toddlers who crave engaging and educational classes, elementary students that need to learn fundamental skills, or high schoolers who want to prep for tests and college-level courses. That's why we've chosen five of the best online homeschool programs that students can easily access on a smartphone, laptop, or tablet. We share the pros and cons of each program, including cost, curriculum, reviews, and skills learned. Rest assured that each class can provide students with the interaction, feedback, and curriculum they need to develop lifelong skills while learning from home.
Create & Learn is on a mission to help children develop creativity and critical thinking while learning important computer science skills for success. The curriculums are designed by experts from top universities and companies such as Google, Apple, Stanford, and more. Free introductory classes let parents and teachers see if students are interested in topics before diving into in-depth courses. And with live online classes in computer science, design, coding, and STEM subjects, there are homeschool programs for students Pre-K to Grade 12 (including AP level programs).
Students learn STEM the way it's meant to be learned—through hands-on projects, real-life examples, and live lessons. The classes are small, with small groups of about five students or less, to give kids the attention and feedback they need to build cutting-edge skills. All of the instructors are thoroughly vetted and have an average of 10 years of experience, so they understand how to work with children and can provide relevant real-world feedback.
Explore programs by grade level to find classes in robotics, coding, digital design, cybersecurity, cloud computing, data, and so much more. No matter the class, students will quickly understand the concepts thanks to projects and examples that kids can relate to—whether it's coding in Minecraft or using Photoshop to create unique digital apps and illustrations.
Pros:
Classes, events, and community-based clubs available in 25+ countries
Live small group classes allow for interactive learning
Expert instructors help students learn at their own pace
Cons:
Live classes aren't as flexible for students with time constraints
Classes build upon one another, so some require pre-requisites
Expert review: "Amazing instructor. Can really keep my daughter engaged in a fun way. Thanks to Create & Learn, my daughter's tech scores have skyrocketed at school." - Bahvi P.
What it's best for: Students who want to expand their knowledge of STEM subjects through live interactive lessons with expert instructors.
See Create & Learn programs.
Khan Academy is an award-winning nonprofit organization that offers high-quality free educational resources for homeschoolers, parents, teachers, and students around the world. The organization has dozens of courses for students from Pre-K to college in a variety of topics, including math, science, arts and humanities, reading and language arts, computing, economics, and life skills.
After signing up for a free account, users can choose a grade level or subject to see all of the available programs for their choice. Students can improve a specific skill or prep for tests while earning "mastery points" that encourage engagement and give a sense of accomplishment after every lesson. Each course is broken down into approachable units and lessons that teach concepts using video lessons, practice problems, visual references, and quizzes. Parents and teachers can easily track students' progression and understand what topics to cover next.
The user-friendly interface and sheer volume of classes make Khan Academy a great online resource for homeschool classes. While they cover fundamental topics, they also offer niche classes that other programs lack—all for free—making it one of the best online homeschool platforms today.
Pros:
Easy and intuitive platform makes it simple for students of all ages to learn
Standard, Advanced Placement (AP), and test prep (SAT, MCAT, LSAT) classes
Extensive catalog of math classes, and unique courses in computing, life skills, and more
Cons:
No live instruction, so students can't interact with instructors
Students can't collaborate with one another or develop social skills
No clubs or community events are available
Expert review: "I'm finally able to truly differentiate my classroom. This has been priceless for my students' engagement." - Dustin Fauth, 4th grade teacher
What it's best for: Students who need extra learning assistance to fill in the gaps, students who want to accelerate their learning, teens who need to test prep, and homeschoolers who want to design in-depth curriculums.

See Khan Academy programs.
Think Academy is a student-centered learning platform that fosters kids' passion for mathematics and languages, helps build students' confidence, and gives them a sense of accomplishment. It specializes in online homeschool programs for accelerated math and Chinese learning, with hand-picked instructors that hold degrees from Yale, Stanford, Columbia, University of Pennsylvania, and other top universities.
Think Academy emphasizes a problem-solving approach to online learning so students engage with the instructors, materials, and other students. The courses use games, activities, one-on-one lessons, and prizes to engage students, and a learning report shows students' progress and performance. For long-term courses, they also offer office hours for homework help and additional learning assistance. These courses are designed for preschool through middle school students.
Pros:
Unlimited lesson playback and progress tracking reports
Instruction that matches student's learning level and goals
Vetted teachers who excel at engaging students in small group classes and one-on-one instruction
Cons:
Programs are limited to accelerated math and Chinese language learning
Many classes run on a fall and spring semester schedule, so students can't enroll at any time
Short-term classes don't offer outside learning assistance from instructors
Expert review: "Think Academy is my son's favorite place to go in terms of math learning. The teachers are super passionate in math with proven track record of their own math accomplishments…The teachers are available to answer questions and address concerns all the time. I highly recommend Think academy to everyone!" - Dongmei Yang
What it's best for: Younger students who need extra learning assistance with math subjects or want to get ahead through accelerated math programs. It's also great for learning Chinese writing, speaking, and grammar with native instructors.
See Think Academy programs.
If a homeschool curriculum doesn't provide enough detail, or your student needs additional explanation on a subject, Varsity Tutors offers classes and tutoring for students of all ages. Their classes cover a wide range of subjects, including art, english, language, math, science, technology, and test prep. For tutoring, students can find the instructor and method that's right for them with private one-on-one sessions, mobile tutoring, and instant tutoring options.
Classes are grouped by grade level, class size, and subject so you can find the course that's right for your student. Age groups range from kindergarten to adult learners, and class sizes are divided into small groups (average of 12 students), standard classes (25-30 students), and large classes (250+ students). Every course is different—some classes run 3x per week while others are one-time classes.
Tutoring is highly personalized, with private sessions for K-12 subjects and college-level students. This includes academic and enrichment courses, such as creative writing, photography, physics, history, video game design, and much more. Test prep is also available for ACT, SAT, PSAT, ISEE, ISAT, AP Exams, and more.
Pros:
Personalized tutoring helps students get the attention they need to excel
A variety of class subjects and offerings lets you fit learning into any schedule
Tutors are highly vetted and lessons are recorded for a stress-free learning environment
Cons:
Classes are live, so students have to learn at specific dates and times
Free classes are always large-group, with paid versions having smaller class sizes
Expert review: "My 7 and 13-year-old homeschoolers love taking Varsity Tutor courses! Anything from art, reading skills and space exploration to math. They've loved it all and the instructors are awesome!" - Heather
What it's best for: Homeschoolers who need one-on-one tutoring in specific subjects or parents who want to include live online courses into their students' curriculums.
See Varsity Tutors programs.
Connections Academy offers tuition-free online public school to elementary, middle school, and high school students across the US. The program takes accredited public school curriculums and designs them for online learning, with each curriculum tailored to a student's unique interests, goals, and abilities.
This online homeschool program is great if you want to enroll your student in a full-time online school rather than teaching them yourself. You still act as your kid's Learning Coach, supporting them while they learn alongside Connections Academy teachers and staff. But the curriculum is taught by certified teachers according to your state's educational standards, and the organization provides textbooks and other instructional materials free of charge.
Students will still get a similar sense of community and peer support as they would by attending in-person classes thanks to Connections Academy's live classes and extracurricular online clubs, activities, career counseling, standardized test prep, and one-on-one guidance counselor sessions.
Pros:
Parents play a role in their child's schooling and success without worrying about designing every detail of a curriculum
Community clubs, extracurricular activities, and peer support networks help students and parents succeed
Students with learning disabilities can receive extra support from teachers and staff
Cons:
The programs follow state public school standards, so your location determines the curriculum
Attendance in live classes don't allow for as much flexibility as traditional homeschooling
Only available in 29 states
Expert review: "We love this school. My daughter is on her 5th year and my boys just finished their first. We love the flexibility that other online schools don't offer. My boys both have IEP's and were given great support. My daughter went from making C's in regular school to making straight A's her first year and now she's in AP and honors classes! Definitely give it a shot." - Christina Ellinghausen
What it's best for: Parents and students who want to participate in their state's public school system, while still being able to learn fully online.
See Connections Academy programs.
Or explore even more online homeschool programs.
Get started with the best homeschool classes online
Homeschooling takes a high level of involvement from both parents and students. Choosing live online homeschool classes that engage students and assist parents can make learning at home stress-free and fun for everyone involved.
Classes aren't the only thing homeschoolers need to succeed and build skills. Check out these coding activities, camps, and community events that are interactive and easy to work into your kid's schedule. Up next, find out how to build a golf game using beginner-friendly Scratch coding, or get started with our most popular free live coding class for beginners: