It's time to gather with family and friends and celebrate the end of another year, and it's time to outfit your Minecraft characters with skins for holiday the season! This guide will show you how to create your own Minecraft holiday skins and download them to use in Minecraft. Creating your own Minecraft skins is super fun because you can customize your character to look exactly like what you imagine! Choose from a host of cozy characters like a Grinch, snowman, reindeer, elf - or create something fun entirely of your own invention!
By the way do you know how different power sources such as Redstone blocks, torches, and switches can be used to power blocks around them in different ways in Minecraft? Join an award-winning virtual Minecraft engineering class for kids and find out how to customize your Minecraft worlds all sorts of cool ways, led live by an expert:
Make holiday Minecraft skins
If you've never made your own skin before, check out how to make a Minecraft skin for a quick overview to get started.
1. Open the skin editor
Start by heading to your chosen Skin editor website. Here are some of the best Minecraft skin makers to pick from. For this tutorial, we used MCSkins, but any skin editor will work. Choose either Steve or Alex for your base skin - whichever is closest to your idea for a skin design. You will want to be familiar with the basic tools of a skin editor such as brush, spray paint, color picker, and paint bucket before following the tutorial below.
2. Pick a holiday color palette
Holiday color palettes mimic the colors we see in the winter season. White and green coincide with snow and evergreen trees and red mimics the bright berries that are on display in the winter landscape. Usually a holiday palette includes complementary colors in the green and red families. Warm colors like browns and oranges can add to the festivity as they remind us of a warm fire. Alternatively, you could also go a jewel-toned route by using rich colors like blues, greens, and deep purples.

3. Choose a holiday character
Below is a full tutorial and 7 more ideas for Minecraft Holiday skins to get you started. In the spirit of a cozy holiday season, these skins are fun and ready to wear in the snow or inside by the fireplace! Make your own Frosty the Snowman, reindeer, elf, Grinch, and more!
Step-by-step tutorial: Frosty the Snowman in a fun sweater
Let's get ready for the snowy season with this Snowman skin! This skin was created in MCSkins, but choose your preferred Skin Editor.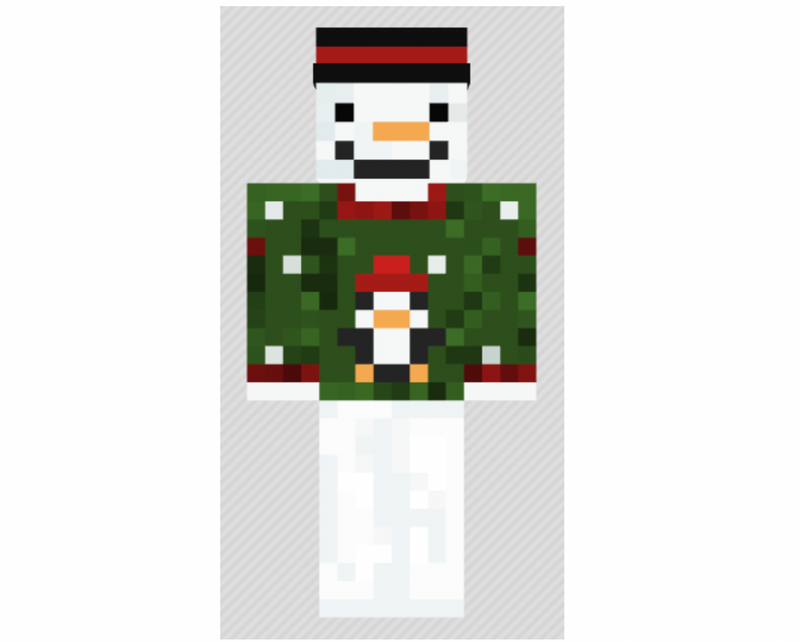 Set your color palette up first so you can paint quickly and easily.

1. Paint the snowman's face
First, we will paint the snowman's face. Start by filling with the white, then paint in some very light grey or very light blue shading. Add the eyes, mouth, and carrot nose.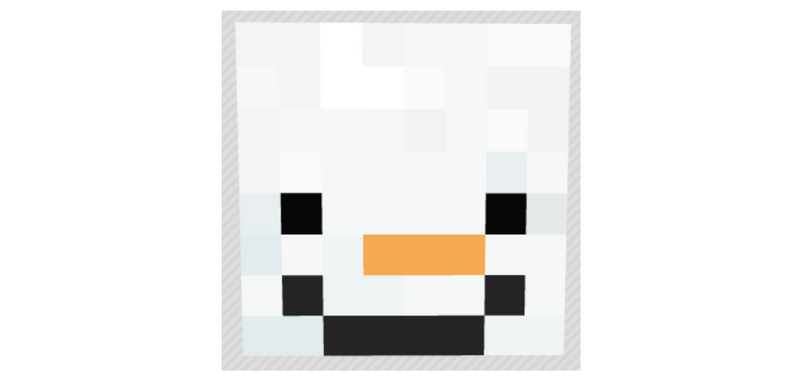 2. Complete the back of the head
Now fill the sides and back of the head with the same white and light grey shading. For shading with white to look good, the darker colors should be very close to white. If you like using the spraypaint tool and find that it's too dark, try adjusting the Spray Color Step to 3 (it's 10 by default) in Advanced Settings.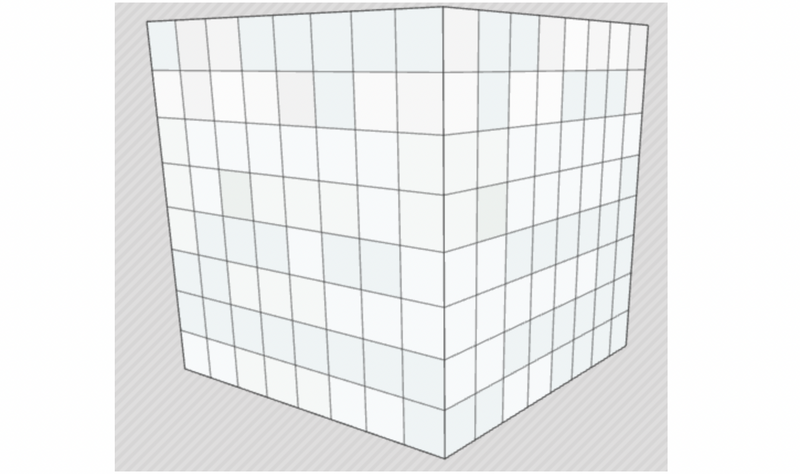 Finish the head by adding two stripes for the hat and painting the top of the head black.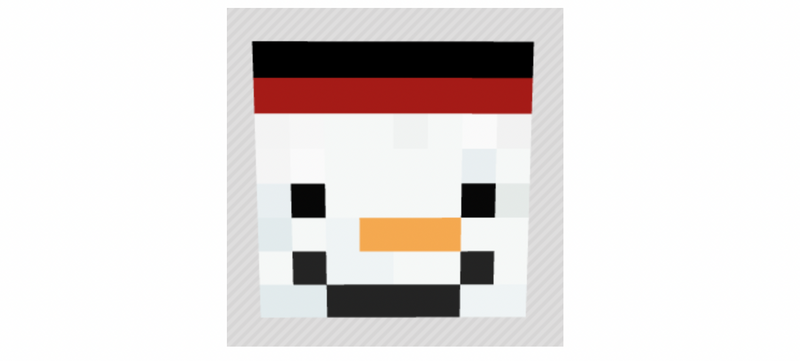 Add the rim of the hat by using the Overlay feature. This will make the hat rim sit slightly further out, giving it depth and making it look more realistic.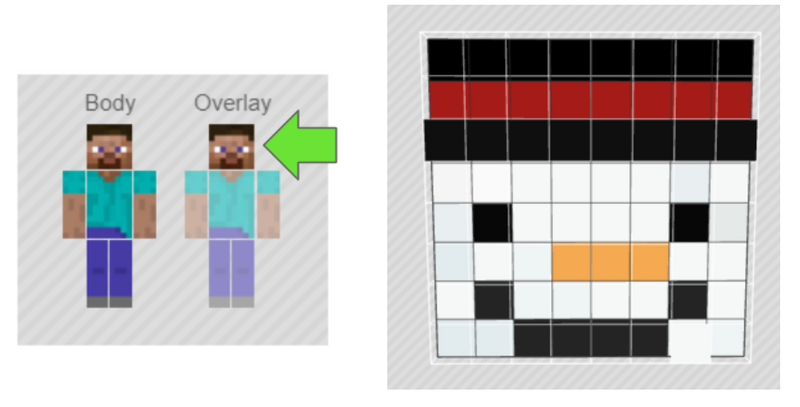 3. Add the sweater
Next, let's add the fun Penguin Sweater! Remember, you can decorate your fun sweater with whatever picture and colors you choose. The idea is to be over the top and use a lot of different colors and a holiday image in the center. Start by filling in with the background color of your choice, then adding 1 row of white blocks at the ends of the sleeves to show Frosty's hands.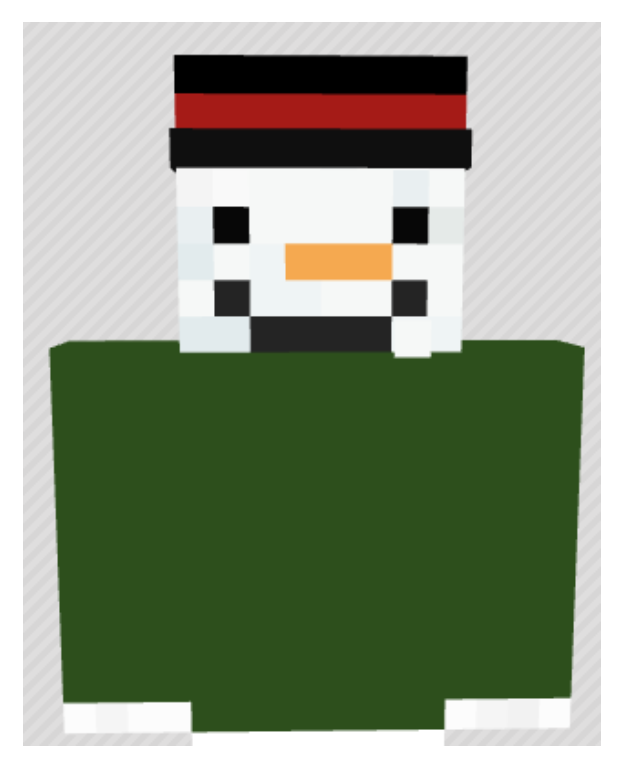 Next, paint the Penguin or whatever other design you choose in the center of the sweater. Other ideas include a candy cane, another snowman (!), reindeer, or string lights.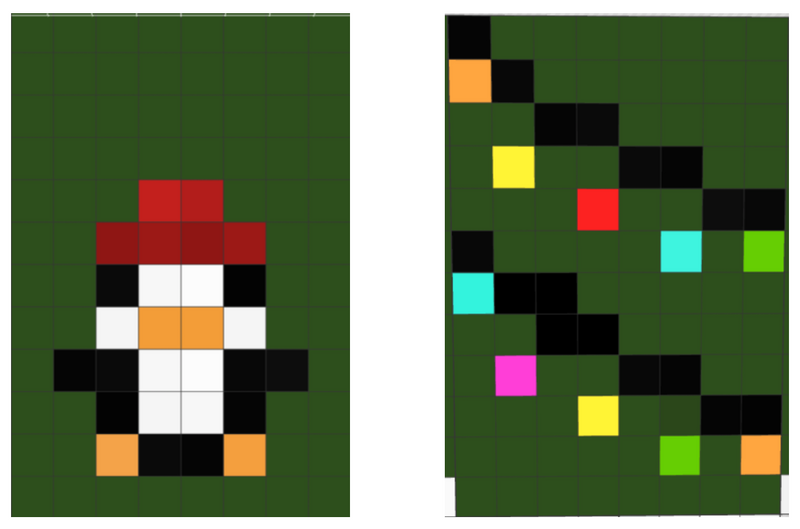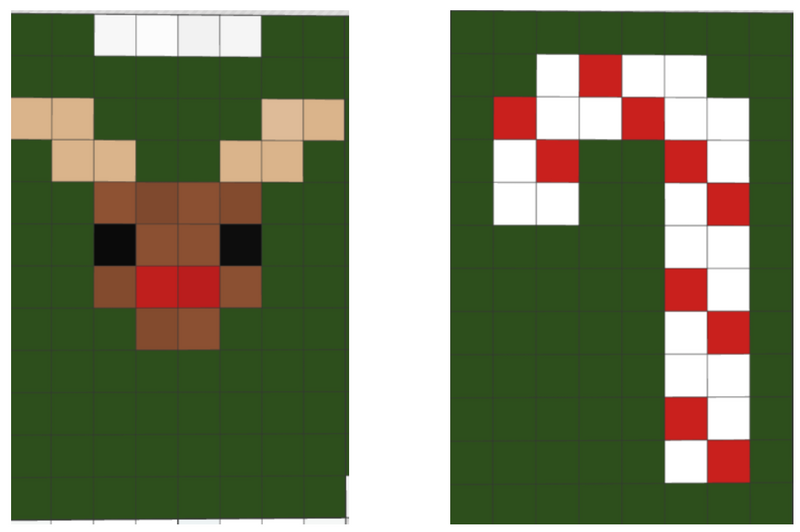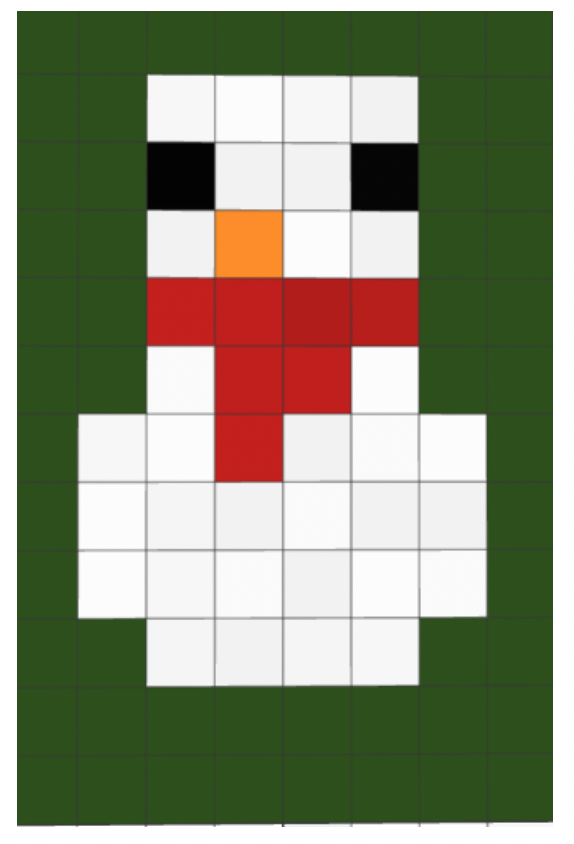 Now let's add some shading and detail around your center sweater design. Use the spray paint tool adds multiple hues of green, then add a few random spots of white and red throughout the sweater. Finally, add a neckline and red trim around the ends of the sleeves. Frosty is looking pretty dapper!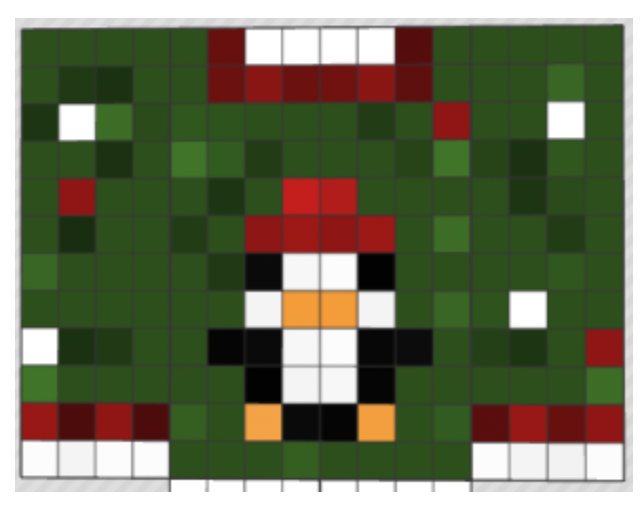 4. Shade Frosty's legs
The last step is to add some shading to Frosty's legs. Remember to keep the Spray Color Step to 3 to keep your shades of white from getting too dark. Now he's ready to get out and enjoy some holiday fun!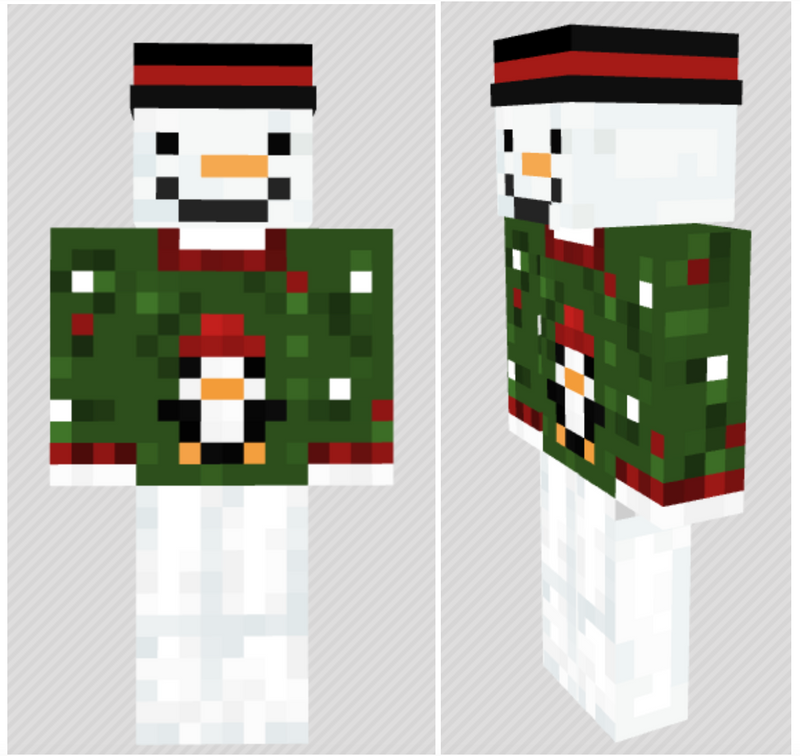 If you want to view or edit this skin from a template, you can find it here.
Explore more holiday skin ideas
Here are more holiday Minecraft skins to inspire your creations. Use the images for reference to start from scratch, or follow the links to open each skin in an online editor and start with a template.
1. Reindeer Minecraft skin
Whether you make Rudolph or any of Santa's other eight reindeer, this is a festive skin! Start with tones of brown to create the fur, then add a white belly and tail. Use black to add hooves and eyes. Finally, use an overlay on the head to add details like ears and antlers. If you're making Rudolph, finish your reindeer off with a bright red nose!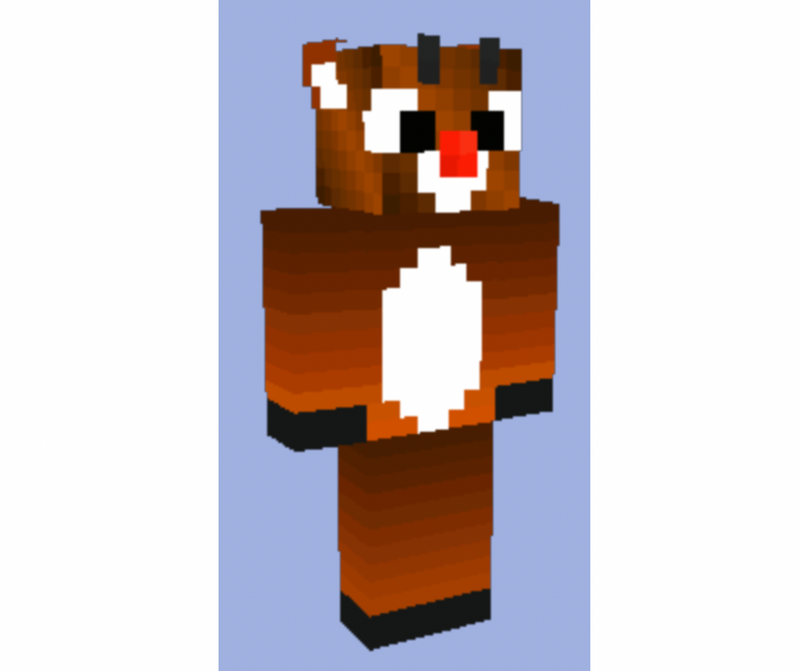 2. Candy Cane Girl
The sweet peppermint treat also translates into a sweet Minecraft skin! Use shades of red and white to create the classic candy cane diagonal stripe on your skin. Then add striped hair and red shoes to match.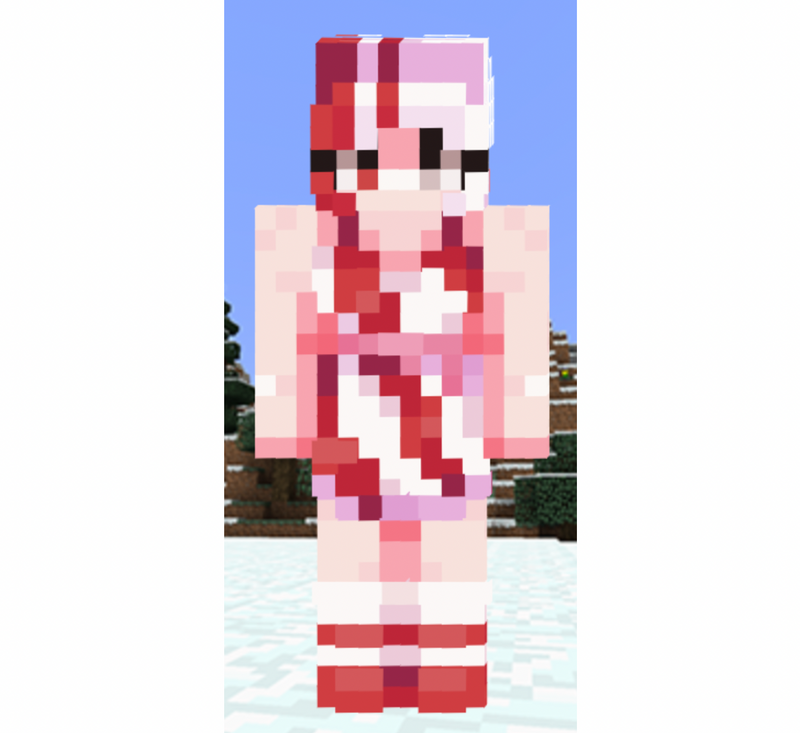 3. Polar Bear Minecraft skin
Give the largest land carnivore on Earth its due with this Polar Bear skin! The details are what will make your skin stand out. In addition to shades of light grey, be sure to include a festive holiday scarf and claws at the end of each limb. Finish off your Polar Bear with the ears created as an overlay.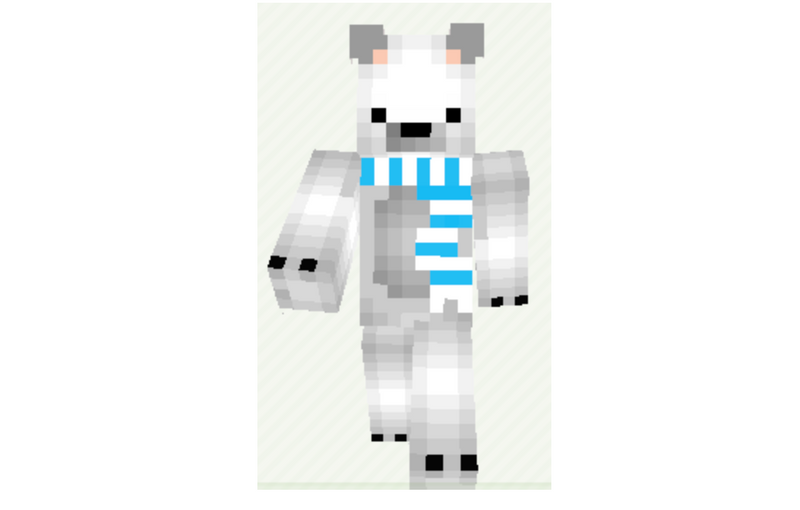 4. Tree Lights
Sometimes, you just want to wrap yourself in tons of tree lights - right? If lights and decorating make you feel festive, this skin is for you! Start with a green base, then use an overlay on the entire body to add dark green strings and a variety of brighter colors to create the lights. Shine on!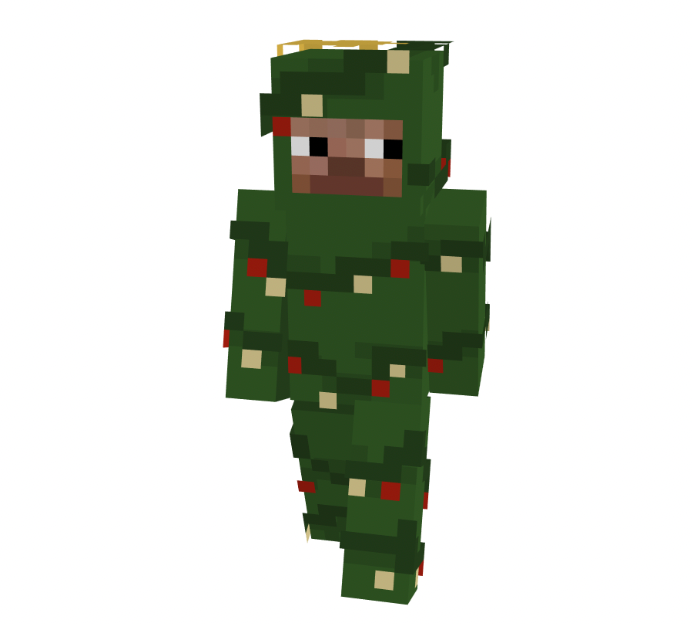 5. Elf skin
Everyone needs help sometimes, and Santa is no exception. An Elf is a great holiday skin customizable to your own design. Start with a classic green, red, and white color theme - stripes or checkers make for a holiday look. Add elf ears on each side of the head, then feel free to make the hair, eyes, and clothing any style you like.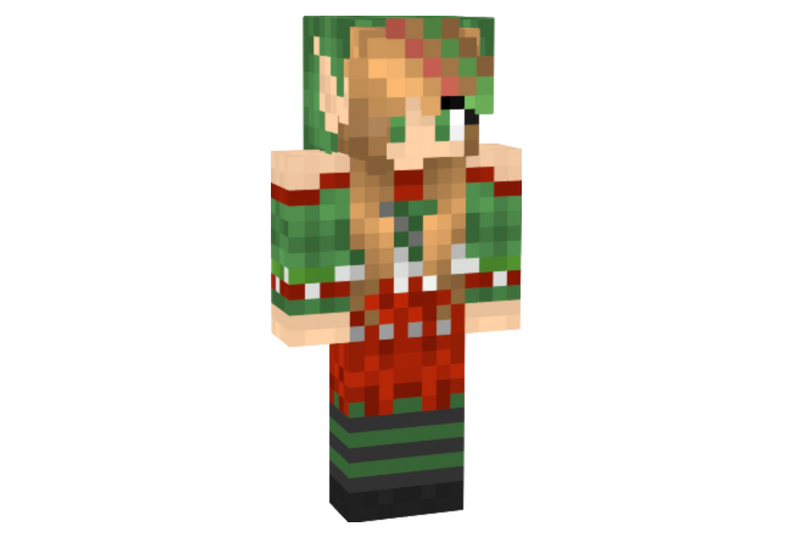 6. The Grinch skin
For now, his heart is two sizes too small and he's out to ruin Christmas! Use bright green, dark red, and white to create the Grinch in this outfit. Make sure to add white fur trim on the jacket and hat, and a belt buckle on the coat. Finish off your Grinch with a mischievous smile. Watch out Whoville!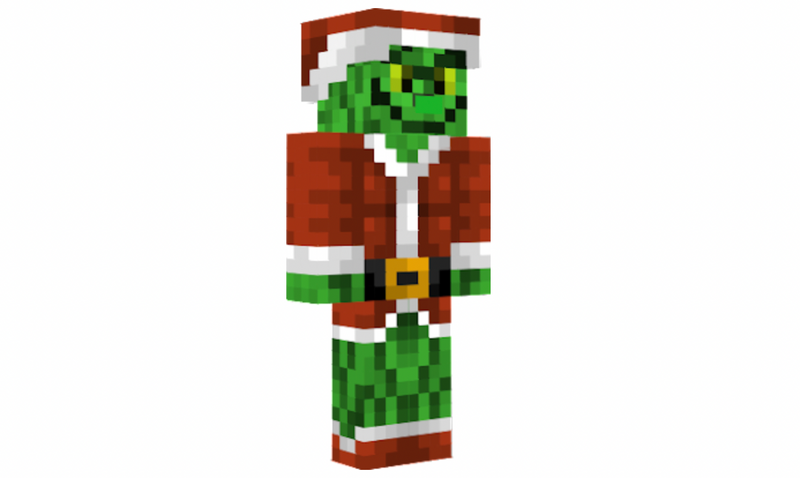 7. Abominable Snowman skin
Call him a Bumble, a Yeti, or the Abominable Snowman - he's here to wreak havoc this winter! Start with a white base for this skin, then use a light blue for the details like the feet, hands, and face. Finally, add a red mouth and some fluffy white hair on an overlay. And remember, Bumbles bounce!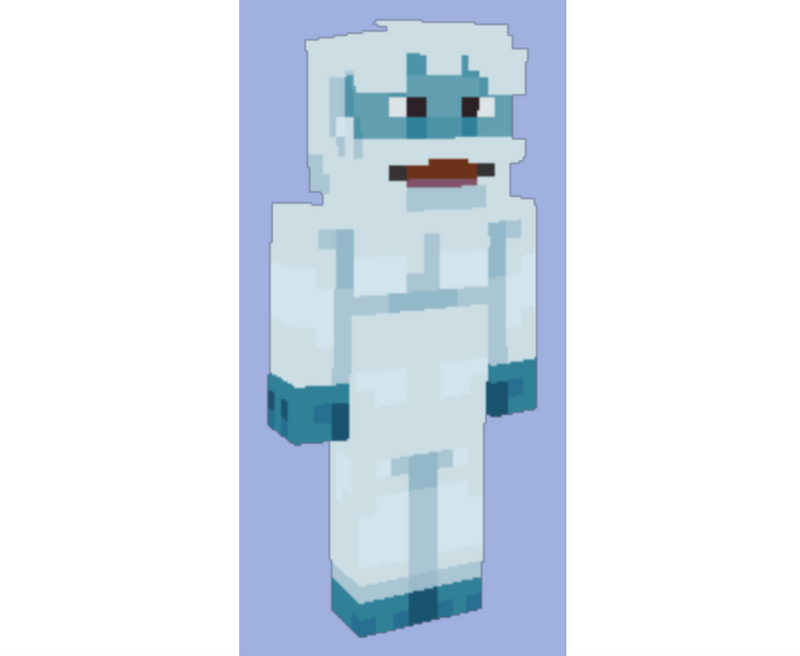 Upload your holiday Minecraft skin
For Java edition just follow these simple steps:
Step 1: Hit the download button on the skin editor.
Step 2: Name your skin something you will remember and make sure you save it in a place you won't forget!
Step 3: Open the Minecraft Launcher.
Step 4: Select "Skins"(highlighted in yellow).
Step 5: Click "New skin."
Step 6: Select "Browse" and find your skin.
Step 7: Save and play!
Learn how to upload your skin to the free Minecraft Education Edition here.
Create Minecraft holiday skins today
Whether you outfit your normal Minecraft characters with festive holiday outfits or create new seasonal creatures to inhabit your Minecraft worlds, making your own holiday skins makes this time of year even more special. This guide included a few fun ideas for holiday skins, but the possibilities are endless. If you are looking for even more Minecraft Holiday skin ideas, browse through the skins here or here. Happy holidays!
If you like making cool things in Minecraft, join our free Minecraft building class led live by an expert, and designed by professionals from Google, Stanford, and MIT:
Written by Annie Schmitt, a Computer Science Teacher and Teaching Artist from Pennsylvania. She loves using art, technology, and science together to create exploratory hands-on learning experiences for students in grade K-12. As a Teaching Artist, she travels to schools and organizations in her state to teach children stop-motion animation, game design, and visual outdoor art. Annie has taught thousands of students from states all over the U.S. and countries around the world.