It's spooky season again! And that means it's time to outfit your Minecraft characters with costumes for the season. So today we will show you how to create your own Minecraft Halloween Skins. We'll also show you how to download them to use in Minecraft and how to upload them to your game.
Creating your own Minecraft skins is super fun because you can customize your character to look exactly how what you want! Choose from a host of creepy characters such as a vampire, a ghost, or a mummy - or create something hair-raising entirely of your own invention! If you've never made your own Minecraft Skin before, check out our tutorial on how to make a Minecraft skin to get started.
To unlock even more cool features in Minecraft, check out our fun live online Minecraft Redstone class. Learn how to incorporate more advanced blocks such as redstone, pistons, and observer blocks to build holiday lights, automatic doors, and even flying machines inside Minecraft!
Or make your own Minecraft mods with our Minecraft coding class, led live by an expert, and designed by professionals from Google, Stanford, and MIT.
Learn how to make a Halloween Minecraft skin: black cat with a candy corn sweatshirt
Let's make a cool black cat with candy corn hoodie skin. So we can on the prowl for some Halloween treats with this Black Cat Halloween skin! Here's how.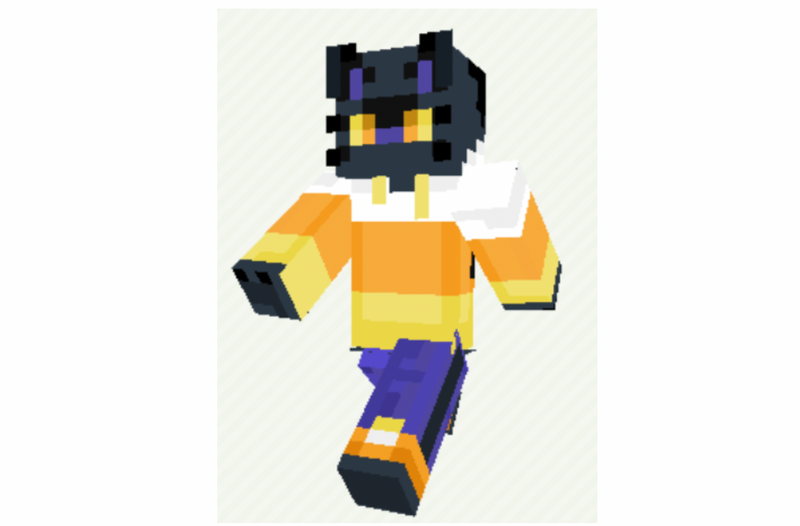 1. Open the Skin editor
Start by heading to your chosen Skin editor website. Here are some of the best Minecraft skin makers to pick from. And here's how to use a Minecraft skin editor. For this tutorial, we used MCSkins, but any skin editor will work. Choose either Steve or Alex for your base skin - whichever is closest to your idea for a skin design. You will want to be familiar with the basic tools of a skin editor such as brush, spray paint, color picker, and paint bucket before following the tutorial below.
2. Pick a Halloween color palette
You know you want the jack-o-lantern head on your skin to be orange, but what other colors should you choose for a Halloween skin? Here are a couple of Halloween color palettes to help you design your skin.
Black cats, white skeletons, orange pumpkins, and yellow candy corn are some of the colors that come to mind. Bright slime-green is also a great Halloween color, as well as shades of purple and even neon pink. A common Halloween palette uses lots of black with pops of color with orange, green, and purple. Alternatively, you could also go an earth-toned route by using warm fall colors like orange, maroon, brown, and gold together.

Set your color palette up first so you can paint quickly and easily.
3. Paint the cat's face
First, paint the cat's face. Start by filling with the dark grey color, then paint the black and purple sections. Finally, add the eyes. Notice how there are two shades each of yellow and orange to give the eyes some depth.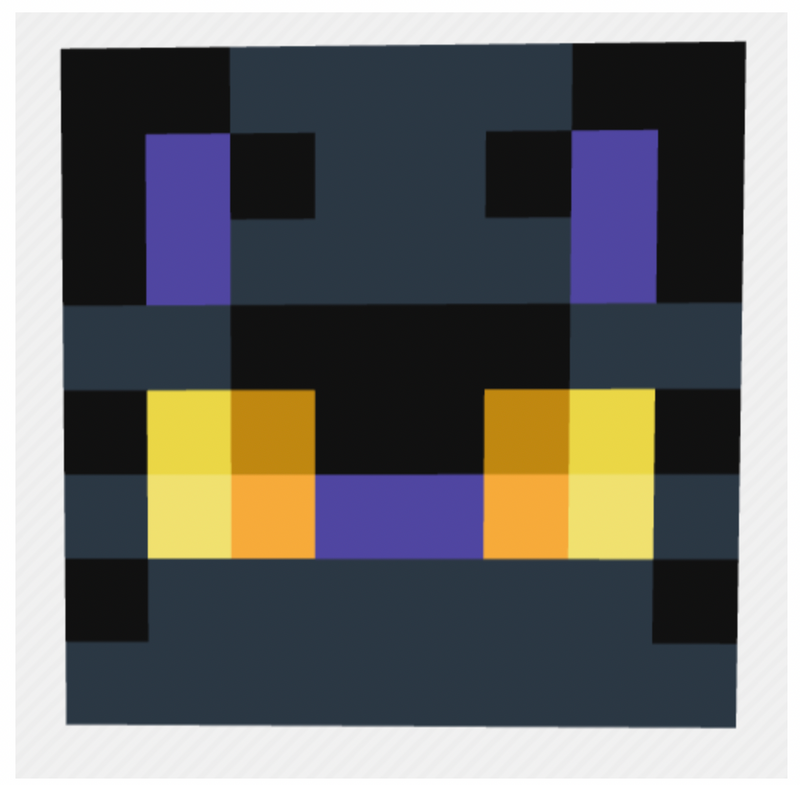 4. Fill in the head
Now fill the sides and back of the head with the same gray color. Add a few details of black on the sides and back of the head.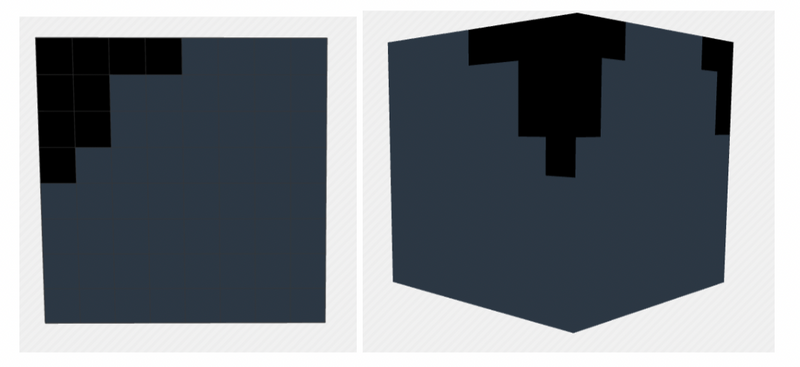 5. Paint the sweatshirt
Now let's paint the hoodie. Start by filling all the sides of the arms and torso with a lighter orange.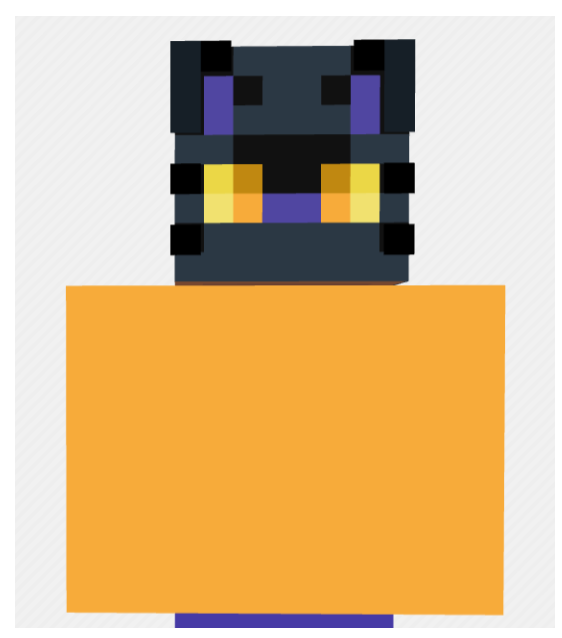 5. Add the details
Next, paint the bottom 4 rows of the torso yellow and the top 3 rows white. On the sleeves, make 1 row at the bottom grey to show the cat's paws sticking out.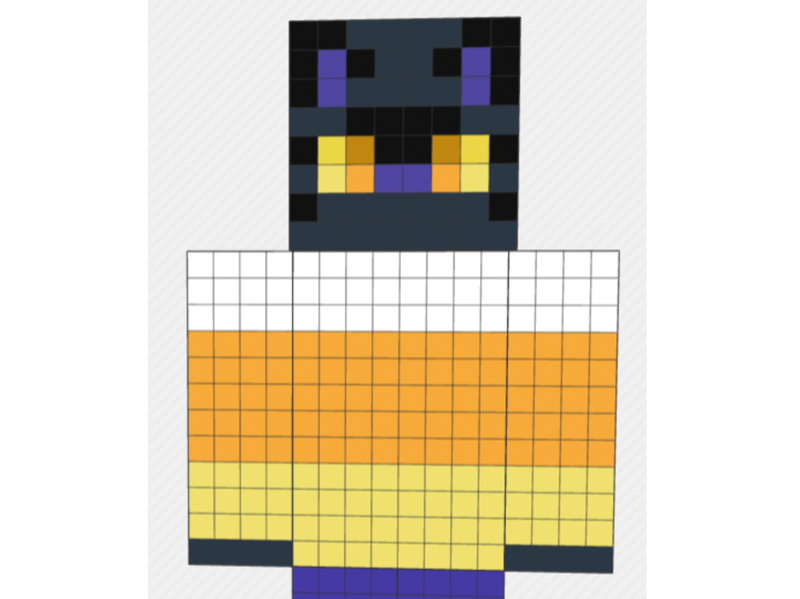 Let's give the hoodie some texture and depth with shading. We want a slightly darker shade of yellow, orange, and white. Use the color darken tool on your skin editor to add these to your palette. On MCSkins, the color darken tool looks like this: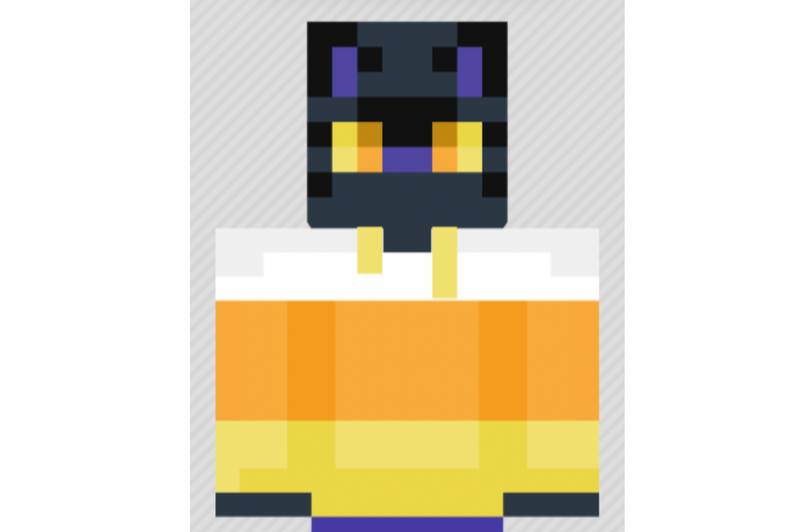 Shading on skins clothing usually is towards the edges of each segment, such as where the arms touch the torso. Shade a similar pattern on the back and sides of the torso and arms. To finish the front of the hoodie, add some hoodie strings.
6. Create the back of the hood
Next, let's add the hood to the back. If you know how to use overlays on your skin editor, you can paint the hood on the overlay. If not, simply paint the hood directly on the back and sides of the cat's head. After you have added the hood, paint the cat's tail. It is almost like the shape of a question mark. Use shading with a few different shades of dark gray.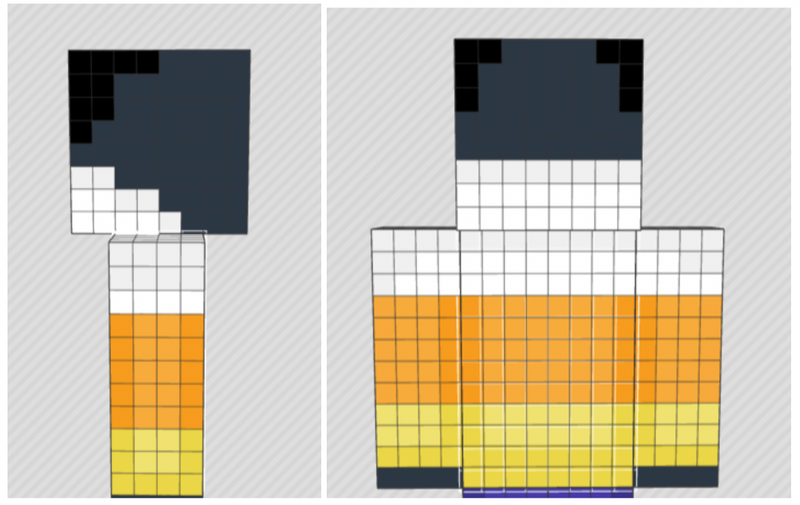 7. Add pants and shoes
Great! We are almost done. Time to paint the pants and shoes. Paint 1 row on the bottom of the legs dark gray, 1 row dark orange, and 1 row light orange. Add white and yellow details and follow the pattern around all 4 sides of each leg.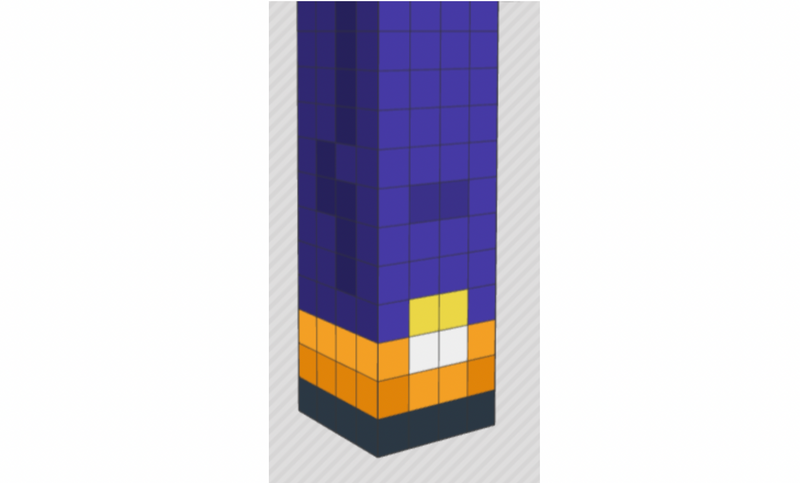 Finally, choose a color for the pants and use the darken color tool to add some shading. If you would like, add a sporty stripe on the outside of each leg.

You did it! Here's what your skin should look like now: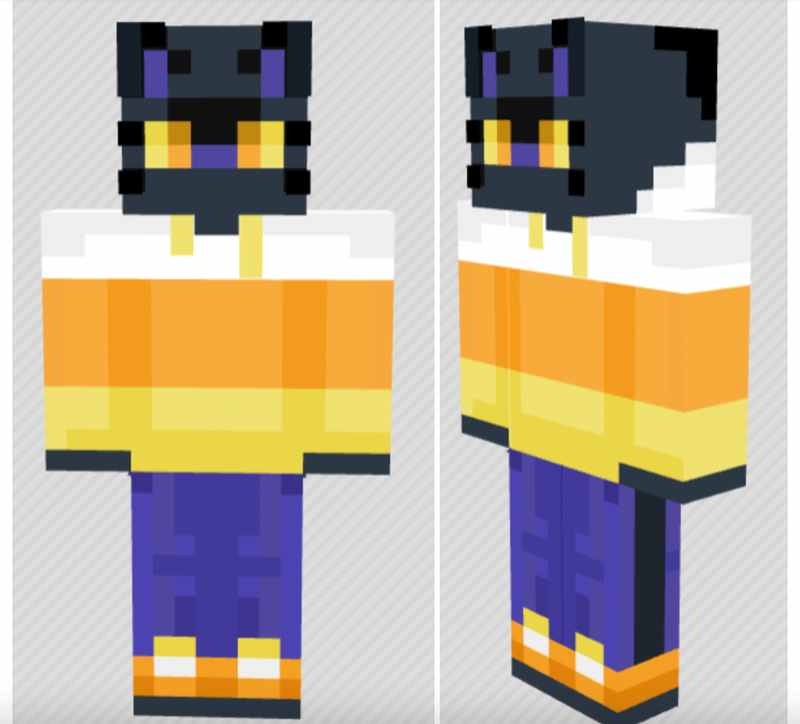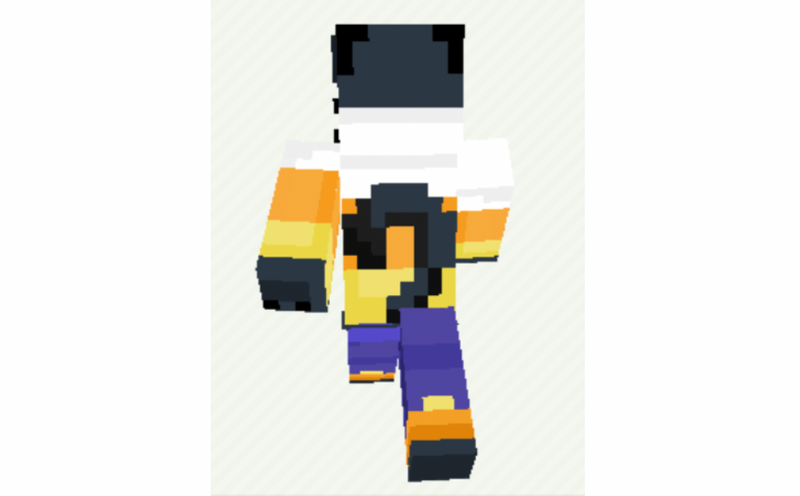 If you want to view or edit this skin from a template, you can find it here.
Explore more Halloween Minecraft skin ideas for inspiration
Here are seven more Halloween Minecraft skins to inspire your creations. Use the images for reference to start from scratch, or follow the links to open each skin in an online editor and start with a template.
1. Minecraft Mummy Skin
A mummy is a great skin to start with if you don't have much experience creating skins. Choose three tones of gray and create a horizontal stripe pattern to create the look of bandages wrapped around the mummy. Finally, finish the mummy by adding some eyes - maybe with a creepy, glowing color!

2. Trick-or-Treater Minecraft Skin
This trick-or-treater is wearing a pumpkin mask and regular street clothes and shoes Any skin can be turned into a trick-or-treater by changing the face and drawing a black line around the sides and back of the head to indicate a mask. Why not give Steve and Alex a Halloween makeover by adding a mask?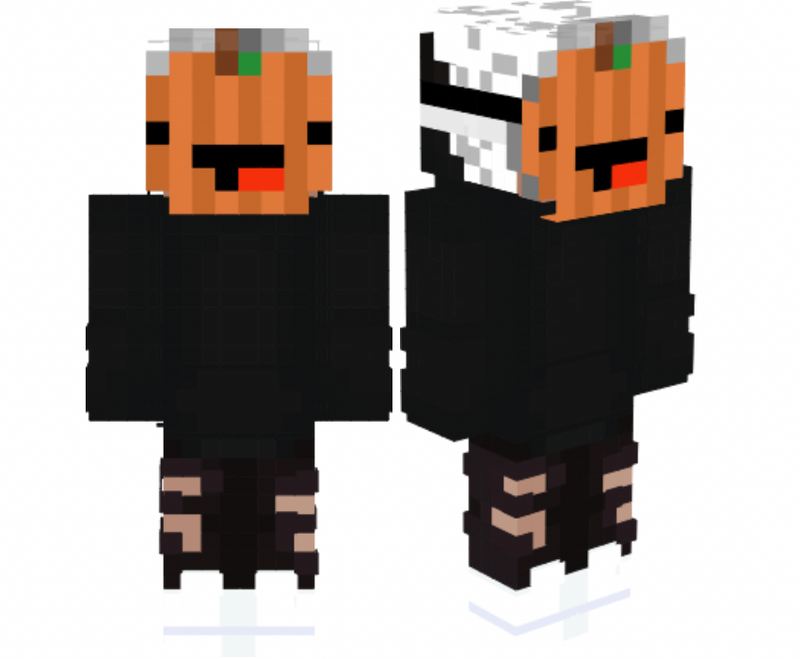 3. Vampire Minecraft Skin
This vampire is styled in a long dark coat and a collared shirt. Even though we cannot see his fangs, his hairstyle and pale white skin mark him as a vampire. Use multiple shades of dark gray and pay special attention to the shading of the coat to keep your skin from looking flat.

4. Sorcerer/Sorceress Minecraft Skin
This sorcerer looks powerful and mysterious because you can't see the face. It's a much more colorful and fashionable alternative to a grim reaper! Use several shades of purple for the robe and adorn it with bright jewel tones of your choosing to get this look.

5. Ghost Minecraft Skin
By adding raggedy clothes and very light tints, you can turn any regular skin into a ghostly one. This ghost skin uses a monotone color palette. To create it, choose one base color, then lighten the tints to be almost white so your skin looks faded and barely visible. Very spooky!

6. Jack-O-Lantern Scarecrow Skin
Use warm fall colors to make a jack-o-lantern wearing a brown sweater and pants and buckled boots for this scarecrow skin. Don't forget to add some straw sticking out to give it a "stuffed with straw" look. The shoes and pumpkin head can be created on the overlay to make them take up more space - a pumpkin head would be pretty big after all!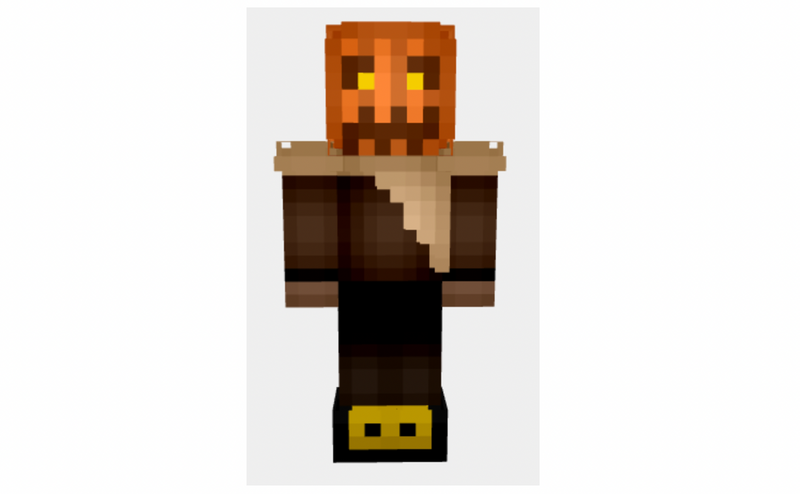 7. Skeleton Costume
Use shades of black and white to create a skeleton costume for any other skin. Make sure to leave a black space between each row of ribs to get this skeletal look. Once their bones are showing, they're ready for trick-or-treating! Adding a mask is optional.

Upload your Halloween Minecraft skin
For Java edition just follow these simple steps:
Step 1: Hit the download button on the skin editor.
Step 2: Name your skin something you will remember and make sure you save it in a place you won't forget!
Step 3: Open the Minecraft Launcher.
Step 4: Select "Skins"(highlighted in yellow).
Step 5: Click "New skin."
Step 6: Select "Browse" and find your skin.
Step 7: Save and play!
Learn how to upload your skin to the free Minecraft Education Edition here.
Create Halloween skins for Minecraft today
Whether you outfit your normal Minecraft characters with costumes for trick-or-treating or you conjure creepy creatures to haunt the graveyard at night, making your own Halloween Minecraft skins is a fun and spooky activity. This guide included 8 ideas for Halloween skins, but the possibilities are endless. If you are looking for even more Minecraft Halloween skin ideas, browse through the skins here or here. Happy haunting!
To get started with Minecraft coding join our Minecraft Redstone Engineering class that is made specifically for kids! All Create & Learn courses are small-group format, led by an expert, and designed by professionals from Google, MIT, and Stanford.
Written by Annie Schmitt, a Computer Science Teacher and Teaching Artist from Pennsylvania. She loves using art, technology, and science together to create exploratory hands-on learning experiences for students in grade K-12. As a Teaching Artist, she travels to schools and organizations in her state to teach children stop-motion animation, game design, and visual outdoor art. Annie has taught thousands of students from states all over the U.S. and countries around the world.