Knowing where to start when editing images in Photoshop can be a challenge with the massive library of available tools. You don't need to know all of the editing tools - in fact even experienced designers use some tools only rarely or not at all! Instead, start simply and develop good working habits that will translate to better images now, and as you develop as a designer, with these Photoshop editing tips for beginners.
To make awesome digital art and get live instruction from an expert teacher online, join a fun Photoshop class for kids. Or explore an easy-to-use graphic design tool, Canva:
Discover Photoshop editing tips for beginners and kids
Here are 10 tips to get you started on using this powerful program to edit images.
1. Use Social-Media Friendly Dimensions
If you think you might use your images on social media, start by making your document the right size for your use. Here are dimensions on popular social media sites:
What size to use?  (All dimensions are in pixels)
Snapchat image - 1080 x 1920
Instagram post - 1080 x 1080
Instagram story - 1080 x 1920
Facebook post - 1200 x 1200
Facebook cover image - 1640 x 924
2. Crop and Straighten
One of the first adjustments you will want to make to your photos is to crop, and straighten them if needed.  
To crop an image, choose the Crop symbol from the side bar and a crop box will automatically appear around the edges of your image. Drag the box as needed or click and drag your image to select the area you want to keep. While the crop box is still open, you will see a Straighten button appear on the top menu bar. After you click on this, a plus sign will appear as your cursor. Click and drag to rotate your image until it is straightened. Click the Enter key to finish.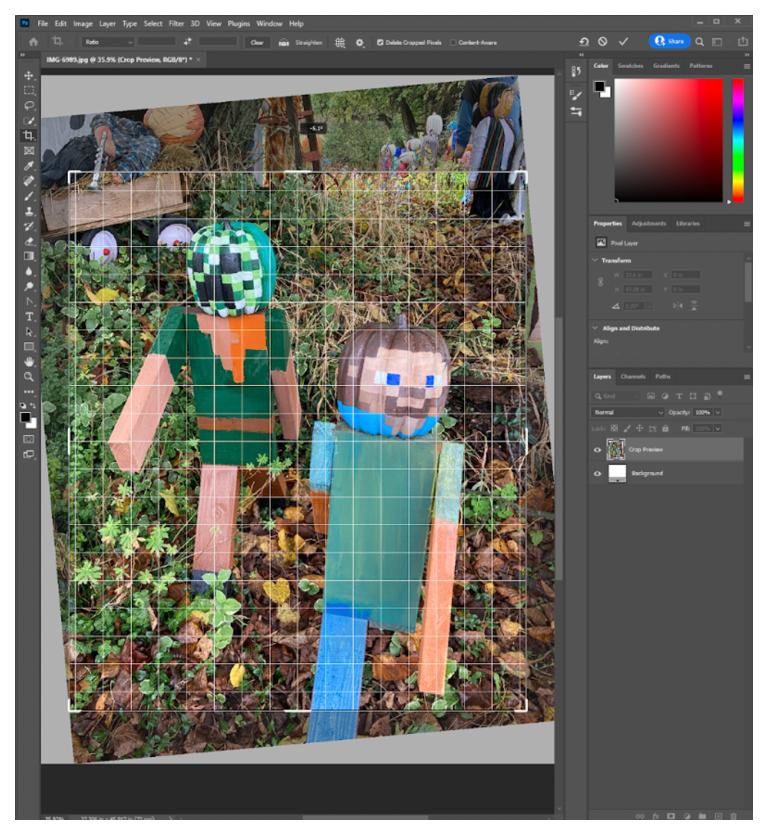 3. Navigation Shortcuts
Learning some basic keyboard shortcuts will make your life easier and your work in Photoshop more efficient. Here are a handful to get you started on some of the most commonly used functions.
Undo - CTRL Z
Zoom Tool - Z key or CTRL + (Zoom in), CTRL - (Zoom out)
Rotate - R key, then click and drag mouse
Fit to Screen - CTRL 0
Crop - C key
Add to Selection - Hold Shift while using selection tool
4. Don't Work Directly on the Background
A good Photoshop habit is to work on new layers to protect your original image. Rather than painting or directly manipulating the background, add a blank layer to paint on your image. This way, you can test multiple versions of your image and undo what you don't like.
To add a new layer, click on the + at the bottom of the layer window.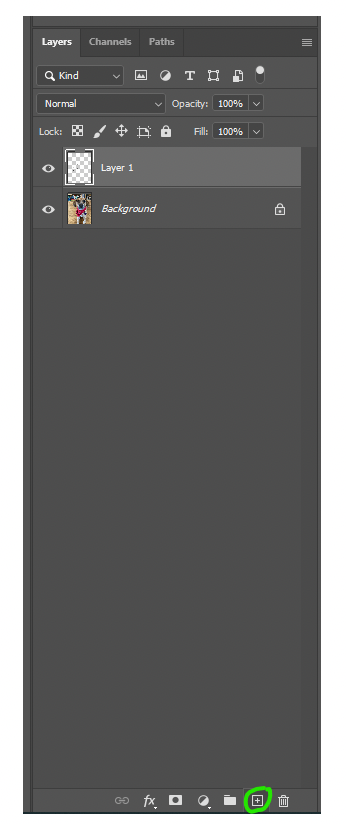 5. Enhance Color and Lighting
Brightening colors with higher saturation, changing the color temperature, or brightening a dark photo are common fixes. Unlike boosting the lighting and saturation on a phone app, in Photoshop you can select which areas of the photo you want to adjust using Adjustment Layers.  
Each adjustment you make automatically creates a new layer, which allows you to toggle the visibility on or off and adjust the opacity later.
To create a new adjustment layer, click the half black half white circle at the bottom of the layers panel. A new layer will pop up (for example, for Hue/Saturation). Use the sliders in the adjustment panel to change the photo to your liking.  
You'll see in this photo boosted Brightness and Hue/Saturation on the characters in the photo, while the background is desaturated.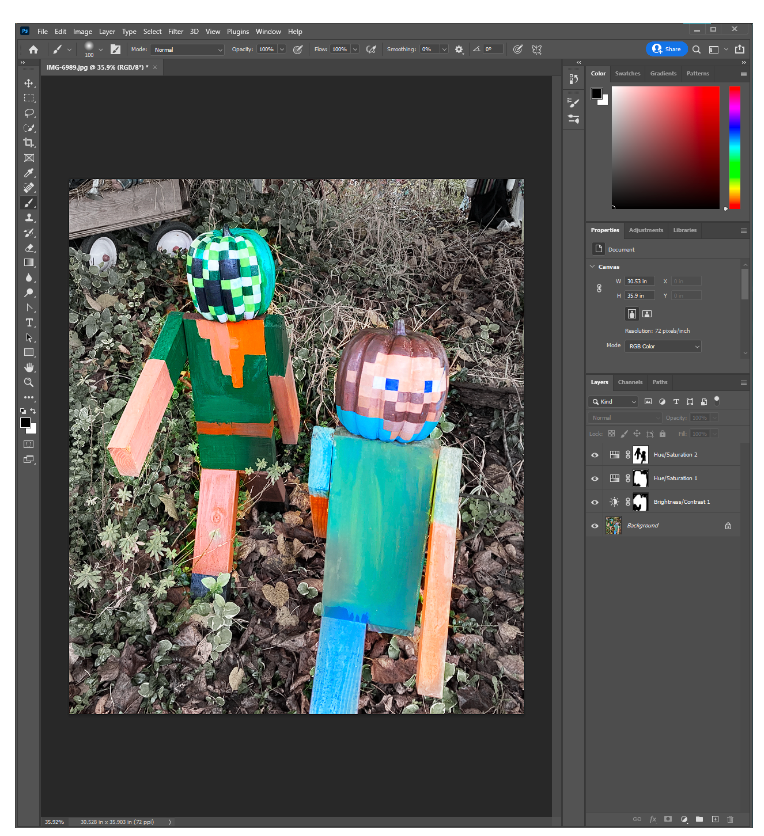 6. Be Selective with Effects
To selectively apply a change, make sure the layer you want to work with is selected. Then choose a paint brush tool (for example, 150 pixels in width, soft edge) and paint with black the areas you do not want to apply the change to.  Remember, on a layer, black creates a mask, while white will "erase" the mask and apply the change. You can see below the black and white areas painted on the Adjustment Layers.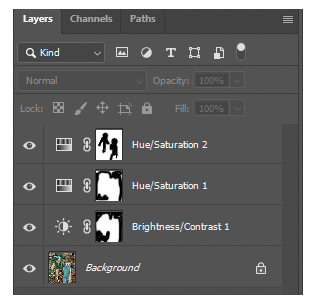 7. Clone to Cover Unwanted Elements
Using the Clone tool is an excellent way to eliminate items that you don't want in your photo - for example, a telephone pole in the middle of a landscape.
To use the Clone tool, click on the Clone brush in the menu bar.  Alt + Click to select the starting point for where it will clone from. For example, in the image below we set the clone reference point in the middle of the leaves and plant matter so we could cover over the wagon in the top left corner with more leaves. Then adjust your brush size and hardness, and click and drag to paint over the area you want to cover.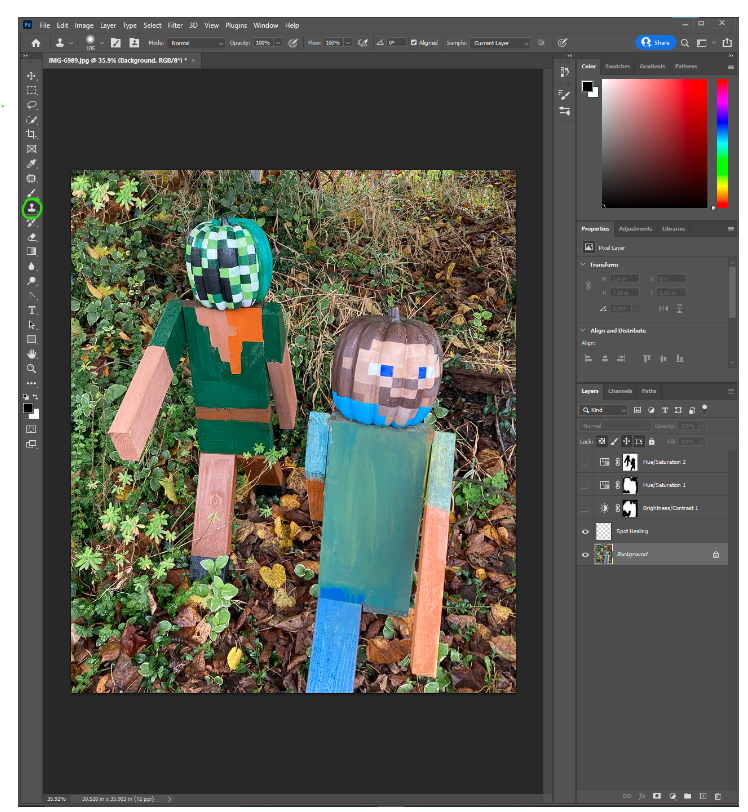 8. Smart Selection
Often the first step in manipulating a part of your image is to carefully select one piece of the image - the subject, the background, or an object you want to remove, for example. Automated tools in Photoshop, like Select Subject, have improved greatly over the years.  To try it, go to "Select" in the top menu bar, then pick "Subject."  
From there, refine your selection by using the regular Selection tool in the side bar. Hold down Shift as you select to add to an existing selection. After you have selected an area of  your image, tap the letter Q to get a red Quick Mask of your selection. Quick Mask helps you to clearly see what is selected and then make refinements from there.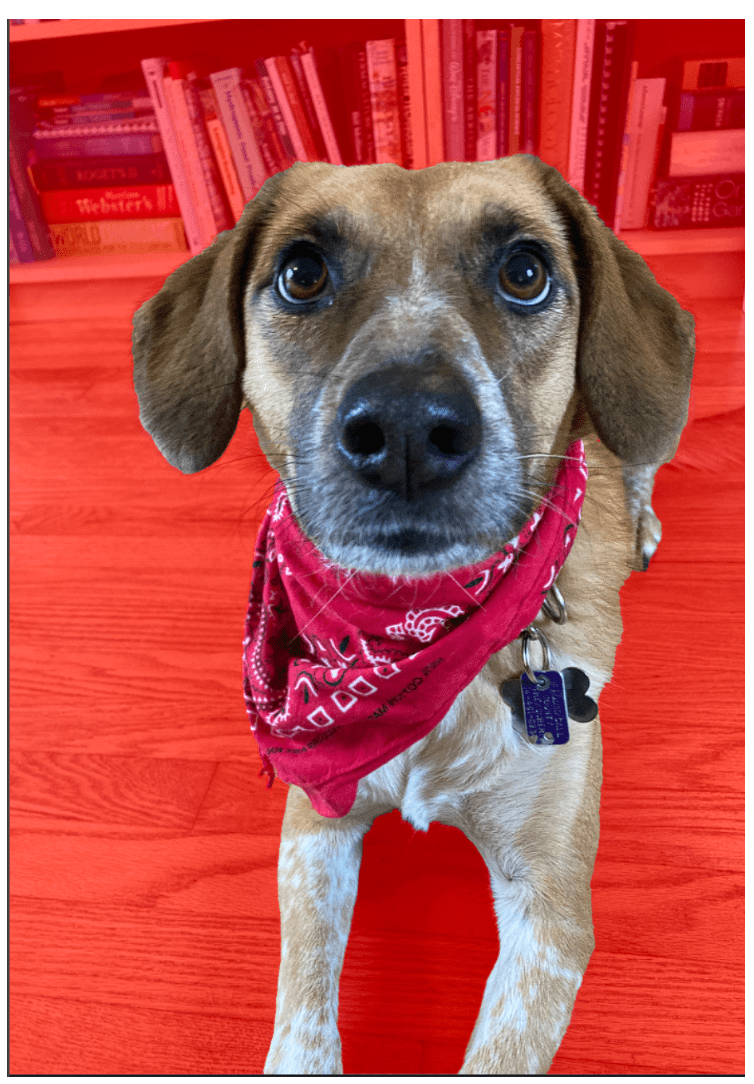 9. Choose a Focus with Tilt Shift
Tilt Shift is a blurring effect that allows you to keep part of the image in focus and blur around the edges. It is a good effect to add for a more creative look, or even to make something look like a miniature by making the background look out of focus.
To add a Tilt Shift, go to Filter > Blur Gallery > Tilt Shift in the top menu. Click and drag the bullseye to where you want the center of the focus to be. Use the sliders to change the amount of Blur and Distortion. In the image below, the dog's face is the center point for the Tilt Shift, blurring the body so it is slightly out of focus.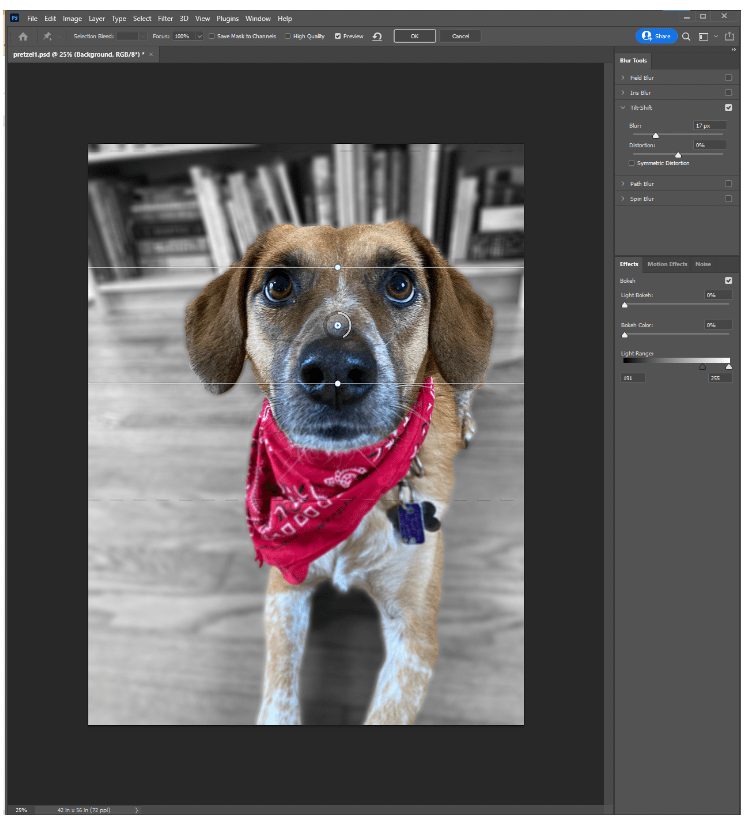 10. Export the Final Image
How you save your image depends on how you would like to use it. If you think you might want a different version of the photo in the future, save the file as a Photoshop file.
To save a file that is editable in the future, go to File > Save As, and chose Photoshop to keep a copy of your file with all the layers intact.  
For exporting or sharing, JPG is a good format to choose. Go to File > Export>  Export As and choose JPG as the filetype. Set the quality of the image with the slider in the dialog box. A higher quality image will have a high file size. Medium is a good quality for posting online, while a Large file size is needed if you would like to print out a poster.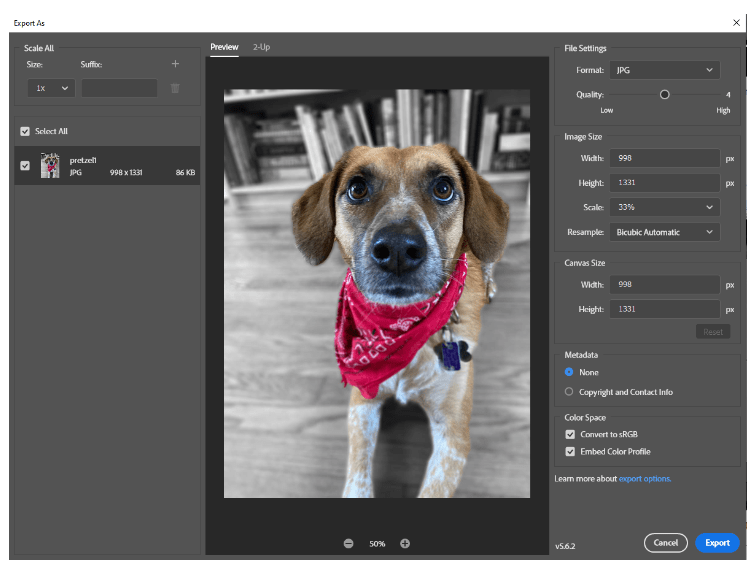 Try Photoshop editing tips for beginners
Give these Photoshop tips a try to enhance your photos and create some interesting art effects. To continue to improve your graphic design skills in a fun, interactive live format, sign up for Create & Learn's Canva for Kids class that teaches digital design using a fun free tool for making images and videos, or join Discovering Design to learn color theory and graphic design fundamentals. Check out great summer art camps too!
Up next, learn some cool Procreate tips and tricks for beginners.
Annie Schmitt is a Computer Science Teacher and Teaching Artist from Pennsylvania.  She loves using art, technology, and science together to create exploratory hands-on learning experiences for students in grade K-12.  As a Teaching Artist, she travels to schools and organizations in her state to teach children stop-motion animation, game design, and visual outdoor art.  Annie has taught thousands of students from states all over the U.S. and countries around the world.