Learning programming for kids is becoming as fundamental as reading and writing. But where to start? With the myriad of resources available, it can feel like standing at the foot of a mountain. But fear not! Today we will guide you through these choices, making the journey of teaching your child to code more navigable and enjoyable. Get ready to dive into the fascinating world of free coding resources, decipher the best programming languages for kids to start with, and explore engaging coding toys and games that will turn your child's learning into play. Stay tuned for a surprising insight into how these tools can make your child's learning adventure an exciting and rewarding experience.
For live expert guidance, join free award-winning coding classes for kids, designed by professionals from Google, Stanford, and MIT.
Begin Learning Programming for Kids Today
Learning programming for kids is no longer a mere hobby but a vital skill for the future. Did you know that 58% of all new jobs in STEM are in computing?
There are many online resources and platforms where your children can get information and knowledge about how to code for free. But what happens if they get stuck on a line of code, learn outdated information, or find all it too overwhelming or confusing? They probably won't stick with coding, and they might never want to return to it. The opportunity to foster their passion for computer science might flash by in the blink of an eye.
As the chart below reveals, there are many options for learning kids coding. Live classes offer some of the most compelling benefits when comparing some key factors such as supportive help, interactivity, and thoughtful accurate learning paths that set students up for success.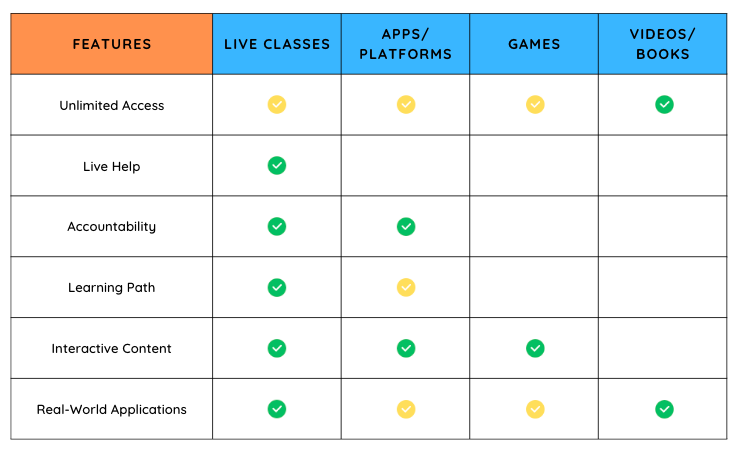 Live online classes are a great solution for helping your student explore computer science and discover how it aligns with their interests. They are likely the best shot your student has at gaining real coding skills soon, because passionate teachers will guide students and support them. In addition, live online courses adapt the material to kids' learning styles, they help students when they run into tough problems with their code, and they taking the 'thinking' off your plate with a carefully designed curriculum - so you don't have to plan your student's next step or worry that the content will be out of their reach and overly frustrating.
Learning quickly and accurately in live online classes and camps will best equip your student to gain valuable computer science skills. They are an investment, but they don't have to be forever. For example, here at Create & Learn, you can pick and chose the classes your child enrolls in based on their schedule and interests: which can easily match your child's preferred time engagement and growing passions. Explore our curricula here: grades K-2 | grades 2-4 | grades 4-6 | grades 6-9 | grades 9-12.
Of course, there's not just one solution for learning something new. Pairing live online classes with additional materials, such as free online websites and apps that encourage self-discovery, is a great way to round out your child's coding education. Here are some resources that come highly recommended by experts, parents, and kids, and are worth exploring.
Award-winning platform, flexible class schedules, expert instructors, for ages 5 and up, varied curriculum covering multiple aspects of computer science

Stepping into the world of coding with Create & Learn is like stepping into a universe of infinite possibilities. The award-winning platform, designed by professionals from Google, Stanford, and MIT, to make learning to code a breeze, is built with your student's growth in mind. Rather than a one-size-fits-all approach, Create & Learn offers a broad computer science curriculum, covering everything from data science and artificial intelligence to game development and robotics. Catering to ages 5-18, the platform features flexible class schedules and small class sizes, ensuring personalized attention from expert instructors. Create & Learn even offer free introductory coding classes to ensure it's the right fit for your child, and a full satisfaction guarantee.
Free access, diverse learning materials, suitable for K-12, endorsed by celebrities and influencers, Hour of Code initiative

Imagine a platform where your child could learn to code for free and be part of a global community of student coders. That's Code.org for you. Designed to democratize coding education, Code.org offers an extensive range of learning materials for students from kindergarten through 12th grade that you can use to teach your child how to program. It's a platform that believes in 'anyone can learn,' and is backed by the likes of Bill Gates and Mark Zuckerberg. Through the Hour of Code initiative - a global initiative by Code.org aiming to demystify code and show that anybody can learn the basics - your child can get a taste of computer science in just 60 minutes.
Free platform, suitable for ages 8 to 16, interactive storytelling, project-based learning, vibrant online community

If you're on the lookout for a playful and engaging way to introduce your child to programming, Scratch might be your answer. Developed by the Lifelong Kindergarten group at the MIT Media Lab, Scratch is a free online platform designed for children aged 8 to 16. The platform encourages interactive storytelling, animation, game creation, music composition and more, all while teaching the basic logic of programming. Your child gets to learn by doing, and with a vibrant online community of young coders, they can share their projects, get feedback, and continually improve.
Free, suitable for teens to adults, wide range of web development languages, online quizzes, and certifications

W3Schools is an excellent choice for those who want to delve into the world of web development. Its comprehensive library of tutorials and references covering HTML, CSS, JavaScript, Python, SQL, and much more make it a versatile learning platform for beginners to advanced learners. W3Schools presents complex concepts in an easily understandable way, accompanied by plenty of examples and online quizzes for practice. The platform even offers certifications that your learner can proudly display on their resume.
Free and Pro options, suitable for teenagers and adults, broad range of programming languages, interactive lessons, real-world projects
For older students who are serious about delving deeper into coding, Codecademy can be a great option. Codecademy offers an interactive and engaging on-demand video approach to learning a vast array of programming languages, from Python to JavaScript, Ruby, and more. The platform provides a mix of free and Pro options, with the latter offering more in-depth courses, real-world projects, and expert-reviewed quizzes. By providing an opportunity to apply newly learned skills to practical tasks, Codecademy brings coding to life in a way that can keep your learner engaged and motivated.
Discover the Best Free Coding Resources for Kids Learning Programming
There's a wide array of free coding resources that can turn your child's screen time into learning time.
Websites such as Code.org and Scratch from MIT offer engaging, game-based programming lessons that teach foundational concepts in a kid-friendly manner.
Another free option, Google's CS First, covers themes like storytelling and sports while introducing kids to Scratch programming.
Always remember to check the appropriateness of the platform for your child's age and abilities.
Deciding on the right programming language for your child can be a tricky task. For kids starting their coding journey, the block-based language Scratch is highly recommended. It's graphical and intuitive, perfect for getting young minds to understand the basic logic of coding without getting bogged down by syntax.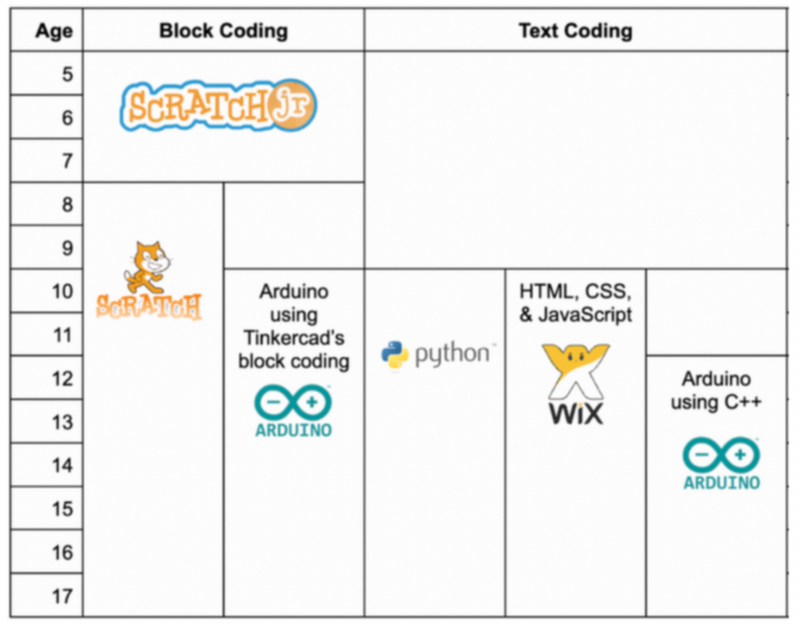 Scratch coding offers kids the opportunity to design interactive stories, animations, and games very quickly. Which helps keeps kids engaged and excited right from the start.
It is a blocked-based coding language designed by the MIT media lab - imagine an experience sort of like building with digital LEGOs - that makes it easy for students to learn code by helping them focus on the concepts of coding (such as loops) without having to type syntax and risking mistyping a letter, preventing all their code from running.
To begin learning programming a small group format, from a live expert, get started with the most popular beginner coding class, designed by professionals from Google, Stanford, and MIT: Create & Learn's Scratch Ninja class (for Grades 2-5) or Accelerated Scratch (for Grades 5-9):
Alternatively, for your youngest students, Scratch Jr. is a somewhat similar platform (a free app) designed by the same MIT team, for children ages 5-7. To bring things to life in the app, kids connect together simple graphical programming blocks to help characters move, jump, dance, and sing. Again, this helps kids master coding logic, without getting frustrated by needing to write coding syntax. ScratchJr works on iPads and Android tablets. So to get started, you can download ScratchJr on the App Store and on Google Play for free.
We also offer a fun live online class for kids in kindergarten to first grade, Scratch Junior, that teaches coding with Scratch Jr with live expert guidance.
If your child is a bit older (a teenager) or ready for a text-based language, Python is a great option. Known for its readability and simplicity, Python is often the first language taught in schools. Python is a high-level coding language used by companies such as Netflix and Google, and it is also used for web development, game development, building apps, machine learning, and so much more. Join our award-winning online Python coding class, led live by an expert.
If you're having trouble deciding between Scratch or Python for your child read more here.
Explore Coding Toys and Games for Kids Learning Programing
To make learning programming more fun and engaging, there's a wide array of coding toys and games available.
Toys such as the Snap Circuits and Sphero foster problem solving and critical thinking skills.
The Arduino UNO and the RaspberryPi use physical bits to teach coding concepts, offering a great hands-on experience.
Board games such as Robot Turtles introduce kids to programming logic while they play screen free.
Start Learning Kids Programming
Kids who engage with coding from an early age not only develop problem-solving skills but also show an increase in creativity and critical thinking. As the next step, why not try a free kids programming class? For those wanting to try coding right away, learn how to create a game in Scratch.