Keeping our kids safer online is always a number one priority for parents, especially when it comes to playing games with other people from around the world. So today, we will cover some basic Roblox parental controls that can be used to ensure a safer gaming environment for families.
To help your student safely create their own cool games in Roblox, join our award-winning online Roblox coding class, led live by an expert teacher and designed by professionals from Google, Stanford and MIT:
What are parents controls in Roblox?
There are several areas available within Roblox itself that can help monitor, protect, and filter games and settings for children. Some of these are monitored by Roblox (human and AI), and some can be set up with parental controls, to help limit the amount of interaction your child may receive within Roblox Experiences (games).
1. Avatar clothing detection:
This setting automatically checks to make sure that all player avatars are wearing appropriate clothing to be seen in game. Roblox conducts a safety review of every uploaded image, audio, and video file, using a combination of review by a large team of human moderators and machine detection before these assets become available on their platform for the community to utilize in their creations.
2. Reporting system:
Players can report others if their chat or actions feel inappropriate or threatening in any way. When a user submits a report about any rule violations, the Roblox safety team assesses complaints deemed actionable to ensure appropriate action is taken as quickly as possible. That action can include temporary suspension, account or content removal, or proactive reporting to authorities.
3. Chat filters:
Roblox filters text chat on the platform to block inappropriate content, such as discriminatory speech, bullying, extremism, violence, sexual content, etc., as well as personal information and offsite links. They update their filters continuously, multiple times a day and filter text in multiple languages.
They apply stricter filtering policies to users 12 years old and younger. For example, words that are unknown to Roblox will be filtered for younger users.
4. Customizable parental controls:
Parents can set limits on chat participation, robux spending, and access to experiences on the platform. These can be protected from change with a parental PIN set on the account. Attaching an email account (for the parent) to the user is also a great way to be aware of when the child logs in, and two-factor authentication will help secure the account.
How to set up Roblox parental controls
Parental controls are a great way to set limits and extra filtering settings for your child at the account level. Here are a few ways to add controls to your child's account that will add a level of protection from hackers, spammers, and generally bad people.
1. Set up parent email and two-factor authentication.
Once you set up your child's account, click on the "gear" icon in the top right area of the Roblox home screen and then on the Account Info tab, add your parent email, and then be sure to Verify that email address by clicking on the email link that gets sent to you. This will not only allow you to set restrictions and a PIN on the account, but will also allow your child to get back into their account should they forget their password!

To set up two-factor authentication (please do!), visit the Security tab and click on the type of authentication you'd like, then set it up accordingly.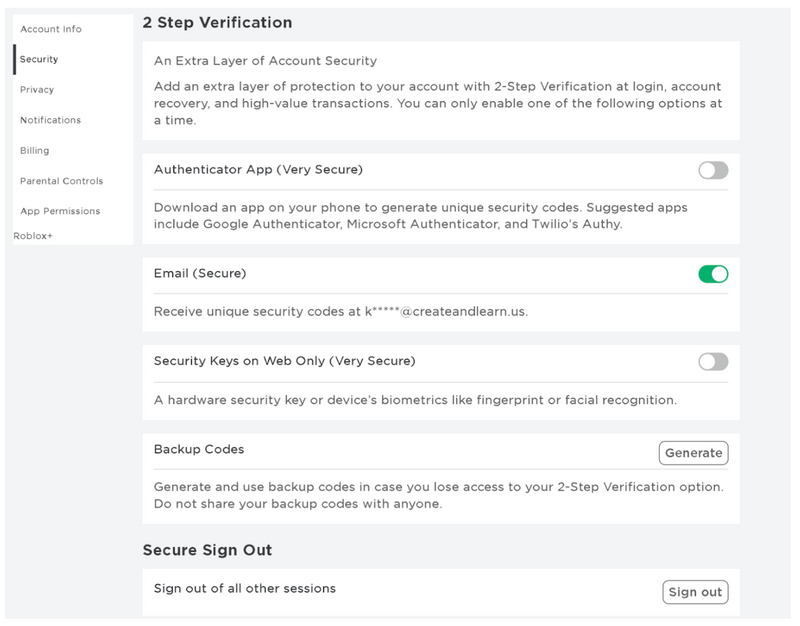 2. Review history of the child's account.
Roblox has several ways to monitor account activity. While logged in, you can view the following histories from their related sections:
Direct and small group chat (Chat feature found in the lower right corner of the apps). There you can see individual chat histories. This feature is limited to Friends, and Friends of Friends.
Private message history (Messages)
Friends and Followers (Friends)
Robux purchase, virtual item purchase, and trade history (My Transactions, browser only)
Creations such as experiences, items, sounds, ads (Create, browser only)
Recently played experiences (Home, Keep Playing or My Recent)
3. Add Account Restrictions.
This feature allows parents to strictly limit the account's ability to chat by disabling and locking an account's Contact Settings so that no one can send messages, or chat in-app or in-experience with the child. Turning on this restriction completely limits the child from accessing content that is not pre-screened as appropriate by Roblox, and blocks all chat features.

Below that setting, still on the Privacy tab, parents can instead allow a bit more freedom while still choosing how much content and access their child has to others while on the platform. Turn off Account Restrictions to change this area (great for older children):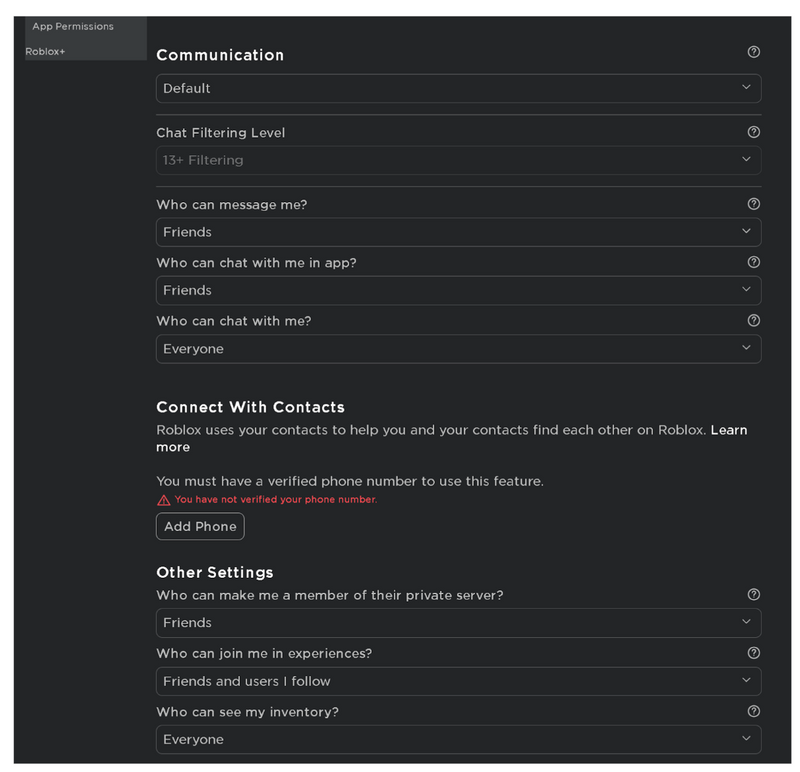 Note: When searching for games (experiences), accounts may still see experiences that are not on the restricted list in search results or advertised in the ads on the site when Account Restrictions are enabled. However, these experiences will not be playable. Users with Account Restrictions will see a message that the experience is unavailable due to account restrictions settings.

4. Use a Parent PIN and Age-based Experience Controls.
Parents can add a four-digit PIN to lock the account settings. Once a PIN is added, it must be entered to make any changes to settings such as your password, email address, and privacy settings. This will keep your child from getting in and modifying any of these settings you create for them. You will find this on the Parental Controls tab: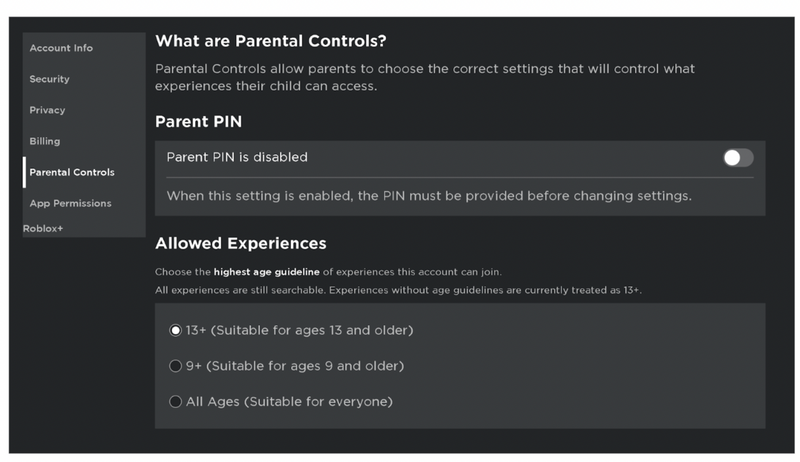 5. Activate Monthly Spend Restrictions/Notifications.
Parents can set a limit on the amount the account is able to purchase in real world currency on a per calendar month basis. This feature requires a verified parent's email and parental pin setup before being enabled (as explained above). Parents can control notifications to their email about the account's spending with options including exceedingly high spending alerts and emails on all spending. This can be set up on the Parental Controls tab once the PIN has been set up.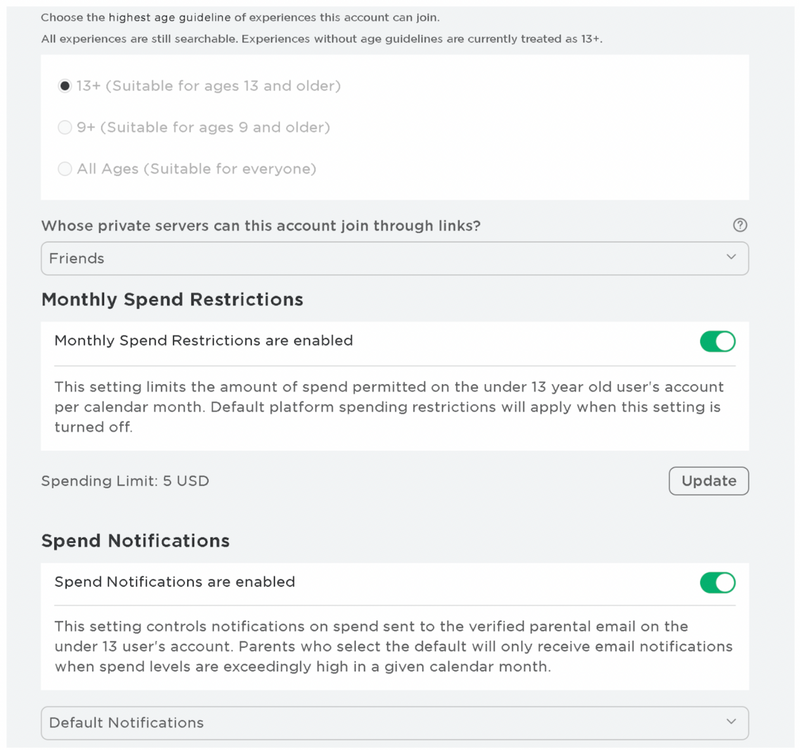 For additional payment security, Roblox also includes measures like payment verification charges, where parents may be asked to verify micro-transactions with the Roblox payment provider and the platform does not store full billing information for any of the accounts.
6. Block other users.
Sometimes another user can be aggressive, come across as disrespectful, or just someone your child would rather not play games with. In that case, you can follow these steps to block that user, which will prevent them from seeing your child's user active or in any experiences moving forward, and they will be unable to contact them through chat.

To block another user in the browser or mobile apps:
Visit the user's profile page
Select the three dots in the upper right corner of the box containing their username and friends/followers information
A menu will pop up, where you can select the option to Block User.
In browser: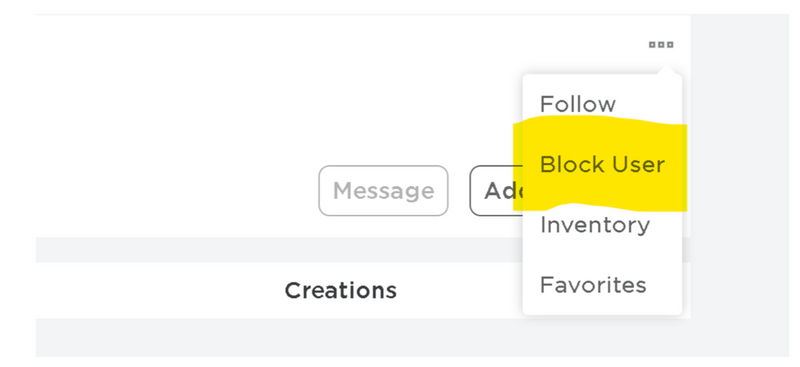 In Mobile App: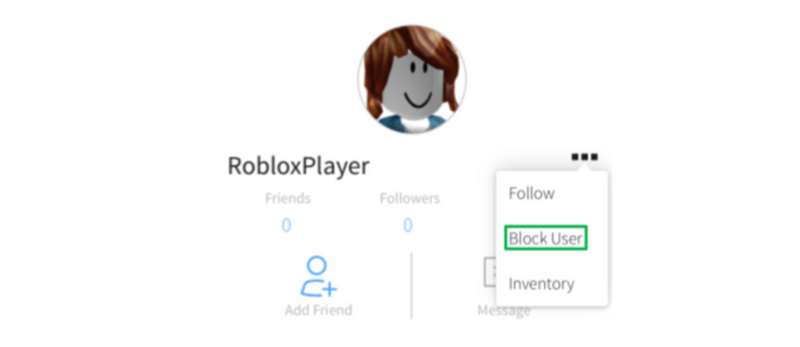 To block another user from inside an experience using the Esc menu:
Find the user you wish to block in the Esc menu under the "People" tab.
Once you have found the name of the user you wish to block, Please click on the Block Button which looks like this:

3. Click on the "Block" button in the Pop-up Dialog box to confirm.
7. Review the Community Standards with your child.
Take the time to go over Roblox's Community Standards with your child, so they know the expectations for themselves and others while they are using the platform. This will help them identify when someone else is not behaving appropriately toward them and will allow them to feel some ownership in their experiences with Roblox.
How to help keep your child safe with Roblox controls
We hope that these parental controls and pointers will help you and your child feel safer on such a large platform, and that you can set up their account in a manner that is best for your family. Once they are off and (safely) running on the platform, they can learn how to start creating their own experiences for Roblox through our award-winning live online Beginner Roblox Game Coding class, or bump up their Internet Safety game with our Junior Hackers - Smart and Safe on the Internet course!
For more tips on Roblox experiences, be sure to check out the best Roblox games for kids next. These are some of our favorite and kid-tested Roblox games that are a great place for new users to start!
Written by Kari Tonkin, a Create & Learn instructor. Kari has been teaching a wide variety of courses and ages for more than twenty-six years. Some of her favorite subjects to teach include computer science, graphic design, mathematics, and coding languages. She received a Master's Degree in Curriculum Design with Technology Integration from Black Hills State University in 2016 and has used this knowledge to stay current on new technology trends in education. When she is not working, Kari enjoys playing video games with her family, including Roblox and Minecraft, hiking and camping, and traveling around the United States.