With technology continuing to become more integrated in our everyday lives, it's never too early to introduce kids to coding. Platforms like Scratch and ScratchJr have made programming fun and accessible to young children, and there are even fun online live classes your child can take to help build their interest in coding. If you're looking for ways to help your child learn to code while having fun, read on for some great resources for coding for 6 year olds!
Start coding for 6 year olds
Helping your child learn to code can be fun, but it can also be overwhelming to know where to begin. Before you begin teaching your child coding, identify the right language for them to start. Here's a handy chart to help you: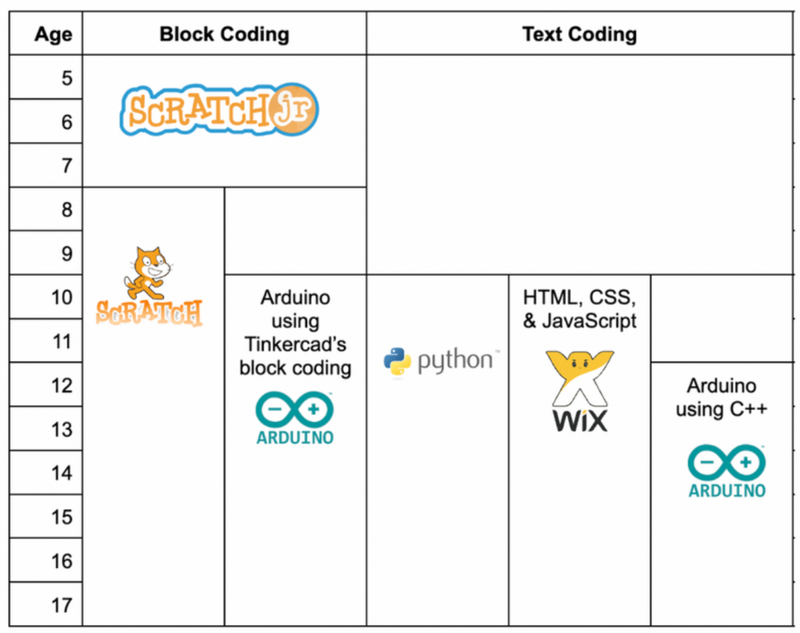 ScratchJr is a great coding language for your six year old to start. It's an introductory programming language aimed at children 5-7 which allows them to create their own interactive stories and games. It makes use of graphical block coding to make characters on the screen move around and interact. Kids can make use of a large library of built-in graphics and sounds, and can also modify those characters with the paint editor, recording their own sounds, and even insert photos of themselves. ScratchJr was inspired by the popular Scratch programming language developed by MIT, and it's a great stepping stone on the way to more complex coding. It's available for free on iPads, Android tablets, and Chromebooks.
How to download and get started with ScratchJr
Getting started with ScratchJr is easy! Just follow these simple steps:
Make sure you're on an iPad, Android Tablet, or Chromebook
Go to your device's app store and search for ScratchJr, or if you're on that device right now, just click on one of these links: iPad or Android tablet or Chromebook
Once it's installed, find the ScratchJr icon and give it a tap! Allow the app permission to access your device's camera, microphone, and files. You're ready to go.
Here are some ScratchJr projects ideas your student can begin exploring.
Top intro coding programs and websites for 6 year olds
There are a number of fantastic resources available online to help teach your child how to code using ScratchJr and other platforms.
In this wonderful class by Create & Learn, students are guided through a hands-on project by an expert teacher. The Scratch Junior Introduction walks kids through coding a fun dance party animation, teaching them how to add characters, control the characters with coding blocks, and how to combine different blocks to make their animation. It also prepares them to continue on to the full 6 week Scratch Junior course if they're interested in learning more!
Pros:
Live class
Small class sizes
Guided by expert teachers
Project based learning
Cons:
Must be available for the scheduled live class time
These live, in-person camps are a great way for kids to learn new skills and make new friends! Steve & Kate's Camps allow kids to choose from a variety of activities, including coding with ScratchJr. This allows campers to experience a wide range of new skills and hobbies, and decide what they really enjoy doing. Steve & Kate's Camps offer both summer and holiday sessions in a number of cities around the United States.
Pros:
In-person learning
Many locations offered for both summer and winter camps
Wide range of activities from which kids get to choose
Cons:
Not focused exclusively on ScratchJr/coding
Code.org is an organization dedicated to the idea that every student in every school should have the opportunity to learn computer science. They offer a myriad of self-guided tutorials on a number of subjects, including ScratchJr. Code.org is also known for their Hour of Code, in which kids can learn new coding skills by working on a project over the course of an hour. These offerings are great for parents looking for ways to be more directly involved in the learning process for ScratchJr and other computer science disciplines.
Pros:
Work at your student's pace
Hour of Code offerings are great, low-commitment projects
Wide range of tutorials from which kids can choose
Cons:
No additional help available from live teachers
Must be self-motivated
Best coding and computer science classes for 6 year olds
If you're looking for a deeper dive into coding for your child, these award-winning classes offered by Create & Learn, and led live by experts, can help guide them along the way. You can also check out Create & Learn's coding curriculum for 6 year olds to see in what order the classes should be taken, based on your child's experience level.
This six week class follows the introductory class mentioned above. In the Scratch Junior Class, kids create a series of animations and games while learning about core coding concepts. They'll cover how to use loops, messaging, capture events in a game to take action, and more in the ScratchJr environment. These classes are all taught in small groups by expert teachers, ensuring your child gets the most of it!
Once your child has finished the Scratch Junior Class, they can move on to joining the Scratch Junior Club! In this online club, they'll create a new project every week, putting the skills they've learned to use over the course of six different projects. They'll be guided by an expert through each project from start to finish in a 45-minute session each week. It's a great way to practice what they've learned and secure that foundational knowledge!
Nurturing creativity is important, and there are a ton of ways for kids to express their creativity as they learn how to use technology, such as digital drawing, digital photography, stop motion video, and more. The Budding Digital Artist Class teaches a wide range of digital art topics and basic techniques, allowing your child to explore many different digital mediums. Students are guided by expert teachers through different art projects in each session, learning the basics of art, developing their digital fluency, and exploring their creativity!
Space has always fascinated kids and adults alike. In the NASA STEM Club Class, your child can learn a wide range of topics related to space science, NASA, and other STEM skills. Just like the other classes here, each session is project-based to encourage curiosity and develop problem solving skills. Students get to learn about many fun areas, including rockets, Mars, the International Space Station, the Solar System, and more!
How to teach your 6 year old coding
The most important things when it comes to your child learning how to code is getting them interested and helping them stay excited about coding. Here are a few tips to help:
Keep them engaged by helping them learn how to make things they want to make, such as easy games to code and Code.org games
Focus on age-appropriate material, so the learning process is natural rather than overwhelming.
Encourage them to share the projects they create with friends and family to help keep their enthusiasm up and drive them to create more!
Help them learn about computer science topics adjacent to coding to broaden their understanding of computer science as a whole, such as the parts of the computer they're coding on!
Get them involved in after school activities to encourage them to keep to a schedule and structured learning framework.
Get started with coding for 6 year olds
There's an endless range of possibilities on the internet to help get your 6 year old started with computer science and coding. If you're looking for a way to jump right into tinkering with coding on your own along with your child, check out our blog post on fun Scratch Jr project ideas to make. To learn from a comprehensive curriculum designed by professionals from Google, Stanford, and MIT, with live expert guidance in an engaging environment, enroll your child in a fun and effective class today:
Written by Create & Learn instructor Josh Abbott Salazar. Josh is a teacher, coder, audio engineer, and musician. After graduating with a Master's in Music from Belmont University in Nashville, TN, Josh turned his attention to the technology side of things, and has been working in various aspects of coding and engineering ever since. He runs a small music studio in Nashville called Tango Sound Studios, and develops video games in his spare time.