When deciding whether or not you want to look at coding for 5-year olds, there are a lot of factors to consider. Knowing where to start and what to start with is the first step. Block-based coding programs introduce children to basic concepts of coding. And teaching them how to code at a young age can set your child up for a lifetime of success!
Coding for kids not only helps with their math and science skills but is also challenging and fun. Coding also prepares students for future job opportunities as well as lets them explore creativity options. Today, we'll share some tips and concepts to help parents connect their 5-year-olds with coding.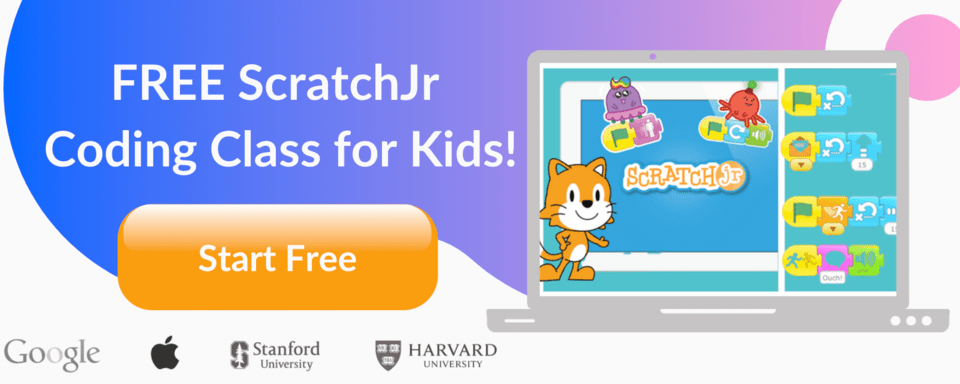 Explore coding for 5-year olds
Kids can learn to code even if they can't read yet. We will look at how to connect 5-year olds with coding, some top tips, and free online classes, as well as revealing what block-based coding is.
Can a 5-year-old learn coding?
Yes, a 5-year-old can learn coding. Coding for a 5-year-old is possible now more than ever. Your 5-year-old can learn coding even if they are not able to read yet. They can start out with the basics such as using pre-made block-based coding. There are many options from game-based formats to creating a dance party.
How do you connect a 5-year-old with coding?
To connect a 5-year-old with coding use the device they are already on. Most kids now days are on a device at some point so now you just need to make it educational. There are many apps and websites that can be used to introduce kids to coding. Another way to connect them is through hands on play with educational toys such as Dot and Dash or Little Bits.
Coding for kindergarten: 5 top concepts
Here are five key concepts to make your 5 year old's coding adventure easy and fun to kick off!
1. Start with an intro class
Try an introduction online class with a wide variety of stories and games, such as Scratch Junior.
2. Start simple
Start them out with a block-based coding program so that they can easily create projects while learning to code.
3. Join communities
See what others are saying about coding that is available through website reviews, ratings, and blogs.
4. Get them excited
Introduce them to all the coding choices available such as Minecraft, dace party, animations, creative stories, and so on.
5. Make it hands on
Explore educational toys such as Dot and Dash that bring coding into their hands to help them connect what is on the screen to what is in front of them.
Block coding for kids
Block coding is great for kids who are beginning to learn how to code. Block coding allows them to learn the basic concepts of coding through pre-made blocks using drag-and-drop to create stories and animations. Kids can learn the foundational coding skills without having to know text coding. So they don't have to worry about syntax mistakes.
Coding for kids: Scratch Junior
Create & Learn offers Scratch Junior, a fun coding class for kindergarteners and 1st graders that allows them to build interactive stories and games. This class introduces your child to the basics of coding concepts, helps them solve problems, and fosters their creativity! This block-based coding platform is a simple, yet great way to introduce kids to coding.

Coding for 5-year olds online free
There are endless possibilities, but here you can find a list of free online resources  for 5-year olds to check out.
1. Block-based intro courses and programming games with Scratch Jr.
Scratch Jr. has a large online community and high ratings. It is a block-based coding website designed for kids that can enjoy instruction from a live expert and a small class size.
2. Self-paced, Hour of Code, from the non-profit Code.org
Code.org is a great option for kids because they can advance based on their skills at their own pace. They offer Hour of Code tutorials for all sorts of age groups. Code.org encourages kids to learn computer science, with lessons offered for beginners as early as 4 years old. Kids can learn how to create games, apps, or drawings.
3. Puzzle-solving programming, code hour from Lightbot
A great way to start out that offers coding through solving puzzles by programming a robot. Code Hour offered through Lightbot is a way to introduce coding to those with no experience.
Get started with coding for 5-year olds
Setting your child up for an advanced future will help them to be successful as well as improve critical thinking skills, creativity, math, and science. We have listed some great ways to get your child started coding including getting them excited, hands on activities, and free online classes.
If you are ready to get started with coding for your 5 year old, try Create & Learn's Scratch Junior 45-minute introductory class and class series. After that, there's even a Scratch Junior club!
Up next learn more about picking the first coding language for kids.
Written by Amanda Hendrix, a Create & Learn instructor with 10 years of teaching experience. She also holds a Masters in Educational Leadership, and a BS in Elementary Education.