Ready to help your five year old begin coding? Today we'll reveal everything you need to know to ensure your student discovers a passion for computer science, has fun, and gets set up for a lifetime of success! Find out why block-based coding programs are the best way to introduce kindergarteners and first graders to the basic concepts of coding. Plus, discover some of the best free coding resources and popular live online classes for littles.
Start learning right away with an award-winning online coding class led live by an engaging expert and designed by professionals from Google, Stanford, and MIT: Scratch Junior.
Start Coding For 5 Year Olds
First we'll address some common questions parents have about programming for five year olds.
Can a 5 year-old learn coding?
Yes, a five year old can learn coding. Today the educational system and parents recognize the importance of digital literacy and future-proof skills. As a result of this demand coding for a five year old is now possible more than ever: the proliferation of child-friendly coding apps, games, classes, and online resources has made learning programming concepts enjoyable and engaging for young children. So your student can learn coding even if they are not able to read yet.
What coding language should a 5 year old learn?
Block coding is great for young kids who are beginning to learn how to code. In this type of program, kids can drag and drop colorful digital blocks to create different combinations of code that bring to life animations and games. This type of language empowers kids to learn foundational coding skills without having to type. That's important because often typing can lead to more errors and prevent code from running entirely.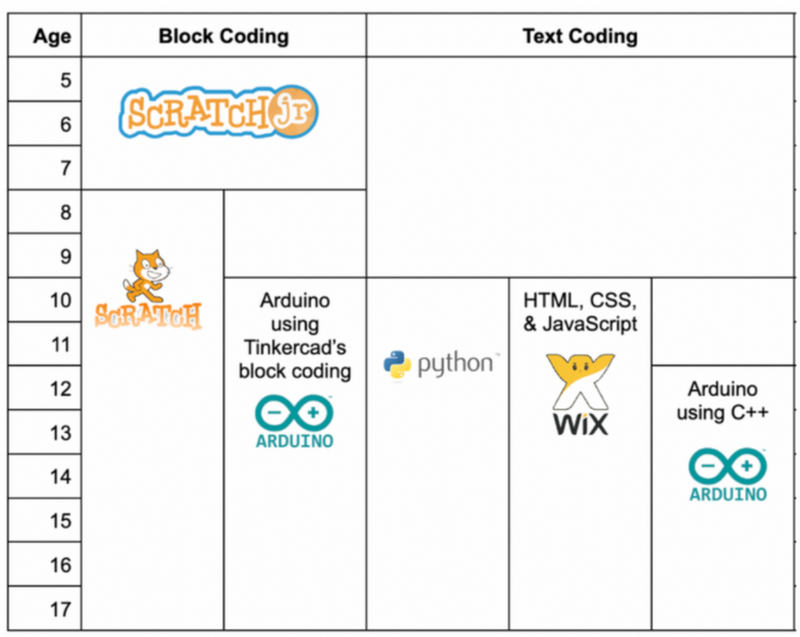 The most common block coding language new coders learn at this age is ScratchJr. ScratchJr was designed by the MIT Media Lab specifically for kids ages 5-7, as a way to begin programming. If your child enjoys playing Minecraft on their iPad, or checking out YouTube on your phone, ScratchJr could be a great way to introduce them to coding. To get started, you can download ScratchJr on the App Store and on Google Play for free. Just download the ScratchJr app to your device. Launch the app. And click on the Home icon to start a new project.
The Best Way For 5 Year Olds to Learn Coding
There are undoubtedly so many online resources and platforms where your child can get information and knowledge about how to code for free. But what happens if they get stuck on a line of code, learn outdated information, or find all it too overwhelming or confusing? They probably won't stick with coding, and they might never want to return to it. The opportunity to foster their passion for computer science might flash by in the blink of an eye.
As the chart below reveals, there are many options for learning kids coding. Live classes offer some of the most compelling benefits when comparing some key factors such as supportive help, interactivity, and thoughtful accurate learning paths that set students up for success.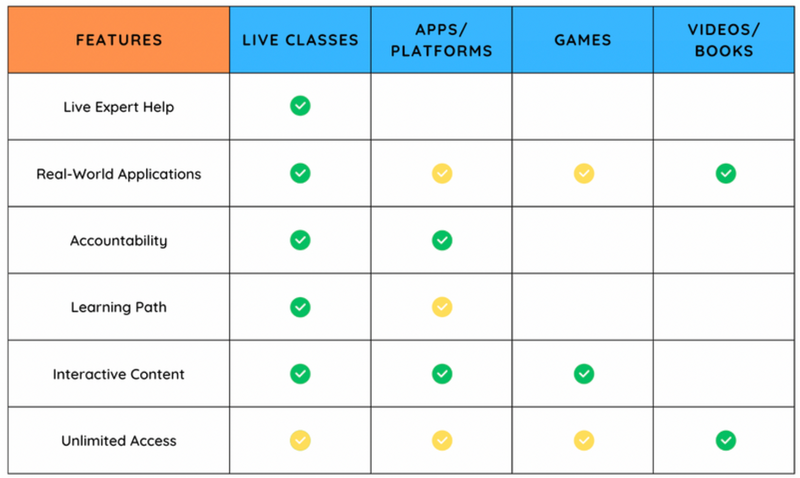 Live online classes are a great solution for helping your five year old explore computer science and discover how it aligns with their interests. They are likely the best shot your student has at gaining real coding skills soon, because passionate teachers will guide students and support them. In addition, live online courses adapt the material to kids' learning styles, they help students when they run into tough problems with their code, and they taking the 'thinking' off your plate with a carefully designed curriculum - so you don't have to plan your student's next step or worry that the content will be out of their reach and overly frustrating.
Learning quickly and accurately in live online classes and camps will best equip your student to gain valuable computer science skills. They are an investment, but they don't have to be forever. For example, here at Create & Learn, you can pick and chose the classes your child enrolls in based on their schedule and interests: which can easily match your child's preferred time engagement and growing passions. Check out our curriculum and learning path for students in grades K-2.
Of course, there's not just one solution for learning something new. Pairing live online classes with additional materials, such as free online websites and apps that encourage self-discovery, is a great way to round out your student's coding education. We'll share some of the highest rated options by kids and parents below.
Top Coding Classes For 5 Year Olds
Explore recommended kids coding classes for kindergarteners and first grades.
In this fun Scratch Junior class, kindergarteners and first graders will create a series of animations and games while learning about core coding concepts. For example, your child will learn loops, messaging, how to capture events in a game to take action, and a lot more. A live expert will lead them from simple projects with different characters working independently, to connecting characters with complex actions. Your child will also get to apply their artistic skills to create their own sprites, tell stories, and share their math and science knowledge! Get started with an intro class:
Create something new every week with Scratch Junior coding! Put the Scratch Junior skills you've already learned to create weekly new projects for 6 weeks, including original challenges and fascinating projects. Join along live online as an expert guides students through a different project from start to finish in a 45-minute session each time including hide and seek; fairy says; word puzzle; color fun; and much more.
Did you know computer science isn't just coding? The field of computer science includes many different areas such as AI, Data Science, robotics, game development, UI/UX design, and cybersecurity, that may interest your child. Students who like art and design will really enjoy this class! There are so many different way for kids to be creative with art these days: drawings, digital photography, stop motion video, digital art design, and more. In this class, students explore a wide range of digital art topics and basic techniques to try many different things. Your five year old will enjoy creating a fun art project every session, and learn to appreciate great design in their daily lives, while exploring many different types of art mediums.
From Mars and aliens, to galaxies and rockets, space fascinates many kids and adults alike, and is the source of powerful imaginations. In this class, your kid will learn a wide range of topics related to space science, NASA, and practice other STEM skills. Every session is project based to encourage curiosity and develop problem solving skills. In each session, students will learn cool new things about space and science, then build small projects and play games sometimes to make it fun and strengthen their learning!
Free Coding Programs for 5 Year Olds
Discover a few age-appropriate and fun learning experiences that cater to five year olds' developmental needs as they learn programming.
Scratch Jr. has a large online community and high ratings. It is free block-based coding website designed for kids that can enjoy instruction from a live expert and a small class size. Here are some fun ScratchJr project ideas for your student to try.
Code.org is a great option for kids because they can learn, study, and practice at their own pace. Explore the free Hour of Code tutorials to find a project that interests your student: make shapes, beat beaver achiever, create robots and puppies, and much more.
Solve puzzles and code a robot using this free app. LightBot Code Hour is a short teaser meant to introduce players to programming who may have little to no experience. Simply guiding a robot to light up tiles and solve levels using commands, Lightbot cultivates a real understanding of procedures, loops, and conditionals.
Try Life-Changing Coding For 5 Year Olds
Helping your 5-year-old learn coding today will foster numerous cognitive and creative benefits critical for their future success. Early exposure to coding nurtures problem-solving skills, logical thinking, and computational understanding, which are foundational in our technology-driven world. Through interactive and playful coding activities, children develop resilience, persistence, and an innovative mindset, allowing them to adapt to rapidly evolving technological landscapes. Moreover, coding cultivates creativity, empowering young minds to express ideas through digital mediums. By introducing coding at a young age, you'll equip your child with invaluable skills, positioning them for a competitive advantage in a digitally connected society while instilling a love for lifelong learning and technological exploration.
Written by Amanda Hendrix, a Create & Learn instructor with 10 years of teaching experience. She also holds a Masters in Educational Leadership, and a BS in Elementary Education.