In today's technological world, typing is an essential skill to learn. From doctors to lawyers to teachers to programmers, the ability to type quickly and accurately is mandatory in nearly any profession. As with any other skill, the key to learning to type quickly and accurately is to practice, practice, practice. To help you out, we've included below a list of some of the best typing apps for kids that will help you master the art of typing and prepare you for a successful future!
Set your student up to build more essential life skills with our most popular beginner-friendly coding class Scratch Ninja:
Discover the best typing apps for kids to learn and have fun
From games to educational resources to tools to measure your typing speed, our list below has everything you need to become an expert typer. And, with activities for learners 5 to 18, kids of all ages are sure to find the perfect learning tool.

As mentioned above, the ability to type quickly and accurately is an essential 21st-century skill. However, how can you know how quickly and accurately you are typing? One great test you can take is the typing.com speed test. Once you enter the test, you will see a story that you need to type for one minute. After a minute has passed, you will learn how many words you typed and your accuracy. Your speed is displayed as WPM (words per minute), which is how many words you typed in one minute. Your accuracy is displayed as a percentage.
Although your ideal typing speed and accuracy will vary depending on your age and how long you've been practicing, for reference, beginners age 6-11 typically type at a rate of 15 WPM with an accuracy of 80-85%, while intermediate typists typically type of at a rate of 40 WPM with 90-95% accuracy. In the workplace, adults typically type at a rate of 65-70 WPM, so this is a good goal to reach for! As you practice your typing skills with the other apps and websites listed below, be sure to regularly check your typing speed with this typing test to see your improvement!
Best for: Kids of all ages to learn and monitor their typing speed
Price: Free!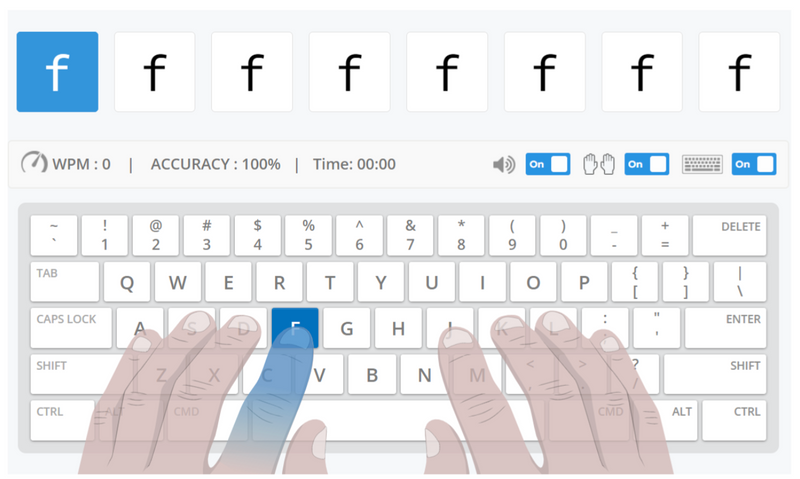 TypeDojo offers typing lessons and practice, and is designed specifically for kids! In fact, TypeDojo is certified with the Kid Safe Seal. In addition, lessons are offered at the basic, beginner, intermediate, and advanced levels, so there is a lesson for kids of all ages and proficiency levels. And, the best part? It's all free! Navigate to TypeDojo, select "Typing Lessons," and choose a level based on your skill level to get started with your typing practice.  
Best for: Lessons of varying difficulty make this a great resource for kids of all ages
Price: Free!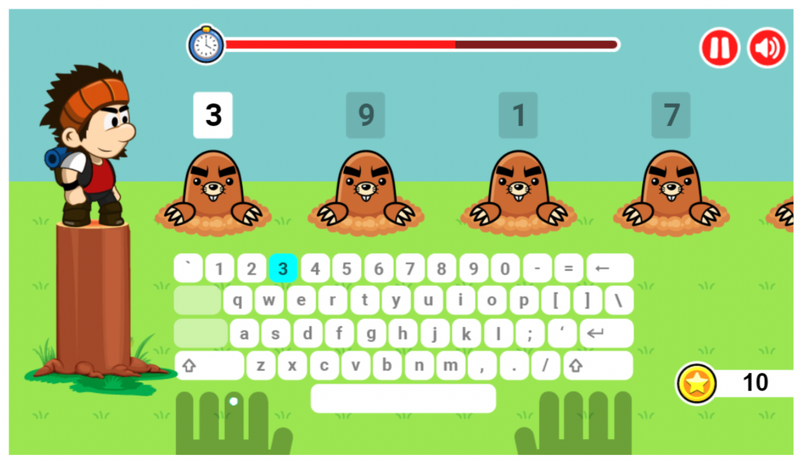 One of the best ways to improve your typing skills is with typing games! KidzType offers an entire library of typing games that can help you improve your typing speed and accuracy. With games such as Space Typing, Whack-A-Mole, and Vampire Hunter, kids of all ages are sure to find a fun and productive game. Although the website does have quite a few ads, it is free!
Best for: Kids of all ages, as this website offers games of varying difficulty
Price: Free!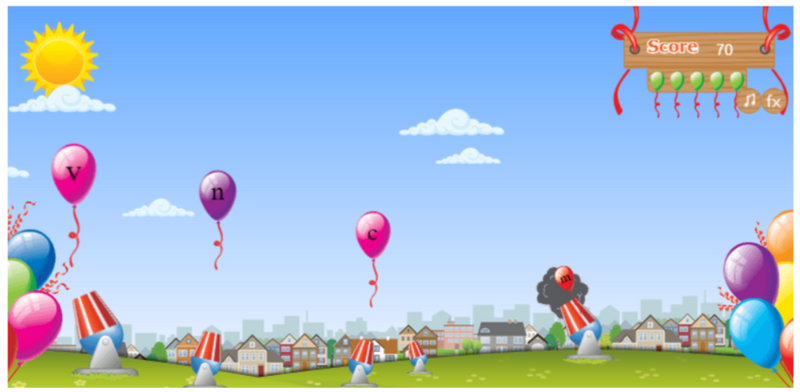 Typing.com is a bit of a combination of the two resources linked above. This resource offers lessons which can be filtered based on difficulty, and they also offer a library of fun games to hone your skills. Because this website is free, it's a great resource to both learn and practice typing!
Best for: Kids of all ages, as the lessons and games can be sorted based on difficulty level
Price: Free!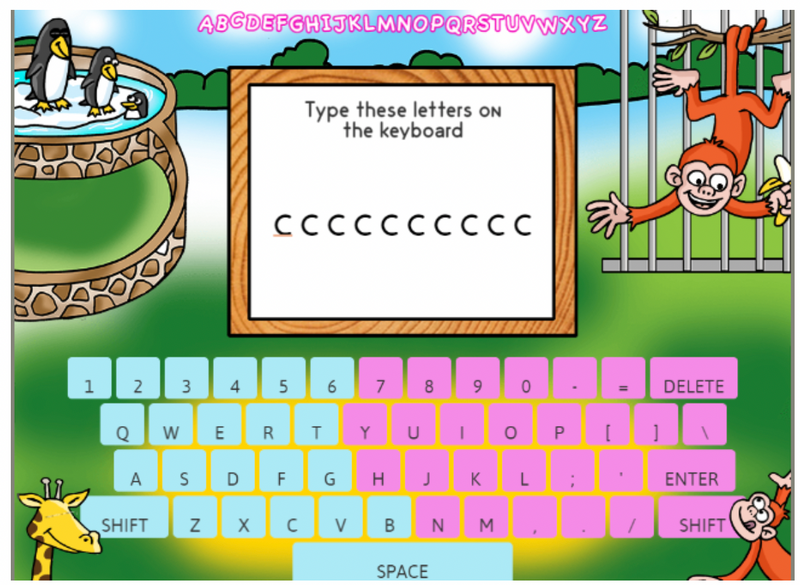 Keyboarding Zoo is a great resource for younger kids who are just beginning to learn typing. The game teaches kids the location of letters on the keyboard, and also helps them learn letter sounds and improve their spelling. The website which hosts the game, ABCYa, has a variety of other educational games, so be sure to check those out as well!
Best for: Ages 6-8
Price: Free!

TypingClub contains hundreds (685, to be exact!) of lessons to help you become a master typist. The website contains a diagnostic test at the beginning which will place you at a difficulty that will push your typing to the next level. The website combines lessons, videos, and games to provide a complete package of learning.
Best for: Learners of all ages - the diagnostic will place you at the appropriate level
Price: Free!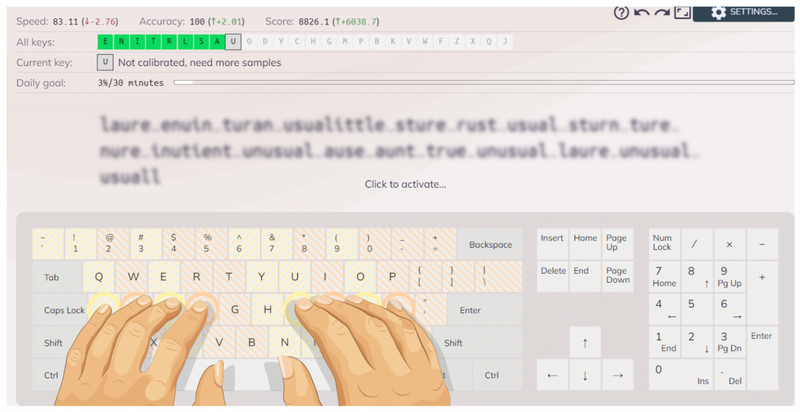 The distinguishing feature of KeyBr is that it uses artificial intelligence to intelligently learn which letters you have mastered and which letters need a bit more practice. At the top, you can see in green which letters you have mastered. Once you have mastered a letter, the program will have you type that letter less and instead will focus on other letters to improve. And, with a speed and accuracy tracker, you can see your progress in real time!
Best for: Ages 10+
Price: Free!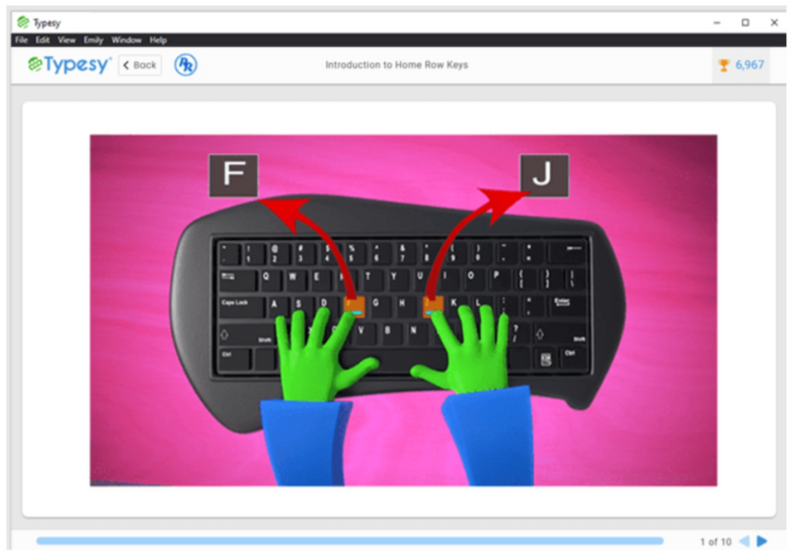 Typesy offers a comprehensive typing curriculum which is utilized in a variety of school districts. With a Typesy individual account, kids get access to thousands of typing exercises, 3D animations, games, and progress monitoring so they can see their growth. And, with a 12-month money-back guarantee, you can be confident that the product will meet your needs.
Best for: Grades 2-10
Price: $67
TypeTastic boasts 700+ typing activities, which are sorted by grade level. With over 6 million students to date and a 96% customer satisfaction rating, the program is sure to help you improve your typing skills. The program also includes timed tests to measure your skills as they grow.
Best for: Ages 5-18
Price: Free!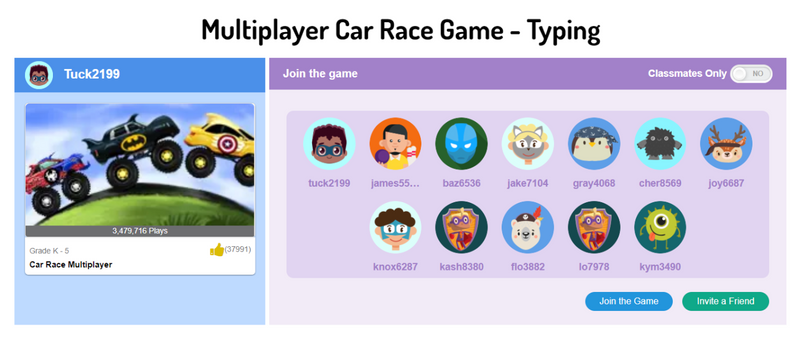 Similar to some other websites listed in this blog, Turtle Diary offers lessons of varying difficulties to help learners of all ages master their typing skills. What sets Turtle Diary apart is that it offers fun, multiplayer typing games. Simply find a game, send a link to a friend to join, and compete against each other to see who's the faster typist!
Best for: With beginner, intermediate, and advanced lessons, this site is great for learners of all ages
Price: Free!
Enjoy fun and helpful typing apps for kids
By practicing consistently with the resources linked above, any kid can learn the essential typing skills they will need to succeed in today's world. To delve deeper into the world of computer, go behind the screen and explore the parts of a computer. To complement your typing skills by learning coding, a fundamental skill many parents consider as important as math and English, join any of our free coding classes to get started.
Most beginners love our entry-level Scratch coding class, that uses drag-and-drop coding, similar to virtual LEGOS, so students can concentrate on learning coding logic while making cool games.
Your student might also enjoy our live online Minecraft Redstone Engineering class, where your student will learn how to build holiday lights, automatic doors, and even flying machines inside Minecraft while mastering engineering concepts:
Written by Matt Kalnay, a Create & Learn instructor. After graduating from UC Davis with a B.S. in Biology, he joined Peace Corps Indonesia as an English as a Foreign Language Instructor. Following his return to the United States, he decided to pursue his passion in the field of Software Engineering and Web Development.