There is no better way to have fun learning about space and to get closer to NASA than getting involved with amazing NASA online learning opportunities. This article will give you ideas about several NASA activities for kids online, as well as a few in-person space activities. We hope you will find something that will best suit your interests. Good luck and have fun on your voyage!
For even more NASA fun, don't forget to attend our upcoming free NASA and space events.

Explore NASA activities for kids
Some challenges are aimed at younger students and some are for students of all ages. Please check the details for each challenge.
NASA activities for elementary kids
Here are some out of this world activities for elementary school students to expand their curiosity and creativity.
From Mars and aliens, to galaxies and rockets, space fascinates many kids and adults alike, and is the source of powerful imaginations. In this series of Create & Learn club sessions led by an expert, your kids will learn a wide range of topics related to space science, NASA, and practice other STEM skills. All live online sessions are project based to encourage curiosity and develop problem solving skills. In each session, kids in grades 1-4 can learn cool new things about space and science, then build small projects and play games for lots of fun and to strengthen their learning.
2. Create your own Zany Space Adventure: Space Place Loopy Legends
This is a wonderful tool to inspire young space authors to create a variety of funny space stories including about black holes, meteorites and surfing in space. Just insert a few words and out comes your new story.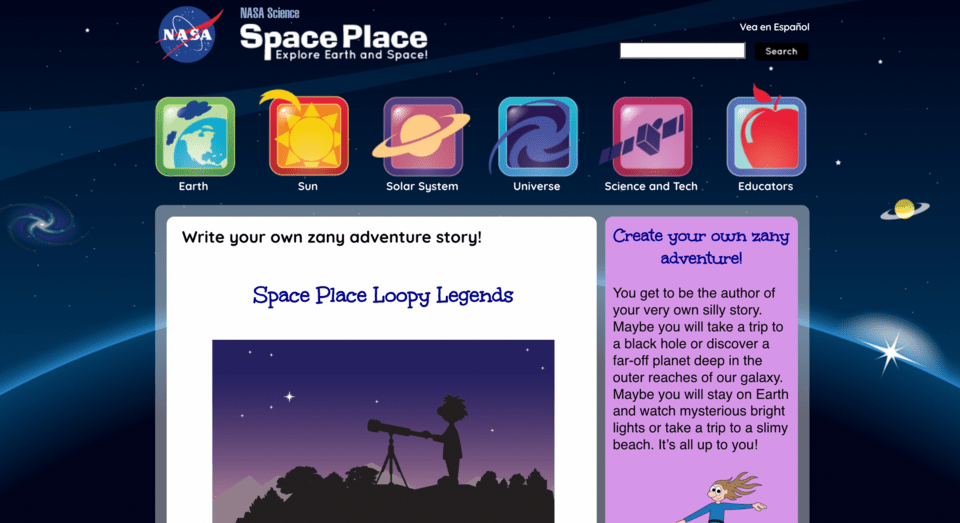 3. Get to know the The Mars Rover: Perseverance
Do you want to learn more about the Mars Rover Perseverance and do some fun activities about this Rover? This site has everything you need. It includes pages for coloring and school science projects.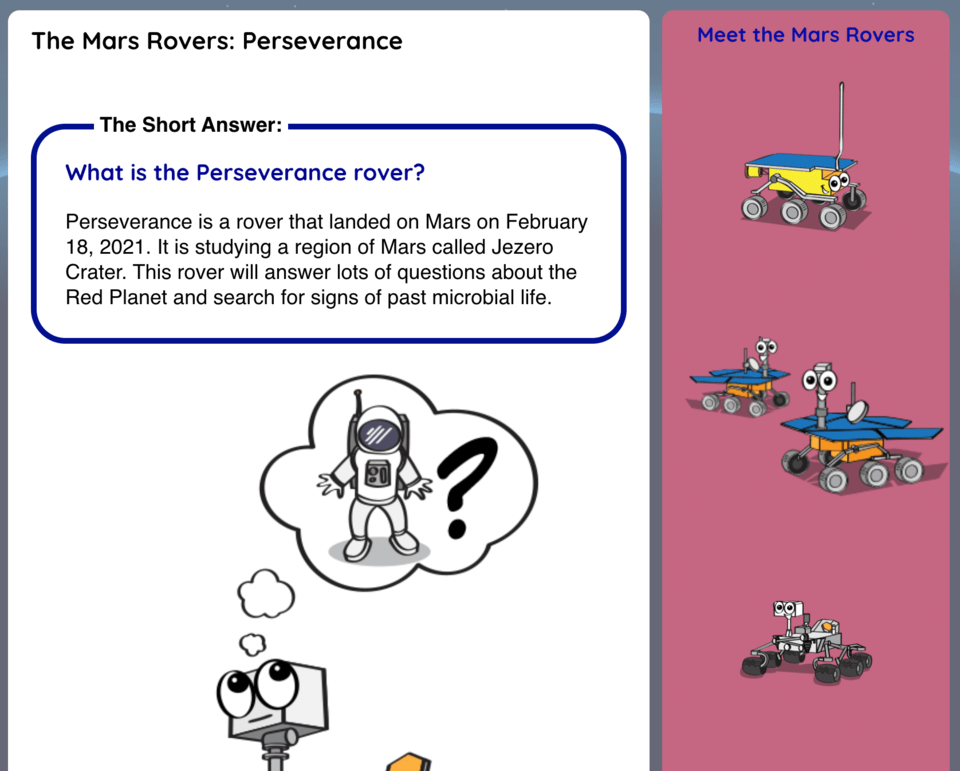 Get your space questions answered than from a NASA Rover! You can ask ROV-E any questions you have about Mars and space either by text or voice message, and he will answer you immediately.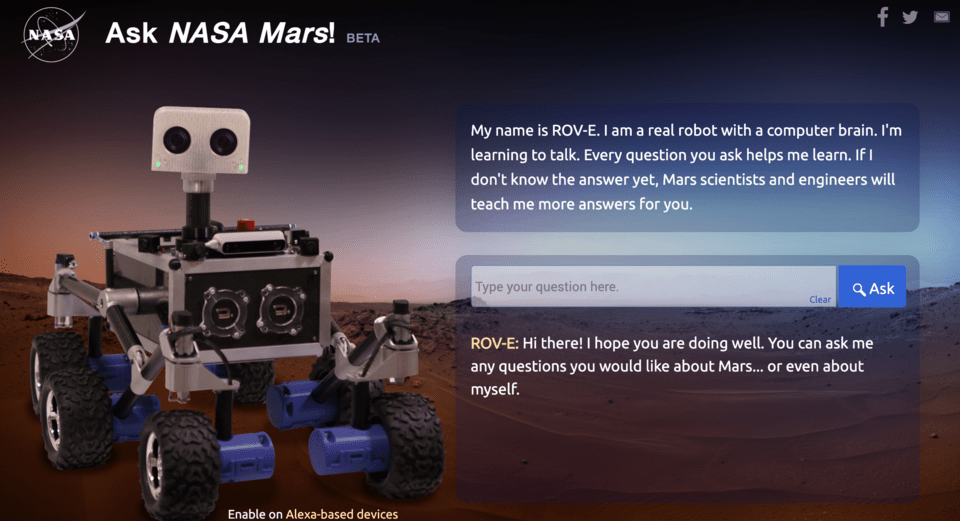 NASA activities for middle school kids
Here are some options for middle and high school students to consider.
5. Artemis I Launch Watch Party: Plan your own event (for free!)
Artemis I will be the first integrated test of NASA's Orion spacecraft, Space Launch System (SLS) rocket. Artemis I will be an uncrewed flight test to lunar orbit  that will provide a foundation for human deep space exploration. You are invited to plan a Watch Party in your home or with your school. It's a great way to get closely involved in this historic event. The date for the launch has not been confirmed yet but will happen no earlier than April 2022.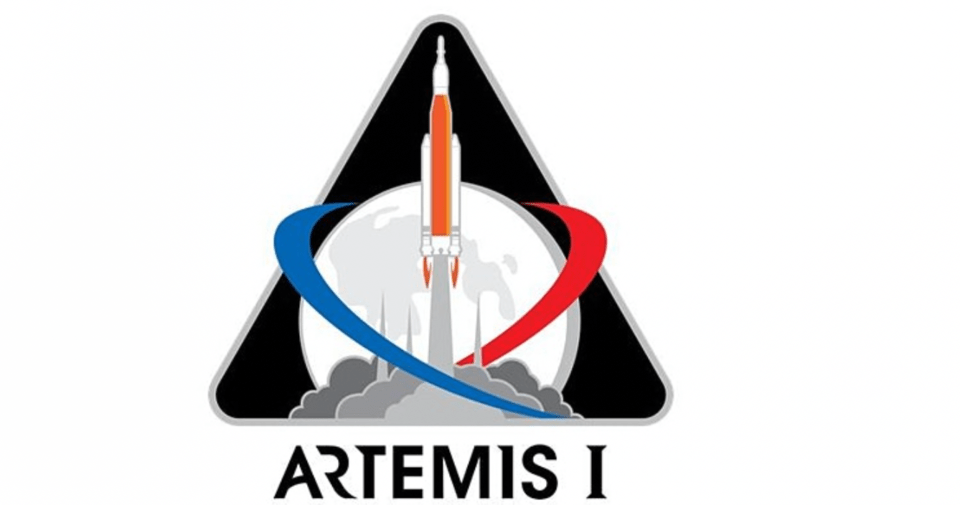 6. Astro Camp
AstroCamp mountain adventure and science summer camp for kids and teens offers educational camp programs for 8-17 year olds who love science and space exploration. The camp takes place in the San Jacinto mountains in California. For more details contact: Diana@astrocamp.org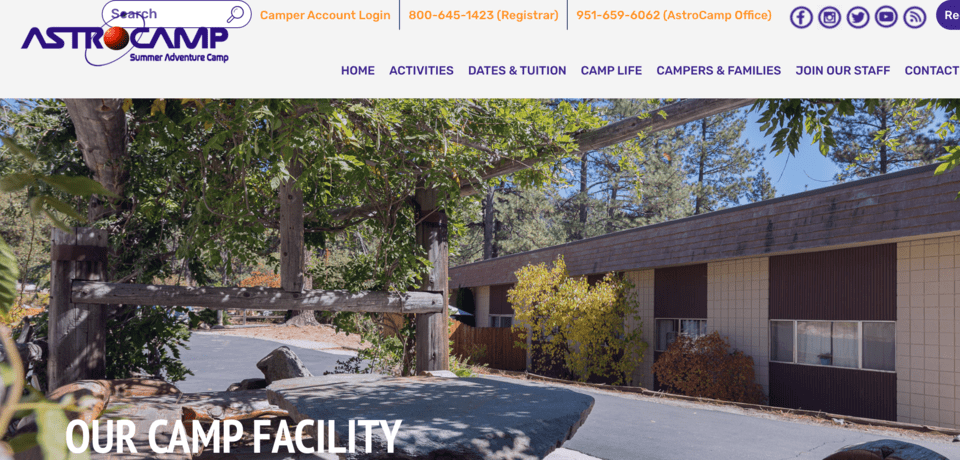 7. Space Center University: Space Center Houston
Over 5 days Space Center University students will discover areas such as robotics, rocketry, thermal protection systems and space habitats. Participants will be inspired as they engineer solutions to space related challenges, collaborate to find solutions and go behind-the-scenes at NASA Johnson Space Center. There are programs for students between the ages of 11 and 18 and there are some scholarship opportunities available.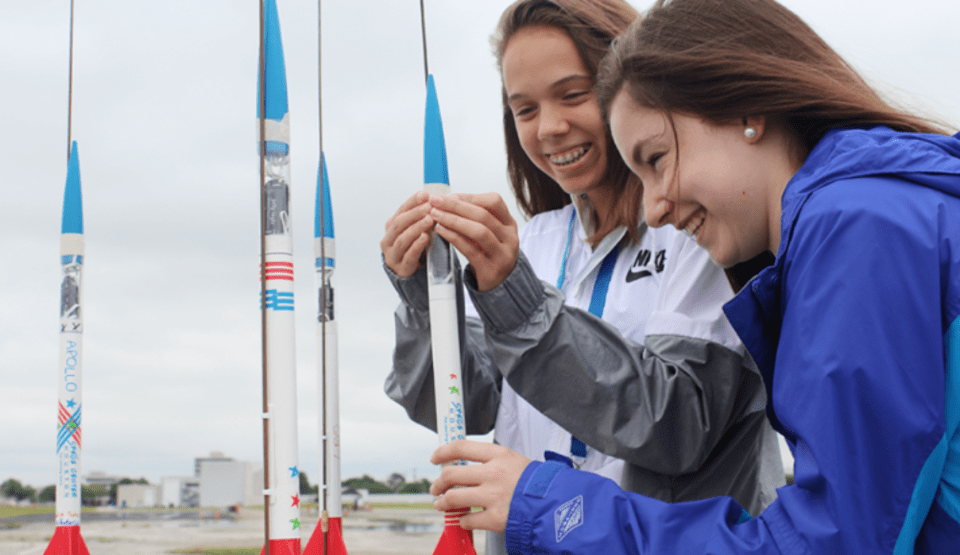 NASA and other space activities for high school kids
Here are some interesting opportunities for students of various ages that will get you involved with NASA and two important space companies: Blue Origin and Virgin Galactic.
8. NASA Techrise Student Challenge
It takes a special kind of power to gather data at the extremes of our solar system. As NASA celebrates 60 years of nuclear power for space flight, they want to hear about what energizes you! If you are a K-12 student in the United States, this challenge involves researching Radioisotope Power Systems (RPS), which is a type of nuclear battery, and then writing about:
one or more uses of this special power system in space that inspires you, and
what you think your unique power is and tell us how it will help you achieve one or more long-term goal(s) in your life
The due date for this activity is April 13, 2022.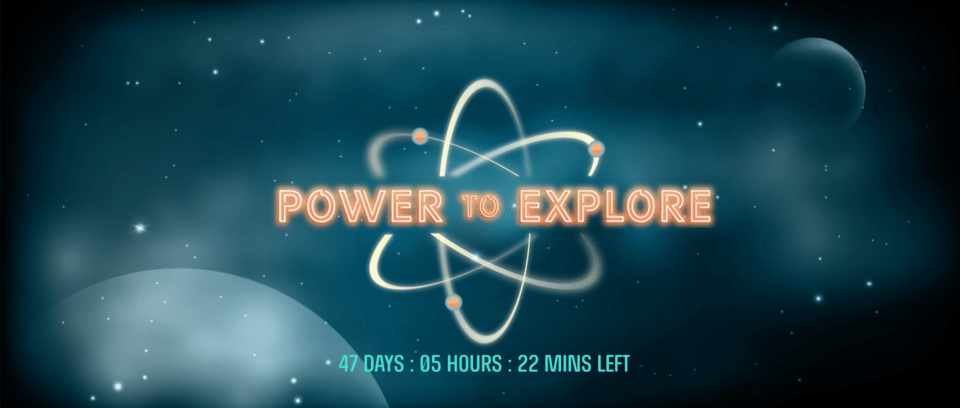 9. Blue Origin's Club for the Future: Send a Postcard to Space
Write or draw your vision on a postcard for  what you think the future of life in space will look like—or any other message you'd like to send to space. Blue Origin will launch it into space and back on  its New Shepard rocket, and return it to you stamped "Flown to Space." Send as many postcards as you'd like.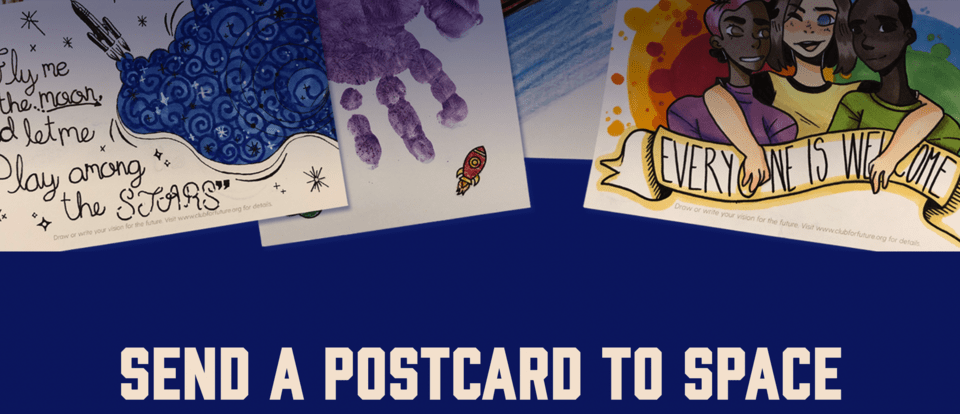 10. Virgin Galactic: Kid's Corner
This is a great way to connect with Virgin Galactic, a company that is leading the space tourism industry. Virgin Galactic's engineers, pilots, spaceship builders and designers have put together a collection of cool space activities for students. You are invited to share your creations with Virgin Galactic at this email: Galactic.Unite@VirginGalactic.com.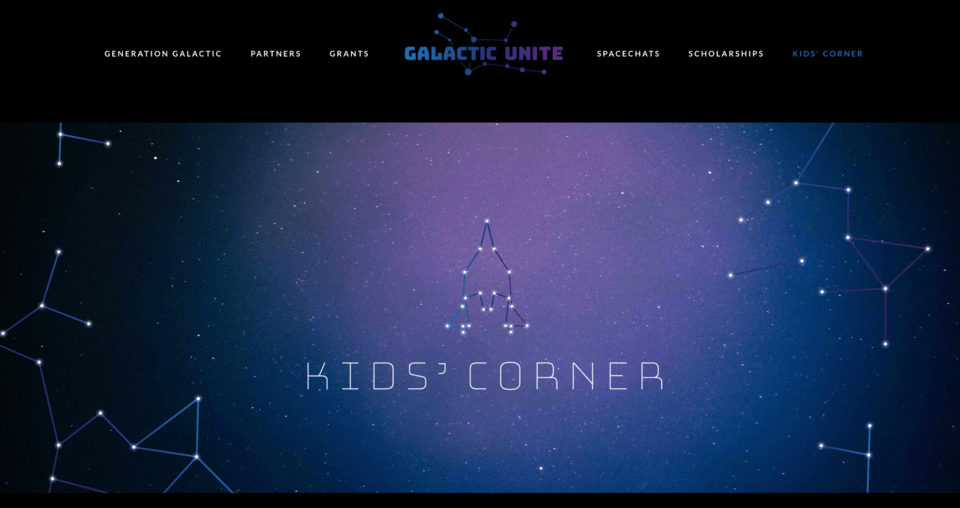 Bonus. Read a Mars Mission Book
Throughout March and April 2022, 10 Create & Learn students from around the globe came together to collaboratively write an exciting new book about the first crewed mission to Mars. Each author was assigned one chapter to write and as a group they collaboratively shared ideas about the overall content of the book. The young authors who participated are from Poland, China, Australia, United States and Canada. Read the Red Planet Odyssey!
Enjoy NASA activities for kids
We hope you found a few things in this article that caught your interest and will inspire you to continue studying and exploring space. There are so many amazing things going on at NASA, space companies and camps. By participating in these kinds of opportunities you are taking an important step to working one day in the space business. Up next, check out some cool NASA contests for students and NASA internships.
Fine tune your knowledge of space exploration in private Space Careers classes tailored to your individual interests and needs. Recommended for students interested in developing their own space projects, and for those preparing to apply for NASA internships.
Written by Bruce Callow, a Canadian space educator and co-author of the books To the Stars: Costa Rica in NASA, The Intrepids: Costa Rican Women in Science and Technology and To the Stars: Guatemala in Space. Bruce has worked as a communications consultant for former NASA astronaut Dr. Franklin Chang Diaz. He partners in a variety of space education outreach activities with NASA and the Costa Rica Institute of Technology.