As we approach the beginning of school, families begin to consider fun fall activities and projects for their children. So today, we hope to provide you with exciting ideas of family fun activities that will keep your children excited and engaged. From arts and crafts to baking, you're sure to find a new favorite.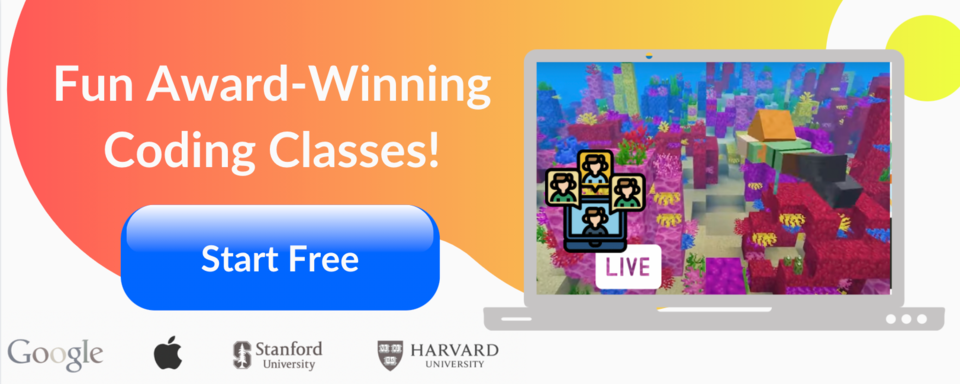 Explore fun fall activities and projects for kids
Throughout this section, we will provide ideas of fall activities to engage your family in!
Scratch Coding Club is a live video session series, where an expert guides kids through a different project from start to finish in a 55-minute session each week. Students review and master key Scratch coding concepts such as lists, variables, messages, and cloning, all while understanding how to use them to make an awesome project they love. Some examples of weekly projects include making a soccer game, creating a virtual pet, and bringing a dress up game to life.
Tech Expert Events are an excellent family activity to explore the beauty of technology together! Children and families can learn about the ways technology is used in making movies, robots, and websites. During these live online sessions, tech experts from top companies teach how they use computer science in daily life. Each approximately hour-long class is designed with kids in mind. There are many offerings to pick from and this could be a super fun day inside for the family as you bake fall treats.
Create & Learn offers amazing, award-winning free coding classes for the chilly fall days when your family just needs some time inside. The traditional starting point for children (Grades 2-5) in the coding progression is to take the free intro to Scratch Ninja. This course teaches kids the basics of coding through creation and design. An expert teacher guides small groups of students (5 max) through the design process using inquiry-based instruction. Your child will create a project in each class that is totally their own!
Code.org teaches students the beauty of computer science through games. They offer videos, tutorials, and projects. This can be a really fun family activity as you spend time together at home during the weekends! Parents and children can learn computer science together through games.
Pumpkin spice drinks are the ultimate fall treat! Host a pumpkin spice contest where each member selects a traditional pumpkin spice recipe but has to put their own twist on it. There is a list of pumpkin spice recipes below to pick from. Once every contestant has picked a recipe, they should make their drink with a small twist to the recipe. Then, have a taste-testing contest to determine the best drink!
With the pandemic present in our world, it is nice to have virtual options that allow us all to keep traditions alive. Host a virtual Halloween party with friends and family! You can host your own or hire a facilitator to host for you. Games, activities, and costumes will all be part of the party. Including contests and virtual tours of creepy locations will make this event super fun.
To create some cheer, coordinate a gift basket exchange! This can be amongst family, your neighborhood, or circle of friends. In the baskets, be sure to put items that represent autumn. You can even make the gift baskets varied depending on the recipient's age. This is a great way to cheer up someone during the chilly fall weather that sometimes comes our way!
Studying the folk story of Johnny Appleseed is a super fun activity as a family. You can drink apple cider while reading the story! There are so many wonderful treats you can make with apples, too. This may require a visit to the apple orchard, of course! But, what a fun activity for fall.
Looking for a less messy way to have fun with pumpkins this Fall? Shelterness has a really amazing idea. They created pumpkin magic using stickers! No more mess of carving or risking your child getting cut with a knife. Check out the photos in the link to see if this fits your child's interests.
Not able to get to the corn maze this year? No problem! Check out the virtual corn maze. Your family can navigate through the maze as a team as you sip on fall tea. Make this an experience by dressing up as if you were there, along with taking your time through the maze.
Looking for a budget friendly project that is fall related and fun? Consider making a scarecrow for your family. This fun activity allows creativity, family bonding, and fun! Scarecrows are a great fall decoration for your garden or front steps. The exciting part is you get to decide how your scarecrow looks.
Want to take your creation skills up a notch? Sign your family up for a wreath class led by an instructor. You can design your own fall wreath for your front door or rooms within your home! This can be a really fun activity for artistic families looking for a challenge. Make your home gorgeous with a new wreath!
Integrate science and art together as you explore the beauty of autumn leaves. The site linked below teaches you how to press and preserve fall leaves. This is a family-oriented activity where you can explore nature together. These leaves can decorate your mantel or serve as a centerpiece for your table. You can eventually paint the leaves if you like!
Love to bake? Want to make some sweet treats this fall that your children will love? Go to the link below to learn how to make cotton candy monster cupcakes. Your children can design their own monsters to put on top of traditional cupcakes. This can be for halloween or just as a fun fall activity!
What is cuter than a turkey during Fall? Design egg carton turkeys with your family using the directions linked below. You will need egg cartons, googly eyes, glue, feathers, scissors, paint, and card-stock paper. These can serve as Thanksgiving decorations or fun gifts! You can make changes to the project decorations as you see fit.
Try fun fall activities and projects for kids
Make this autumn one to remember with these projects and challenges, perfect for children and familiar. These activities included technology, cooking, parties, arts and crafts, and reading! We hope you enjoy these activities and have a fun-filled fall.
Up next, get started with award-winning free coding classes for kids designed by Google and Stanford experts, or explore after-school enrichment activities.


Written by Lauren Mauel, a Create & Learn instructor with 8 years of teaching experience. She also has a BS in Mathematics, an MS in Analytics, and is a PhD candidate. She loves seeing kids' creativity come alive.