Mobile devices have been ubiquitous with everyday life; in fact, the average American has over seven hours a day of screen time! With all the time being spent on devices, wouldn't it be smart to dedicate some of that time to learning? Even a few minutes each day spent on educational apps can benefit students' skills and abilities. That's why it's a great idea to check out some of the top education apps available to students right now.
Apps can be great for getting an introduction to a subject, but it helps to have a teacher's expertise when developing advanced abilities. Coding is one of those advanced skills that can be greatly benefitted through the help of a structured course. One such example of these courses are Create & Learn's online coding courses designed by experts from Google, Stanford, and MIT! Not only will students be able to channel their creativity into a productive outlet, but also they will gain useful skills for their future career. Start with an award-winning beginner-friendly online Scratch coding class, led live by an expert.
Discover the top education apps for students and teachers
From languages to music and more, check out these widely-used educational apps! All apps in this list are available on both iOS and Android devices.
1. Duolingo
Duolingo is far and away the most popular app for learning to speak a new language. Its game-like exercises and user-friendly interface lend to its massive popularity with people of all ages. The app has a strong focus on daily, incremental growth, and reinforces that attitude by encouraging users to maintain a daily study streak. Duolingo is free, but has a $7 monthly subscription that removes ads from the app. Unlike other apps, they also offer a family subscription for $12 monthly that includes 5 users.
Rating: 4.54
Installs: 100 million +
Download on iOS here | Android here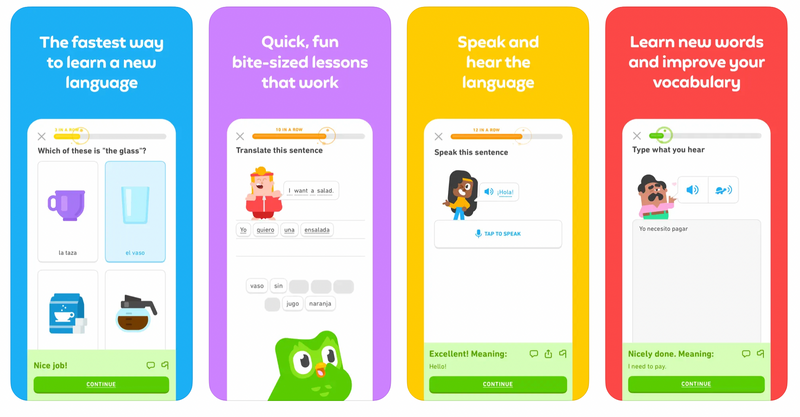 2. Udemy
Udemy is a popular resource offering thousands of online courses. Essentially, Udemy resells courses that are created by individual instructors in subject matter of their choice. Courses are self-directed, and typically include lecture videos, quizzes, and notes or practice assignments that are available to download. One interesting feature of Udemy is that students can post questions on the course page, which the instructor or assistant can then answer. Users can buy courses on a per-course basis, or are able to purchase a monthly subscription which gives them access to a wide range of courses (but not all courses).
Rating: 4.40
Installs: 10 million +
Download on iOS here | Android here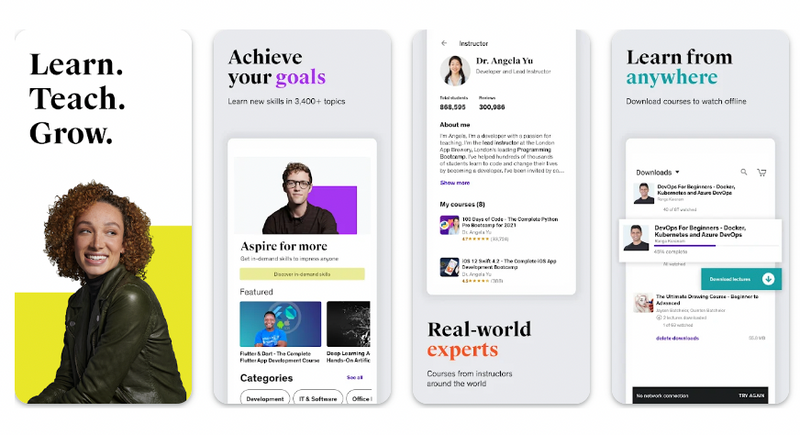 3. Quizlet
Quizlet is one of the best free study aids out there. At the most basic level, Quizlet users are able to create digital flashcards; however, it is capable of much more than that. The app tracks users' study habits, allows users to play games with the cards, and can even "read" the cards out loud with text-to-speech features! Plus, users are able to share their flashcard sets on Quizlet, which means users are able to work from pre-existing sets instead of starting from scratch. Although many features of Quizlet are free, users can purchase a monthly subscription which removes ads and allows offline studying, among other things.
Rating: 4.45
Installs: 10 million +
Download on iOS here | Android here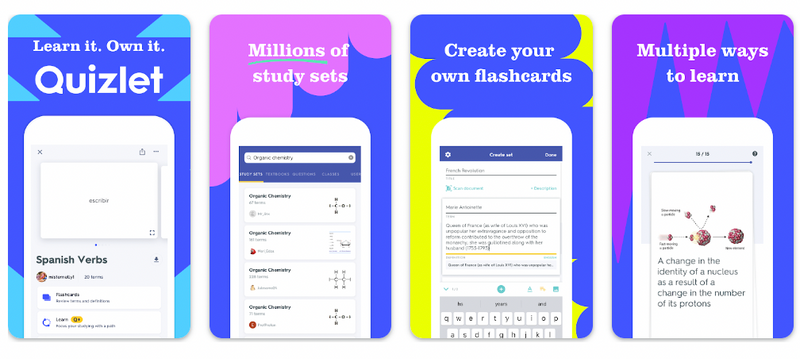 4. Epic: Kids Books & Reading
Epic is like having a children's library on your phone, with its collection of over 40,000 of the most popular children's books. The app features a built-in dictionary feature for looking up words, comprehension quizzes after finishing books, and badges to reward kids for their reading achievements. Book suggestions are curated based on kids ages and reading levels, to ensure they are entertained, yet adequately challenged. Student accounts can be managed from parental accounts, including content filtering and progress monitoring. With a basic account, kids can read one book a day; otherwise, the $9.99 monthly subscription entitles them to unlimited books.
Rating: 4.38
Installs: 5 million +
Download on iOS here | Android here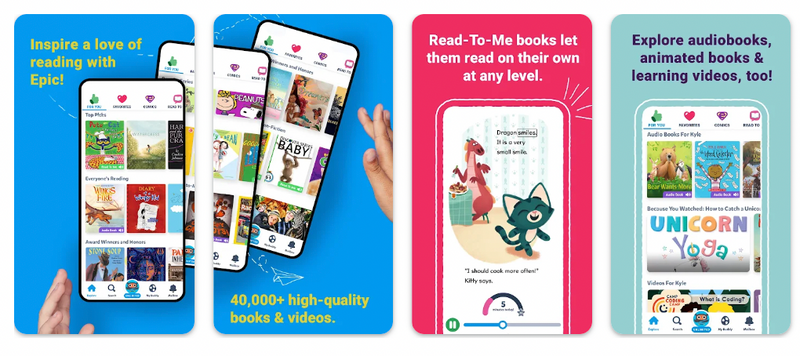 5. Lingvano Sign Language ASL
Lingvano is a great option for people who want to get an introduction to American Sign Language (ASL). The app includes 5 modules, each comprising 12 lessons that introduce common ASL gestures. To help users evaluate how accurately they are signing, the app allows users to view themselves through their front-facing camera at the same time the gesture is demonstrated, which makes for better practice. The app also includes a sign language dictionary for quick reference. Since only the first lesson of each module is available for free, users should plan to pay for the $16 monthly fee.
Rating: 4.75
Installs: 100 thousand +
Download on iOS here | Android here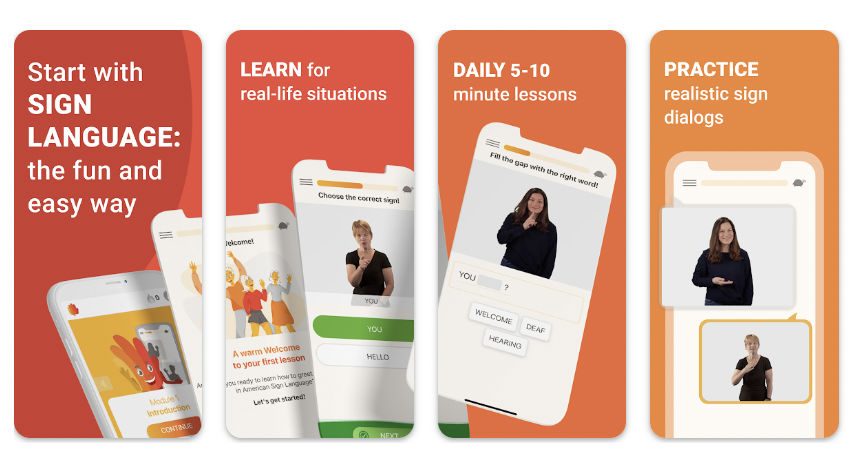 6. Khan Academy Kids
Khan Academy Kids is an award-winning app, targeted at Pre-k to second grade level students. The app is 100% free, with no ads or subscriptions whatsoever. Activities in the app are designed to target Common Core and Head Start Early Learning curricula, with one study concluding that it could help 4-5 year old students make significant progress with reading comprehension. The app uses books, songs, and games to provide a variety of learning experiences to students. Parents can track their children's progress by subject area, and can also create weekly planners or daily schedules for their kids.
Rating: 4.62
Installs: 1 million +
Download on iOS here | Android here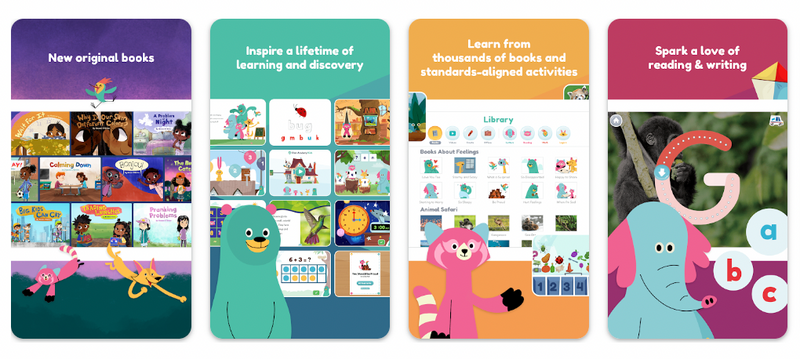 7. Babbel
Available via the web or mobile app, Babbel is another language learning solution. Babbel's lessons are designed to take about 15 minutes each, which lends itself to learning small chunks of information each day. All spoken demonstrations in Babel are voiced by native speakers of the language, helping to insure proper inflection and cadence. Another interesting feature of Babbel is its voice recognition feature, designed to enable users to practice speaking the language from early in the learning process. Subscriptions are available in 1, 3, 6, and 12 month increments, as well as offering a one-time fee for a lifetime subscription.
Rating: 4.58
Installs: 10 million +
Download on iOS here | Android here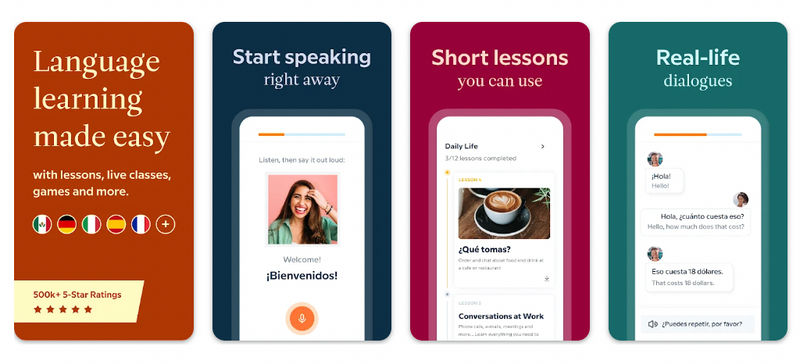 8. Fender Play
Built by the guitar company Fender, Fender Play teaches students to play electric guitar, acoustic guitar, bass, and ukulele. Fender Play works for adults and young students alike, with its high-quality video demonstrations and practice exercises. The courses are differentiated based on genre/style, so users learn their favorite playing style from the beginning. In addition to lessons on technique, the courses teach tablature and music theory (chords), which helps to develop overall musical ability as well. Users can start with a 7 day free trial, and then are charged a $10 monthly fee to use the service.
Rating: 4.51
Installs: 1 million +
Download on iOS here | Android here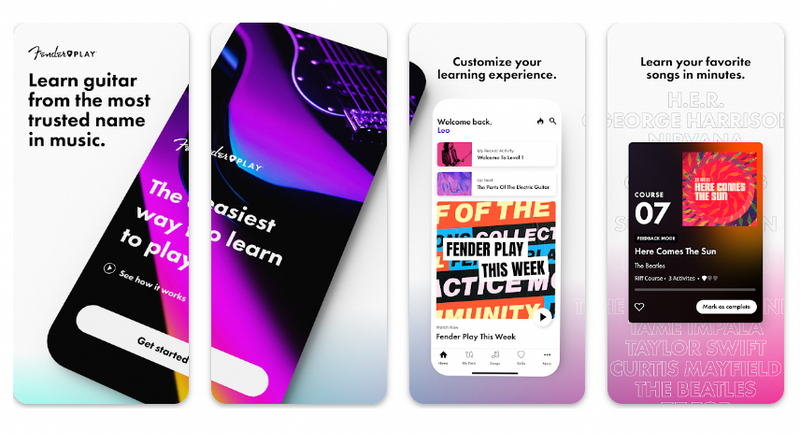 9. Simply Piano
For those looking for an introduction to piano, Simply Piano is an excellent option. The app is a comprehensive music-learning solution, including courses for solo and accompaniment piano, daily exercises, and a large library of sheet music. Users can also pick up some music theory as the app teaches about harmony and chord progressions. It should be noted that the app is intended to be used with a USB MIDI keyboard connection, although it can use the microphone to detect note accuracy if learning on an acoustic piano. Users can begin with a 7 day trial, and then must purchase either an annual, biannual, or quarterly subscription.
Rating: 4.45
Installs: 50 million +
Download on iOS here | Android here

10. Noggin Preschool
Noggin Preschool is an app created by the Nick Jr. network, featuring clips and characters from its TV shows. Some of the episodes have been modified to be interactive, while others have educational games and activities to accompany them. This app has strong appeal with young students who like the characters from the shows. Unlike other apps, there is little ability for parents/educators to regulate the content or track student's progress, making it a better app for kids to play on, rather than pursue a structured curriculum. The subscription price runs at $7.99 a month.
Rating: 3.67
Installs: 5 million +
Download on iOS here | Android here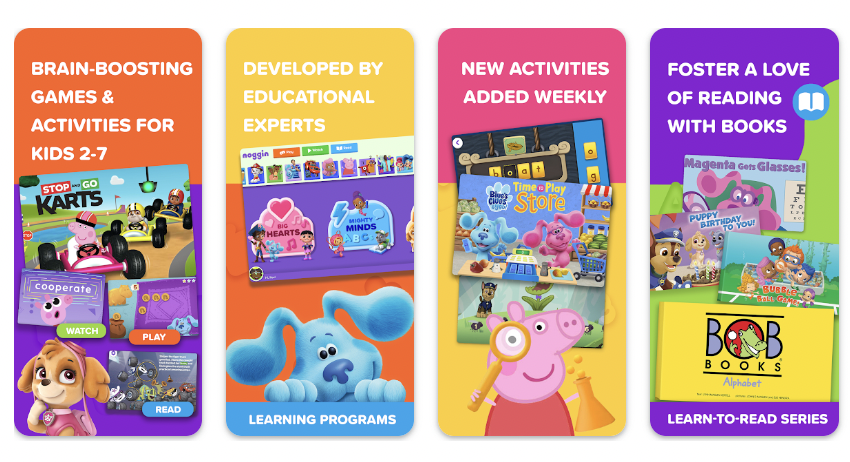 11. Lightbot: Code Hour
Players are tasked with helping a robot move around a level until it reaches a lit up tile. The levels are designed to progress though foundational programming concepts like conditional logic, procedures, and loops. This app is targeted towards elementary-aged students, who may not be ready for text-based coding, but are certainly capable of learning basic coding concepts. Lightbot: Code Hour is free and is designed to be completed in around an hour; however, there is an extended version of the game available for $2.99 which has 50 total levels.
Rating: 4.28
Installs: 1 million +
Download on iOS here | Android here

12. Khan Academy
Khan Academy started out as a series of math lessons by Sal Khan, but has since grown into a massive non-profit organization, whose mission is to offer educational resources for free on the web. Khan Academy is a phenomenal resource for high schoolers, who can take advantage of their SAT and AP prep materials. They also offer a number of resources for computer science and math courses. Creating a free account allows students to track their progress they've made watching videos, attempting exercises, and more. They do offer resources for middle and elementary students as well for math and reading skills.
Rating: 4.33
Installs: 10 million +
Download on iOS here | Android here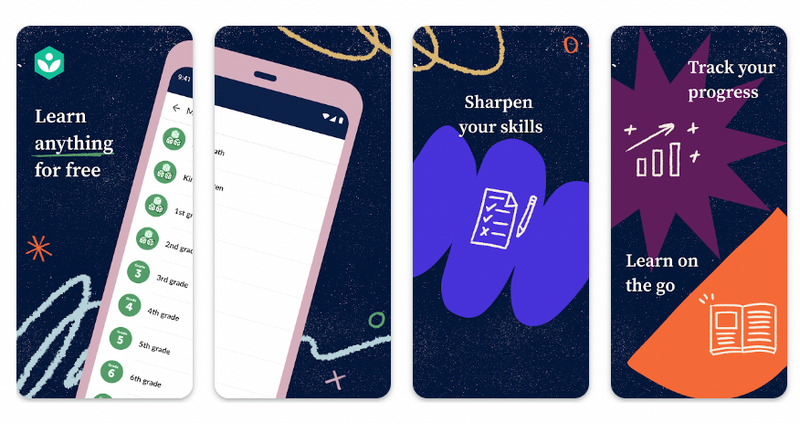 13. ABCMouse
ABCMouse is an award-winning education app targeted at kids ages 2 to 8. The service contains 10 levels with over 850 lessons, structured to gradually progress in complexity. Curricula include math, reading, science and social studies, and colors. For parents, the app has an "Assessment Center" where kids can take tests to measure their progress with the content. Plus, the app has no advertising or links out of the app, which makes it safer for kids to use. ABCMouse offers a free trial month, followed by a monthly subscription fee of $12.99.
Rating: 3.96
Installs: 10 million +
Download on iOS here | Android here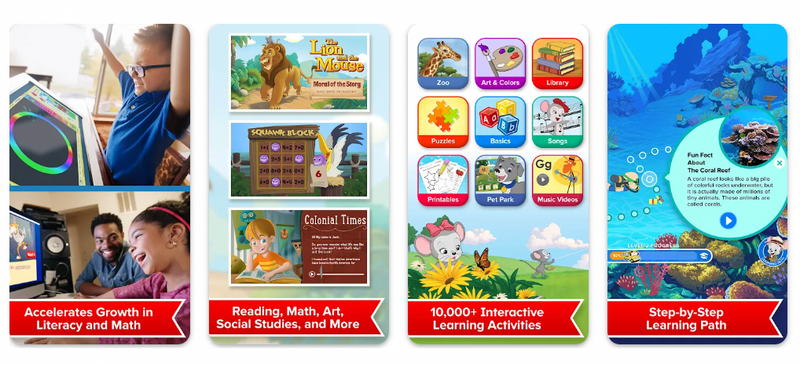 14. PBS Kids Games
PBS has created numerous educational programs in its existence, and its app is a continuation of that legacy. Games are based on the characters from their TV shows, helping the kids to relate to and engage with the activities. Unlike other apps, PBS Kids stays fresh and fun by adding new games every week. The target age range for this app is kids aged 3-8. Impressively, this app is completely free to use.
Rating: 4.22
Installs: 5 million +
Download on iOS here | Android here

15. Hooked on Phonics Learn & Read
Hooked on Phonics is a fantastic choice for kids just starting to read (ages 3-7). The app includes 36 progressive lessons, which include games, videos, and other activities to teach early reading skills. It also includes over 100 ebooks, so kids can apply the phonetic skills they learn to actual stories. Users start out with a 7 day free trial, and then are charged $7 a month from that point onwards.
Rating: 4.19
Installs: 500 thousand +
Download on iOS here | Android here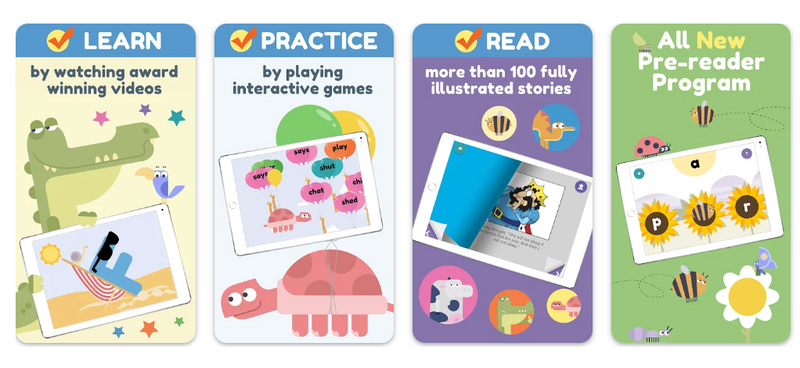 Enjoy the top education apps for students and teachers
Whether your student wants to learn a new language, prep for standardized tests, or something else, one of these top educational apps will certainly fit the bill! And while these apps are great for students with strong self-motivation, others may benefit from the structured curriculum an instructor can provide. If that's the case, then it's a great idea to try one of Create & Learn's free coding introduction classes, such as the beginner-friendly free creative Minecraft engineering class!
Written by Create & Learn instructor Dominic Occhietti. Dominic is a graduate of Michigan State University, where he studied music performance and computer science. He thoroughly enjoys teaching, whether that be coding classes, French horn lessons, or even downhill skiing lessons!