Just like most things related to Roblox, anyone and everyone is able to design and create their own Roblox shirts for their own avatar to wear, and share them with their friends, family, and the world. Using an image editor, your Roblox Create account, and Roblox Studio, you can have some fun making custom Roblox shirt templates of your own!
You can also learn how to bring cool games and worlds to life in Roblox with live online instruction in an award-winning Roblox game coding class designed by experts from Google and MIT.
Learn how to make Roblox shirt templates
Creating a shirt for your Roblox character can be as simple or as complex as you want to make it, but of course it would be best to start out with the basics. For this example, we are going to create a shirt template that is one pattern all over, but you can also apply different looks to each section of the shirt template for a unique look later.
1. Find a blank shirt template.
You can find a blank shirt template using any image search engine, and then place it into an image editor, such as the online Pixlr editor or Canva. Be sure the image is of the PNG file type (not a JPG or GIF file). Download the image, then import it into your editor. If you like to use Pixlr, you can use this link to add it directly to the editor. First, we picked our image: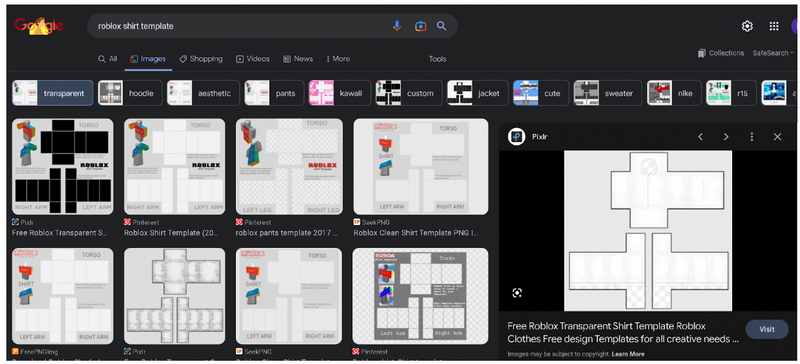 Now we opened it in Pixlr: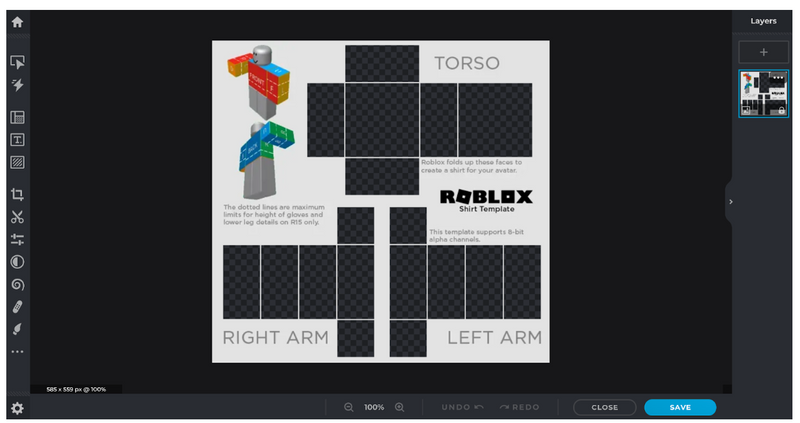 2. Add some color to the template.
Now that your template is loaded, you will want to start your creation. Let's add some yellow as a background color. Using the Shape tool, add a yellow rectangle as a new layer, then move the rectangle layer down below the template layer by dragging it down in the "Layers" window.
3. Add any extra details or have some fun.
If you are familiar with your image editor, you can try adding some textures or text to your shirt by using various tools. To add words, use the Add Layer > Text Layer tool: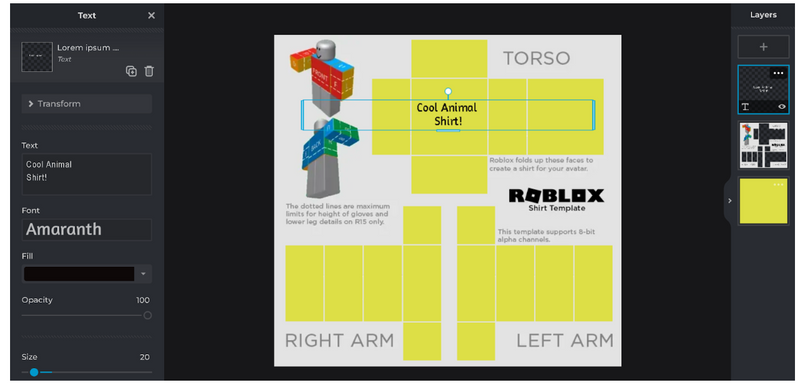 To add a texture and then filter it onto the yellow rectangle, choose Image Layer and add a pattern image you have downloaded: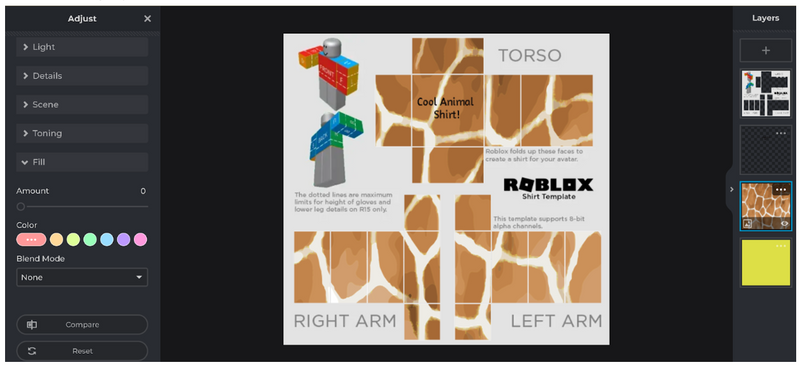 Then right click on the pattern Layer, and try different Blend Modes to see what you like (we used Darken to blend the pattern with the yellow rectangle):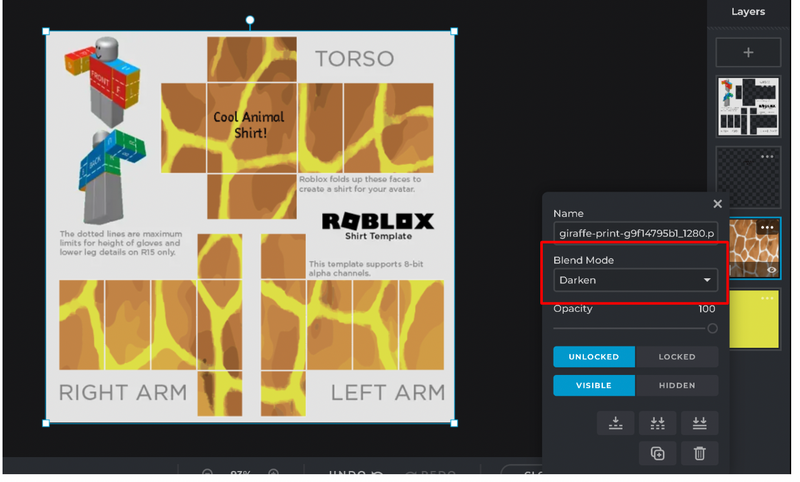 Now we have a fun shirt to put on our avatar!
4. Save and export
Once you have your new design finished, you will need to save it to your computer. Find the Save button and be sure it gets saved as a PNG type file.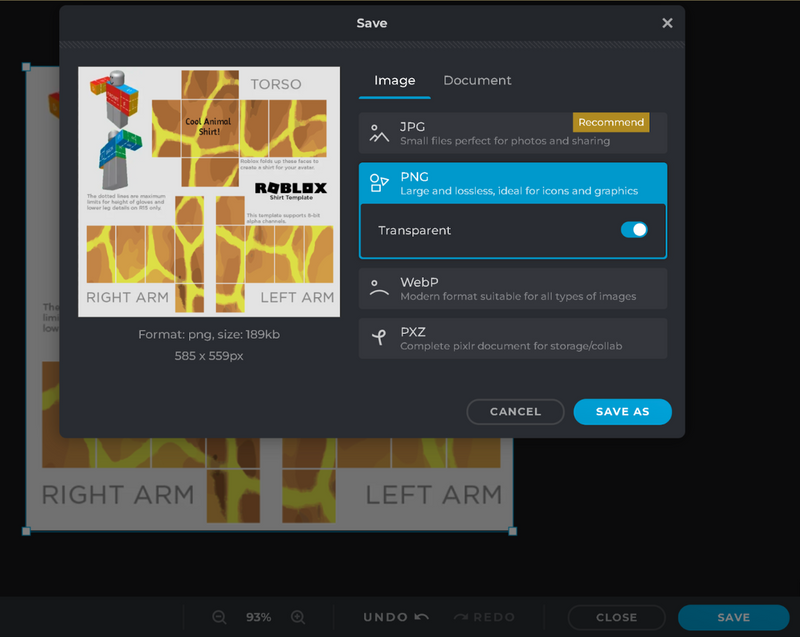 How to Upload your Roblox Shirt Template
Once you have your PNG file, head over to Roblox Develop and click on Shirts. Once the tab loads in, you can click on Upload to add your shirt design to your Creations. NOTE: It does cost 10 Robux to upload your shirt to your Creations at this time.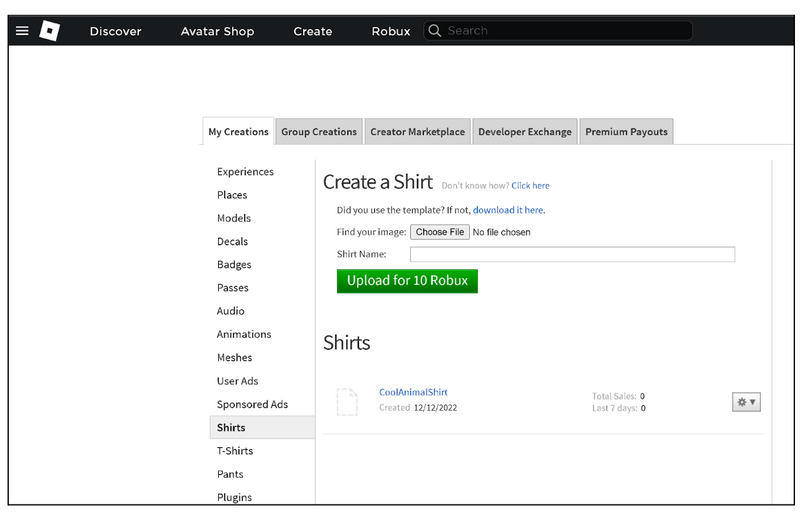 Click on the Shirt name, and you can see your new shirt on a sample Robloxian!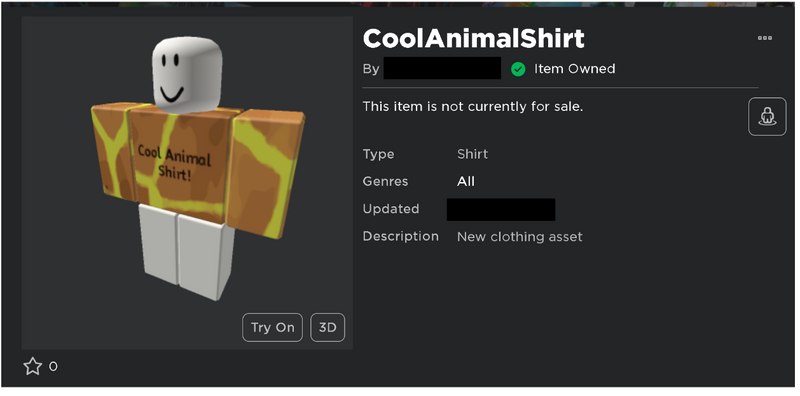 How to Test your Shirt Template
Now that we have the shirt into Roblox, we need to be sure things are working properly. Open Roblox Studio and click on New, then choose any template you want, such as Baseplate.
In Studio, open the Avatar tab and click Build Rig.

2. Choose a rig type from the popup menu. This should drop an avatar mannequin in your workspace named Dummy.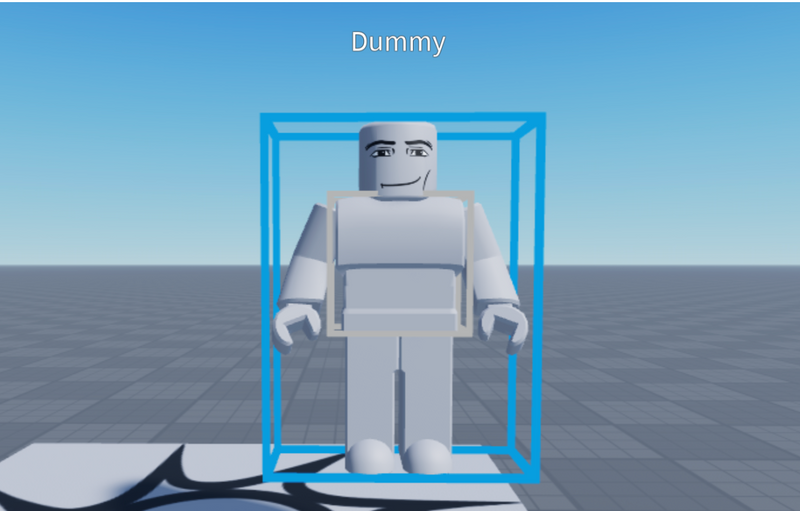 3. In the Explorer window, hover over the Dummy object, click the ⊕ button and insert a Shirt object (it will show up as being called Clothing).

4. In the Properties window, locate the ShirtTemplate property:

5. Return to your Shirt from the Create menu on the Roblox website and click on the three small dots to copy the URL for your shirt.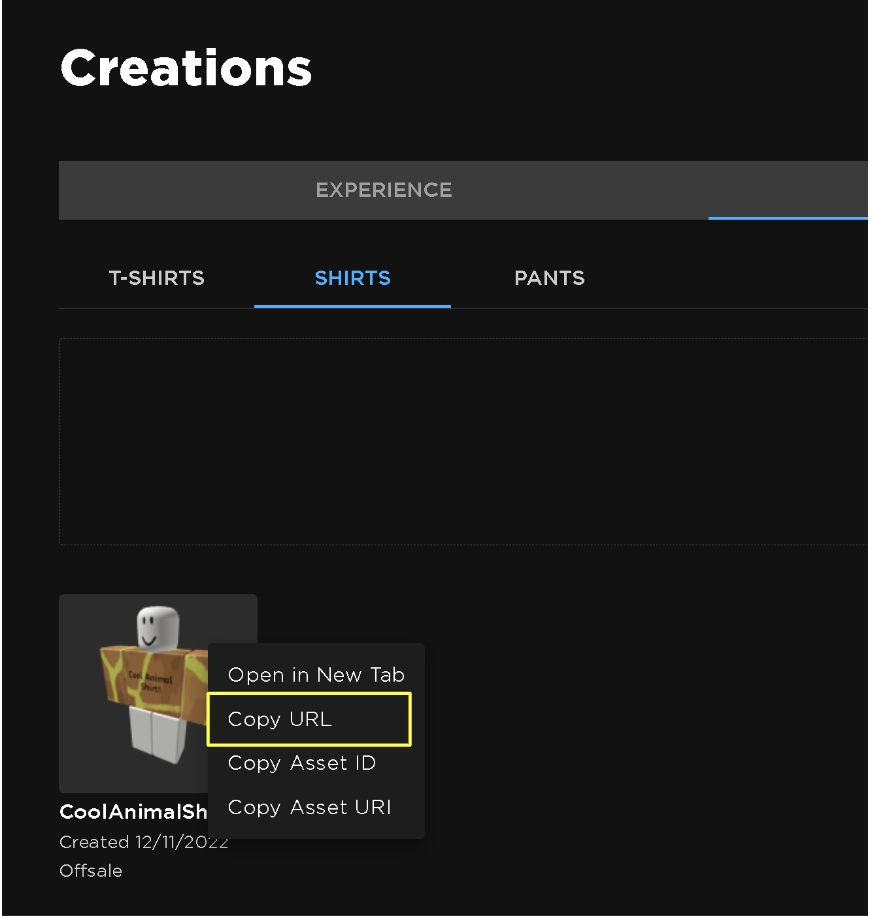 6. Return to Roblox Studio, Click inside the ShirtTemplate property's row and paste the URL you copied from Roblox. This applies the clothing texture to the dummy character!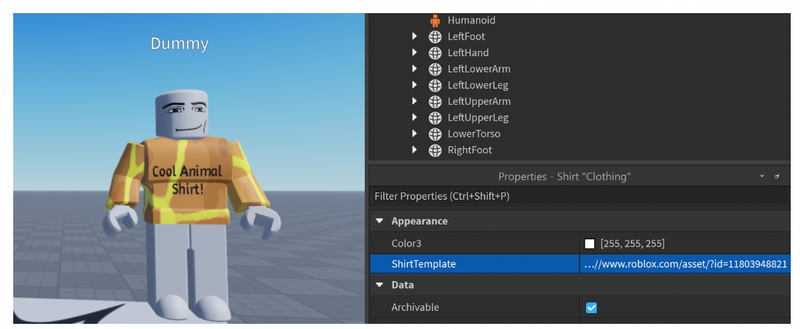 Discover Roblox Clothing Template Ideas
If you're not sure what kinds of designs or patterns to make for a shirt in Roblox, here are a few suggestions to get you started.
1. Google it
Google Images has loads of ideas that you can view to get inspiration for your own designs. Simply type in the search, "roblox shirt template ideas" and you can view thousands of unique designs others have made. Be sure to use them as inspiration only, and not copy their designs directly without permission!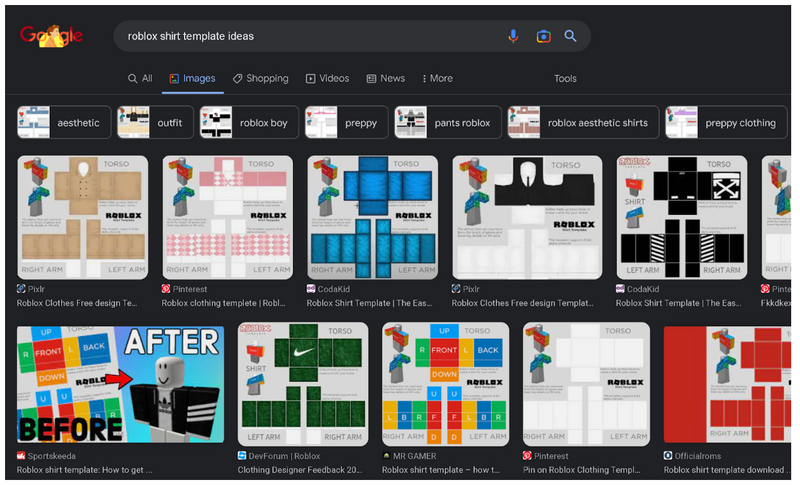 2. Pixlr.com Templates
The online image editor, Pixlr, offers plenty of templates to get you started, and you can quickly add them to the editor to make changes, add your personal touches, or kick things up a notch. The editor is free and easy to use!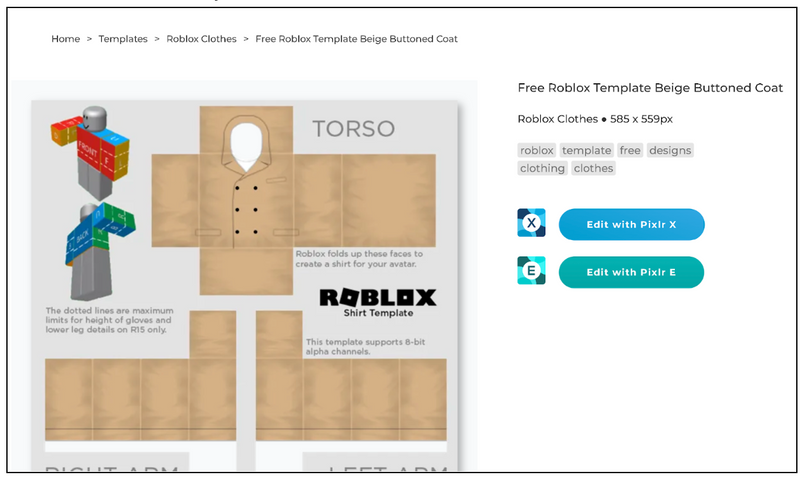 3. Prezibase.com Seasonal Templates
Prezibase has a fun list of seasonal templates, so you could find shirt ideas for any season of the year. Feeling summery? Grab their striped Sailor template. Cold? They have a winter puffy jacket for that. Plenty of fun ideas to get you started on making your own shirt creation.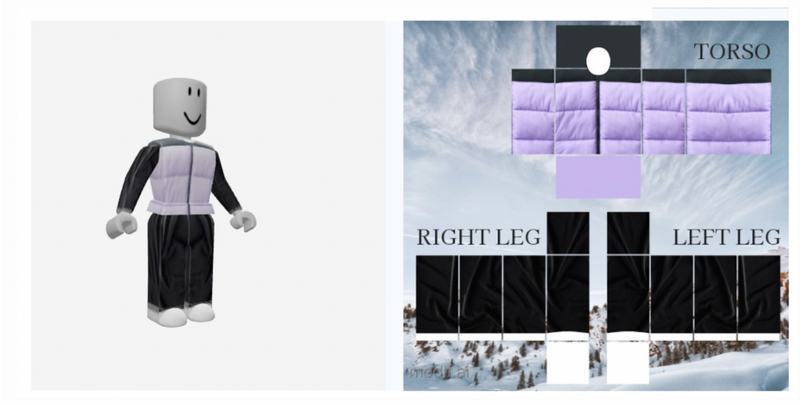 Make Cool Roblox Shirt Templates
We hope we have both inspired you and excited you for how to create your own shirt designs for your Roblox Avatar, setting yourself apart and making your Roblox experience even more fun! For more information about Roblox Studio, be sure to check out how to make a game in Roblox, so your snazzy new avatar can be combined with a snazzy new Obby Game!
For those who learn best with a live instructor, Create & Learn provides Roblox coding classes, taught by professional, experienced instructors. Class sizes are very small, which allows for personal time with each student as they create their games. The best part is that you can start for free! Check out the Beginner Roblox Game Coding Class, which gives students a start on Roblox Studio coding from the very beginning with a fun, easy-to-understand block coding experience!
Written by Kari Tonkin, a Create & Learn instructor. Kari has been teaching a wide variety of courses and ages for more than twenty-six years. Some of her favorite subjects to teach include computer science, graphic design, mathematics, and coding languages. She received a Master's Degree in Curriculum Design with Technology Integration from Black Hills State University in 2016 and has used this knowledge to stay current on new technology trends in education. When she is not working, Kari enjoys playing video games with her family, including Roblox and Minecraft, hiking and camping, and traveling around the United States.